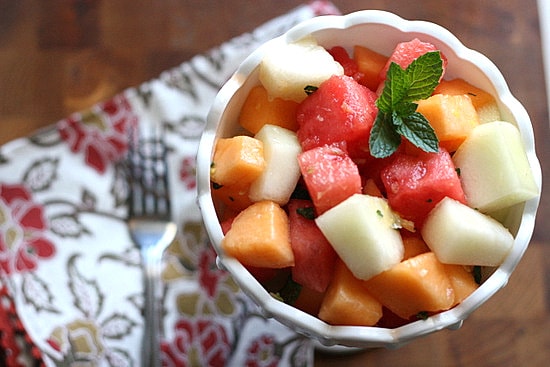 Remember how I said we were going Paleo this month? Well, we have been, with only a few little cheats, and let me tell you — melon is what got me through those first few days of sugar withdrawals. Melons and super-sweet farmers market berries.
We definitely picked the right month for this.
Because fruit is our dessert these days and my kids are absolute fruit-heads, we've been going through an obscene amount of fruit lately. I'd gladly eat a giant bowl of melon as is, but sometimes I like to fancy things up a bit.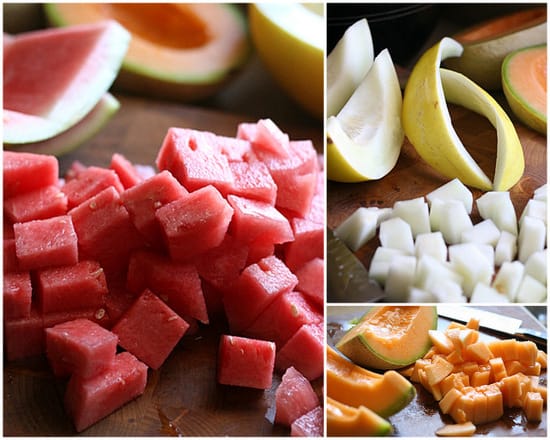 I tinkered with a dressing and took this salad (which originally had cucumbers but I decided it was weird) to a potluck a few weeks before the baby was born. I loved the salad, and it got a lot of great reviews, so I'm passing it along to you! The ginger and mint really shine against the sweetness of the melons.
Just a heads-up: you'll have a lot of liquid at the bottom of the bowl after a few hours. DO NOT throw it away. Pour it into a glass and stick it in the fridge. We had to carefully ration out that juice among the four of us to ensure we all got our fair share with minimal complaints and accusations.
Ginger-mint-melon juice should be bottled and sold. The End.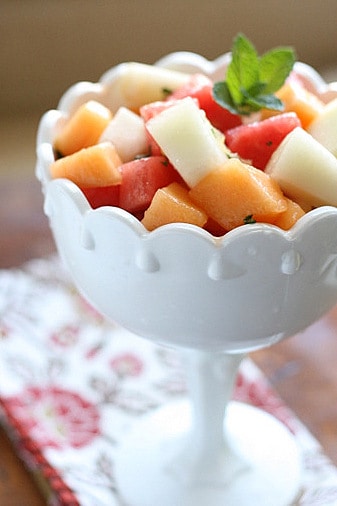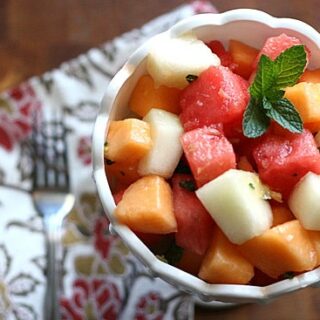 Melon Salad with Ginger-Mint Dressing
Additional Time:
20 minutes
The lightly sweetened ginger-mint dressing adds some personality and turns an ordinary bowl of mixed melon into something extra special.
Ingredients
1/4 of a watermelon
1/2 of a honeydew melon
one whole cantaloupe
For the dressing:
juice from 1/2 an orange (about 1/3 cup)
juice from 1 lime (about 1/4 cup)
2 Tablespoon chopped fresh mint
2 teaspoon freshly grated ginger
1 teaspoon honey
1/8 teaspoon salt
Instructions
Chop up melon into 1-inch pieces and place in a really large bowl -- the one you take to potlucks.
Whisk dressing ingredients together and pour over melon. Mix well and taste.
If the dressing is too strong, add more melon.
Notes
Nat's Notes:
1. You might not want to do this too far ahead as the dressing extracts a lot of moisture from the melon. You'll have a lot of liquid at the bottom of the bowl in a few hours, but pour it into a glass and save it. It's delicious added to a smoothie or enjoyed as is!
2. Feel free to mix and match any melon (or other fruit) for the salad. Grapes or fresh pineapple chunks would be good additions! I wouldn't add anything that breaks down quickly, like berries.