Our kids love these paleo cookie dough bites! They're a fun, little protein-filled snack and you can make them low-carb or keto if you like by swapping out the sweetener.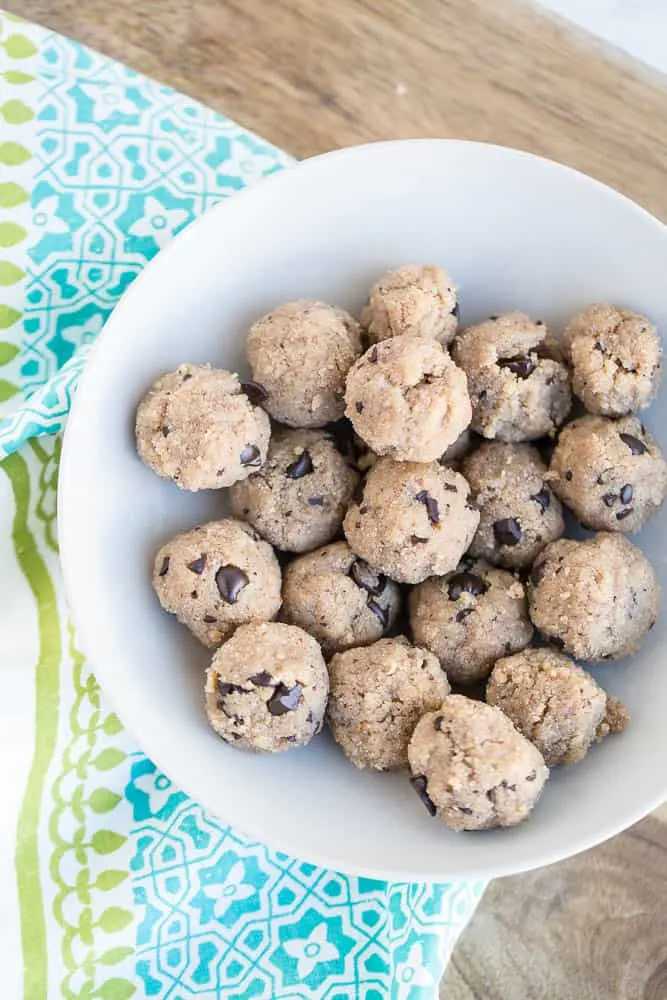 I earned about 4000 cool point from my kids with this recipe.
I'm one of those moms. You know, the ones who don't give their kids processed food at snack time and cringe at the sight of fruit snacks, gogurt, and crackers.
So, imagine their surprise when I whipped up a batch of these and let them eat their hearts out. Coolest. Mom. Ever.
The best part?
They're actually very nutritious.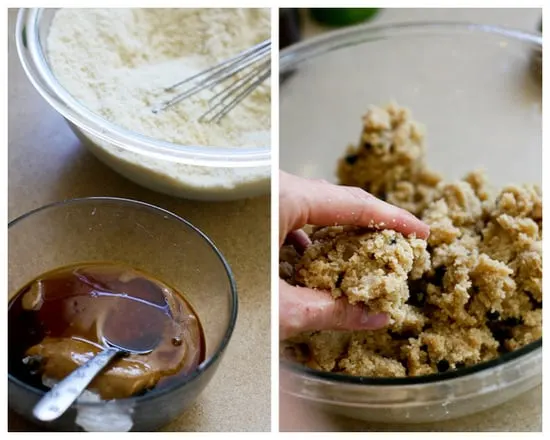 Remember my little Energy Balls? (or Power Truffles, whatever you'd like to call them) These are similar only the base is purely blanched almond flour instead of the almond-coconut-oatmeal mix. So they're gluten (and grain, even), refined sugar, dairy, and egg free. Pretty neat, eh?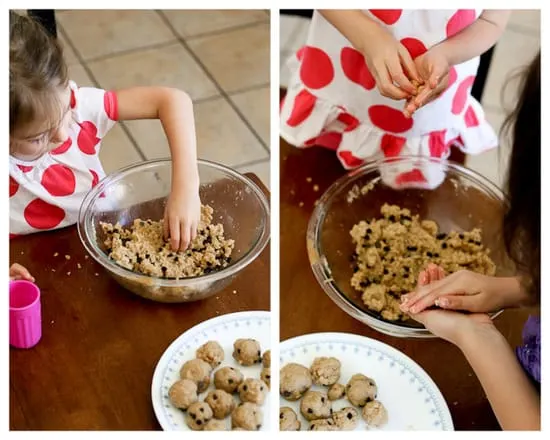 And being the cookie dough fanatic that I am, imagine my surprise that they actually taste like cookie dough. My dreams just came true.
Seriously.
Only to be dashed to pieces when I discovered my breastfed baby gets cranky and rashy when I eat a lot of nuts. I'm SO glad I bought almond flour in bulk. Thank goodness for our extra freezer.
*sigh*
Speaking of my baby… I tried to get some photos to show you the difference between almond meal (like you'd make in your food processor) and blanched almond flour.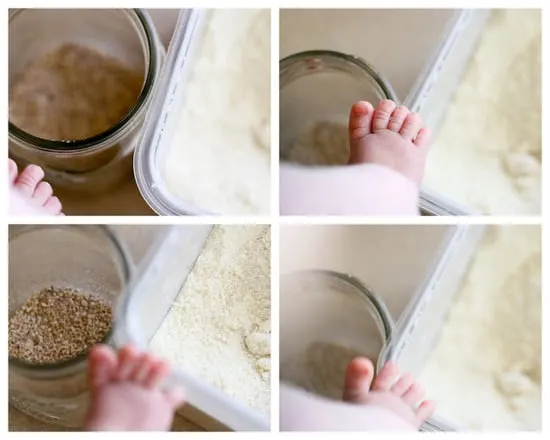 Doing anything with a kicking baby strapped to your chest is tricky, but taking decent photos is especially hard.
Oh, those toes.
So, ya. Almond flour.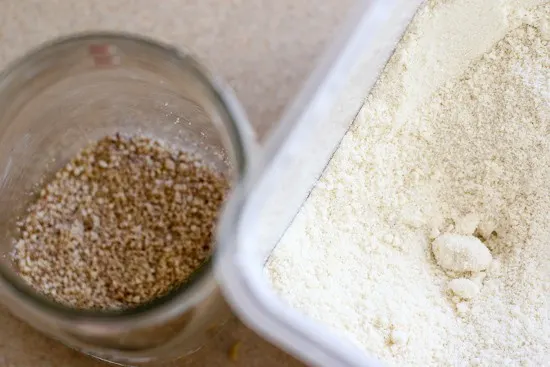 There she be. Blanched almond flour is finer than almond flour and doesn't contain the skins (which is why it's whiter).
Morals of this post:
1. Almond flour is fantastic. Go buy some.
2. Cookie dough is now a perfectly suitable snack for your kids. (Um, and you.)
Go get those cool points.
OH! You MUST check out this post by Lindsay at Veggie Balance on 7 Delicious Edible Cookie Dough Treats! I promise you'll never run out of ways to eat cookie dough.

SaveSaveSaveSaveSaveSaveSaveSave
---
If you make one of my recipes, be sure to post it on social media and tag me at @perrysplate or #perrysplate so I can send you some love!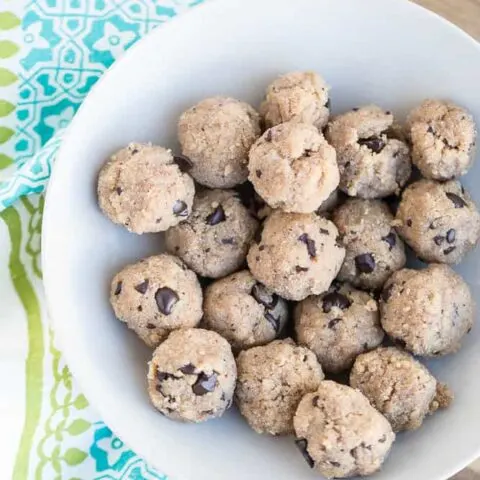 Paleo Cookie Dough Bites (Grain, Sugar, Dairy, & Egg-Free)
Our kids love these paleo cookie dough bites! They're a fun, little protein-filled snack and you can make them low-carb or keto if you like by swapping out the sweetener.
Ingredients
2 cups blanched almond flour
1/2 teaspoon baking soda
1/4 teaspoon sea salt
1/4 cup coconut oil (solid but soft)
1 Tablespoon honey
2 Tablespoon almond butter
2 teaspoon pure vanilla extract
mini dark chocolate chips
stevia to taste, if additional sweetener is needed
Instructions
Whisk together the flour, baking soda, and salt in a medium bowl.
Combine the oil, honey, almond butter, and vanilla in a separate, smaller bowl.
Pour wet mixture into the dry mixture and combine well. Your own two hands to the best job of getting it all combined. If you find the mixture is too dry and crumbly, add a tablespoon of water at a time until you reach cookie dough consistency.
Taste, and add stevia if you prefer the dough sweeter.
Mix in the desired amount of chocolate chips and roll into 1 to 1 1/2 inch balls. Store in the refrigerator. They should keep for several days, although they tend to dry out the longer they are stored. (If they last that long...)
Notes
Nat's Notes:

1. The more you work the dough, the more the coconut oil will melt, resulting in the balls getting greasy. Return the dough to the freezer to re-harden if this bothers you.

2. This recipe doubles well.

3. You can even make these in a food processor. Just process the dry ingredients and add the wet ones once you've mixed them together. For those who don't like to get their hands messy...
This post may contain affiliate links. Any purchases made by using these links won't cost you any extra and helps keep my content free. These links may be Amazon links as I am part of the Amazon Associate Program.