If you've been using the same old jar of pumpkin pie spice for years and years, it's time to upgrade! Making your own is so easy, and I'm willing to bet you already have the ingredients in your cupboard.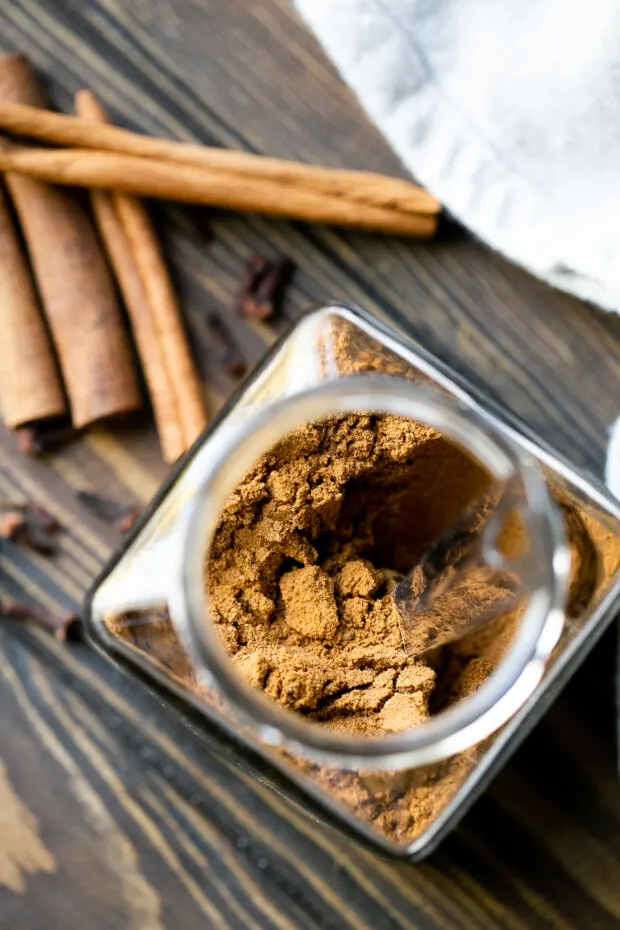 Yep, another spice blend!
Have you ever made your own pumpkin pie spice?
Honestly, I think everyone should.
Why?
Because it's fun to make your own blends. You'll feel super cheffy. Or domestic. Or something like that.
Also, if you plan to make your own little jar every year during the holidays it guarantees that you have a fresh blend. I know I'm not the only one who has kept the same little jar of pumpkin pie spice and used a couple teaspoons every year for some pumpkin recipe.
Until, 5 years later, when it starts smelling like dirt. It's true. If you have an old jar, take a whiff.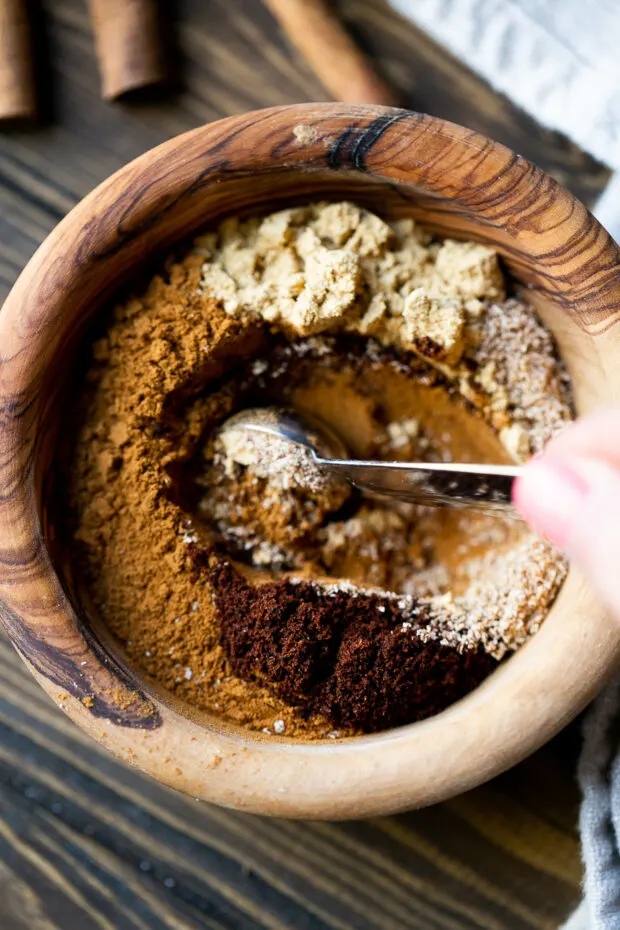 What is in Pumpkin Pie Spice?
There are a lot of versions, depending on your preference, but most pumpkin pie spice blends have these four spices as a base:
Cinnamon
Ginger
Nutmeg
Cloves
Some blends have allspice, mace, or a little cardamom. If you're fancy, feel free to add those, too.
One thing I highly recommend: Buy WHOLE nutmeg pods. They keep for a really long time and freshly ground nutmeg is just…. *chef's kiss*.
If you have a Microplane grater, it's easy to grate some to use in a recipe.
Another thing I always do is grind my own cloves. I LOOOOOVE cloves. I talk more about grinding your own spices in another post. Basically, all you need are whole cloves and a cheap coffee grinder.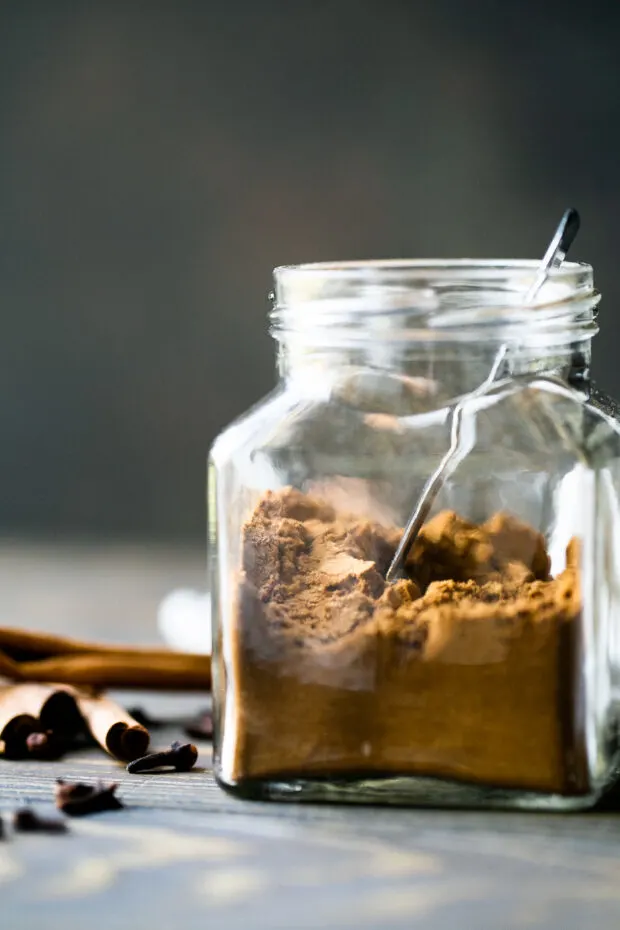 If you've followed me online during the holidays, you know I make fun of this blend a little because I love Chai Spice so much. And say it's like the cooler cousin to pumpkin pie spice. (It's true.)
BUT.
Pumpkin pie spice is still pretty fantastic. Especially if you have a freshly made blend. With fresh spices. It'll make all the difference in your pumpkin pies and pumpkin (insert baked goods).
If you like this blend, try another one of my homemade spice blends!
More Homemade Spice Blends on Perry's Plate
Again, make some Homemade Chai Spice and tell me it doesn't change your life. Or at least your snickerdoodles.
If you're into Indian cuisine, make your own Curry Powder or Garam Masala blends!
Taco seasoning is a fun one to make, too — my Homemade Taco Seasoning is a reader favorite and my newer one, Smoky Chipotle Taco Seasoning is another version with smoky flavors and a touch of heat.
Click over to the Homemade Spice Blends section of my site for more blends!
---
If you make one of my recipes, be sure to post it on social media and tag me at @perrysplate or #perrysplate so I can send you some love!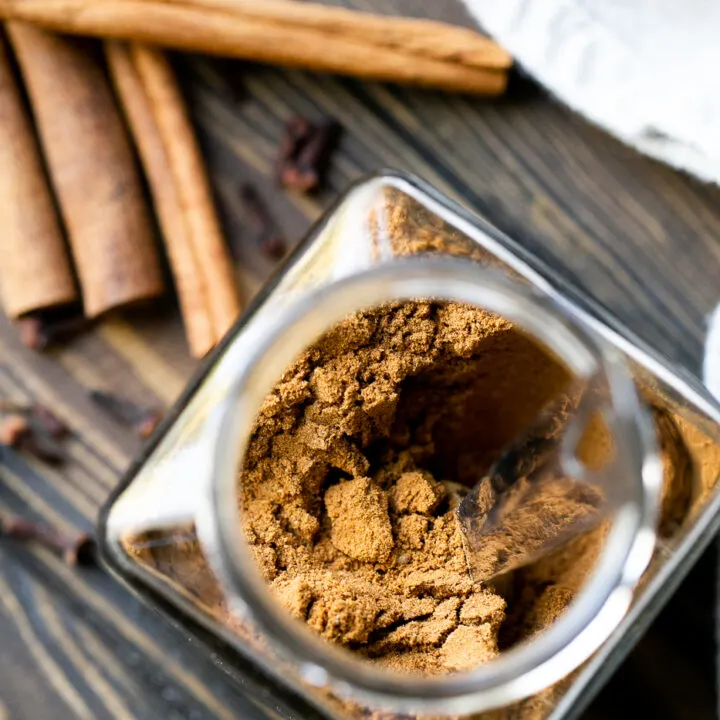 Homemade Pumpkin Pie Spice
If you've been using the same jar of pumpkin pie spice since 1997, it's time for an upgrade. I'm wiling to bet you already have all of the ingredients! (Hopefully not since 1997. Heh.) Your pies and baked goods will taste so much better with fresh spices!
Ingredients
3 Tablespoon ground cinnamon
2 teaspoon ground nutmeg
2 teaspoon ground ginger
1 teaspoon ground cloves
Instructions
Combine all of the spices in a small lidded jar and shake well. Store at room temperature for about a year.
Notes
1. If you're feeling adventurous, try using freshly ground nutmeg! Nutmeg pods are easy to find and if you've got a microplane grater it's easy to grate some when you need it.
Recommended Products
As an Amazon Associate and member of other affiliate programs, I earn from qualifying purchases.