If you need a quick dinner on a weeknight, this Brussels Sprout and Sausage Hash with Apples will feed your hungry tribe in a jiffy.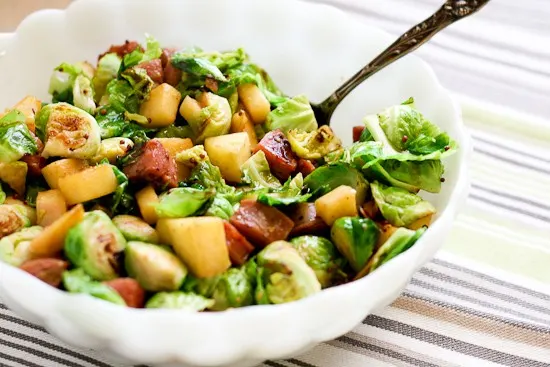 Sometimes when I see pretty photos on food blogs, I also picture the blogger puttering around her Pinterest farmhouse kitchen wearing something super trendy.
Do you get the impression that a blogger has it all together just because she has an organized site with beautiful pictures and informative posts?
I'm willing to bet that there's a mountain of laundry and piles of clutter around her house. Maybe she didn't shower until 3PM (or at all). Or she most likely had to clean up more than one type of bodily fluid before breakfast.
Or maybe while she was trying to prepare a meal for a new mom, she took a chunk out of her thumb with her mandoline slicer, discovered she was out of band-aids, and as she was bleeding profusely, her baby started crying and wanted to be held? And it happened to be the thumb she texts and unbuckles carseats with? (Maybe she found some princess band-aids later, too.)
Maybe.
I get asked sometimes (by friends both online and offline) how I manage to maintain a blog with a baby and two other small children. Want to know what it's like? I'll show you…
How to photograph Brussels, Sausage, & Apple Hash with a clingy, wiggly, 4-month-old strapped to your chest: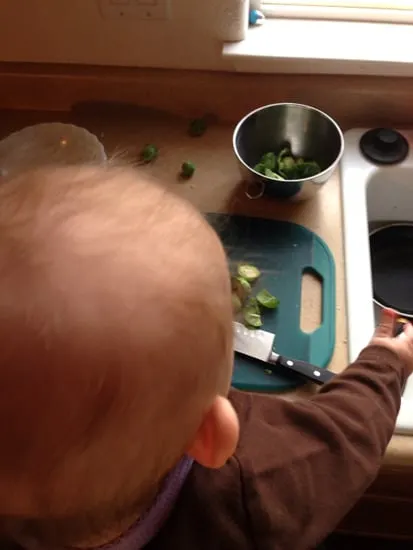 Trim the Brussels sprouts and slice them in half. If they're big, then quarter them like the ones above.
Oh, wait. You can't see those. Nevermind.
Remember to stand as far away as you can from the counter so your baby doesn't kick the handle of your knife. Wouldn't want to lose a finger today.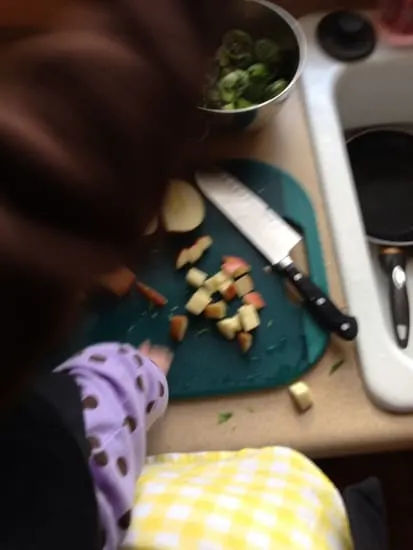 Chop the apple. And be alert for sudden flailing arms and legs. Babies get excited about fruit.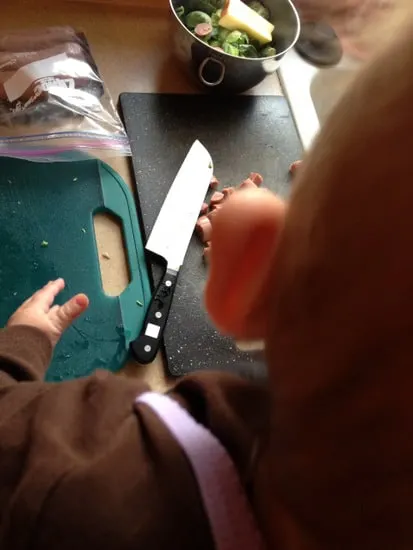 Do the same with the sausage.
As you glance into your dirty sink, make a promise to yourself that THIS will be the night you clean it.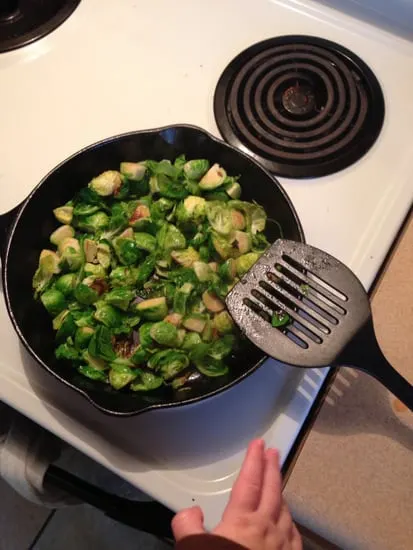 Melt the butter in a skillet and add the sprouts. Cook them until they begin to caramelize slightly. Remove them before they cook too long.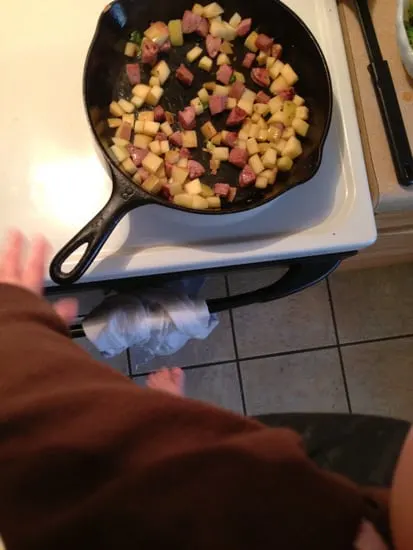 Add the remaining butter, apples, and sausage to the pan.
Wipe up any drool or spit-up that may have dripped on your forearms or jeans up until now.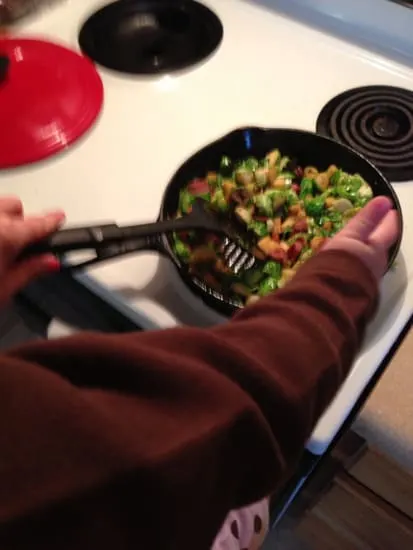 When the apples have softened a bit and the sausage is cooked through, add the sprouts back to the pan.
Try not to think about the good old days when you had a gas stove. And four working burners.
Go over to the only square foot of counter space with good lighting.
Try to keep your baby from bumping and drooling on your reflector board as you hold your heavy camera (and shoot) with the other hand.
Remind yourself (for the 287,559th time) that you need to get some clips to hold your board up.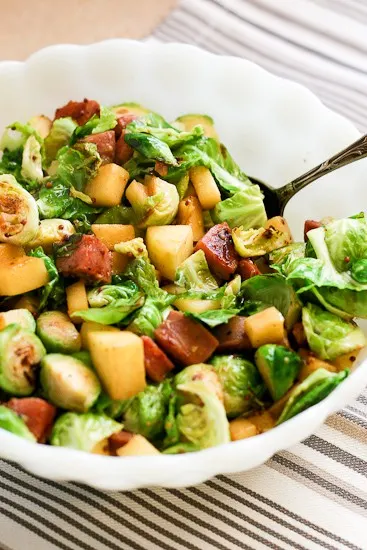 Run your pictures through Lightroom (aka, the "Magicroom") and they don't look half bad.
The truth is…. I love blogging. I love cooking. I love photographing food. I love meeting and interacting with all of you! And I've come to realize that we put our time (and money) into things that are important to us. I'm a bit of a control freak, so my blog feels like an organized haven where I have control over everything that happens and how everything looks. It's also my creative outlet, which I desperately need as a full-time mom.
And to me, having a creative outlet is more important than keeping my kitchen floor perfectly mopped. Or every piece of clutter picked up. But not more important than spending time playing with my kids every day.
It's a tricky balance sometimes. And 99% of the time I feel like I do NOT have it all together. I'm OK with that.
For more DELICIOUS Brussels recipe, click here: Best Brussels Sprout Recipes.
---
If you make one of my recipes, be sure to post it on social media and tag me at @perrysplate or #perrysplate so I can send you some love!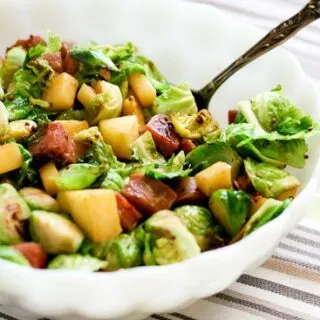 Brussels, Sausage, & Apple Hash
Yield:
Serves 4 as a side dish
If you need a quick dinner on a weeknight, this Brussels Sprout and Sausage Hash with Apples will feed your hungry tribe in a jiffy.
Ingredients
2 Tablespoons coconut oil or butter, divided
1 pound Brussels sprouts
1 apple, cored and diced
1 pre-cooked chicken sausage link, diced (I used Aidell's Chicken & Apple Sausage)
1 teaspoon whole grain mustard
1 Tablespoon apple cider vinegar
salt and pepper, to taste
Instructions
Trim ends off of the Brussels and discard them with any wilted-looking leaves. Slice them in half, and quarter them if they're particularly large, to make similarly-sized pieces.
Melt 1 Tablespoon of oil in a medium skillet over medium heat. Make sure the pan is really hot before putting in the sprouts (you'll want them to brown before they cook too much). Cook them for about 5 minutes. Toss them around every so often until you start to see dark, caramelized spots. Transfer them to a bowl.
Add the other Tablespoon of oil to the skillet with the chopped apple and sausage. Cook for about 4-5 minutes until the apples begin to soften slightly and the sausage is heated through and has a few dark spots.
Add the mustard and the vinegar to the skillet; stir to combine.
Add the sprouts back to the skillet and cook for another minute or so. Season to taste with a pinch or two of salt and pepper.
This post may contain affiliate links. Any purchases made by using these links won't cost you any extra and helps keep my content free. These links may be Amazon links as I am part of the Amazon Associate Program.