Make a paleo chicken pot pie topped with sweet potato biscuits for a healthy remake of a classic!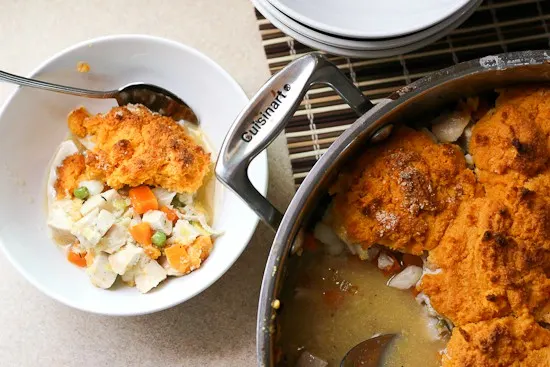 Paleo chicken pot pie? A miracle, perhaps.
The last time I made this I was prepping vegetables and simultaneously (well, almost) texting my brother, my mom, and my sister.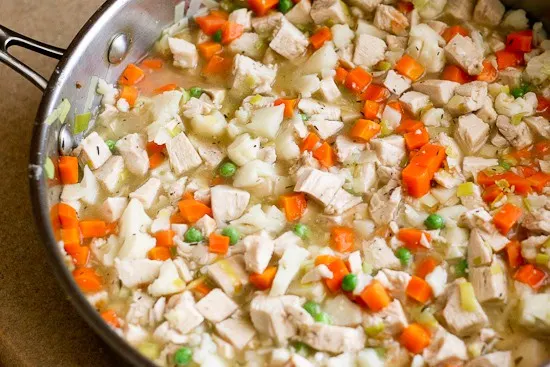 We've discovered the awesomeness of a "texting chat room" for lack of a better word. It's like an ongoing conversation over weeks and months. There's a lot of grand-kid photos that fly around, videos of my nephew doing back-flips off the couch. (He's 4!) Discussions about crooked teeth and fangs, where to get Diet Coke on Temple Square, child seats that attach to motorcycles (my mom flipped out at that one), my brother's undying hatred toward lima beans, and a lot of teasing.
Teasing=love, though. I think.
On that particular night we were talking about what we were making for dinner. My mom said chicken pot pie. Then I told her I was making pot pie, too, with sweet potato biscuit topping. Then my brother said he was making sweet potato tacos. We're a food-oriented family. And it seems we were on the same wavelength, despite living in three different states.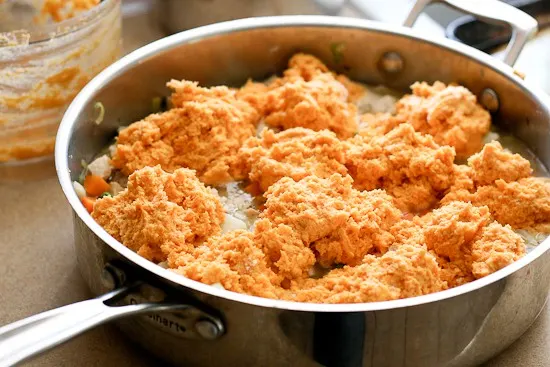 Let's talk about this pan of deliciousness for a second. Yes, that dough is really that orange. I didn't tweak the colors at all.
The idea for this recipe came from Andrea Chesman's book Recipes from the Root Cellar, which I reviewed a while back.
You know about my obsession with Andrea's books, right? I about wet myself when she commented on my Stacked Roasted Vegetable Enchilada post last week. I adapted that recipe from another one of her books.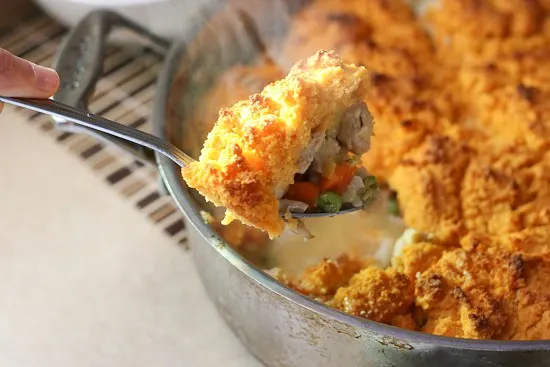 Well, I took a few more liberties with this one, switching out the vegetables (not a fan of rutabagas and couldn't find celery root), and making the biscuit topping grain-free and dairy-free.
The first time I made it I used oat flour and made it gluten-free. I liked the texture better in the oat version, but they both tasted great. I added that variation in the recipe in case you're only avoiding wheat.
My kids loved it, too! My four-year-old said it was the best thing she's ever eaten.
She also said that about five other things I made that week.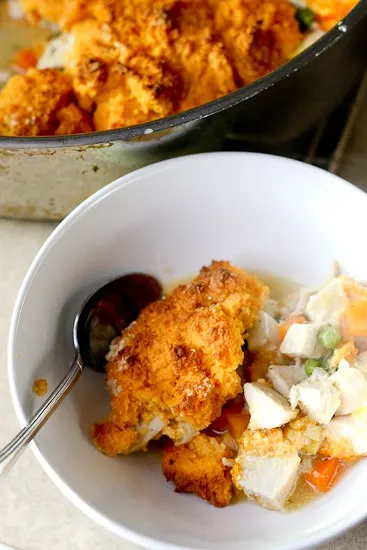 ---
If you make one of my recipes, be sure to post it on social media and tag me at @perrysplate or #perrysplate so I can send you some love!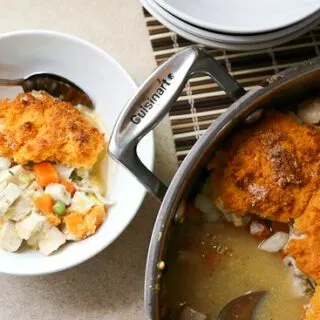 Chicken Pot Pie with Sweet Potato Biscuits
Total Time:
1 hour
15 minutes
A traditional chicken pot pie with a twist -- topped with a tender, sweet potato biscuit instead of a crust! You'd never know it was paleo. Don't like the vegetables? Use the ones you like instead.
Ingredients
For the filling
4 Tablespoons coconut oil
1 large or 2 small leeks, white and light green parts only, sliced
4 Tablespoons arrowroot powder (see note)
2 large carrots, peeled and diced
1/2 of a head of cauliflower, cut into 1/2-inch pieces (around 2 cups)
3 1/2 cups chicken broth (about 2 cans), divided
3-4 cups of cooked chicken, chopped or shredded (stripped from a roasted chicken is best!)
1 Tablespoon white wine vinegar
1 teaspoon dried thyme
salt and freshly ground black pepper
For the topping
3 cups almond flour
2 Tablespoons baking powder
1 teaspoon salt
1/3 cup solid coconut oil
2 eggs
1 1/4 cups cooked, mashed sweet potatoes, chilled
1 Tablespoon honey
Instructions
To make the filling:
Heat 4 Tablespoons of coconut oil in an oven-safe deep saute pan over medium heat. Add the leek and cook until softened, about 3 minutes.
Sprinkle in the arrowroot powder, carrots, and cauliflower, and stir until the powder is absorbed by the oil.
Whisk in the broth and stir until slightly thickened. Stir in the chicken, vinegar, and thyme. Add salt and pepper, to taste.
Remove from the heat and cover to keep warm while you make the topping. Preheat the oven to 400 degrees F.
To make the topping:
Combine the almond flour, baking powder, and salt in a food processor. Pulse to blend. Add the coconut oil in pieces, pulsing until the mixture is crumbly. Add the eggs, honey, and sweet potato and pulse until the mixture resembles a very soft dough. Let it sit for 5 minutes before moving to the next step.
Spoon the dough on top of the chicken filling in several mounds. It's not necessary to cover all of the filling, but the mounds should be spread evenly.
Bake for about 30-35 minutes or until the biscuits begin to brown and are cooked through. If the tops begin to get dark quickly, place a sheet of aluminum foil over the top while it finishes baking. Remove from the oven (Don't forget to use a hot pad! I've burned myself many times putting pans in the oven and forgetting...) and let it stand for a few minutes before serving.
Nat's Notes: 1. Arrowroot powder is used as a grain-free thickener. Feel free to use an equal amount of cornstarch if you like or double the amount of all-purpose flour.
Not-so-paleo, but gluten-free alternative: Use 1 1/3 cup gluten-free oat flour and 1 cup of almond flour in the biscuit dough. Follow directions written above. (For the oat flour, I simply put some gluten-free oats in my Blendtec and ground them up. You can also use a food processor or a spice/coffee grinder.)
This post may contain affiliate links. Any purchases made by using these links won't cost you any extra and helps keep my content free. These links may be Amazon links as I am part of the Amazon Associate Program.
SaveSave