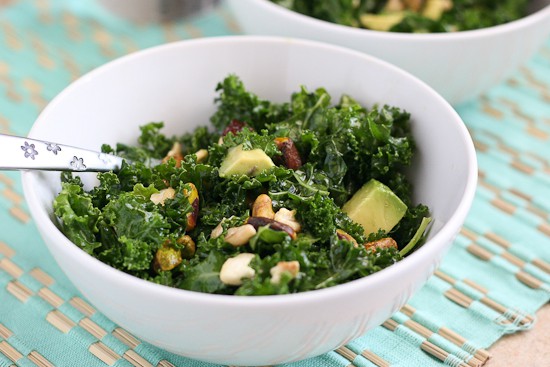 Have you ever had a massaged kale salad? Or massaged kale yourself?
I've been curious about this technique, but avoided it because eating a salad full of raw, bitter kale wasn't something I was excited about.
Well, it turns out massaging kale with some lemon (or lime) juice and olive oil not only relaxes it (ha) but it calms its bitter flavor. It's become one of my favorite lunches lately! I included the recipe for this particular version, which is very simply dressed and will take you about 5 minutes to make if your kale is already prepped. There are a bazillion (yes, bazillion) variations you can do with this.
One little guideline that I like to follow when making a salad is to add something sweet, something salty, something chewy, and something crunchy. Usually nuts and dried (or fresh) fruit are great to add. I liked the avocado in this because I tend to like something creamy in my salads as well (like cheese).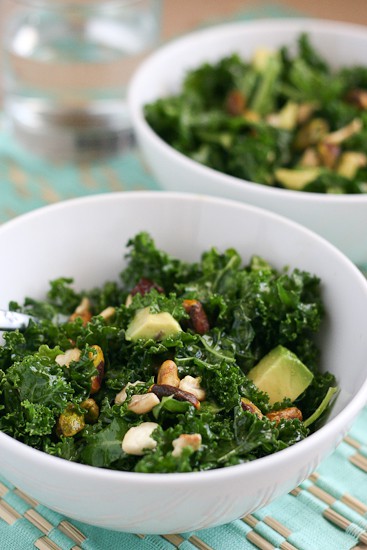 It's wonderful alone as a light lunch or would be nice with just about any type of meat. I can see this served alongside some grilled chicken or salmon for a quick dinner! (Mmm. Grilling. Can't wait.)
If you love this salad, you MUST try my Costco Copycat Sweet Kale Salad which uses this method of taming kale. It's a knock off of that kale salad with the cranberries sold at Costco!
Here are a few other massaged kale salads I found around the Internets!
Deb's Kale Salad with Apples, Cranberries, and Pecans from Smitten Kitchen via Cookies and Kate
Massaged Kale Salad with Creamy Blueberry Vinaigrette from The Roasted Root
My Go-To Kale Salad from Oh She Glows
Massaged Kale Salad with Quinoa from the Tasty Kitchen Blog
Massaged Kale Salad with Roasted Butternut Squash from Healthy Food for Living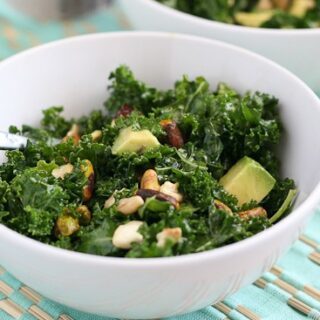 Massaged Kale Salad with Pistachios, Dried Cherries, and Avocado
Massaging kale with citrus juice and oil transforms it from a harsh, bitter green to a tender, respectable salad green!
Ingredients
1 bunch of kale, stems removed and leaves chopped into bite-sized pieces
juice from 1 small lemon (about 3 Tablespoons)
4 Tablespoons extra-virgin olive oil, divided
2 Tablespoons apple-cider vinegar
1 small handful salted pistachios
1 small handful raw cashews
1 small handful dried cherries
1 whole avocado, peeled, pitted, and diced
Instructions
Placed prepared kale in a large bowl. Squeeze lemon juice and 2 Tablespoons of olive oil over the kale. Rub the juice and oil into the kale with your hands for 2-3 minutes. The greens should take on a darker color and become more tender.
Drizzle the remaining 2 Tablespoons of oil, and vinegar over the greens; toss to coat. Sprinkle the remaining ingredients over the top and serve.