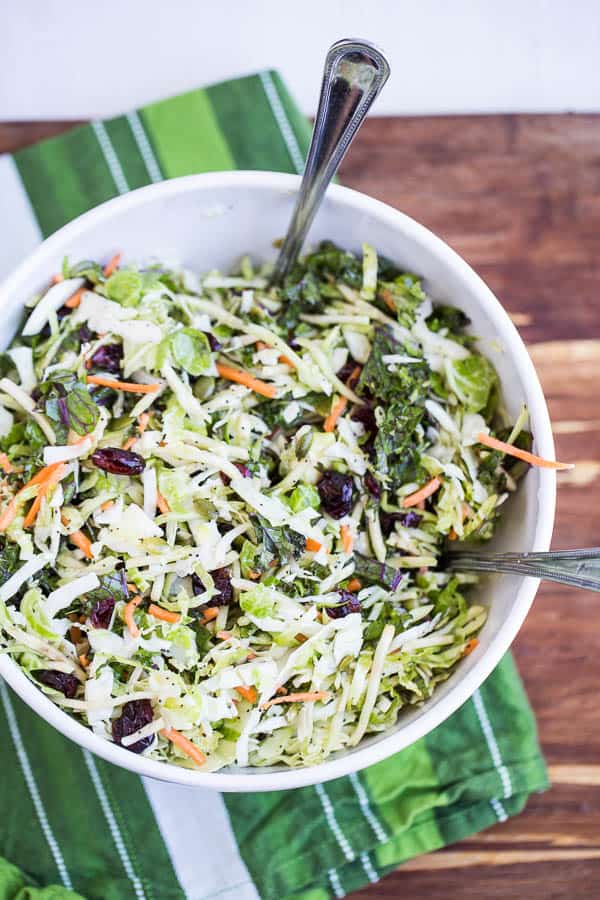 I'm a big fan of the Costco salad kits . You know what I'm talking about — the ones made by Taylor Farm (Plus Costco has some good ones in the deli section, too)
The Sweet Kale Salad and the Asian Crunchy Salad are my favorites.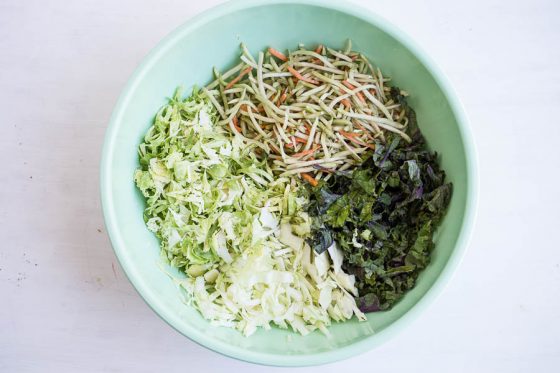 What's in Sweet Kale Salad from Costco?
One of my favorite things about this salad is the use of hearty greens and shredded vegetables.
You can dress the salad, stick it in the fridge and eat it the whole week and it won't go limp and slimy like dressed Romaine or another lightweight lettuce.
It uses kale and broccoli slaw, which is one of my favorite pre-prepped store bought ingredients. (I use it in my Paleo Pad Thai, too.)
It's an easy way to hide more veg into salads and slaws. It's basically broccoli stems, which is hilarious to me because that's the part we typically throw away when we prep broccoli. (Another great business model there…)
Shredded cabbage is easy to find and you can also buy pre-shredded Brussels sprouts in most grocery stores now! (Hallelujah!).
If you're old school, you can totally shred the Brussels and cabbage with a food processor. Also, if you have a food processor with a shredding/slicing blade you can whip this up so fast. (I have this one.)
Dried cranberries and pumpkin seeds are easy to find, too.
It's super easy to put together, too! Watch!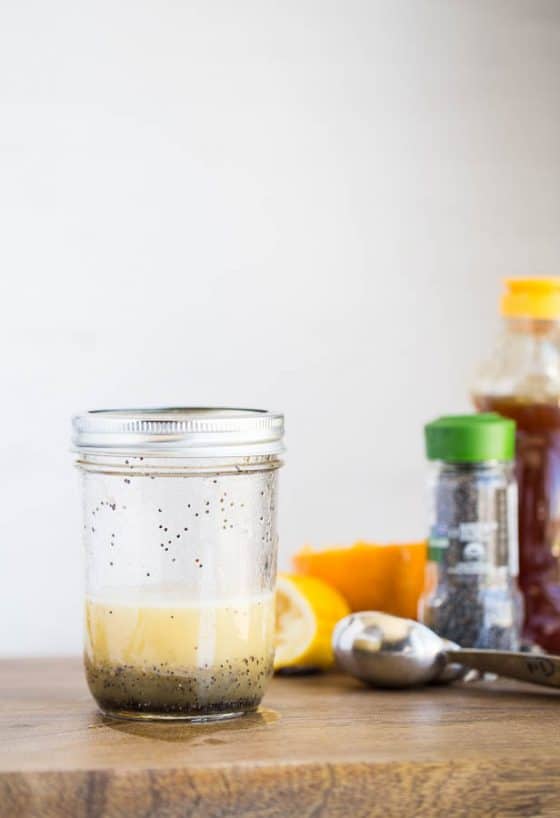 That Costco kale salad is great when you need a side dish or a potluck offering in a pinch. And everyone loves them. BUT.
I'm a stinker when it comes to oils.
The poppyseed dressing in the Costco cranberry kale salad kits is soybean oil-based (along with all the other salad dressings in the other kits), and it makes me cringe on the inside when I eat them. Vegetable oil and canola oils are no better.
If I was going to start a new business I'd make salad kits with healthy dressings — ones with extra-virgin-olive oil or avocado oil as the base.
(If you'd like to steal that idea and run with it, let me know how it goes. I'd just like free salad for life, please.)
This poppy seed dressing has a little citrus (orange juice and lemon juice) and honey for sweetness. I used avocado oil for a neutral flavor. EVOO tends to be kind of strong in dressings sometimes.
Can anyone tell me the purpose of poppy seeds? Asthetics? They have a sweet-ish smell, but zero taste. And if you start talking about opiates I'm going to roll my eyes at you.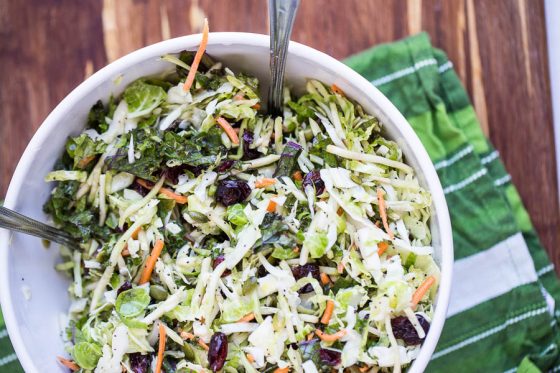 TIP: Add some rotisserie chicken to this salad and make it a whole meal!
More of Our Favorite Potluck Salads
We're still in BBQ/Potluck season so here are a few of my favorite potluck salads! Some of them are paleo, some are dairy-free, but all of them are gluten-free.
Grilled Vegetable Potluck Salad with Creamy Avocado Ranch
Roasted Potato Salad with Dill-Scallion Vinaigrette
Chimichurri Steak and Potato Salad with Grilled Kale
Spring Vegetable Salad with Dill Pesto and Prosciutto Grilled Summer Squash Salad
Crunchy Vegetable Salad with Mexican Mango Dressing
Avocado Bacon and Parmesan Salad with Tangy Avocado Dressing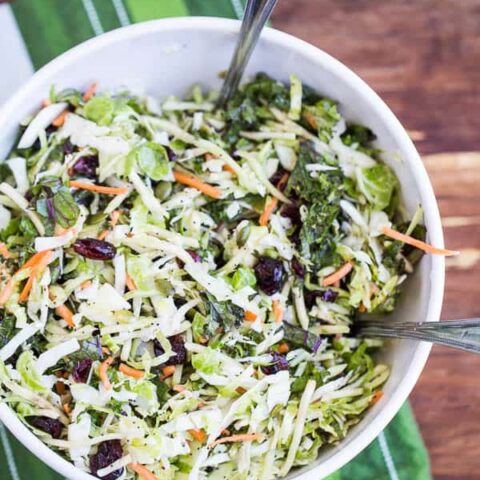 Sweet Kale Salad (Costco Copycat)
This is a from-scratch version of the beloved Sweet Kale Salad sold at Costco -- with a much cleaner dressing!
Ingredients
For the salad:
4 ounces of kale, leaves removed from stems and thinly sliced (about 1/2 bunch)
1/4 of a small head of cabbage, cored and shredded
8 ounces of Brussels sprouts, trimmed and shredded
8 ounces of broccoli slaw
1 cup dried cranberries
1/4 cup raw or toasted pepitas (pumpkin seeds)
For the dressing:
1/4 cup neutral-tasting oil, like avocado or light olive
3 Tablespoons apple cider vinegar
2 Tablespoons freshly squeezed orange juice
1 1/2 Tablespoons honey
1 Tablespoon freshly squeezed lemon juice
1 teaspoon poppy seeds
1/2 teaspoon sea salt
1/4 teaspoon onion powder
Instructions
Combine the kale, cabbage, Brussels sprouts, and broccoli slaw in a large salad bowl.
Add all of the dressing ingredients into a pint-sized mason jar or other lidded container. Shake the dressing vigorously to combine well. Pour 3/4 of the dressing over the salad greens. Toss the greens around to coat it well in the dressing, and then add the remaining dressing if you feel that it needs more.
Sprinkle the cranberries and pepitas over the salad. Lightly toss to combine.
Serve.
Notes
Nat's Notes:

1. I realize these are awkward measurements, but if you buy one bunch of kale, a small head of cabbage, 1 pound of Brussels sprouts, and a 1-pound bag of broccoli slaw, you have enough for two salads. (And some cabbage leftover for some tacos!) Just divide the greens in half, double the dressing, and store half of each in separate containers in the fridge until you're ready to make your second salad.

2. This salad lasts 3-4 days, dressed and stored in the fridge.
Disclosure: This post is not affiliated with Costco. This post does contain an Amazon affiliate link. Purchases made by using these links or the search bar on the sidebar don't cost you any extra and provide Perry's Plate with a few pennies.

P.S. Here's another salad that uses pre-shredded vegetables — this time with a maple-mustard dressing that's to die for! It's a salad I created for The Pioneer Woman's site. You can find the recipe here: Ultimate Winter Salad.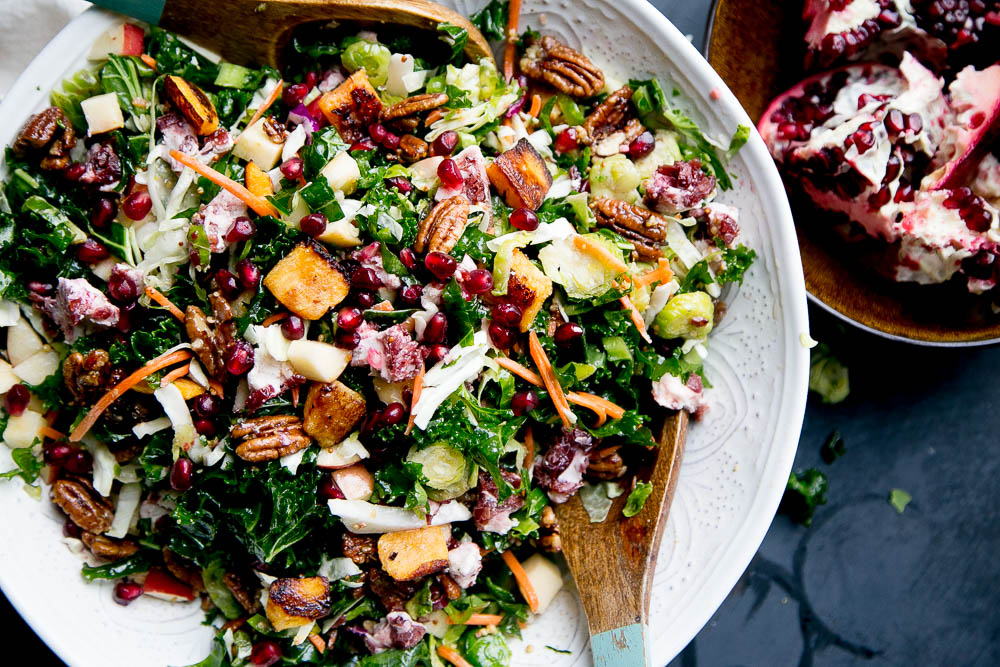 SaveSave
SaveSave