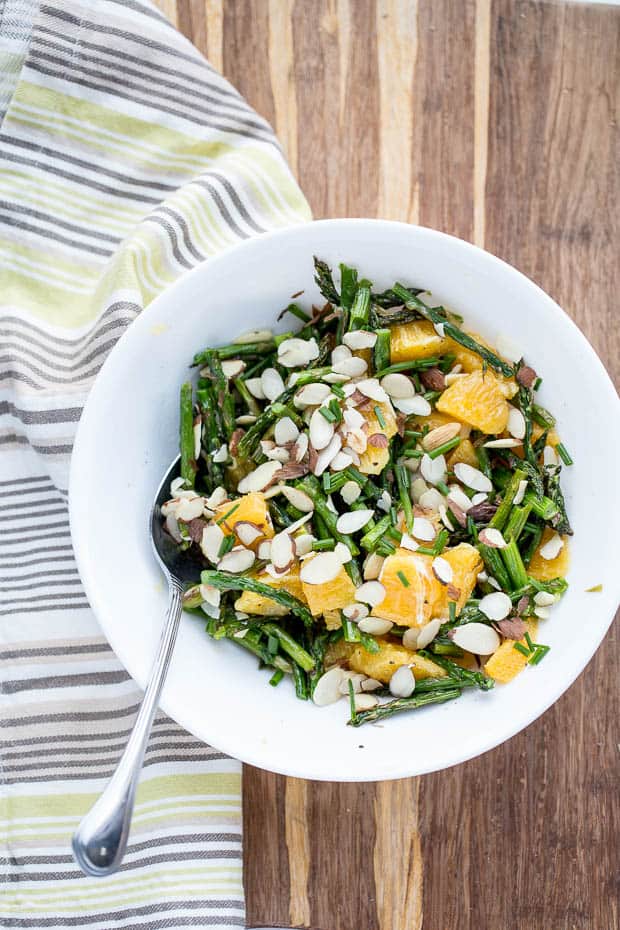 This is of one of my favorite things to eat lately. Hubs kind of likes it, too.
The kids don't. I haven't converted them to asparagus yet.
Granted, they will bite the very tips off, but leave the rest. I stopped letting them do that because the tips are my favorite part. (A mother's love reaches only so far.)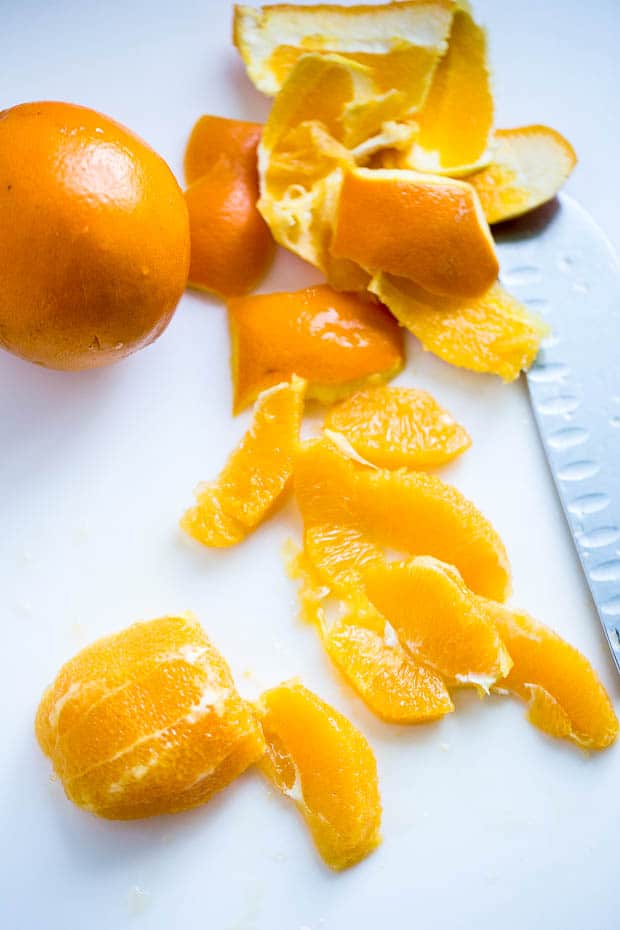 The best thing about that salad is that it's quick and has very few ingredients. And you get to grill something. I'm finding any excuse to grill lately.
Have you ever supremed an orange? Just cut off the rind with a sharp knife and then cut out the orange segments, using the lines from the membranes as your guides. It makes them so much more pleasant to eat.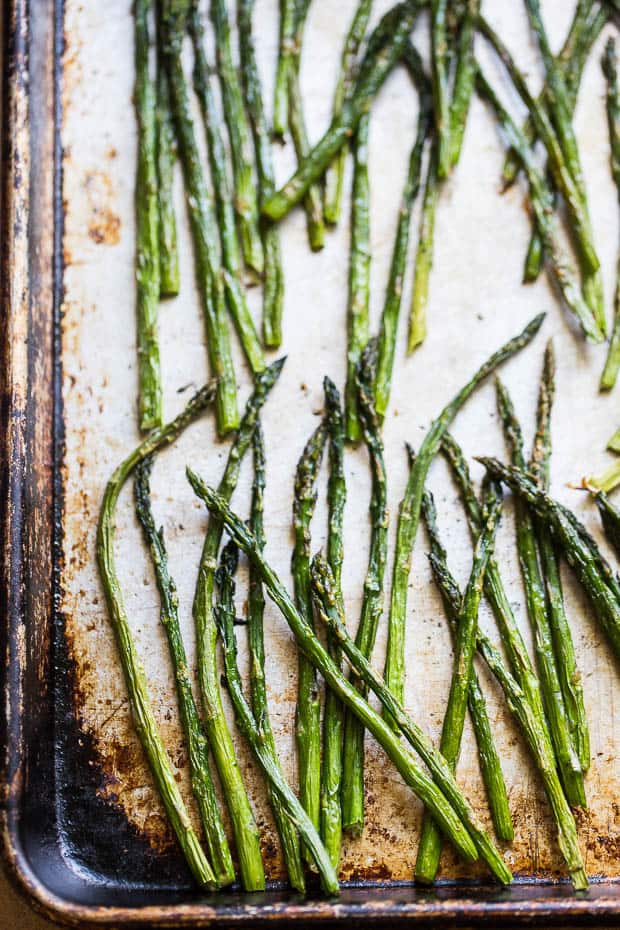 I realize that it says "grilled" up there but you can also roast the asparagus, too. When I updated the photos on this post I decided to try roasting it instead. Either way works well!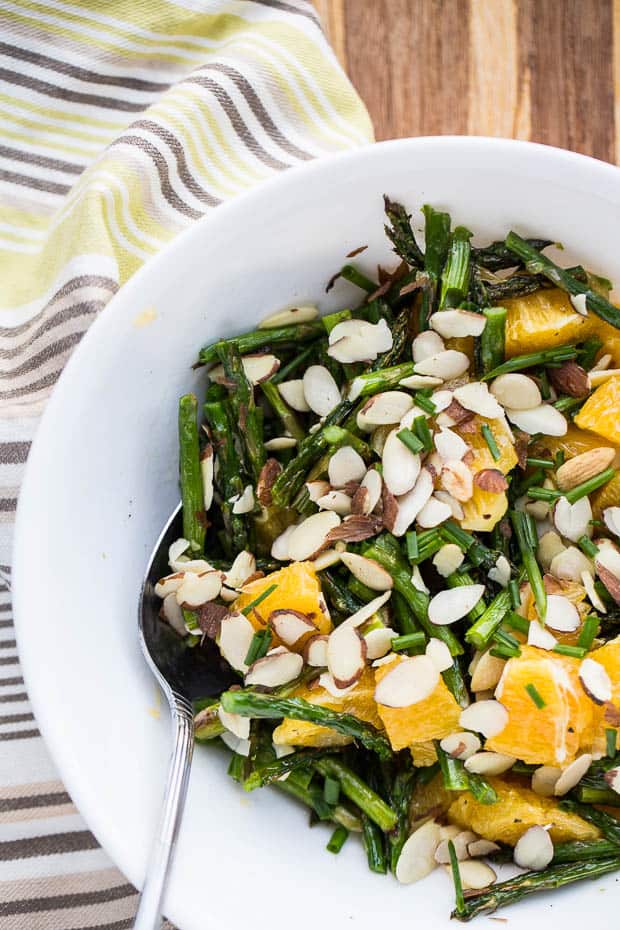 So, go make this salad before you get the stink eye from Whole Foods produce peeps for buying asparagus and oranges out of season.
Or just buy them at Costco. No judging there. And the nice thing about buying asparagus at Costco is that you'll have enough to make it two different ways! I'm dying to try this Bacon-Wrapped Asparagus from Wholesome Yum!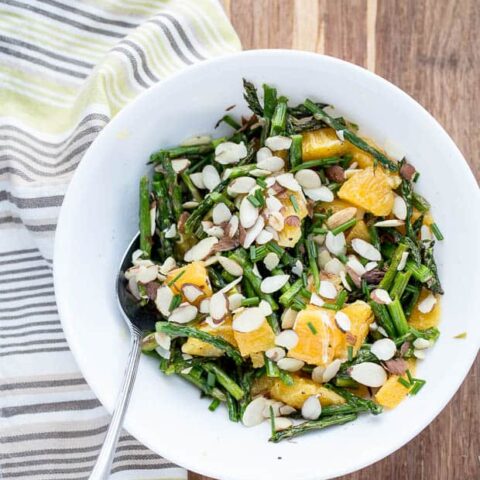 Grilled Asparagus and Orange Salad
Yield:
Serves 4 as a side
This side goes great with any grilled meat. It would also be a sweet contrast to something spicy. You could make a giant batch of it and take it to a potluck! It's perfectly sun-safe.
Ingredients
1 pound of asparagus
2 Tablespoons avocado oil, divided
2 large navel oranges
2 Tablespoons white wine vinegar or white balsamic vinegar
Generous pinches of sea salt and black pepper
1/4 cup sliced almonds
1 Tablespoon chopped fresh chives
Instructions
Preheat a BBQ grill to medium heat.
Trim asparagus. I like to grab each stalk in the center with one hand and the fat end with my other hand, then bend it. It should snap at the place where it starts to get tough. Repeat with remaining stalks.
Lay the asparagus on a pan and drizzle lightly with 1 Tablespoon of the avocado oil. Place the asparagus on the hot grill and cook for 8-10 minutes or until tender and golden brown in spots. If they start to char, turn the grill down or move them away from the heat.
Meanwhile, supreme the oranges by removing the skin with a knife and slicing out the segments out of the membranes. (If you don't know what I'm talking about, Google it. It's all over the Internets.) Slice the segments in half and place in a medium-sized bowl.
When the asparagus is done, transfer to a cutting board and cut into 1-inch pieces. Add asparagus pieces to the bowl with the oranges. Add the remaining ingredients (vinegar, 2 Tablespoons avocado oil, salt, pepper, almonds, and chives) and stir well.
Notes
Nat's Notes:

You can also roast the asparagus by putting the pan with the asparagus under an oven broiler for 4-8 minutes, depending on the thickness of your asparagus. Shake them around and turn the pan a couple of times during roasting.
SaveSave