Spring Vegetable Salad with Dill Pesto and Prosciutto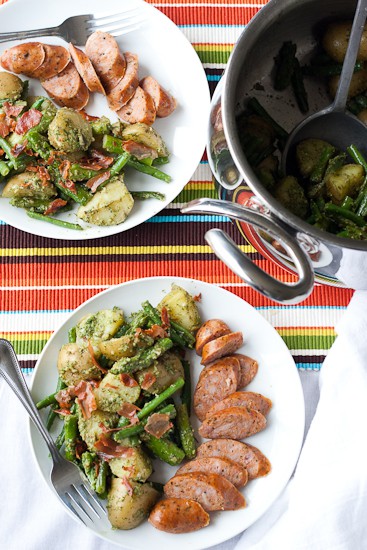 While Memorial Day weekend is the unofficial summer opener for activities, it's not really the case for produce. We won't have tomatoes, zucchini, and eggplant for a few more months. (Sniff)
Heck, you might not even have homegrown green beans or any other spring vegetables this time of year, depending on where you live. We're going to (finally) get our garden box planted this weekend!
We're also going to be giving our severely neglected front yard a much-needed makeover. I hate bugs and getting dirty. Oh, and sweating a lot. I think I'll just count this weekend as my workouts for the next 2 weeks.
And my camping trips for the next… um…2 years.
So, as an ode to spring and the fact that it isn't 90 degrees outside yet, I give you a spring vegetable salad tossed in fresh dill pesto and sprinkled with crispy prosciutto.
Yum? Yes.
I was going for a fresher, lighter version of potato salad that won't get all nasty if you take it to a potluck.
Mayo+sunshine=grody
Plus dill pesto is one of my favorite things. Last year I made it a few times to toss vegetables in when they came off the grill. I think it deserves its own post. Seriously.
Take this to a potluck this weekend! They'll love it. Pinky promise.
It's also good for a weeknight meal with some pre-cooked sausage warmed up in a pan. You can even make the pesto a day or two in advance! I love easy.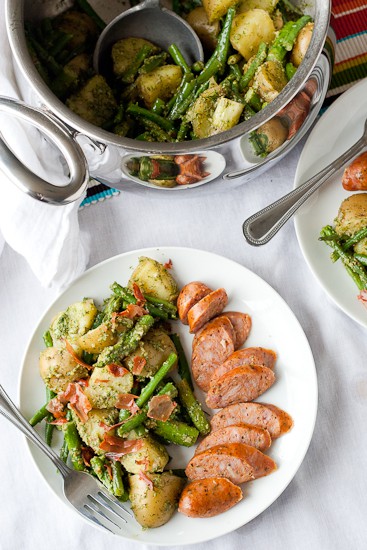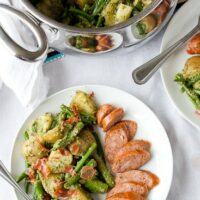 Spring Vegetable Salad with Dill Pesto and Prosciutto
Yield: 6-8 side dish servings

Additional Time: 30 minutes

Total Time: 30 minutes
Ingredients
For the salad
12 ounces asparagus (about one bunch)
1 pound haricot verts (or fresh green beans)
1 1/2 pounds small Yukon gold potatoes
1 Tablespoon heat-safe cooking oil (like avocado or coconut oil)
2 cloves fresh garlic
6 slices of prosciutto
For the pesto
1 bunch of fresh dill
Juice from 1 lemon (about 2-3 Tablespoons)
1/3 cup pecans
1 Tablespoon mascarpone cheese (can also use Greek yogurt)
1/2 clove fresh garlic
1/4 teaspoon sea salt
1/4 teaspoon black pepper
3 Tablespoons olive oil
1/4 cup freshly grated Parmesan cheese
Instructions
Bring a 5 qt pot (or larger) of water to boil.

Trim tough ends off of asparagus and cut the stalks into 1-inch pieces. Trim ends from beans and cut into 1-inch pieces as well. Half or quarter potatoes to make roughly 1-inch pieces. Chop the 2 cloves of garlic.

Place the oil in a large, deep saute pan and bring to medium-high heat. Put the asparagus in the boiling water. Blanch for 1-2 minutes or until the asparagus is bright green and just barely beginning to soften. Transfer asparagus with a spider or a slotted spoon (shaking off excess water) and transfer to the saute pan.

Place beans in the boiling water and do the same, allowing them to blanch for 1-2 minutes and then transferring them to the saute pan with the asparagus.

Add potatoes to the water and boil for 8-10 minutes or until fork-tender. Meanwhile, stir green vegetables occasionally and cook until the largest asparagus pieces are tender. Add chopped garlic and cook for 1-2 more minutes. Remove from heat and let it sit while you prepare the pesto.

To make the pesto, put all of the pesto ingredients into the work bowl of a food processor (except the oil and Parmesan). Pulse until minced finely. While the machine is running, drizzle in the olive oil. Scrape down the sides, add the cheese, and pulse a few more times to combine everything.

When the potatoes are finished, drain and transfer them, along with the green vegetable mixture, to a very large serving bowl to cool for a few minutes.

Place the prosciutto slices in the saute pan and cook on medium for 4-5 minutes or until they crisp up.

Fold the pesto into the vegetables. Taste and adjust seasoning as necessary. Top with crumbled prosciutto. Serve warm or cold.
Notes
Nat's Note: Blanching the vegetables allows them to maintain their bright green color, but this step can be omitted if pressed for time. Also, the pesto can be made 2-3 days ahead of time. Just chill the pesto until ready to use.

Disclosure: I received that gorgeous pot from Nambe as well as monetary compensation for developing this recipe for their newsletter. I received no additional compensation for writing this post.