This fun salad features honey roasted peanut + pretzel crusted chicken on a bed of salad greens with a yummy honey mustard vinaigrette! Plus more peanuts and pretzels because… crunchy things in salads are the best parts.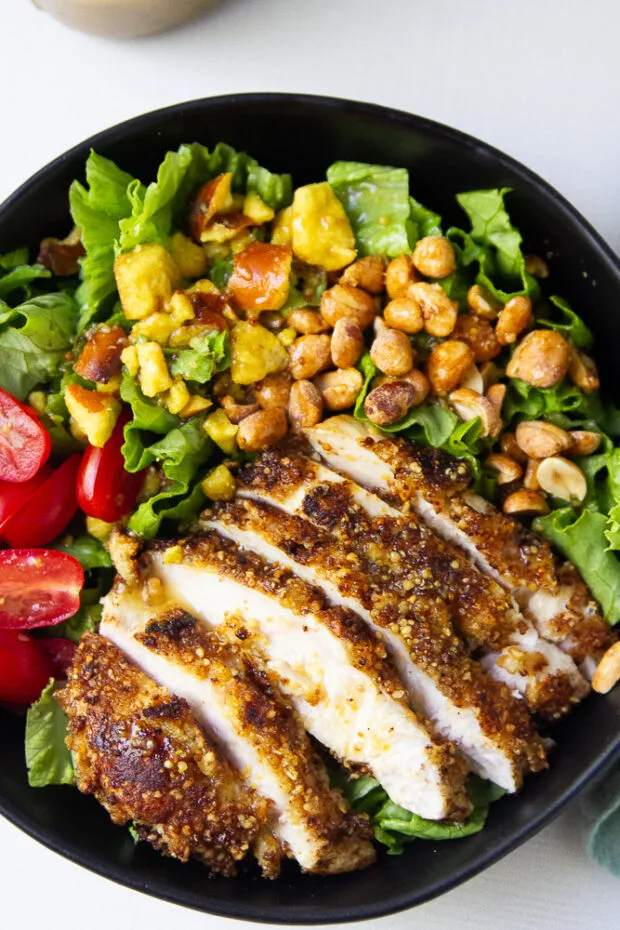 When I was working on this pretzel crusted chicken salad, I thought I was on to something great. And I was.
But when I gave Steve a bowl to try, he went a little nuts.
Steve's a level headed guy who is often hard to REALLY impress. Most things I make the thinks are "good". And if I can get an approving head bob, I take that as a high compliment.
This time he verbally raved — over the course of a couple of days even, as he worked on the leftovers. I think somewhere in there he said it was one of the best salads he'd ever had. And, I quote, "DON'T CHANGE ANYTHING!"
So there you have it. The highest praise from my discerning husband.
Breading and pan frying chicken always sounds like a pain, but this is pretty simple — just 4 ingredients for the breading.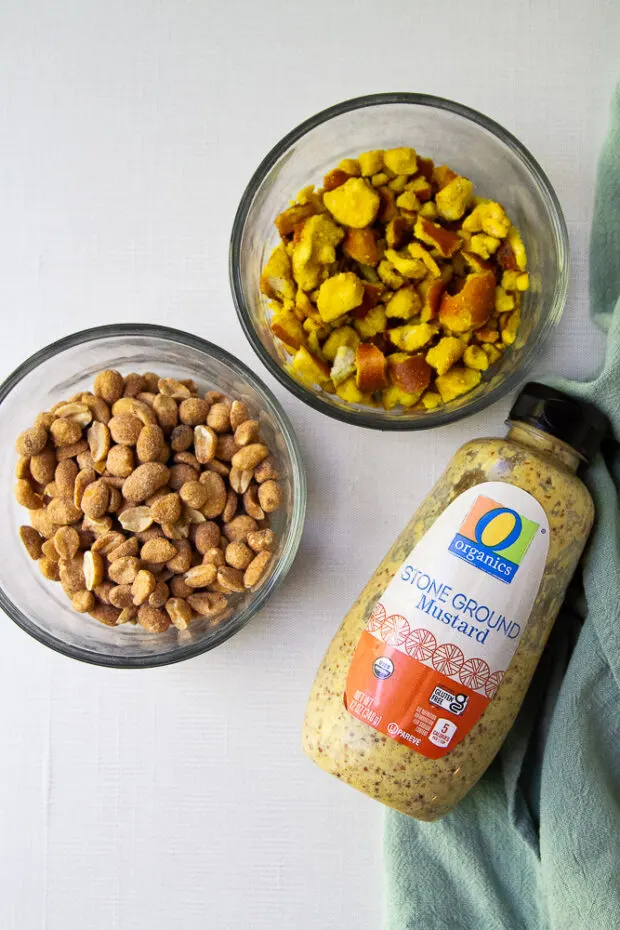 Breading for chicken
I remember a while back when I realized that panko bread crumbs didn't have to be the main ingredient in chicken (or fish) breading. You can use a LOT of things!
In the past I've used different kinds of pulverized crackers, pretzels, popcorn, nuts, and alternative flours.
This recipe uses a mixture of honey roasted peanuts and honey mustard pretzels. Might sound a little strange but it's a really great combination!
TIP: Use gluten-free pretzels to make this recipe gluten-free!
In the wet part of the breading there's just an egg and whole grain mustard.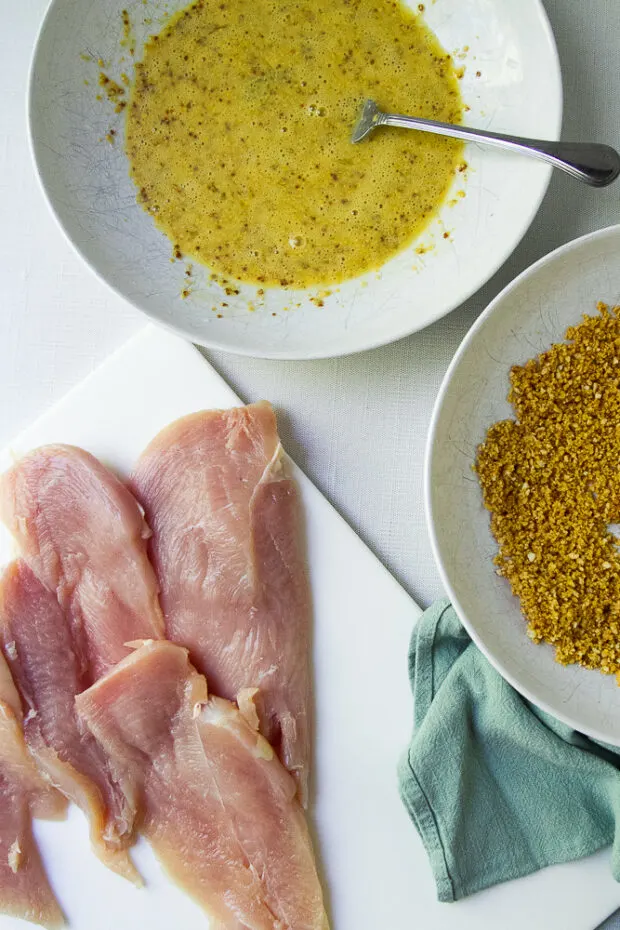 What type of chicken to use
If you can find chicken breast cutlets or chicken tenders, this is super easy!
When I made mine, i just bought regular chicken breasts and butterflied them.
Butterflying them is pretty easy. Just press your hand onto the breast and run a knife into the thickest side, then continue to slice it open like you'd open a book, until you have two thin breast pieces.
How to make pretzel crusted chicken
I buzzed up my pretzels and peanuts in my food processor which makes it quick & easy.
If you don't have a food processor, put them in a ziptop bag and hit them with a rolling pin until they're smashed up pretty well.
Transfer the crushed peanuts and pretzel crumbs to a shallow bowl or plate.
In a separate shallow bowl, whisk together the egg and mustard.
Dip the chicken pieces into the egg mixture and then into the crushed pretzels mixture. Sometimes I lay the breaded chicken pieces on a rimmed baking sheet until I'm ready to cook them.
Saute the breaded chicken pieces in a hot skillet over medium — and that's it!
TIP: When you remove the chicken from the skillet, put it on a wire cooling rack instead of a layer of paper towels so the breading underneath doesn't get mushy.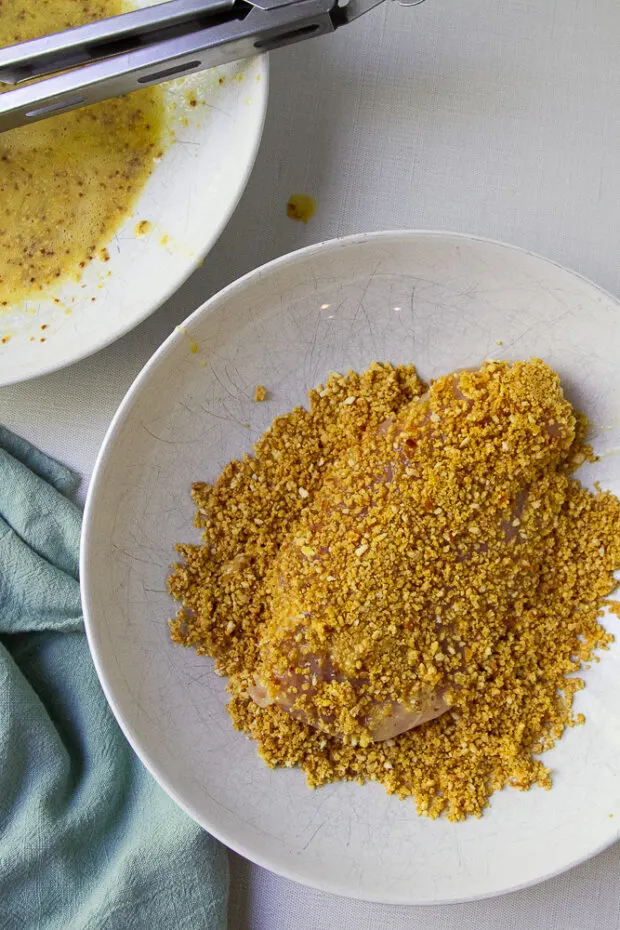 Can I use Dijon mustard?
Sure! Dijon mustard has a stronger flavor whereas whole grain mustard is more mild. Both would work well in the breading and the vinaigrette part of this recipe.
Can I use my Air Fryer?
I didn't use an air fryer when creating this recipe, but you can definitely try that out if you like! I'd recommend cooking the breaded chicken cutlets at 400 degrees for 10 minutes to start and adding additional cooking time if necessary.
Substitution for peanuts?
If you have a peanut allergy or don't want to use peanuts, try using honey roasted almonds.
Or if you're avoding nuts all together, some sunflower seeds might be good. Or just use more pretzels in place of the peanuts.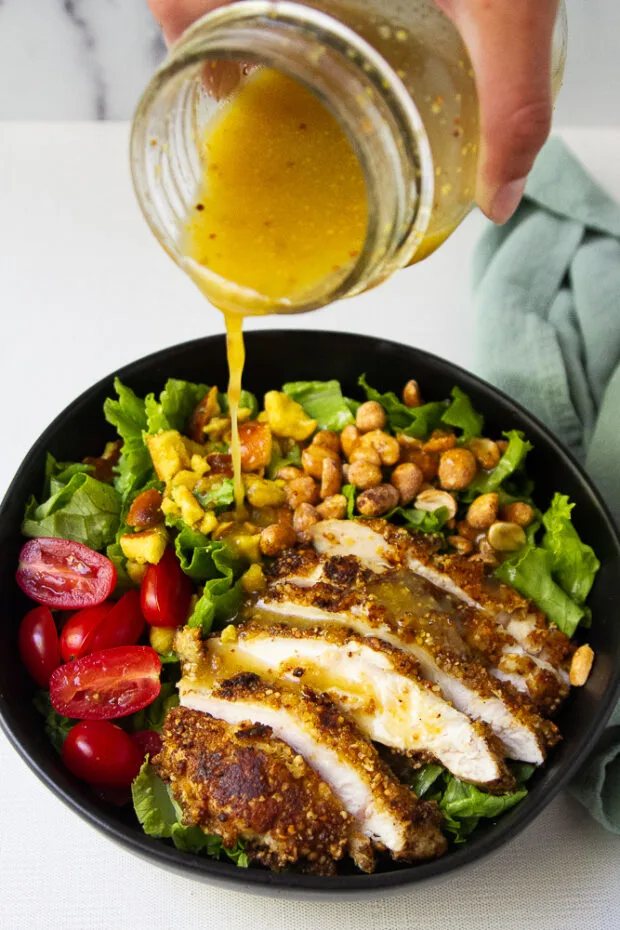 Honey Mustard Vinaigrette Dressing
If you have a favorite honey mustard sauce or store-bought honey mustard dressing you like, it would work well in here. If not, it's easy to whip up this easy vinaigrette recipe in just a few minutes.
Here's what you need:
Whole-grain mustard
Honey
Lemon juice
Extra virgin olive oil
Salt & ground black pepper
You can use apple cider vinegar in place of lemon juice in this dressing recipe if you like. Adding a half clove of microplaned garlic is also good, but seemed a little fussy to me in the moment so I didn't add it.
And again, you can use dijon mustard to make this a honey dijon vinaigrette. It'll just have a stronger mustard flavor.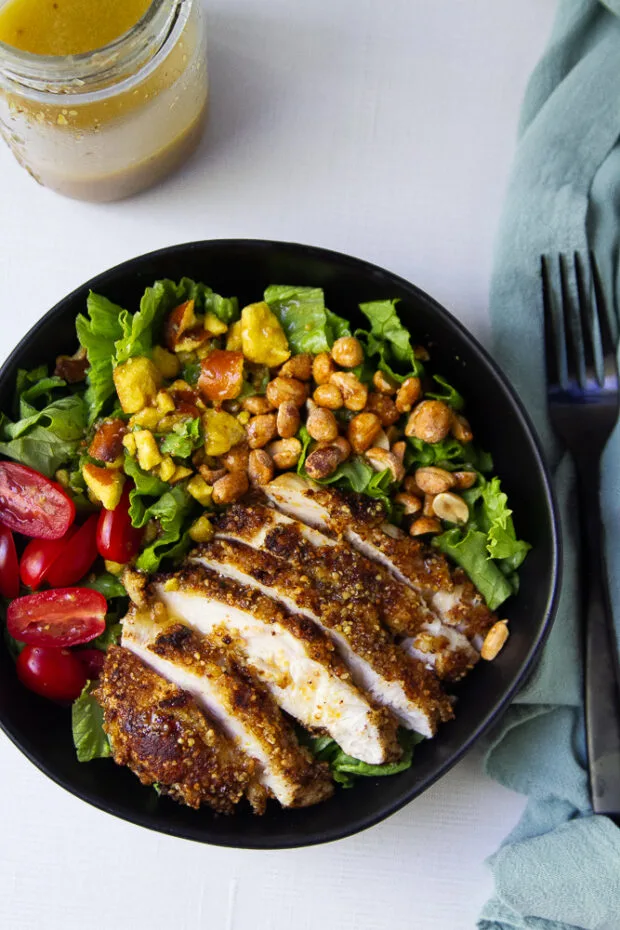 Assembling the Pretzel Crusted Chicken Salads
I just used some green leaf lettuce as a salad base and tossed in some halved cherry tomatoes for some color. You can add any kind of salad veggie you like (cucumbers would work well here, but I put cucumbers in everything so I'm a little biased.)
TIP: If you wait until the pretzel crusted chicken cools for 15-20 min and cut it into strips you don't lose as much breading when you slice it.
If you like this pretzel chicken recipe you might like these other yummy salads with chicken!
More Chicken Salad Recipes on Perry's Plate
Za'atar Grilled Chicken Salad with Feta
Grilled Vegetable and Rotisserie Chicken Salad
Grilled Jerk Chicken & Mango Salad
BLT Chicken Salad with Warm Bacon Dressing
---
If you make one of my recipes, be sure to post it on social media and tag me at @perrysplate or #perrysplate so I can send you some love!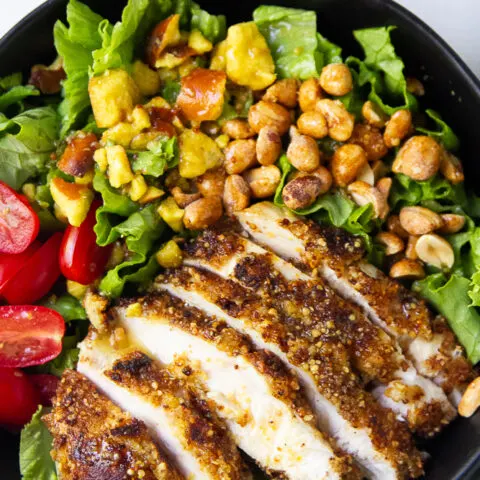 Pretzel Crusted Chicken with Honey Mustard Vinaigrette
This fun salad features honey roasted peanut + pretzel crusted chicken on a bed of salad greens with a yummy honey mustard vinaigrette! Plus more peanuts and pretzels because... crunchy things in salads are the best parts.
Ingredients
For the chicken:
1 1/2 pounds thin chicken breasts or chicken tenders
Sea salt
2/3 cup honey roasted peanuts
2/3 cup broken honey mustard pretzels
1 egg
2 Tablespoons whole grain mustard
Juice from 1/2 lemon
Coconut or avocado oil, for pan frying
For the dressing:
1/3 cup freshly squeezed lemon juice (2-3 lemons)
3-4 Tablespoons honey, to taste
2 Tablespoons whole grain mustard
1/4 teaspoon sea salt
1/3 cup extra virgin olive oil
For the salads:
Salad greens for 6 main dish salads
Additional peanuts & pretzels for garnish
1 pint cherry tomatoes, halved (or any veg you like)
Instructions
Sprinkle the chicken breasts with a few pinches of sea salt. Set aside.
Finely mince the peanuts and prezels in a food processor or use a zip top bag and a rolling pin to beat them up until minced. Transfer the peanuts & pretzels into a shallow dish.
In a separate shallow dish, whisk together the egg, 2 Tablespoons mustard, and the juice from 1/2 a lemon.
Pull out a small sheet pan or a very large plate. Also set out a wire cooling rack and place it on a large rimmed baking sheet.
Add about 3-4 Tablespoons of oil to a very large skillet. Preheat to high, but don't let the oil smoke.
Meanwhile, dip each piece of chicken in the egg mixture, shaking off any excess. Then press it into the crumbly pretzel mixture, coating both sides well. Place them on the small sheet pan/plate or directly into the oil, if it's preheated well. (Water flicked into the oil should splatter a LOT when it's ready.)
Reduce the heat to medium heat and cover, cooking the chicken for 3-4 minutes on each side until the chicken is cooked through. If the breading begins to darken quickly, reduce the heat further.
Transfer the cooked chicken to the wire cooling rack to cool while you prep the rest of the salad components.
Put all of the dressing ingredients into a small bowl or a glass jar and whisk/shake until well blended. Taste, and add additional salt or honey if you think it needs it.
Slice the chicken and assemble the salads by placing some sliced chicken and tomatoes on some salad greens. Top with additional peanuts & pretzels and a drizzle of the honey mustard vinaigrette.
Notes
Swap out the whole grain mustard for Dijon if you like.
Dressing can be made 1-2 days ahead of time.
Recommended Products
As an Amazon Associate and member of other affiliate programs, I earn from qualifying purchases.
Nutrition Information
Yield

6
Serving Size

1 salad
Amount Per Serving
Calories

630
Total Fat

32g
Saturated Fat

9g
Trans Fat

0g
Unsaturated Fat

22g
Cholesterol

130mg
Sodium

703mg
Carbohydrates

43g
Fiber

5g
Sugar

27g
Protein

44g
The information shown is an estimate provided by an online nutrition calculator. It should not be considered a substitute for a professional nutritionist's advice.