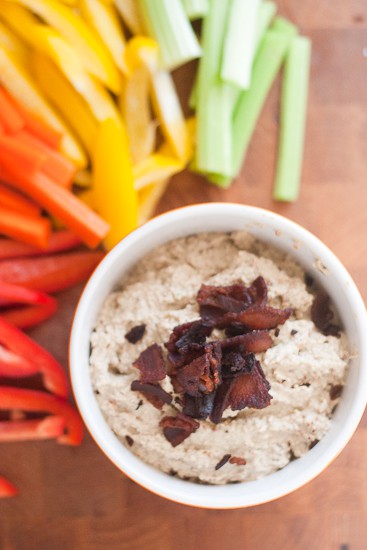 Oh, heavens. I'm pretty sure this dip has a larger proportion of bacon than any other recipe I have.
Like, there's an entire package of bacon in that bowl.
(And that makes me really happy.)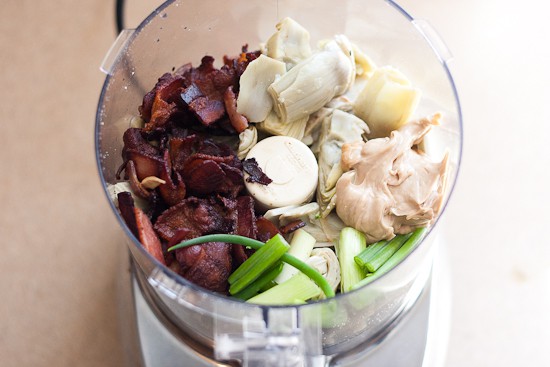 We had some friends over for New Year's Eve, so I tried a Bacon Mushroom Dip recipe from Mark Sisson's book, Primal Blueprint Quick and Easy Meals. It was fantastic!
I wanted to create a similar dip that would be quicker and easier to make. (That might sound odd considering the original recipe came from a book with "quick and easy" in its title.) Between cooking the bacon and sauteeing the mushrooms it either takes a long time or dirties up two pans.
I thought a bacon and artichoke dip would be a quicker alternative, and I added some balsamic to give it more flavor.
Um, wow. We loved this. We dipped vegetable sticks in it, used it as a condiment for roasted/grilled vegetables and chicken, and as a topping for omelets. It would be good as a sandwich/burger spread, too. I'm sure we would have found more uses had it lasted longer!
One more note about this…
I used homemade mayonnaise in this dip which cleans it up quite a bit. I took my Olive Oil Mayonnaise recipe and used avocado oil (to give it a more neutral flavor) and added an extra splash of balsamic vinegar. I may have to give that mayonnaise its own post. I don't even like mayonnaise, but I loved that stuff.
So did my five-year-old, who preferred to dip her vegetables in straight mayonnaise instead of the bacon and artichoke dip.
I've quit trying to make sense of the stuff she does. Yesterday she did a reenactment of her dance recital performance just outside the entrance to Whole Foods. I wish you could have seen it. How I love (and sometimes envy) her fearless individuality.
I also love this dip.
Go make it!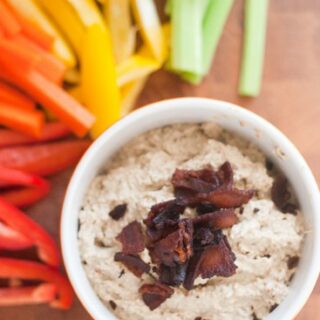 Balsamic Bacon and Artichoke Dip
Yield:
Makes about 1 1/2 cups of dip
Just a handful of ingredients make this dip easy to put together. And about half of it is bacon, which automatically qualifies it for amazing.
Ingredients
10 slices thick-cut bacon
1 12-ounce jar of marinated artichoke hearts (see note)
1/3 cup paleo balsamic mayonnaise (see note)
1 green onion, cut into large pieces
2 Tablespoons balsamic vinegar
Salt, if necessary
Instructions
Cut bacon into 1-inch chunks and fry in a skillet over medium heat until crispy. Transfer with a slotted spoon to the work bowl of a food processor. If you'd like a few pieces of bacon for garnish, set them aside.
Drain and rinse artichoke hearts. Add them to the food processor. Add the mayonnaise, green onion, and balsamic vinegar. Process until smooth. Taste, and add salt, if necessary.
Serve warm or cold. Chill in an air-tight container when not using. Lasts about a week.
Notes
Nat's Notes:
1. I rinsed the artichoke hearts to remove the excess oil, which is most often vegetable oil. You can also use frozen or plain canned artichoke hearts. I found that they didn't add as much flavor as the marinated ones, though. If you use the plain ones, I would suggest adding 1/2 teaspoon of salt and 2 Tablespoons of extra-virgin olive oil.

2. I make my own mayonnaise to avoid the vegetable/soybean oils in commercial mayonnaise. If you'd like to make your own, I included a link within this post as well as modifications to the recipe.
Disclosure: This post contains an Amazon affiliate link. Purchases made by using these links don't cost you any extra and allow Perry's Plate to sponsor more giveaways and replace things like sticky camera equipment.