Sweet, rosemary-infused caramelized onions are the perfect topping for grilled herb chicken!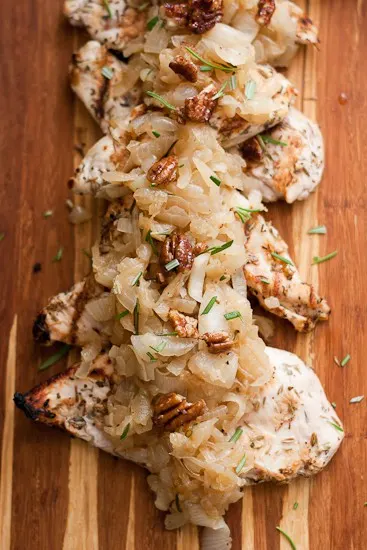 One night a few weeks ago I was going to finally pull out a package of beef liver that has been sitting in my deep freeze for almost two years. I had found a recipe from Sonia (The Healthy Foodie) that gave me the courage to try it. It involved caramelized onions, so I figured at the very least I'd eat caramelized onions for dinner if I couldn't stomach the liver. Not a bad option.
Well.
I didn't realize in time I was supposed to marinate the liver for several hours beforehand (note to self: read the whole recipe) so I "reluctantly" threw some chicken on the grill instead.
Grilled Herb Chicken + Caramelized Onions = YES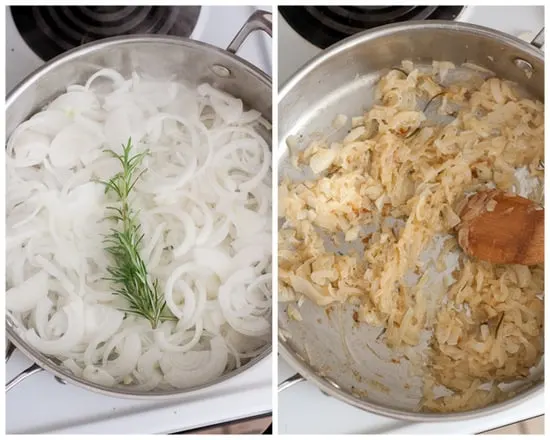 Caramelizing onions is so easy. It takes some patience, but it's totally worth it. It amazes me every time that something so pungent as an onion can change into something nearly as sweet as candy. Well played, nature.
Throwing that rosemary sprig in with the onions was a "cooking from the hip" moment, and I was surprised at how much it flavored the onions! So, so good.
Also, you can get the onions even more caramel-y brown, but I stopped there because my kids had started swarming into the kitchen begging for food. They seem to think they need to eat multiple times a day or something. I swear I spend most of my life either pulling messing up or cleaning the kitchen.
Anyway, the onions are good like this, but even better if you cook them longer.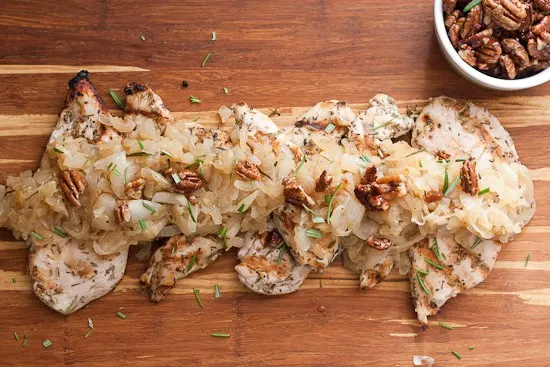 I toasted some pecans to throw on top for some crunch, but you can leave them off. Or use a different kind of nut if you want.
Oh, and the liver? Well, he sat in the fridge for several more days until I really didn't think it would be a good idea to eat. I hate wasting food, but I tossed it anyway. I've got about 10 more packages in there, so maybe next time it'll make it to the pan!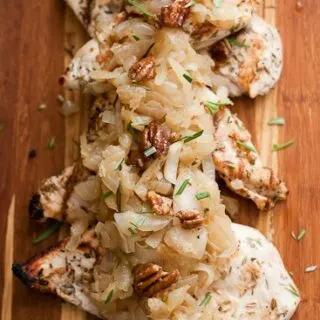 Grilled Herb Chicken and Rosemary Caramelized Onions
Ingredients
4 large boneless, skinless chicken breasts
1 lemon
2 teaspoons dried herb blend (like Herbes de Provence or Italian Seasoning)
salt and pepper
4 Tablespoons heat-safe oil
2 pounds sweet onions, peeled, halved, and thinly sliced
1 sprig of fresh rosemary (or 1 teaspoon dried), plus additional chopped fresh rosemary, for garnish
1 handful of pecans (optional)
Instructions
Slice each chicken breast in half lengthwise so you end up with two thinner breasts. Place them on a rimmed baking sheet (or other container). Squeeze the juice from the lemon over them and sprinkle with the seasoning, generous pinches of salt and pepper, and 2 Tablespoons of oil. (I used avocado for this.) Using your hands, rub the mixture on the chicken so it is well-coated. Cover and chill for 15-20 minutes or until ready to grill.
Heat a deep saute pan to medium-high heat and add 2 Tablespoons of cooking oil. (Ghee or bacon drippings are good choices, but you can use avocado or coconut oil.) Add onions to the pan and cook until they begin to soften, about 5 minutes. Reduce heat to medium-low, put the whole sprig of rosemary into the pan (or dried, if you're using it), cover, and let it cook for 25-30 minutes, stirring occasionally. When they become golden brown and really soft they're done, but you can continue cooking them until they turn a true caramel color. You can speed this up a bit by removing the lid from the pan and turning the heat up to medium-high for the last 5-8 minutes or so. Remove the rosemary stem and discard.
While the onions are cooking, preheat your BBQ grill or grill pan to medium-high. Grill the chicken, flipping once, until grill marks form and chicken is cooked through. Don't over cook them or they'll be super dry! The chicken should feel somewhat firm to touch and juices should be running clear. Remove from the grill and cover until onions are done.
If you're using the pecans, throw them into the pan after you take the onions out and let them toast, while stirring, for 2-3 minutes.
Serve the onions over the chicken and sprinkle with pecans and chopped fresh rosemary.