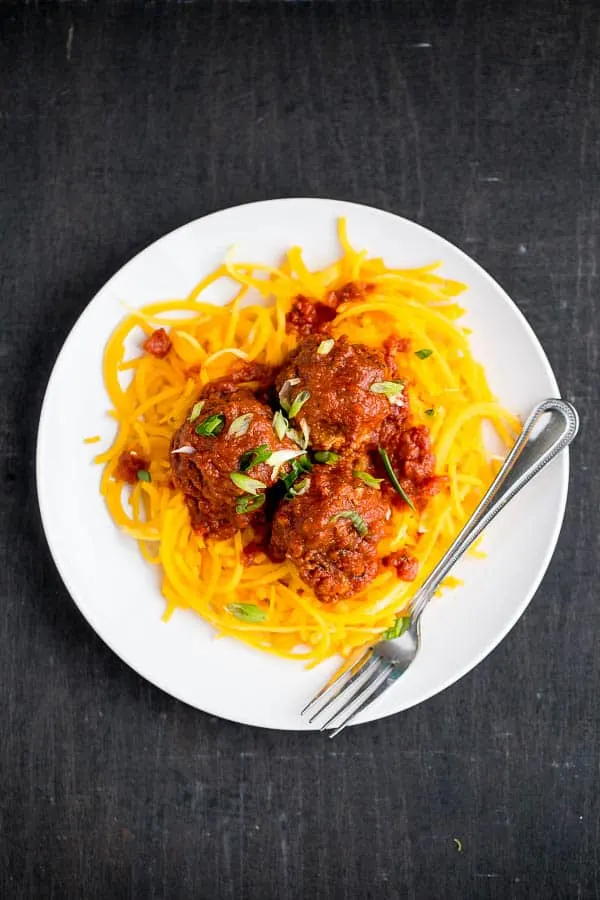 Tell me that you don't think of Lady and the Tramp when you see a plate of spaghetti and meatballs — especially around Valentine's Day. I always thought that was an odd choice for a fancy date dinner, but maybe dogs eat spaghetti and marinara more gracefully than we do. Well, cartoon dogs, at least.
Did I ever tell you that I think of Marge Simpson whenever I pull out my oregano? Ah, Simpsons.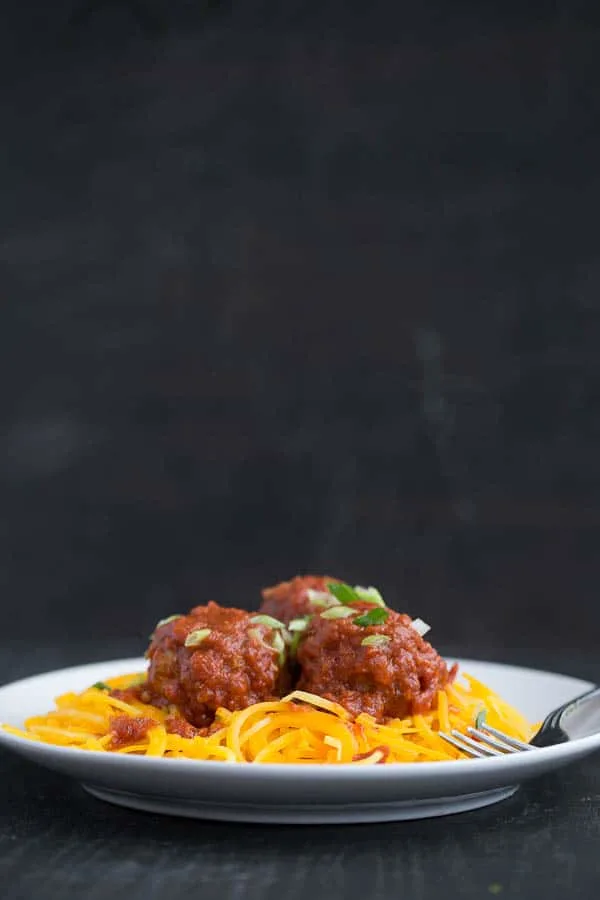 Well, if you DO want to have spaghetti and meatballs for a romantic Valentine's Day dinner, I congratulate you on the comfort level in your relationship.
And I have the perfect recipe for you! Have you ever used bulk Italian sausage in meatballs? My grandma's slow cooker meatballs and gravy has so much flavor, and I didn't realize until I saw the recipe that they had Italian sausage. I've used it in meatballs and meatloaves, and it's an easy way to add a ton of flavor.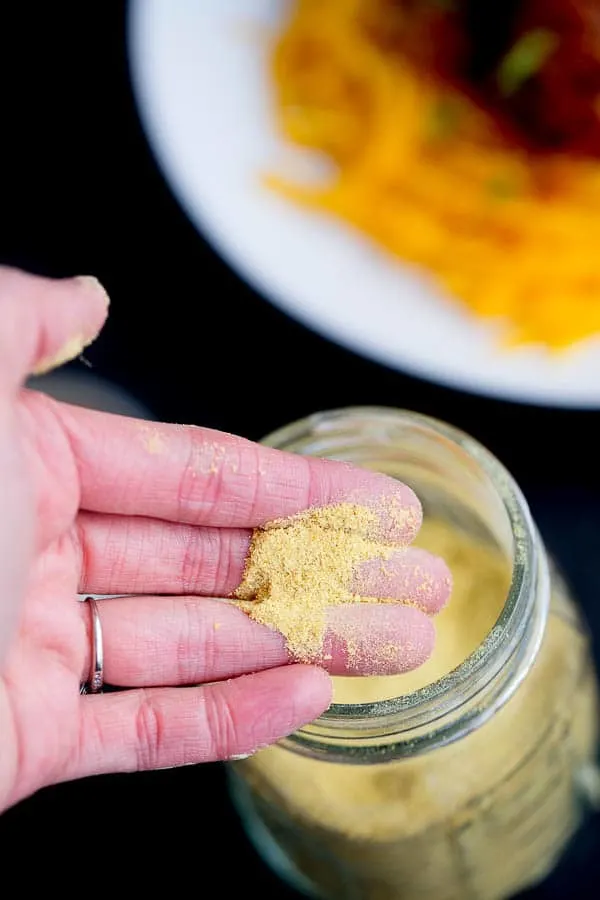 Also, have you ever used nutritional yeast? It adds a "cheesy" kind of flavor, and I always dig into it when I'm doing a round of Whole30 or I'm developing a dairy-free recipe. (You know I'll never break up with cheese forever.)
What is it exactly? Dehydrated deactivated yeast. Sounds appetizing, right? I was a lukewarm about it for a long time until I started using it during my first round of Whole30 and in recipes in my cookbook. I quite like it now!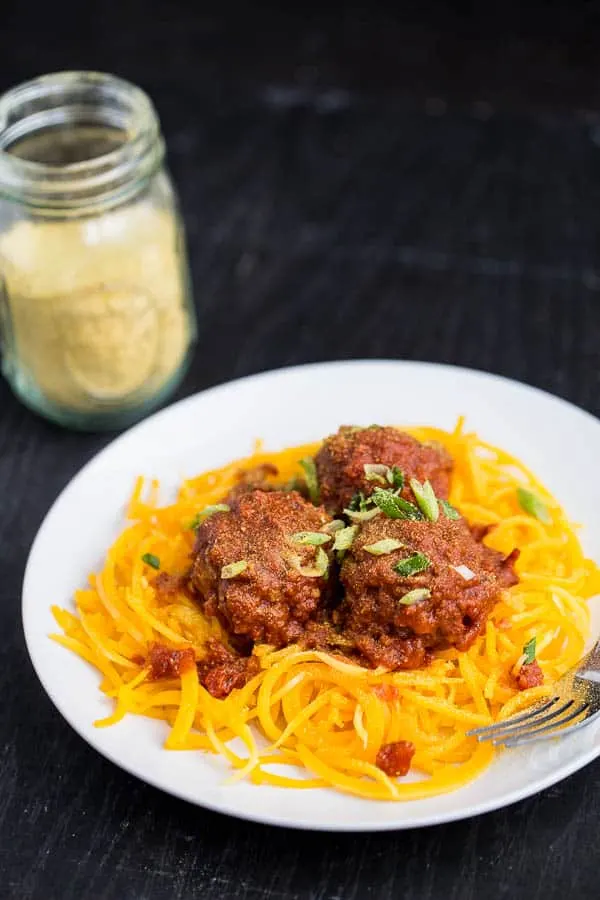 Also, butternut squash noodles are probably my favorite squash noodle. They have a little more heft to them than zucchini noodles and a little sweetness. Just a heads up — if you boil them they overcook REALLY easily and you end up with vermicelli.
Here's another paleo meatball recipe over at Bless Her Heart, Ya'll — Paleo Turkey Meatballs. They look amazing cooked in a sesame-ginger sauce! Just omit the honey to make it Whole30 compliant.
If you're wanting something else a little more exotic, try these Korean BBQ Meatballs at This Mess is Ours.
---
If you make one of my recipes, be sure to post it on social media and tag me at @perrysplate or #perrysplate so I can send you some love!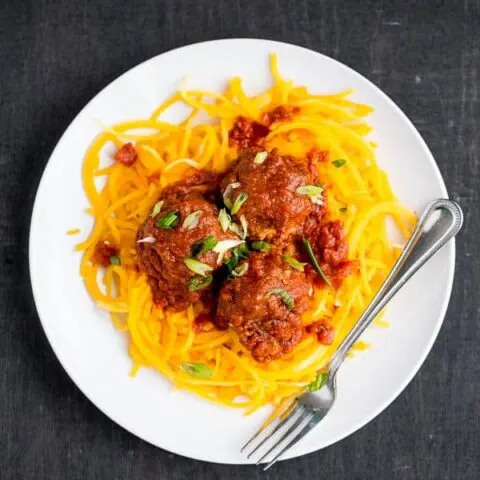 Easy Italian Sausage Meatballs & Squash Noodles
Yield:
Makes about 18-20 meatballs
Italian sausage gives these meatballs a major flavor boost! We loved them with butternut squash noodles.
Ingredients
1 pound bulk Italian sausage (pork or chicken)
1 pound ground turkey
1 1/2 teaspoon sea salt
2 teaspoons Italian seasoning
1 Tablespoon coconut aminos
1 Tablespoon nutritional yeast
2 egg whites
1 Tablespoon coconut flour
4 garlic cloves, minced
4 Tablespoons avocado oil
1 36-ounce jar of marinara sauce
Spiralized vegetable noodles (butternut squash, sweet potato, or zucchini)
Thinly sliced scallions and additional nutritional yeast, for garnish
Instructions
Combine the sausage, ground turkey, salt, Italian seasoning, coconut aminos, nutritional yeast, egg whites, coconut flour, and garlic in a large mixing bowl. Use your hands to gently blend the mixture until everything is mixed well.
If you plan on boiling your squash noodles, now would be a good time to start a pot of water to boil.
Roll the meat mixture into 2-inch balls and place them on a large plate.
Add 2 Tablespoons of the avocado oil in a large skillet and bring it to medium-high heat. Add half of the meatballs to the skillet and let them cook, undisturbed for 3-4 minutes until a brown crust forms on the bottoms and they release easily from the pan. Turn them and brown the other sides. They do not need to be cooked all the way through at this point. Transfer them back to the plate, and brown the second batch of meatballs. When those are finished browning, return the other meatballs back to the skillet.
Pour the marinara over the meatballs, reduce the heat to medium-low, and cook, covered, for about 10-12 minutes until the meatballs are cooked through.
Cook the spiralized squash either in that pot of boiling water for 2-5 minutes, depending on the thickness of the noodles, or in a separate skillet over medium-high heat with a drizzle of avocado oil and a sprinkling of salt and pepper, tossing often, for 4-6 minutes.
If the marinara has reduced and you need more sauce, add 1/2 cup of water to the skillet to loosen things up.
Serve the meatballs and sauce over a bed of vegetable noodles and top with a sprinkling of sliced green onions and nutritional yeast.
Notes
Nat's Notes:

1. Nutritional yeast is dried, deactivated yeast that has a sort of "cheesy" flavor. It's a great dairy-free/vegan alternative for that sprinkling of cheese you might miss if you happen to be abstaining.

2. If you don't have a spiralizer, just slice the squash into thin "planks" and then cut them into very thin strips.
SaveSave
This post may contain affiliate links. Any purchases made by using these links won't cost you any extra and helps keep my content free. These links may be Amazon links as I am part of the Amazon Associate Program.