Caramelized Cabbage and Bacon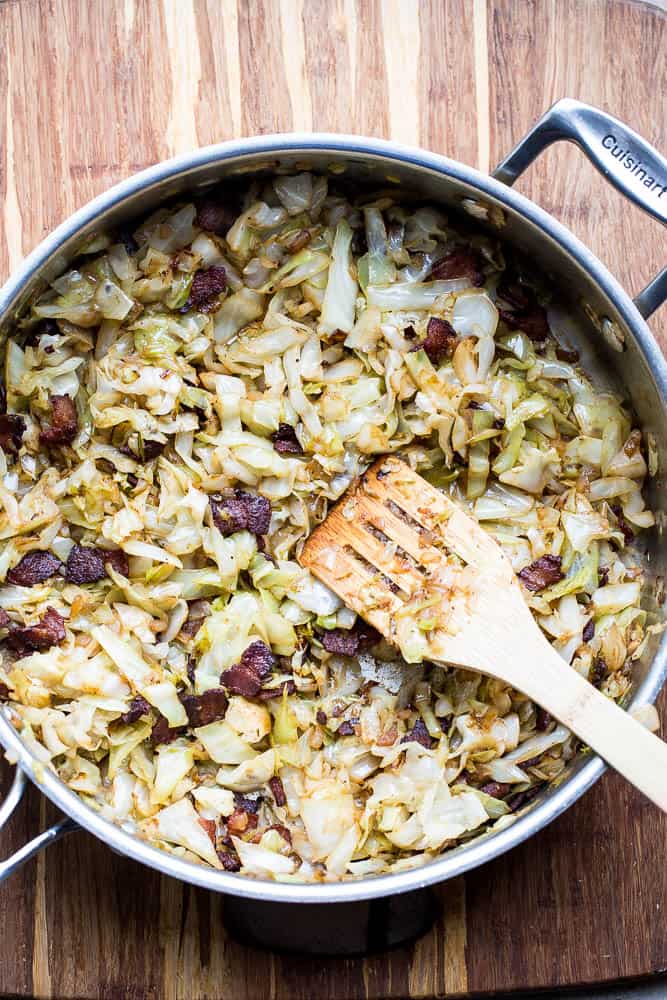 Sometimes I think about what I would eat if I lived alone. I'd had FAR fewer dishes, that's for sure, and never two dozen plastic IKEA cups in the dishwasher. And I'd never have ketchup in the fridge. (Ew.) If by some miracle I happen to be alone, I usually just grab whatever leftovers are in the fridge or scramble some eggs. (Or make this caramelized cabbage and bacon and throw some fried eggs on it. YUM.)
I experienced this for over a year when I lived alone during Steve's deployment, pre-kids. In some ways it was nice to come and go and eat as I please. But, I was always anticipating cooking Steve stuff that I really loved, and I loved having friends over to eat.
Yeah, kids are messy and picky and don't always listen, but they're fun to have around most of the time. It's one thing to whip up something a bunch of adults enjoy, but an entirely different feeling of accomplishment when you do it for a group of kids — especially if what they're eating is good for them. That's the ultimate high right there.
That high didn't happen when I made this caramelized cabbage and bacon. I figured with as much bacon in this I might win them over, but… nope. The littlest liked it, but the girls totally shut me down.
Sigh.
The good news is that I had plenty leftover for lunches the rest of the week.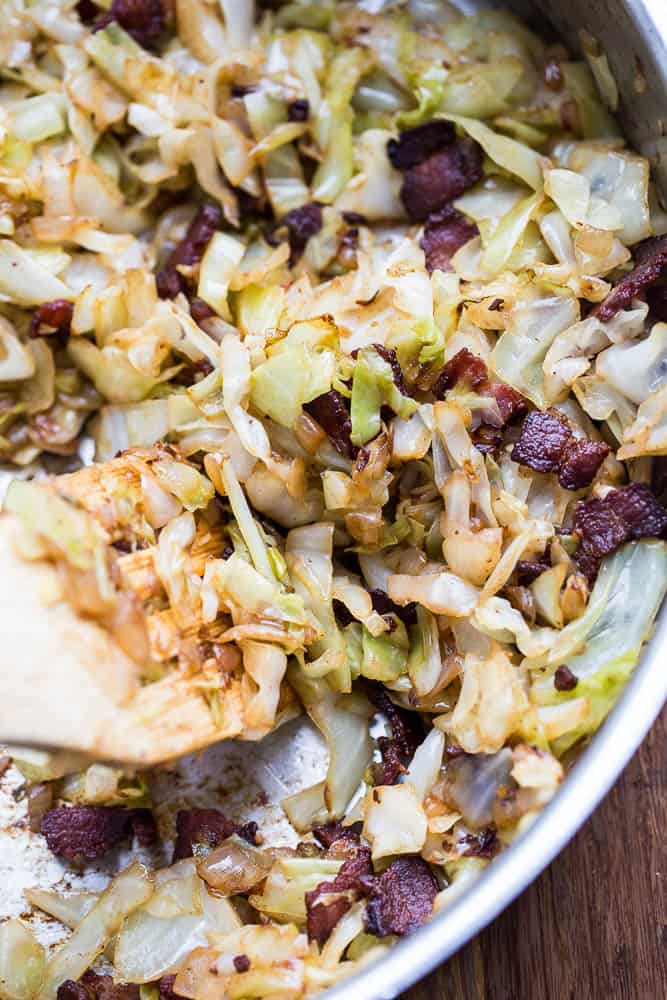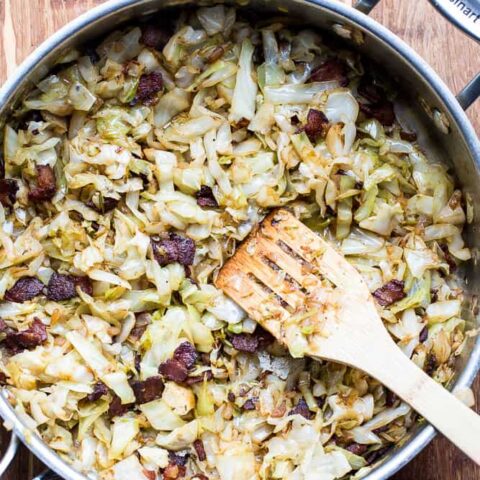 Caramelized Cabbage and Bacon
Yield: Serves 6-8 as a side
Prep Time: 10 minutes
Additional Time: 1 hour
Total Time: 1 hour 10 minutes
Who knew that cabbage caramelized in bacon drippings could be such a delicious and easy side dish?
Ingredients
8-9 slices of uncooked thick-cut, nitrate-free bacon
1 large sweet onion
1 large head of cabbage, shredded
1/2 teaspoon sea salt
1 clove garlic, minced
1 Tablespoon red wine vinegar
Instructions
Cut the bacon into 1-inch pieces and cook in a large skillet over medium heat until evenly crisped. Remove the bacon from the skillet and set aside.
Drain half of the bacon drippings from the skillet. Add the onion, cabbage, and salt to the skillet. Cook over medium-high heat until the cabbage softens and the onions turn translucent. Lower the heat to medium and continue to cook for about 30-40 minutes until the cabbage has golden brown spots and is very, very tender.
Add the garlic and red wine vinegar to the skillet and stir to combine. Stir in the bacon and serve.
Notes
Nat's Note: This can easily be made ahead of time and warmed immediately before serving.

SaveSave
SaveSave