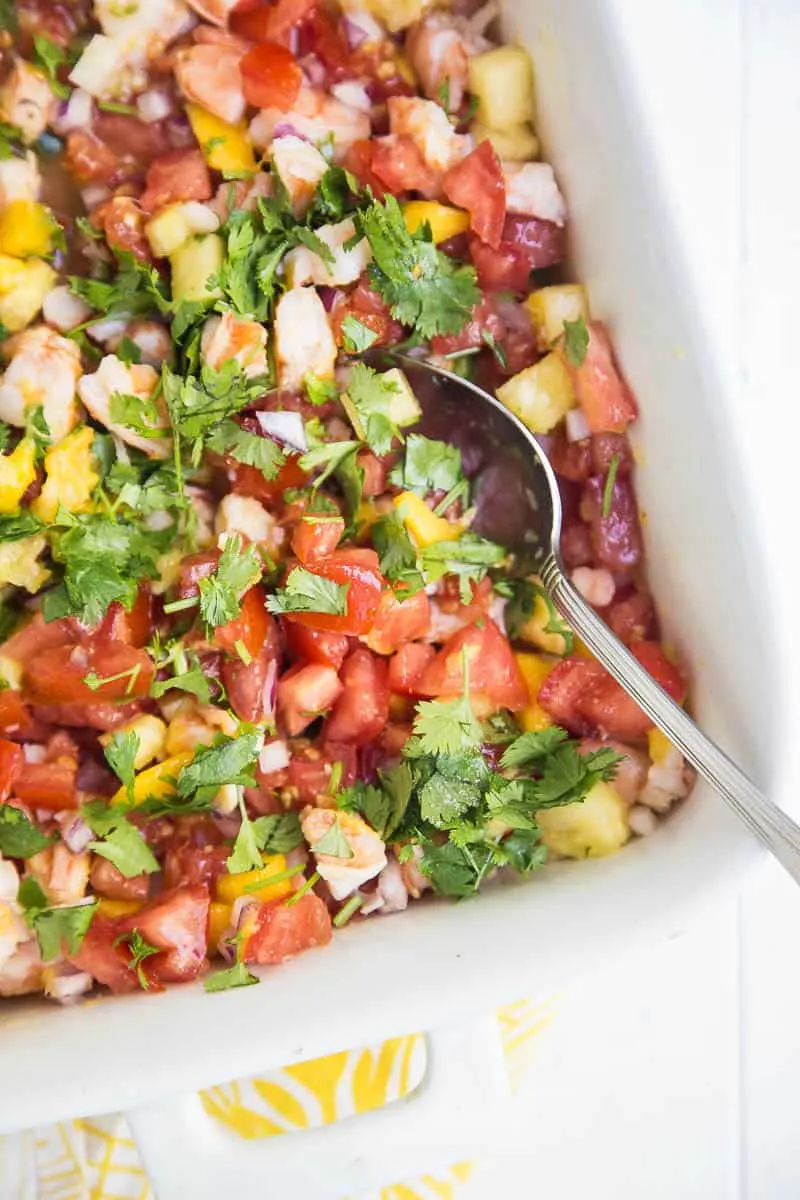 I have this great friend named Kristi. She has been a reader of my blog for at least 9-10 years. And we even met in person once!
(I happened to be near where she lived once so I totally knocked on her door at 10:30PM like a creeper. And she still likes me.)
Kristi has helped me behind the scenes here at Perry's Plate, and she also sends me suggestions of stuff I NEED to make. Or recreate. Or health-ify. I'm learning that all of her ideas are great. I don't even question her anymore.
One of those ideas is this recipe right here.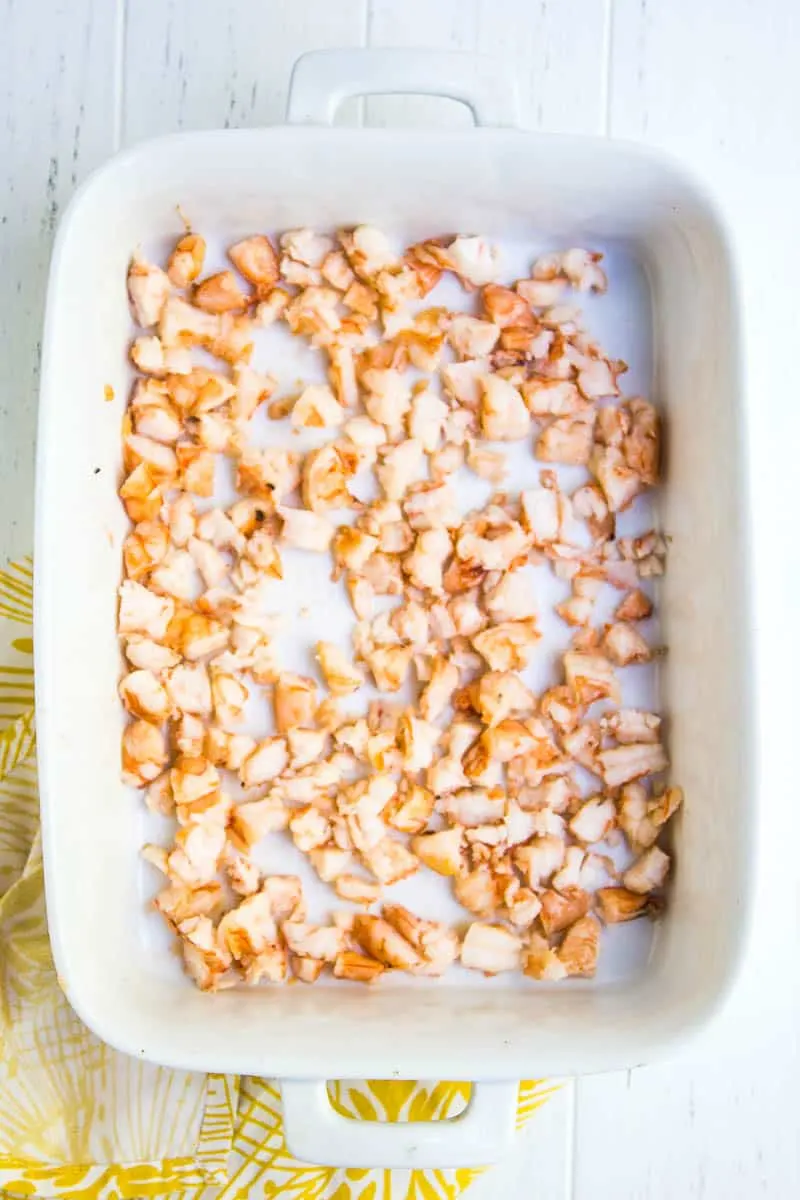 Kristi is a big fan of ceviche. I don't even know how many texts she sent, demanding that I make ceviche because I would love it.
Honestly? The thought of using citrus juice to "cook" fish sort of freaked me out.
One day I saw shrimp ceviche at Costco so I went for it. My family FREAKING WENT NUTS over it. I, on the other hand . . . was a little underwhelmed. It was OK, I guess. It just tasted like pico de gallo with shrimp.
Kristi told me that I needed to make my own. So I did. Because I listen to her.
Since my first experience with ceviche was shrimp, I wanted to make a shrimp version. After looking around online, I learned that most of the time the shrimp is pre-cooked in shrimp ceviche because shellfish can get funky more easily than fish (which is usually raw and "cooked" in the citrus juice).
So I cooked my shrimp.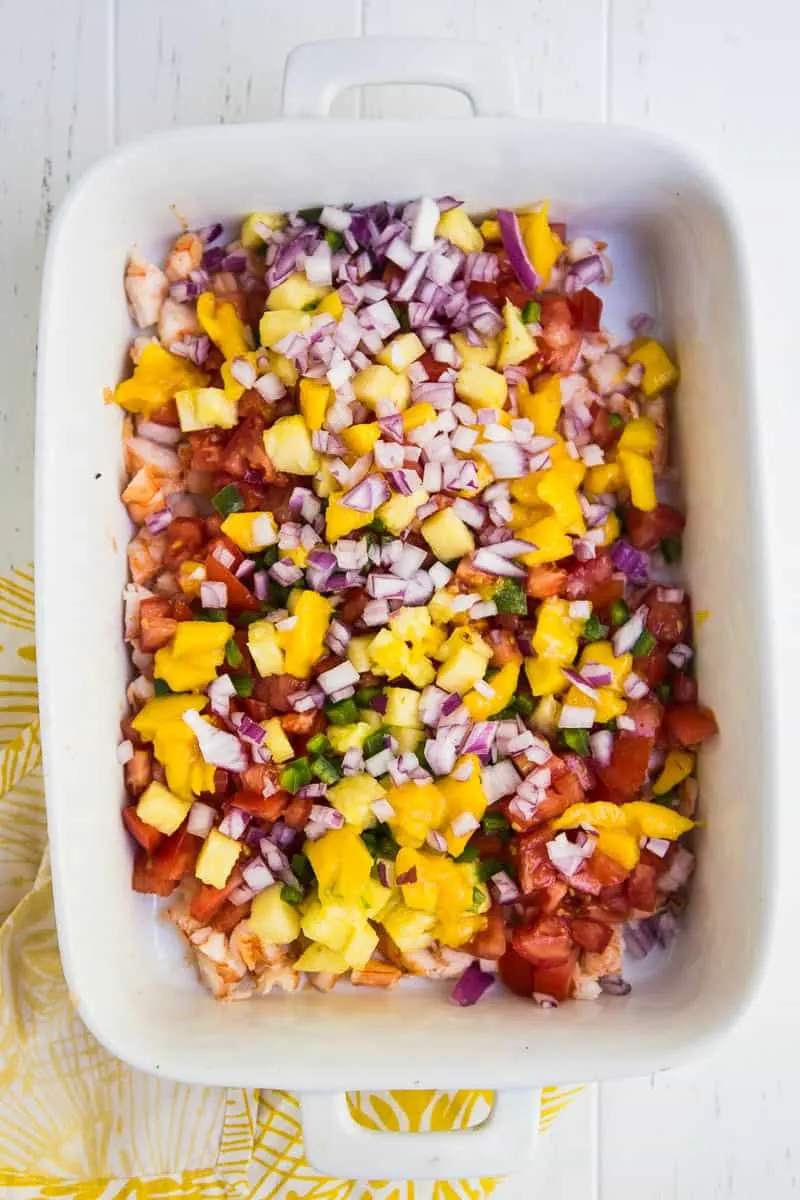 I also wanted to make this version more interesting than the Costco version I had eaten, so I gave it a tropical twist and added little chunks of diced pineapple and mango.
That was a great idea, honestly. I love shrimp and tropical fruit together.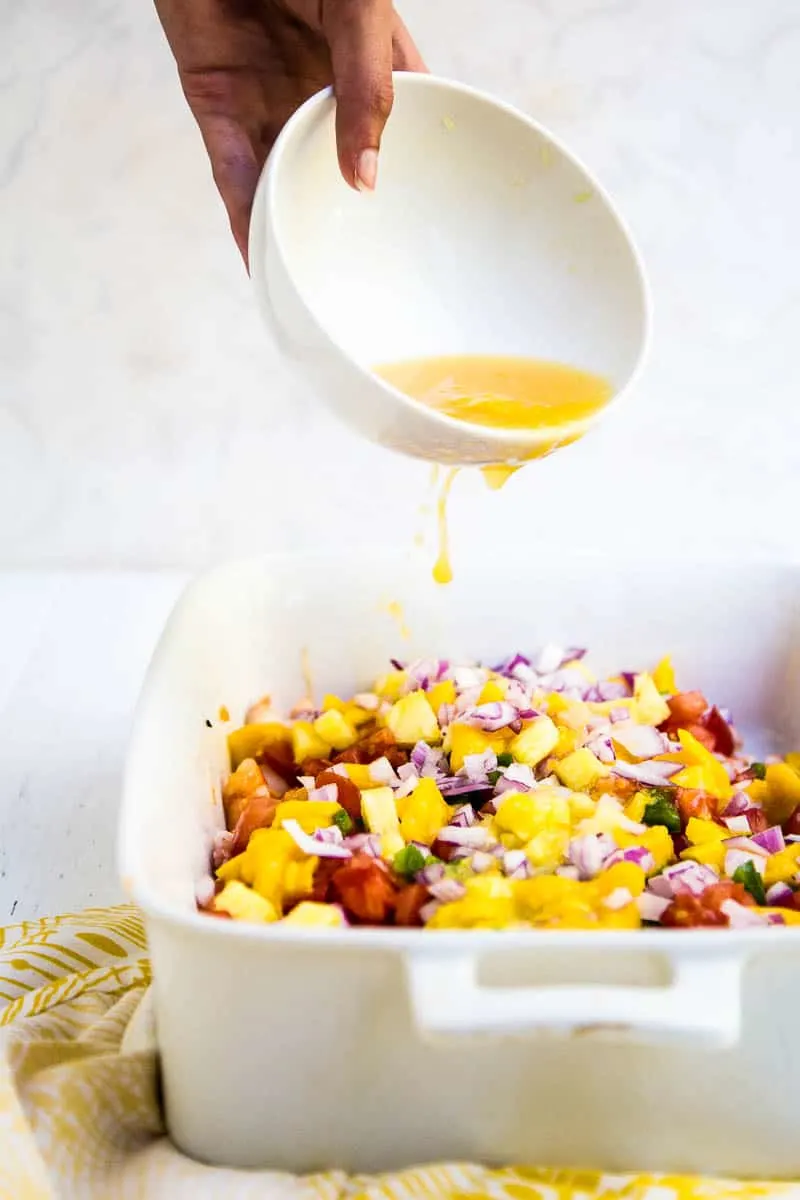 For the "marinade" I used a combination of orange juice and lime juice. The longer this sits, the better. Pico de gallo is like that anyway, and honestly, I feel like this is just a fruity, shrimpy pico de gallo.
BUT I'M CALLING IT CEVICHE, M'KAY?
I think Kristi would approve of this. If she makes it I'll let you know. Since she's the ceviche queen and all.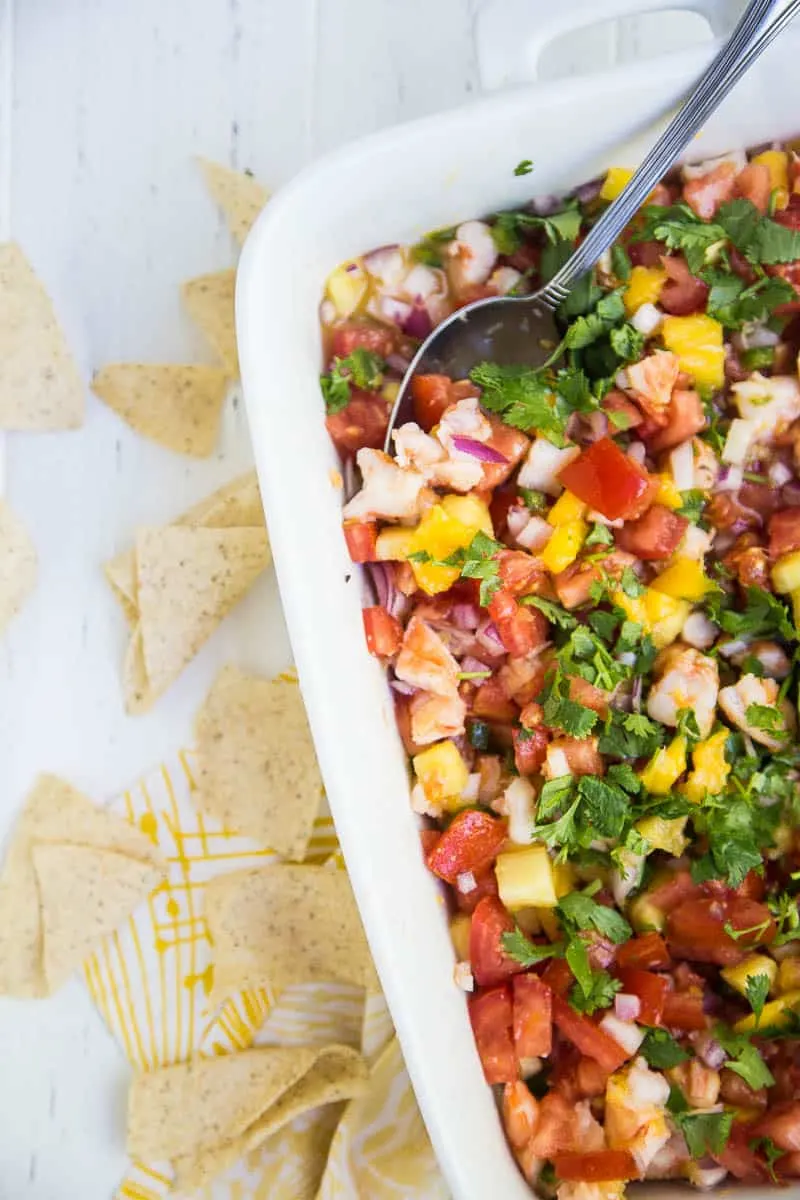 Ways to Use Ceviche
Just eat it with chips. (Honestly, this is the best way. And the most popular, I imagine. I buy Siete grain-free chips quite often (from Thrive Market! And Costco, when they have them.), but I'd eat an entire bag in one sitting if that's the only way I ate ceviche.
Put it on a salad. More specifically, put it on THIS Fish Taco Bowl. You're welcome.
Put it on a taco. I feel like these would be good with lighter chicken tacos, but go nuts with this and let me know how it goes.
Put it on your breakfast hash. I always add some kind of salsa or hot sauce to breakfast hash or eggs. I think this would be so tasty and light in the morning!
Add it to tortilla soup. Is this a weird idea? I just thought of it.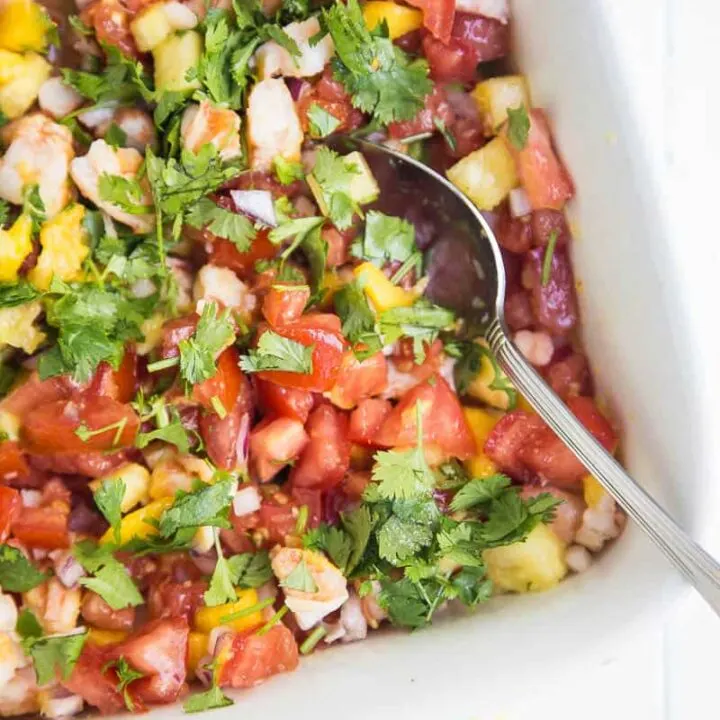 Tropical Shrimp Ceviche
Additional Time:
30 minutes
The pineapple and mango chunks give this shrimp ceviche a fun, sweet burst of flavor. Like you're in the tropics. (Wishful thinking here in Idaho.) We ate these with some grain-free tortilla chips, but it's also good on a fish taco bowl or on a taco salad!
Ingredients
1 pound large shrimp, peeled and tails removed (wild-caught, if possible)
1 teaspoon sea salt, divided
1 Tablespoon coconut oil
1 pound cherry tomatoes, quartered
1/2 cup diced red onion
1/2 cup small diced fresh pineapple
1/2 cup small diced fresh mangoes
1 jalapeno, seeded and small diced
Juice from 1/2 of an orange (about 2-3 Tablespoons)
Juice from 2 juicy limes (about 3-4 Tablespoons)
1/2 cup fresh chopped cilantro
Instructions
Sprinkle 1/2 teaspoon of salt on the shrimp and let it sit while you prep the other ingredients.
Put the coconut oil in a large skillet and heat it to high heat. Add the shrimp and cook them for a few minutes on each side until they've just barely turned completely pink. Don't overcook them or they'll be rubbery.
Transfer the shrimp to a cutting board and let them cool. Chop them into small bits and put them in a shallow baking dish.
Add the tomatoes, onion, pineapple, and mangoes to the dish.
In a small bowl, combine the orange and lime juices and the remaining 1/2 teaspoon of salt. Pour it over the shrimp mixture.
Sprinkle the cilantro over the top. Give the whole thing a stir and chill for at least 30 minutes before serving, up to 24 hours. Stir immediately before serving.
Serve with chips or spoon over salads or tacos.