CSA Wednesdays: Carrots & Beets + Candy-Striped Beet and Carrot Slaw
How often do you see carrots with the greens still attached? They're so pretty. I wonder if cutting their greens makes them feel like their "hair" is getting chopped off?
If carrots had feelings, that is.
Speaking of feelings… I have mixed feelings toward beets. They're probably the most gorgeous color found in nature, but I think they taste like dirt.
Sometimes they surprise you, though. Have you ever seen candy-striped (chioggia) beets? Pretty cool, right? One perk to these babies is they don't turn your hands (or whatever else they touch) purple for the next two days, and taste less like dirt then the other ones.
Carrots will surprise you, too. Like the purple ones we get sometimes in our CSA box. Tricky, tricky vegetables.
Because I have issues with beets, I tried roasting them, which usually works with vegetables I don't like (except for radishes). No luck. I don't mind them in borscht, though. Or hummus. Otherwise, I cook them down, mash them, freeze some in ice cube trays and turn things pink. Like waffles. My girls really like it, and a couple of tablespoons changes the color drastically, but doesn't affect the flavor or texture.
Pictured: Russian Palace's Borscht, Pretty Pink Waffles, Beet & Chickpea Hummus
So yes, there are some repeats from former CSA Wednesdays posts (like borscht… which could probably work itself into half of these posts. It's like CSA soup. For reals.)
Beets
Russian Palace's Borcht
Beet & Chickpea Hummus
Pretty Pink Waffles
Pictured: Warm Spinach and White Bean Dip, Thai Peanut Turkey Burgers, Caramelized Cumin-Roasted Carrots, and Spiced Carrot Waffles
There are a lot of recipes on my site that have carrots. Just type "carrots" into the search and you'll see. I wanted to highlight some of my favorites and those that use up more than just one carrot. And yes, you might see some familiar recipes from past posts.
Carrots
Coconut Curry with Cauliflower, Carrots & Chickpeas
Spiced Carrot Waffles
Chicken Tortilla Stew
Homemade Chicken Stock
Hidden Veggie Chipotle Taco Meat
Caramelized Cumin-Roasted Carrots
Thai Chicken Wraps
Thai Peanut Turkey Burgers
And once again… here are my favorite dips. Carrots really lend themselves to be eaten raw. Covered in dip.
Ah, but this slaw. Look how gorgeous those beets and carrots are. I didn't adjust the saturation for those photos above — they really are that bright!
Sometimes bright, colorful food is just the thing to get your kids to at least take a bite. My girls nibbled at this slaw at first, but then ate a good amount of it. I did, too. The dressing is really citrusy and tart — almost too tart — but the sweetness from the beets and carrots toned it down.
I was surprised how much I liked this! It's the first time I've ever been happy eating raw beets.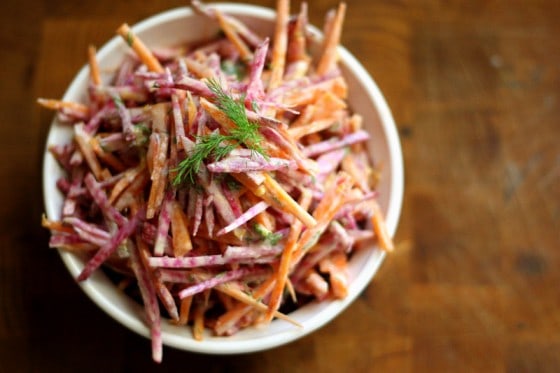 Candy-Striped Beet and Carrot Slaw

Total Time: about 30 minutes

Ingredients:

1/4 cup plain Greek yogurt
1 tsp finely grated orange zest + 3 T fresh orange juice
1 T fresh lemon juice
1 T finely chopped fresh dill
5 2"-diameter candy-strip (Chioggia) beets, scrubbed, julienned
1 large carrot (or 2 medium), julienned
salt and pepper, to taste

Directions:

Whisk yogurt, orange zest and juice, lemon juice, and dill in a medium bowl. Add beets and carrots and toss to combine. Season with salt and pepper.

Nat's Notes:
1. I used a mandoline slicer to slice the beets and carrots. I forgot to peel them, and I don't think it made a big difference.

from Bon Appetit July 2011