This is the BEST way to make roasted broccoli and have those caramelized crispy bits! No more soggy, overcooked broccoli.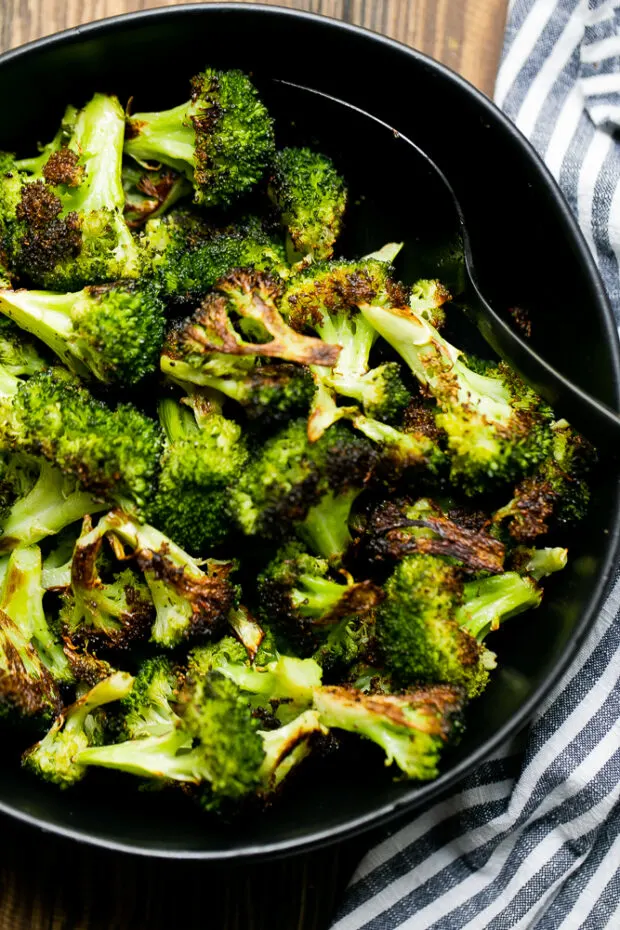 As far as I'm concerned, this is the only way to eat broccoli. I mean, look at the caramelized, crispy edges on that roasted broccoli!
If you've ever roasted broccoli and it turned out soggy and limp, I'm going to give you a few pointers so you'll have perfectly roasted broccoli every time.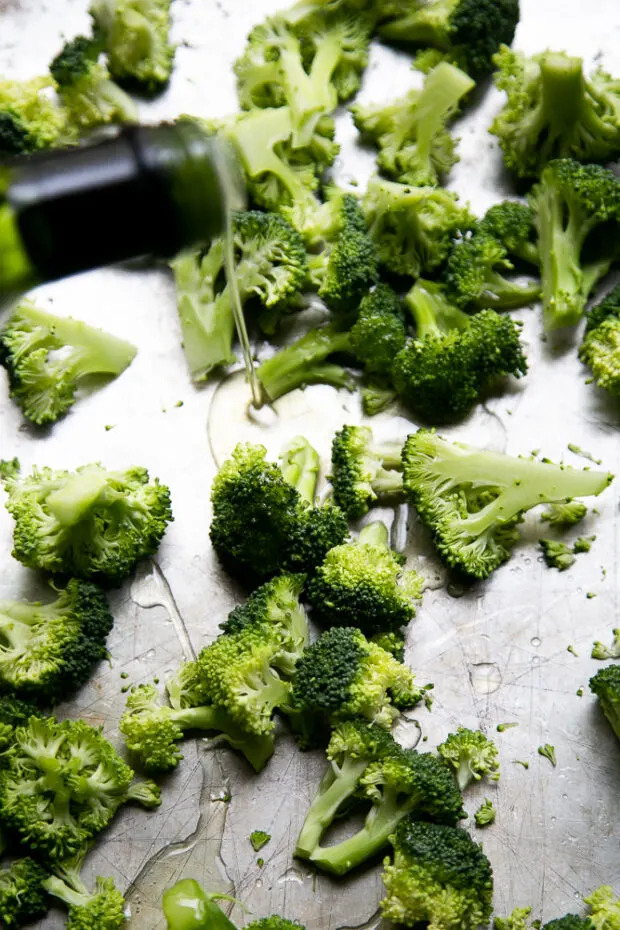 Tips for Roasting Broccoli
Don't crowd the pan
Honestly, this is one of the best tips for roasting vegetables in general. If you try to put as many vegetables as you can on the pan, you'll end up with limp vegetables.
The reason why this happens is because there's no room for the steam to escape as the vegetables are cooking, so they end up steaming each other.
Leave some space between the pieces of broccoli on the pan. I'd only put 2-3 crowns on one pan. (Or 1 head)
If you need to roast a lot of broccoli, split it into two pans and rotate halfway through cooking. It's worth making another pan dirty. I promise.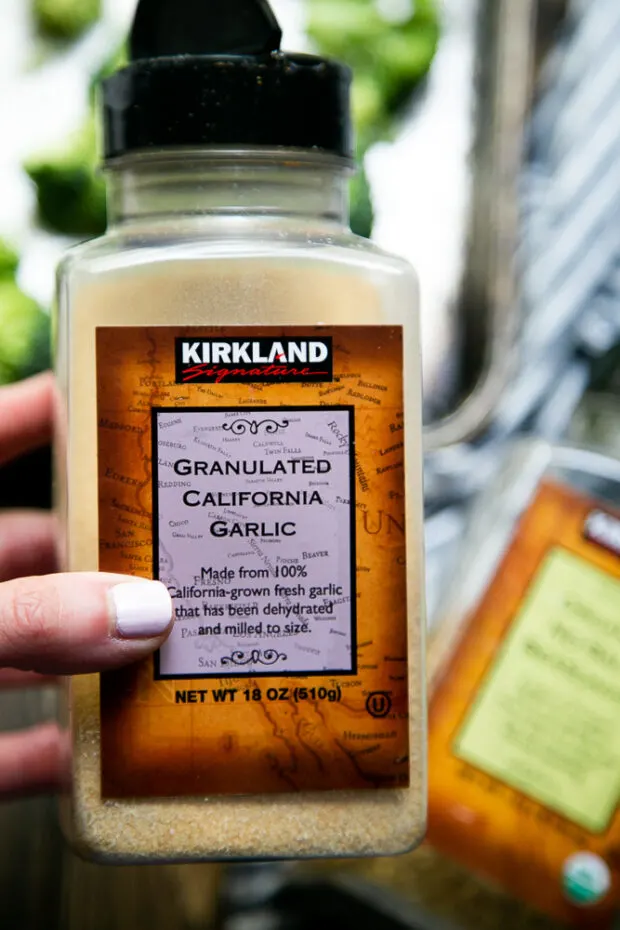 Season roasted broccoli simply
When I roast broccoli, 99% of the time it's a side dish for something else we're eating. I don't want to spend time chopping garlic or adding anything else to this because I want it finished quickly.
Most of the time I shake on some granulated garlic and sea salt. Sometimes I'll use a season blend. Fresh garlic is pretty good, too, but it tends to burn, which brings me to my next tip…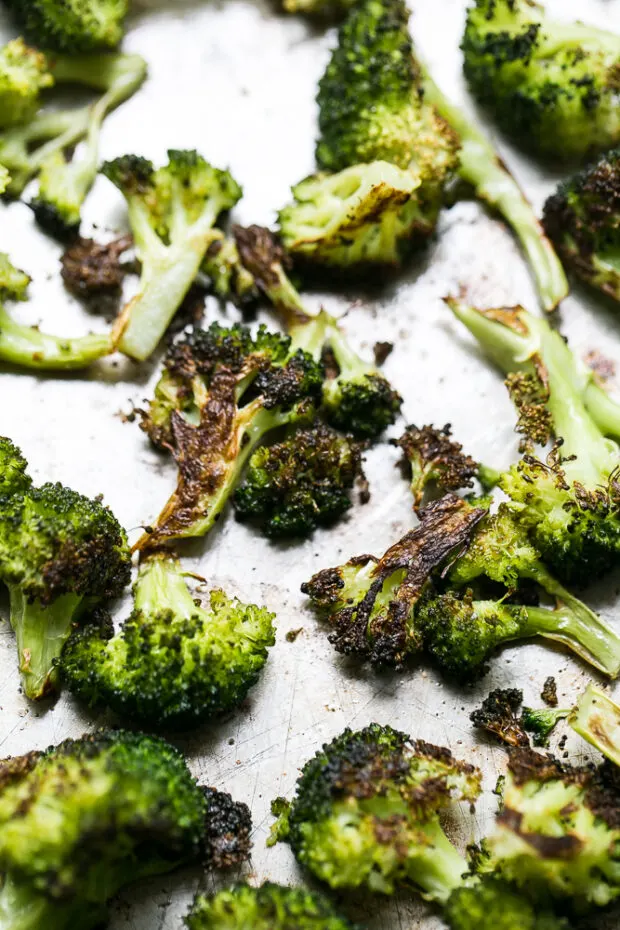 Roast it hot
When it comes to quick cooking vegetables you'll want to crank up the oven. I always roast broccoli at 450 degrees F.
Why? You'll want to get some color on it before the vegetables overcook. If the temperature is too low, then the broccoli will be limp and gross by the time it gets any color.
Roast it low
Going along with roasting broccoli at a hot temperature, you'll want to roast it on the BOTTOM of the oven closest to your heating element. If the heating element in your oven is on top, then roast it high.
If you're using two pans, then rotate the pan during cooking
Roasting broccoli hot and low in the oven also applies to other quick-cooking vegetables like cubed sweet potatoes, asparagus, bell peppers, Brussels sprouts, and cabbage.
Flip roasted broccoli half way through
Because you're oven is cranked up and the pan is close to the heat, you'll want to flip that broccoli around once or twice during cooking to avoid scorched edges.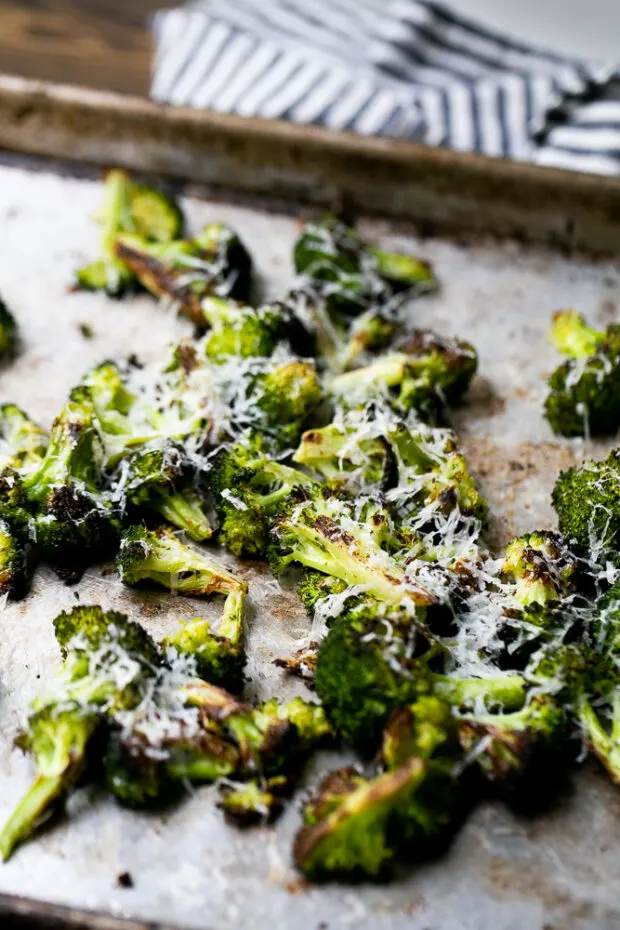 Roasted Broccoli Adaptations
Parmesan roasted broccoli is pretty fantastic, too. If you agree, shave some Parmesan or Pecorino-Romano cheese on during the last 1-2 minutes of roasting.
If you're feeling fancy, try squeezing some lemon juice on it. Or tossing on some chopped nuts!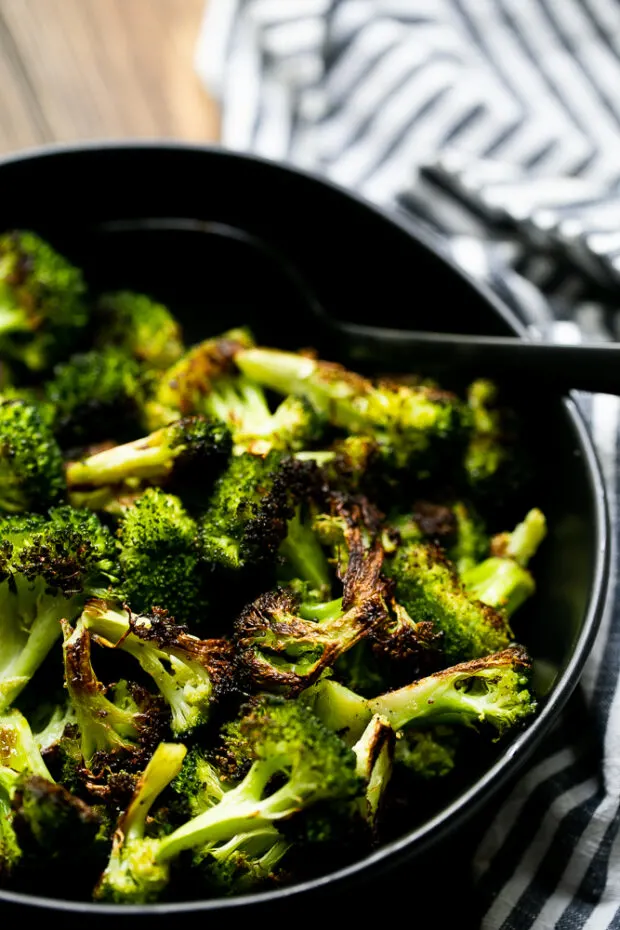 More Roasted Vegetable Recipes on Perry's Plate
Here's another riff on roasted broccoli using one of my homemade seasoning blends! Italian Roasted Broccoli
One of my favorites (and most popular recipes on my site!) are these Crispy Roasted Shredded Brussels Sprouts. If you aren't a fan of Brussels, these might change your mind.
Curry Roasted Cauliflower is one of my favorites to serve with an Indian-style curry instead of rice! Or with rice. Either way it's delicious.
Make some Roasted Mushrooms with Garlic and add them to bowl meals and leftovers during the week!
I think we make Sweet Potato Fries more than any other side dish. They never get old!
Crispy Oven Sweet Potato Hash Browns are another delicious way to serve sweet potatoes.
Chai Maple Roasted Butternut Squash is DELICIOUS as a Thanksgiving side dish or anytime during squash season.
If you're wanting something adaptable, these Easy Balsamic Roasted Vegetables recipe is great with any roasting-friendly vegetable you have on hand.
---
If you make one of my recipes, be sure to post it on social media and tag me at @perrysplate or #perrysplate so I can send you some love!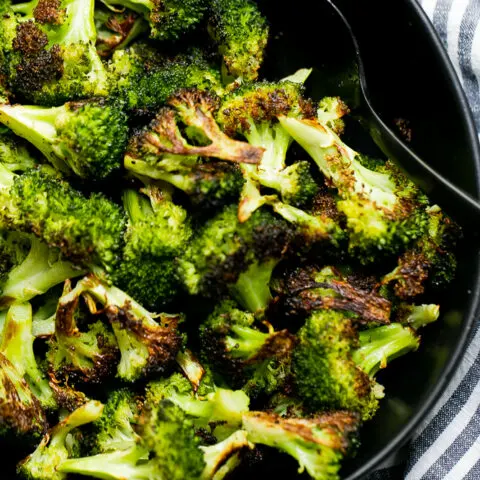 Roasted Broccoli
This is one of our kids' favorite side dishes! And our most favorite way to eat broccoli.
Ingredients
1 large head of broccoli or 2-3 crowns
2 Tablespoons avocado oil
1/4 teaspoon sea salt
1/4 teaspoon granulated garlic
1/4 cup shredded Parmesan cheese (optional)
Instructions
Preheat the oven to 450 degrees F.
Cut the broccoli into bite-sized florets. Put them on a rimmed baking sheet.
Drizzle the oil over the broccoli and add the salt and garlic. Use your hands to toss everything together and then spread the broccoli evenly out on the pan.
Roast the broccoli on the BOTTOM rack in the oven. After 5-6 minutes flip them around with a spatula. Roast another 5-6 minutes until they're as browned as you like. If you're using the Parmesan cheese, add it during the last 1-2 minutes of roasting.
Remove from the oven and serve immediately.
Notes
Nat's Note: I love squeezing some fresh lemon juice on at the end, too.
This post may contain affiliate links. Any purchases made by using these links won't cost you any extra and helps keep my content free. These links may be Amazon links as I am part of the Amazon Associate Program.