Tomato and Chard Cobbler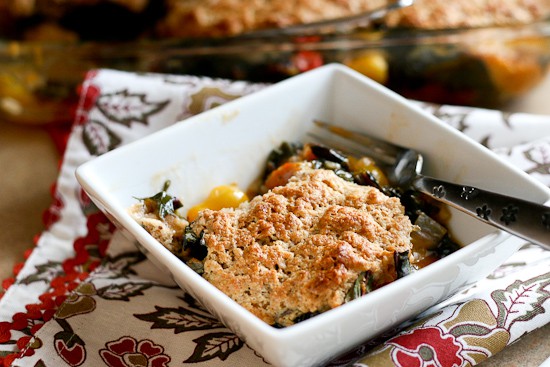 I know October is supposed to be all pumpkin-crazy, but we're still eating tomatoes around here. Apparently my garden hasn't gotten the memo, and neither has the weather.
Hello, 81 degrees. In a high-elevation desert climate. (Sorry, I'll try to reign in my geographical nerdery.)
Did I ever tell you that was my major in college? I usually tell people my major was travel & tourism because that was my emphasis. Plus it sounded cooler. And I always mention that my minor was German as an attempt to distract them from realizing my major was, in fact, geography.
Sadly, the most influence my degree has had on my life so far is the decision to base the colors of my decor on a giant wall map hanging in my living room.
A-a-nyway.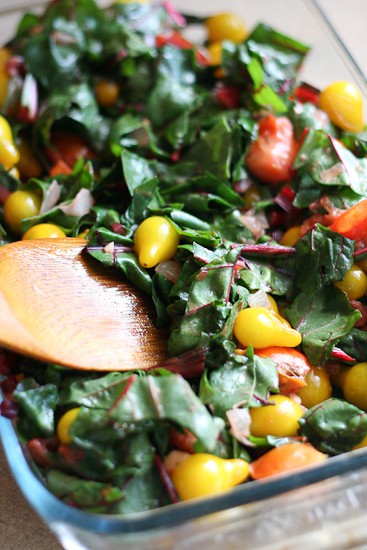 If you've got a vine still spewing tomatoes, you've got to try this. Seriously. It was way better than I thought it was going to be, and the leftovers are just as good, if not better, than the day you make it.
Cobblers are usually sweet, which is why this one caught my eye as I was browsing through a recent issue of Food Network Mag.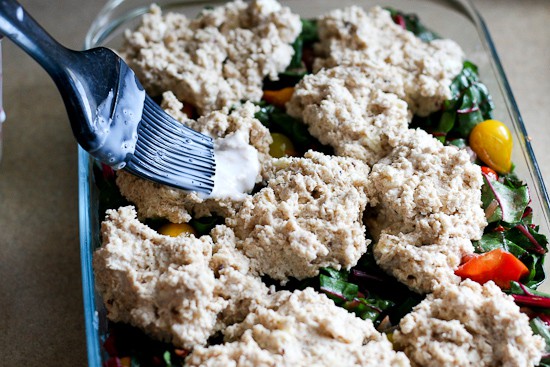 You need good tomatoes for this because the dish gets most of its flavors from them. Since my chard plant hasn't given up either, I threw a bunch into add some green. (Of course I did, right?) I also cleaned up the biscuit topping and used a combo of spelt and almond flour instead of white flour.
Speaking of that biscuit-thing… it's the bomb. I never thought of adding mustard to a biscuit, but it's pure genius. Like sweetened cobblers, the biscuit is my favorite part of this, and it adds a much-needed bite to the sweetness of the tomatoes.
It bakes up so well, too. Yum.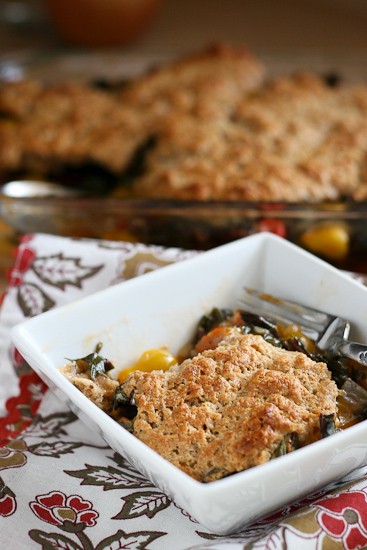 I've still got a pile of yellow pear tomatoes on my counter with more on the way. I think we'll see this again on our table before it gets too cold!
Tomato and Chard Cobbler

Yield: Serves 6

Prep Time: 35 minutes

Cook Time: About 1 hour

Total Time: About 1 hour 35 minutes

Ingredients:

For the filling:
3 Tablespoons butter
1 medium onion, diced
2 cloves garlic, minced
1/2 teaspoon dried thyme (or 1 teaspoon fresh)
1/8 teaspoon cayenne pepper
1 pound of large tomatoes (about two, depending on the size), cut into 1-inch chunks
1 teaspoon honey
Salt
2 cups cherry tomatoes (or any other small variety), halved
1 1/2 Tablespoons arrowroot powder (see note)
1 medium bunch of Swiss or rainbow chard (about 1/2 a pound)

For the topping:
1 1/2 cups flour (see note)
1 1/2 teaspoons baking powder
Salt and black pepper
5 Tablespoons cold butter, cut into 1/2-inch chunks
2/3 cup buttermilk, plus more for brushing
2 teaspoons whole-grain mustard
1/2 teaspoon dried thyme (or 1 teaspoon fresh)

Directions:

Preheat oven to 350 degrees F.

To make the filling:
Prep the chard by removing the stems and chopping both the stems and the leaves, keeping them separated.

Heat 2 Tablespoons of the butter in a large skillet over medium heat. Add the onion and chard stems and cook until onion is soft and lightly golden, stirring occasionally, about 5 minutes. Add the garlic, thyme, and cayenne and cook for another minute. Add the chopped tomatoes, honey, and 1 teaspoon of salt. Bring mixture to a simmer and cook until the tomatoes begin to soften, 4 to 5 minutes.

Remove from heat, then stir in the cherry tomatoes, chard leaves, and arrowroot powder (if using, see note). Transfer to a 2-quart baking dish and dot with remaining 1 Tablespoon of butter. TIP: You can make this a day ahead and refrigerate it!

To make the topping:
Place the flour, baking powder, 1/2 teaspoon of salt, and a generous pinch of black pepper to the mixing bowl of a food processor. Add 1/3 of the cubed butter at a time, pulsing 2-3 times between each addition. The mixture should have pea-sized pieces of butter. (Alternately you can whisk together the dry ingredients, then use a pastry cutter or your fingers to mix in the butter.)

Transfer mixture to a medium-sized mixing bowl. Add the buttermilk, mustard, and thyme, and gently mix just until combined. Don't overwork the dough.

Drop balls of dough over the tomato filling and brush the dough with buttermilk. Place the cobbler on a baking sheet (in case it splatters or drips over the edge) and bake for 50 minutes to 1 hour, until the topping is cooked all the way through and golden brown on top. Let it rest 15 minutes before serving.

Nat's Notes:
1. You can use whichever type of flour you feel comfortable using. I used 1 cup of spelt flour plus 1/2 cup of blanched almond flour. Whole wheat pastry flour would work nicely as well.
2. If you don't have or want to use arrowroot powder, substitute the same amount of cornstarch or double the amount of all-purpose flour.

adapted from Food Network Magazine, September 2012