This hearty quinoa bowl has roasted chickpeas, veggies, and the most delicious vegan red pepper sauce. It's a great meatless meal prep recipe as well!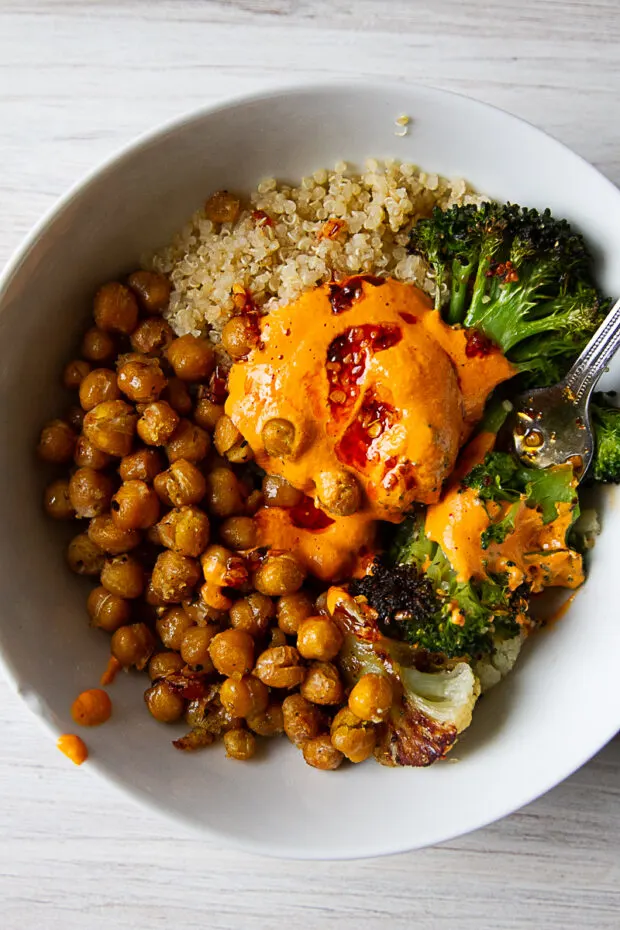 Quinoa is making a comeback in our house and I'm super happy about it.
For a while we were trying to go without as many grains so we ditched quinoa. And then we started eating more rice again. And then back to quinoa when I realized quinoa was more gentle on my stomach than white rice.
Around and around we go. Lol.
Healthy quinoa bowls, like rice bowls, are usually gluten free, super versatile and you can put pretty much any cooked vegetable or protein with them! I'll show you what I did to make these particular bowls and then give you some ideas to change it up.
For this bowl I roasted some broccoli & cauliflower for my vegetables, made garlic roasted chickpeas for a touch of protein, then added a few spoonfuls of my Vegan Roasted Red Pepper Sauce, and drizzled some chili crunch and sprinkled fresh basil to top it off.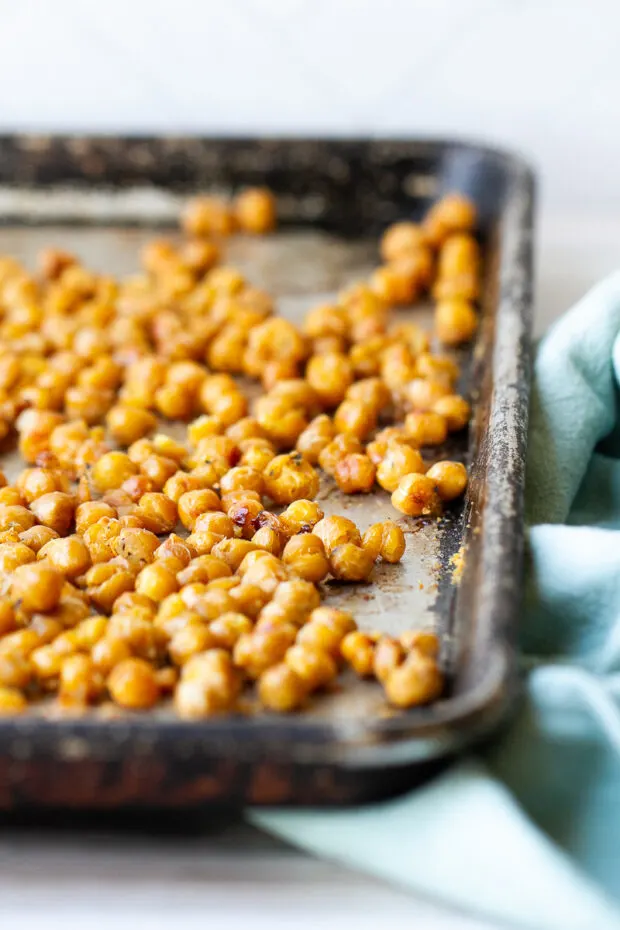 How to make garlic roasted chickpeas
I LOVE roasted chickpeas. A LOT.
All you need is a can or two of drained chickpeas, a little oil, and three cloves of garlic finely minced or grated.
I use a Microplane grater almost exclusively for garlic now. It saves me from having to clean a cutting board and the garlic gets grated up really finely and evenly. It's the best. You can find my favorite Microplane grater on Amazon or in most places that sell kitchen supplies.
Just toss it all togethe, salt them to your liking, and roast them until they're toasty and crisp!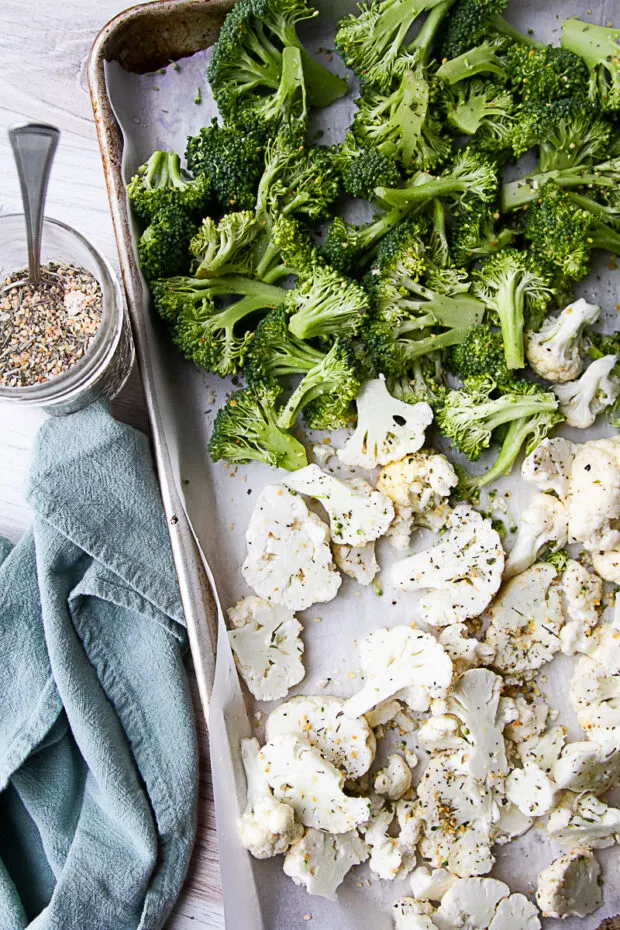 Roasted Broccoli & Cauliflower
You can use pretty much any roasting-friendly vegetable for this quinoa bowl recipe. I really like roasting broccoli & cauliflower together because they compliment each other well. And my kids will usually eat one or the other.
For these, I used some of my Homemade Italian Seasoning. I like it better than regular storebought Italian seasoning because it has bits of dried onion, dried minced garlic, and some pepper flakes. It's fabulous.
You can use whatever seasoning blend you prefer, though. Any blend that's heavy on the herbs would go well here. If you didn't want to add any protein you could just make a delicious roasted vegetable quinoa salad or bowl!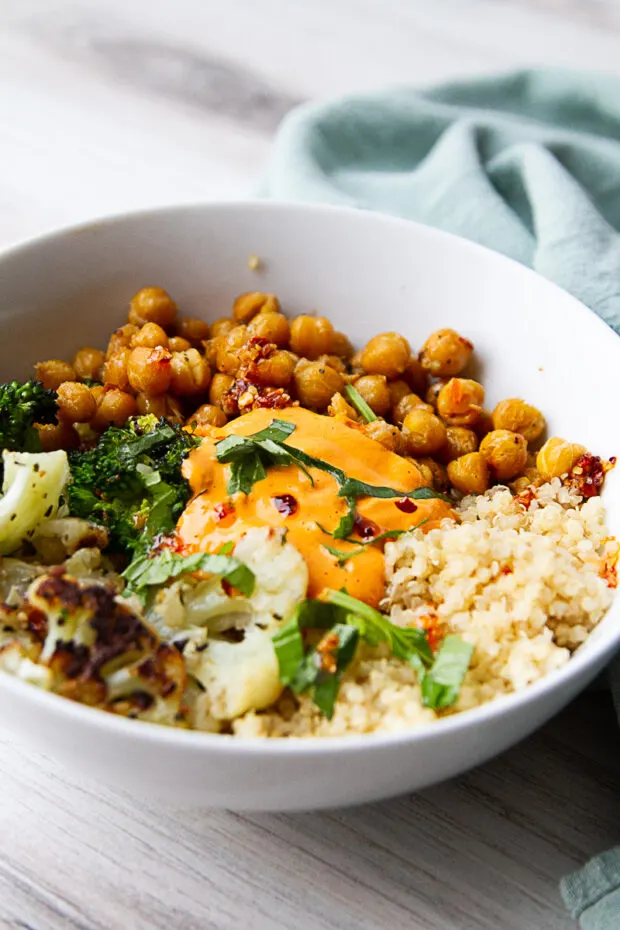 How to make a quinoa bowl
Here are my go-to components for any kind of quinoa bowl:
Fluffy Quinoa
Mushy quinoa is not fun.
The way I make flavorful, fluffy quinoa every time is easy…
Mix 2 cups of water and 1/2 teaspoon salt for every 1 cup of quinoa. Bring to a boil, then reduce heat to medium low. Cover and simmer for 15 minutes or until there's hardly any liquid left on the bottom of the pot. Remove the pot from the heat and keep the cooked quinoa covered for another 10 minutes (this makes it fluffier!) before serving.
Vegetables
It's a choose your own adventure situation with vegetables. You can add pretty much any cooked or raw vegetable you like here!
Clean out that produce drawer and use up what's left!
I'm partial to roasted vegetables and using roasted sweet potatoes, zucchini, broccoli, cauliflower, butternut squash, or Brussels sprouts would be my go-to.
You could even serve this on a bed of spring greens instead of or along with the quinoa. I like mixing the two.
Protein
If you wanted to make a vegetarian quinoa bowl, use any kind of plant based protein you like! Any kind of beans or lentils would go well here. I'm partial to roasted chickpeas and Mexican black beans.
If not, add any leftover meat you have from a previous meal, hard cooked eggs, canned fish, etc.
Sauce & Dressing
This is the fun part. This is what can turn a so-so quinoa bowl into a FAB quinoa bowl. You'll want to add at little something because this is where a lot of the flavor and personality of your bowl will come from.
Here are a few vegan & non-vegan suggestions:
Toppings
This is totally optional, but can give extra flavor, texture, and personality to a quinoa bowl! Here are some vegan & non-vegan ideas:
Nuts & seeds — sliced almonds, walnuts, pecans, toasted pine nuts, sunflower seeds, hemp seeds
Microgreens & chopped fresh herbs
Crunchy things like seed crackers & plantain chips
Cheese — crumbled feta, goat cheese, Parm shavings, burrata
Something spicy — chili crunch or red pepper flakes
Meal Prep Tips
The components for these easy quinoa bowls can be made and stored for easy meals later! Here are some tips:
If you want a warm quinoa bowl for later, store things that you'd like reheated in the same container — separate from the things that don't need to be reheated.
Use containers that are microwave and dishwasher save. I like these glass storage containers on Amazon.
Put any sauces and toppings right next to the meal prep containers in the fridge (or in one central place in a cupboard) for quick access.
I have a whole section in my index for recipes that are great for prep ahead meals and would make fantastic quinoa bowl recipes! Click over for more ideas: Meal Prep Recipes
If you like this recipe, try another one of these easy vegetarian meals on my site!
More Vegetarian Dinner Recipes on Perry's Plate
Spaghetti Squash with Roasted Mushrooms and Garlic
Roasted Vegetable Enchilada Casserole
---
If you make one of my recipes, be sure to post it on social media and tag me at @perrysplate or #perrysplate so I can send you some love!
Vegan Garlic Roasted Chickpea & Quinoa Bowls
These hearty quinoa bowls have roasted chickpeas, veggies, and the most delicious vegan red pepper sauce! It's a great meatless meal prep recipe as well!
Ingredients
1 1/2 cups quinoa
Sea salt
2 14oz cans chickpeas, drained
3 cloves garlic, finely minced or microplaned
Avocado oil
Black pepper
2 crowns of broccoli, cut into florets
1/2 large head of cauliflower, cut into florets
Extra toppings: a drizzle of extra-virgin olive oil, a squeeze of lemon juice, fresh basil & a spicy condiment like chili crunch, if you prefer
Instructions
Make your Vegan Roasted Red Pepper Sauce ahead of time or get those cashews under some boiling water now so you can blend up the sauce when it's time to eat.
Rinse your quinoa if it doesn't say on the package that it has been rinsed. Place it in a large lidded sauce pan with 3 cups of water and 1 teaspoon of salt. Cover, bring to a boil, then reduce the heat to medium low and simmer, covered for 15 minutes or until there is barely any liquid at the bottom of the pot. Remove from heat and leave the lid on for another 10 minutes before fluffing and serving.
Preheat your oven to 425 degrees F. Prep two large rimmed baking sheets with parchment or nonstick spray.
Place the drained chickpeas on one of the sheet pans. Add the garlic, 2-3 Tablespoons of avocado oil, about 1/2 teaspoon of salt and a few cranks of freshly ground pepper. Use your hands to combine everything well and spread the beans out evenly on the pan.
On the other sheet pan, add the broccoli, cauliflower, 2-3 Tablespoons of avocado oil, the Italian seasoning, and a few generous pinches of salt and pepper. Toss everything with your hands and spread them out evenly.
Place both pans in the oven and cook for about 15 minutes. Toss everything around, rotate pans, and cook for another 10-15 mnutes until the vegetables and chickpeas are toasty brown in spots.
Assemble the bowls with a few spoonfuls of quinoa, some chickpeas, roasted vegetables, and a generous dollop of the vegan red pepper sauce. Don't forget some chili crunch or pepper flakes. :)
Notes
You can roast any vegetables you like here. Just have enough to fill the pan without overcrowding it.
If quinoa isn't your thing, this would be delicious over rice or a bed of salad greens, too.
Recommended Products
As an Amazon Associate and member of other affiliate programs, I earn from qualifying purchases.
Nutrition Information
Yield

8
Serving Size

1
Amount Per Serving
Calories

320
Total Fat

11g
Saturated Fat

2g
Trans Fat

0g
Unsaturated Fat

6g
Cholesterol

13mg
Sodium

355mg
Carbohydrates

43g
Fiber

10g
Sugar

8g
Protein

16g
The information shown is an estimate provided by an online nutrition calculator. It should not be considered a substitute for a professional nutritionist's advice.
This post may contain affiliate links. Any purchases made by using these links won't cost you any extra and helps keep my content free. These links may be Amazon links as I am part of the Amazon Associate Program.