Chicken & Sausage Peperoncini Stew (Slow Cooker)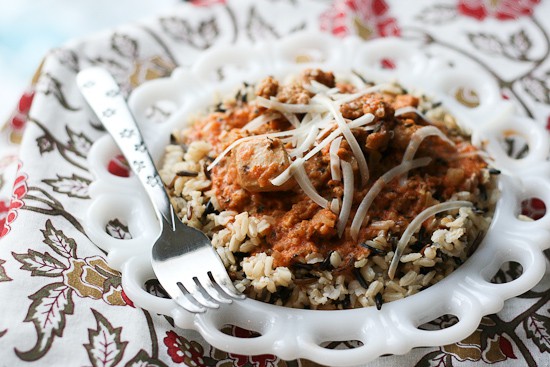 I'm grateful for the election. And for the right to vote. But more importantly…
THE ADS AND PHONE CALLS AND MAILINGS ARE OVER!
I try to avoid getting political around here, but I have to say I was pretty disappointed about the outcome. I just hope we can come together and get ourselves out of the mess our country is in. I have a feeling it's going to get worse before it gets better.
I also feel like doubling our food storage and going off the grid. Anyone want to join our commune? So far we've got a cook and a chiropractor. And little girls.
We've also got a few slow cookers. You can never have too many slow cooker recipes, you know. (I'm trying to bulk up that section.) I'm so glad to add this recipe to my arsenal.
Along with lots and lots of ammo.
I'm joking. I've never touched a gun.
The original recipe I found in the February 2011 issue of Bon Appetit had shrimp. And it wasn't a slow cooker recipe. I swapped the shrimp for chicken and adapted it to my slow cooker.
And promptly licked my plate clean. I love the use of peperoncini peppers (and the juice from the jar!) in this tomato-based sauce! I used sweet Italian sausage instead of spicy, and it still had a slight kick.
(My kids complained after eating 3/4 of it that it was too spicy. Um…)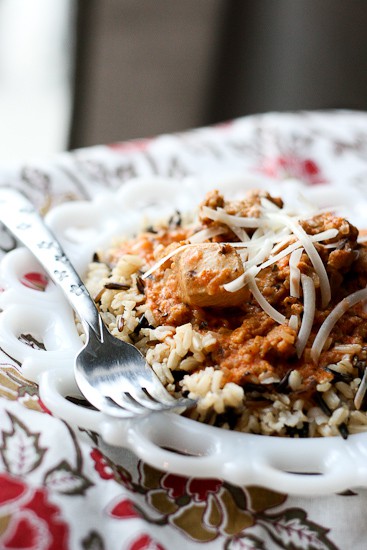 Chicken and Sausage Peperoncini Stew (Slow Cooker)

Ingredients:

1 tablespoon heat-safe oil (like coconut or grapeseed)
1 pound Italian sausages, casings removed (sweet or spicy)
1-1 1/2 pounds boneless, skinless chicken breasts or thighs, cut into 1-inch cubes
1/2 cup sliced peperoncini plus 1/2 cup liquid from jar
1/2 cup chopped shallots
2 garlic cloves, chopped
1 teaspoon smoked paprika
1 teaspoon dried thyme
1 teaspoon dried oregano
1 teaspoon dried basil
one or two pinches of cayenne pepper, more if you'd like it spicy
2 cups (16 ounces) marinara sauce
1/2 cup heavy whipping cream
3 tablespoons grated Asiago, Pecorino-Romano, or Parmesan cheese, plus additional for garnish

Directions:

Heat oil in a large skillet over medium-high heat. Add sausage to the pan and brown, stirring frequently, breaking up large chunks. Transfer to a 4-quart slow cooker. (It doesn't have to be cooked all the way through -- just get some color on it.)

Turn the heat up to high and add chicken chunks. Brown the chicken quickly (again, doesn't have to be cooked through). Transfer chicken and any juices into the slow cooker. Add remaining ingredients (except for the cream and cheese) into the slow cooker and give it a quick stir. Cover and cook on low for 4-5 hours or high for 2-3 hours. Add cream during the last 10 minutes of cooking. Sprinkle cheese over the top and add more for garnish, if desired.

Serve over pasta, rice, mashed potatoes, quinoa, or zucchini noodles.

adapted from Bon Appetit, Feb 2011