This is our family's favorite vanilla cake! I've made it dozens of times over the years (with and without that luscious strawberry cream frosting) and it never gets old.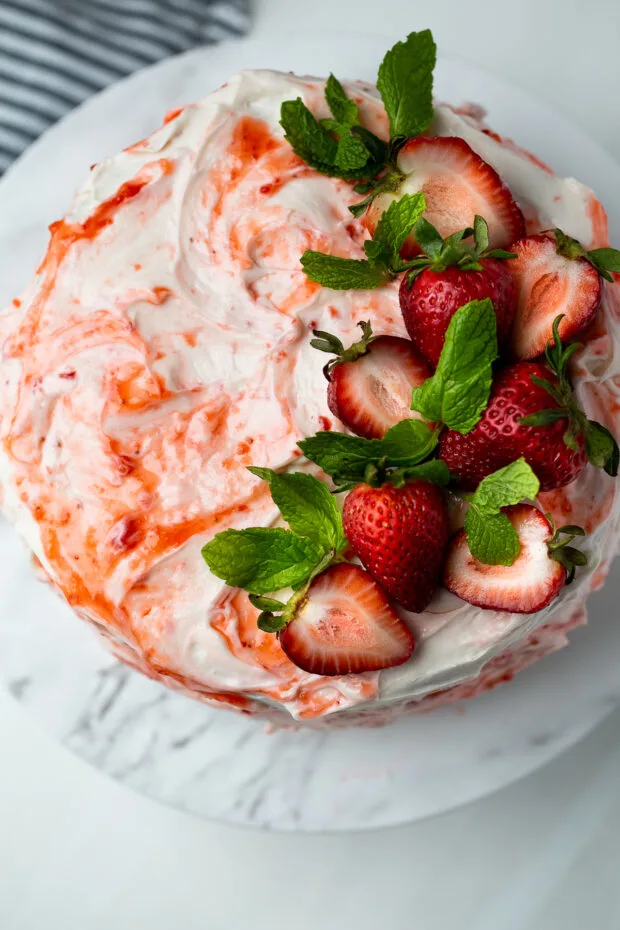 Hey there! You may be wondering what this indulgent Vanilla Cake with Strawberry Filling recipe is doing on a healthy-ish food blog. Well…. it dates back to when I wasn't a healthy-ish blogger, and it's the perfect cake of all vanilla cake recipes for birthdays. And it's apparently one of your favorites, too, because it's been flying around Pinterest like crazy for the past few years.
Eventually I'd like to clean it up and make it (at least) gluten and dairy-free, but in the meantime it'll stay and have a home here on my blog as totally-worth-it recipe we'd indulge in. It makes a pretty spectacular birthday cake.
If you're looking for a dairy-free & grain-free vanilla cake, try this one! Classic Yellow Birthday Cake with Chocolate Frosting.
---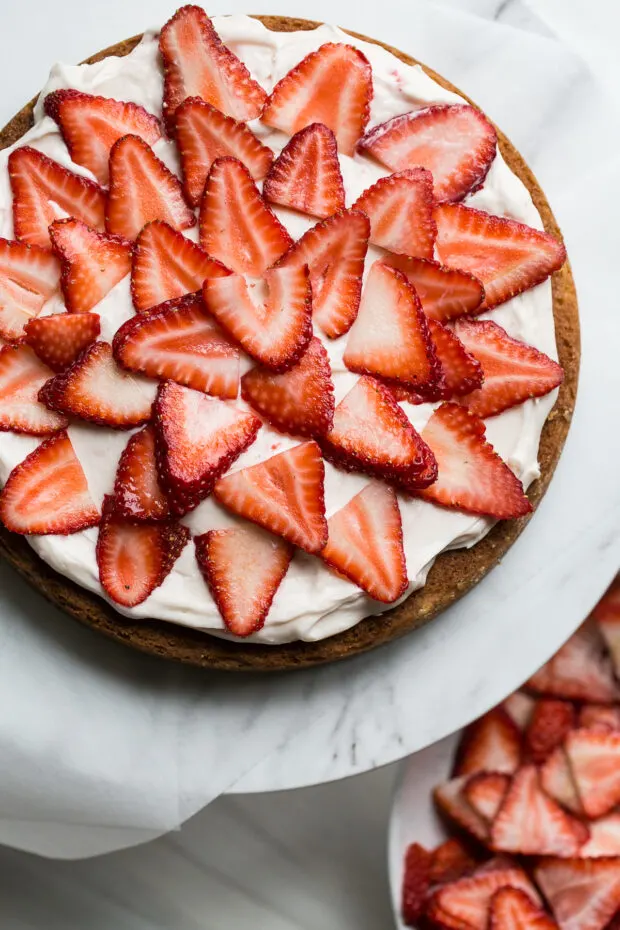 This cake, guys. It's so, so good. The fresh strawberries in the center and the strawberry cream cheese frosting is to die for. It's like a layer cake version of strawberry shortcake.
This vanilla cake alone — without the filling and frosting recipes — is such a great recipe! It feeds a lot of people and it has a sturdier texture (almost like pound cake but not quite) so you can "build" things with it, if that's your thing.
It comes together like most homemade cakes — mixing the dry ingredients and gradually adding the wet ingredients.
You might be surprised to see that this is a vanilla cake recipe without buttermilk. However, it has sour cream which gives it hint of acidity and creates that soft, but semi-dense texture instead of a traditional fluffy vanilla cake.
Let's get started!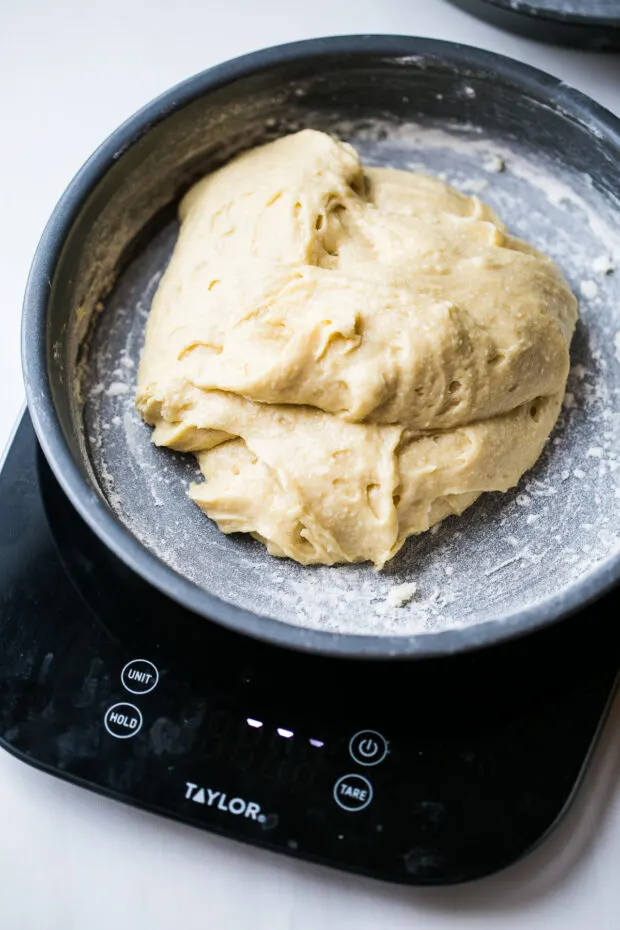 First, you should know that this makes a lot of cake — about 50% more than a regular cake mix. I've made this cake dozens of times with a lot of different pan and layering situations. It's flexible, which is nice.
Make sure to see the tips further down on assembling this cake. It can get a little tricky — especially with 3 or 4 layers.
TIP: The weight of this batter is roughly 1800g, in case you'd like to get precise with a kitchen scale when you put the cake batter into the pans. That will give you nice, even layers.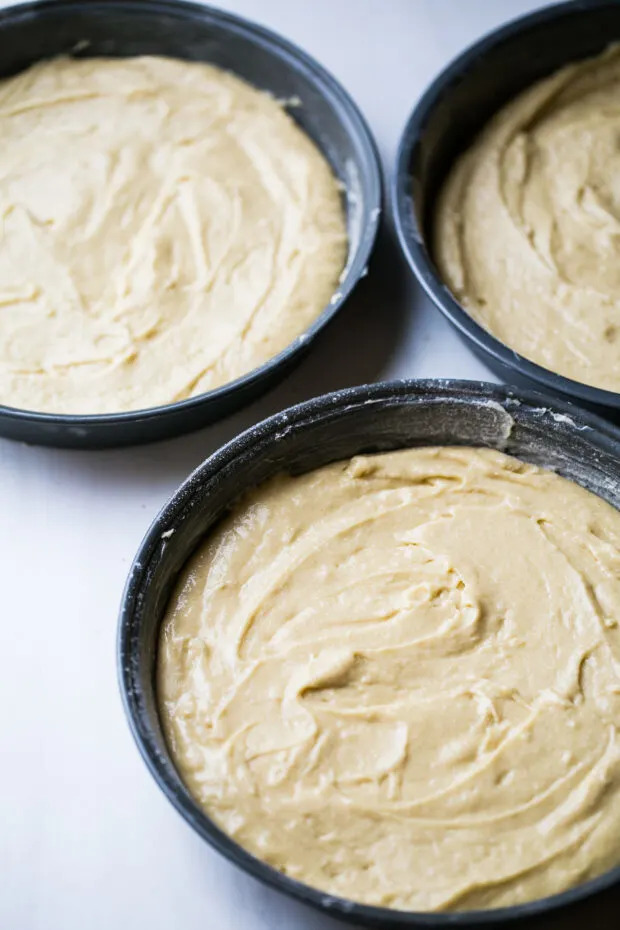 Pan Sizes and Layering Options:
3 9-inch pans for a 3-layer cake. No slicing cake layers necessary.
8-inch pans that are 2-inches deep for a thick 2-layer cake or split into 4 layers. If you do 4 layers, consider using a couple of wooden dowels stabbed into two places in the cake to stabilize it so it doesn't slide.
4 7-inch cake pans for 4 layers (see Hogwarts castle below!)
9×13 pan and pile all of the strawberries and frosting on top.
9×13 cake removed from the pan onto a big platter and split into 2 layers.
Tips for assembling this Vanilla Cake with Strawberry Filling:
If you choose to slice the cake to make thinner layers, refrigerating the cake for a few hours. It makes it A LOT easier to cut cake layers as opposed to slicing room temperature cake. I also use a long bread knife which makes it easer, too.
Line the bottoms of your baking pans with parchment paper so the cake releases easily. It's extra insurance.
To keep your cake platter looking nice lay strips of parchment paper around the edges. I put a blob of frosting in the middle of the strips to keep the cake from sliding around.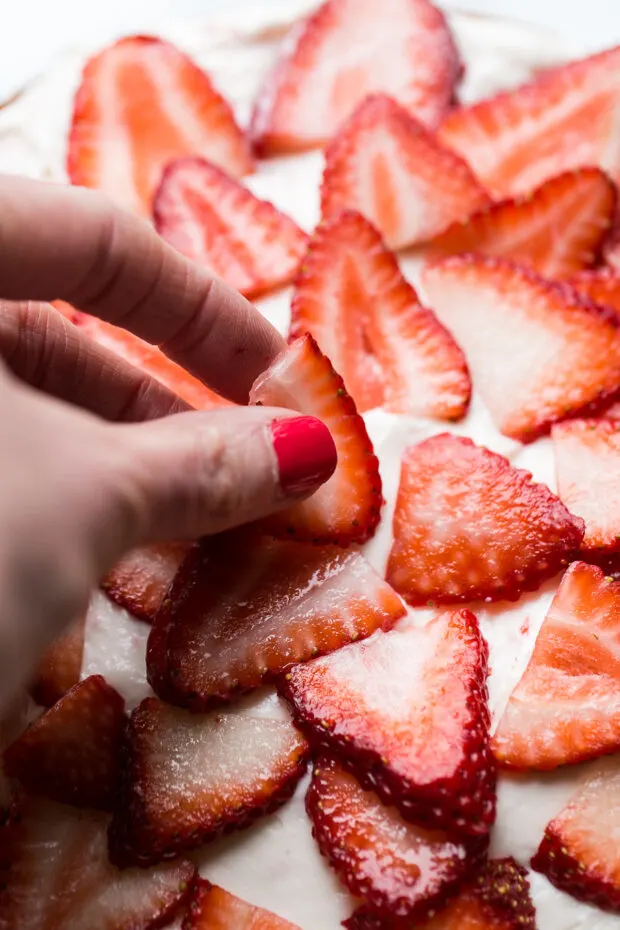 Make the sliced strawberries thin. And if you want a more robust fresh strawberry filling, use more! I don't recommend this if you're doing a 4-layer cake, though, or it will be more difficult to cut and will be unstable. You don't want this falling over.
I like to arrange my strawberries prettily before I put on the second cake layer, but, honestly it doesn't matter since it will get covered up anyway. Add the next layer, followed by more cream frosting and sliced strawberries.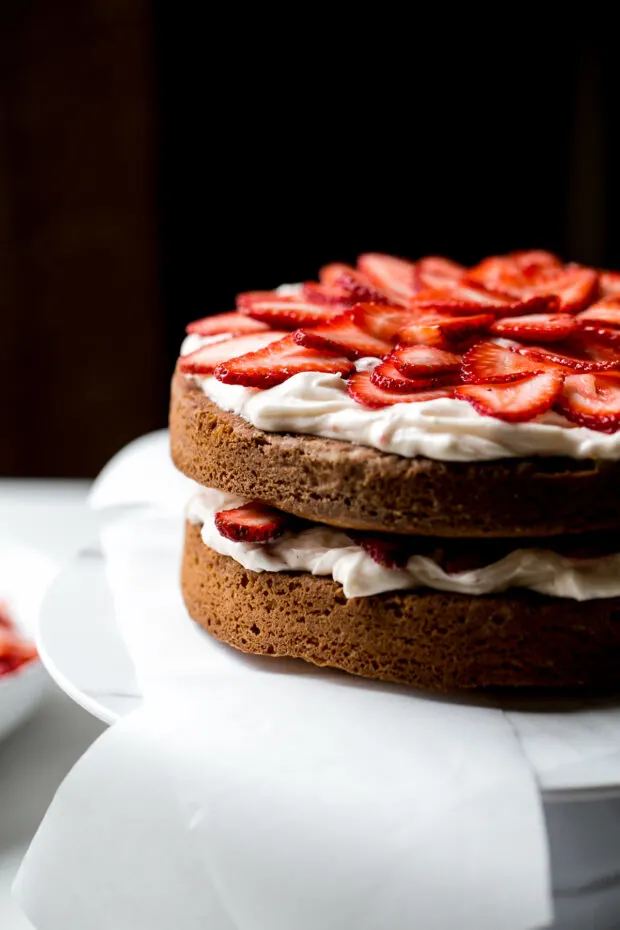 How to make the strawberry buttercream
This might be the only cake I've made where you make the frosting first.
The frosting on this cake is unique — a typical cream cheese frosting (butter, cream cheese, powdered sugar) with strawberry jam and freshly whipped cream added to make nice, soft peaks.
So, it's fluffy and light and super delicious — make sure you use a large bowl. You'll want to get every last bit off the sides of the bowl.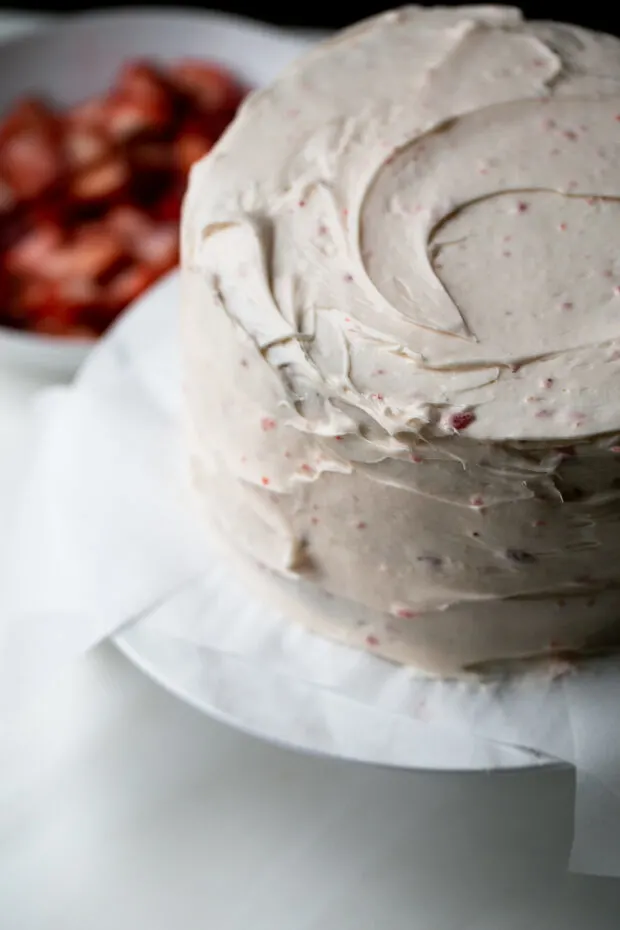 This frosting can be a little finicky the first time (as you can see from the comments). After making it several times, here are a few tips for you.
Tips for making the Strawberry Buttercream Frosting
Make sure to beat the heavy cream well — to stiff peaks with a whisk attachment or a hand mixer. You don't want the cream to be runny at all.
Chill the frosting well before you spread it on the cake. At least 2 hours.
Swirling jam into the frosting (once you get it on the cake) will add more moisture. If the consistency of your frosting is a little loose, refrigerate it for a couple of hours before you swirl in the jam, use a light hand with the jam, or limit the jam to just the top.
Return the cake to the refrigerator so it doesn't get too warm. The frosting will start to slide if it sits out for several hours.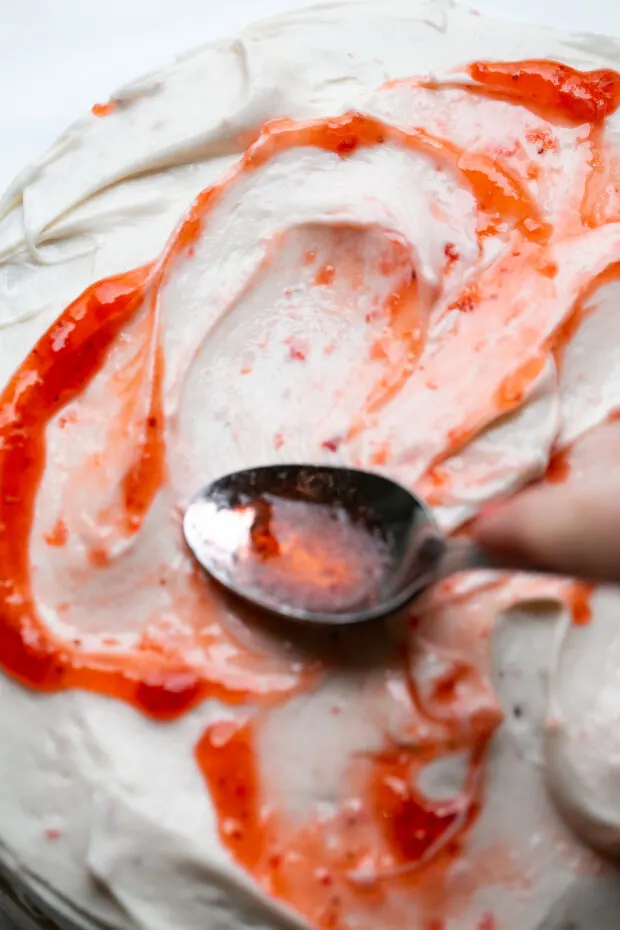 For the top of the cake, I put fresh strawberries and mint leaves to keep a simple cake top.
I've also topped it with Chocolate Covered Strawberries. It's super delicious and beautiful that way, too.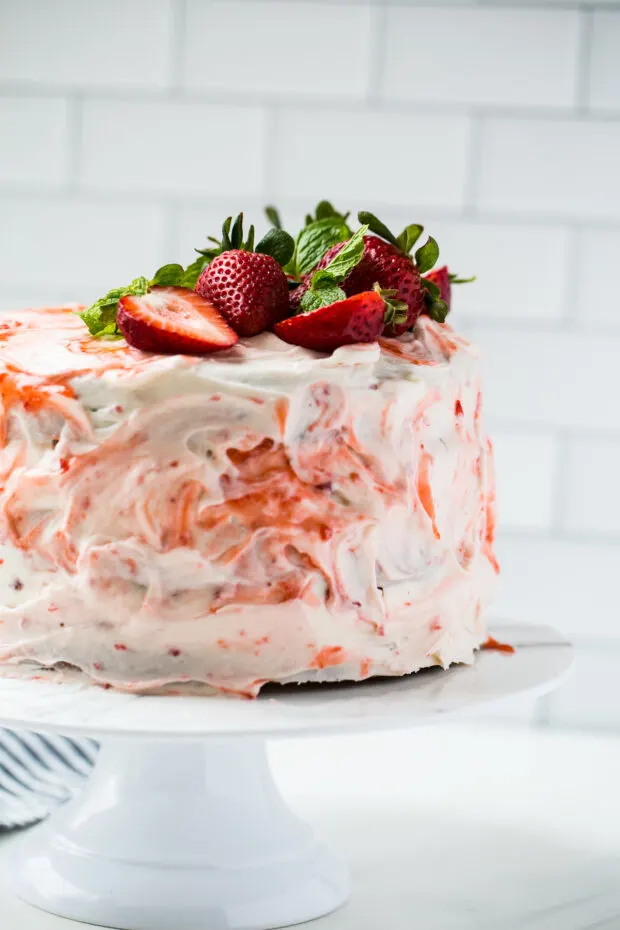 It's been our go-to of all white cake recipes for over 10 years. I'll never use a vanilla cake mix again. Here are a few ways we've adapted it over the years:
Ways to adapt this delicious vanilla cake
Toasted Coconut
Omit the strawberries and frost it with regular butter cream with some coconut extract added and cover the outside of the cake with toasted coconut. My 80-year-old grandpa really loved it as his last birthday cake.
Change up the Berries
We did a blueberry My Little Pony version for my 5-year-old.
Vanilla Bean
For a boost of vanilla flavor, try using vanilla bean paste (or a fresh vanilla bean) along with the vanilla extract in the cake recipe.
Ice Cream Cake
Cut the recipe in half, bake it in a springform cheesecake pan, then when it's cooled off, top it with a quart of softened ice cream. Then freeze the whole thing and frost it. Our kids ask for ice cream cake like this so often!
Hogwart's Cake
The cake layers can easily be colored, too. We made a Harry Potter Hogwart's cake for my oldest's 11th birthday and I included some details about that below the recipe card.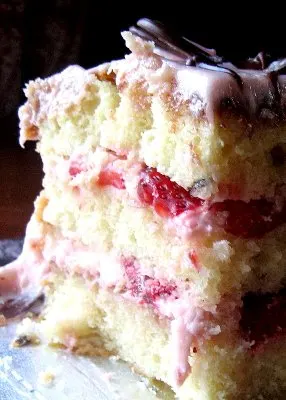 Just for nostalgia, here's the photo from the original post — the one that went bonkers on Pinterest for YEARS.
It was taken after my daughter's party with a regular point-and-shoot camera when I realized I hadn't gotten a decent photo of the inside.
If you have any other questions about this cake, feel free to comment below or email me at natalie@perrysplate.com!
---
If you make this recipe, be sure to post it to social media and tag me at @perrysplate or #perrysplate so I can send you some love!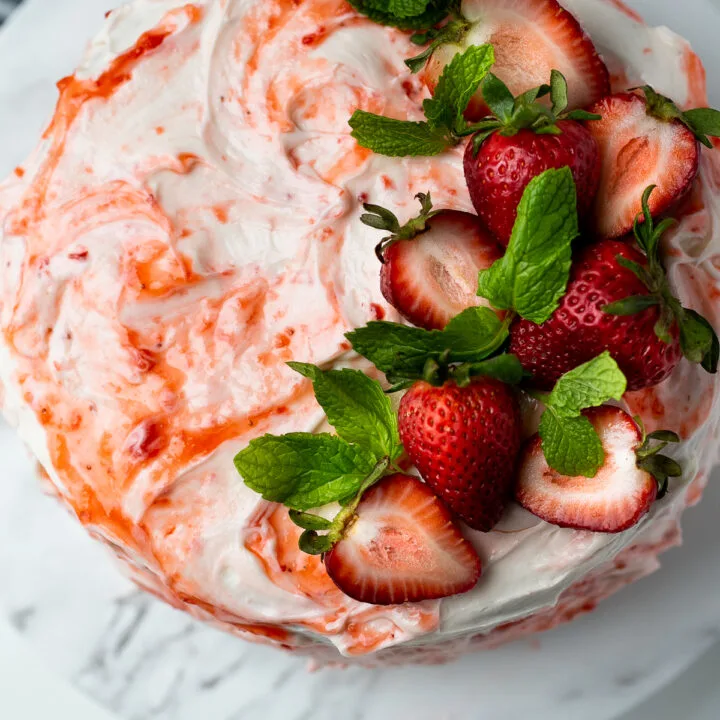 Vanilla Cake with Strawberry Cream Frosting
Total Time:
1 hour
55 minutes
This strawberry layer cake has tender stacks of fluffy vanilla cake sandwiched with fresh strawberries and the best strawberry cream cheese frosting ever.
Ingredients
For the Frosting:
2 8-oz packages of cream cheese, room temperature
1 cup (2 sticks) unsalted butter, room temperature
4 cups powdered sugar
1/2 cup seedless strawberry jam
3/4 cup chilled heavy whipping cream
For the Cake:
3 cups cake flour
3/4 teaspoon salt
1/2 teaspoon baking powder
1/2 teaspoon baking soda
2 1/2 cups sugar
1 cup (2 sticks) unsalted butter, room temperature
7 large eggs
2 Tablespoons vanilla extract
1 cup sour cream
For Garnish:
6 Tablespoons plus 1/3 c seedless strawberry jam
2 1/4 pounds strawberries, hulled, sliced (about 6 cups), divided
Instructions
For the frosting, beat cream cheese and butter in a large bowl until smooth. You'll probably want to use an electric mixer for this so you don't end up with lumps. Stop every now and then to scrape down the sides of the bowl. Beat in sugar, then jam.
Beat heavy cream in a separate, chilled, bowl until stiff peaks form. Fold whipped cream into frosting. Cover; chill for a couple of hours until it's firm enough to spread and won't slide off your cake.
For the cake, preheat the oven to 325 degrees F. Butter and flour three 9-inch round cake pans.
In a medium bowl whisk together flour, salt, baking powder, and baking soda. In a large bowl or stand mixer, cream butter and sugar together until light and fluffy. Add eggs, one at a time, beating after each addition. Beat in vanilla. Add sour cream, and beat for 30 seconds. Add flour mixture in three additions, beating to blend after each addition.
Divide batter into prepared pans. Bake cake until a toothpick inserted into the center comes out clean and the top is light golden brown, 35-40 minutes. Remove from oven and cool for 10 minutes.
Run a sharp knife around the edges of the pans, then turn cakes out onto a rack to cool completely.
Using a serrated knife to gently slice off any domed tops of the cake so they're flatter. Place one half, bottom-side up, on a cake plate. Spread 2 T of strawberry jam over the cake, then spread 3/4 c of the frosting over the jam. Arrange 3/4 c of the sliced strawberries on top of the frosting in a single layer. Repeat two more times with cake layer, jam, frosting, and strawberries. Top with remaining cake layer, bottom side up.
Spread two cups of frosting over the top and sides of the cake in a thin layer, then frost with remaining frosting. Stir remaining jam to loosen, then spoon teaspoonfuls onto the top and sides of the cake. Use the back of a spoon to swirl jam decoratively into the frosting.
If you won't be cutting the cake for more than an hour or so, store it chilled until you're ready.
Notes
There are a lot of tips for this recipe in the blog post, but here are the most important:
Make sure you beat your cream well until it's stiff. Otherwise your frosting won't be stiff enough after it has been chilled. And chill it for a long time. You'll want it as cold as possible while you're working with it.
If your frosting is looser than you expect, don't swirl jam into it. It'll just add more moisture. Or just swirl a little on the top of the cake instead.
If you don't have cake flour, substitute with all-purpose flour, removing 2 Tablespoons of the flour per cup and adding 2 Tablespoons of cornstarch or arrowroot powder in its place.
Nutrition Information
Yield

20
Serving Size

1 slice
Amount Per Serving
Calories

549
Total Fat

16g
Saturated Fat

9g
Trans Fat

0g
Unsaturated Fat

5g
Cholesterol

108mg
Sodium

249mg
Carbohydrates

95g
Fiber

2g
Sugar

70g
Protein

7g
The information shown is an estimate provided by an online nutrition calculator. It should not be considered a substitute for a professional nutritionist's advice.
This post may contain affiliate links. Any purchases made by using these links won't cost you any extra and helps keep my content free. These links may be Amazon links as I am part of the Amazon Associate Program.
Details for the Hogwarts Cake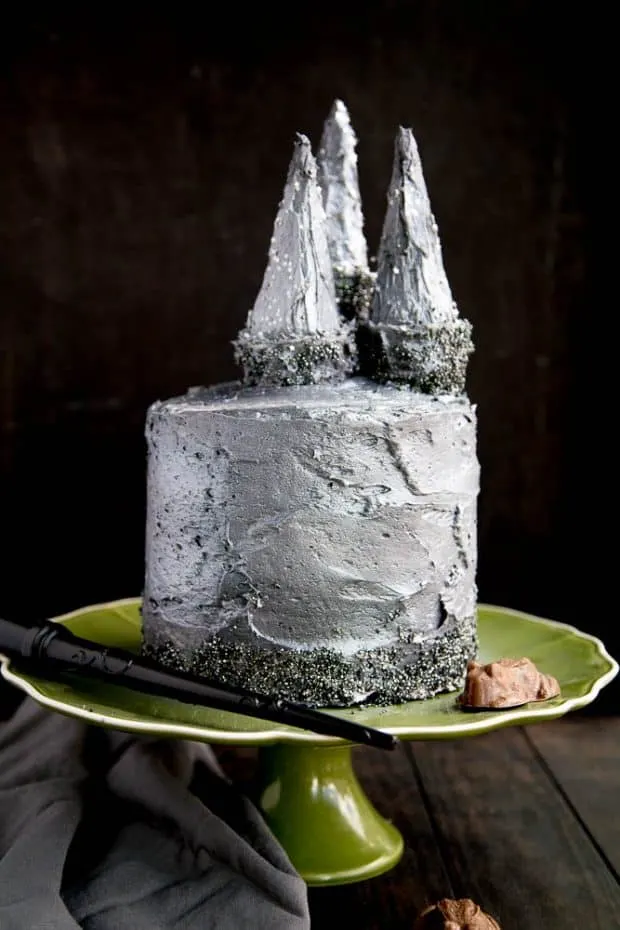 I'm not really into cake decorating or fondant or anything super fancy. This was about as fancy as I get.
I used two kinds of ice cream cones for the turrets (the bottoms trimmed on a couple to make them different heights), and various shades of gray vanilla buttercream and Wilton's silver/black sprinkle pack.
Oh, and silver food spray, because when we veer off the healthy path, sometimes we go far. #yolo
See those chocolate frogs?? So cute, right? I just got an inexpensive frog mold on Amazon and used good quality melting chocolate.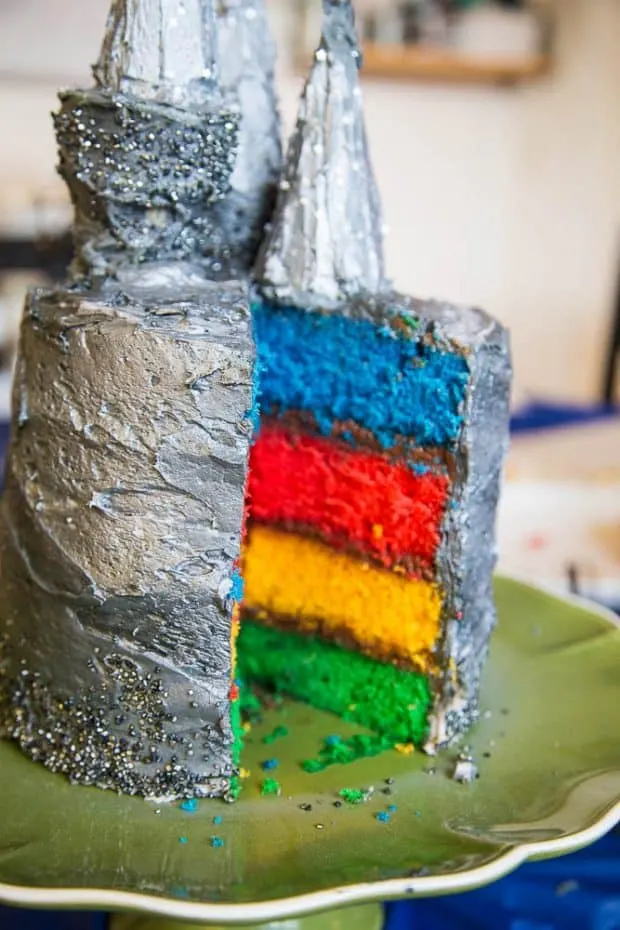 The inside layers were colors to represent all of the Hogwarts houses and layered with chocolate buttercream. This was probably the best job I did at getting all of the layers evenly sized.
I used a 7-inch round pan and put 450g of batter in each layer.