Mini Skillet Meatloaves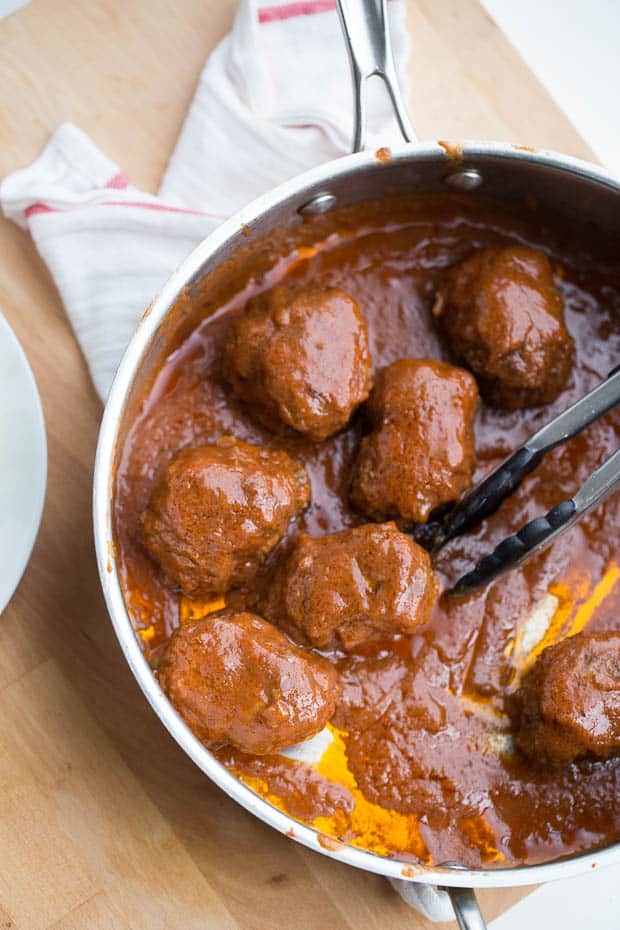 This recipe has been updated and made paleo & Whole30 friendly! Grab the recipe here:
---
I like meatloaf, but I'm picky about it. It has to be moist and have a lot of flavor (not too "meaty"). My mom makes really good meatloaf.But meatloaf takes, like, over an hour to cook. If you have a hankering for a loaf o' meat, but don't want to wait that long, try these mini ones out. They cook in about 20 minutes and they taste like . . . meatloaf. (ta da!) No really. I was afraid they'd taste like a glorified hamburger, but they really don't.
I mentioned this in the recipe, but be sure not to overwork the meat. When you mix the seasonings into the meat, gently "toss" it around with your fingers. Don't take handfuls and squish. You may end with mushy, mealy meat. Not a good thing.
Another tip, one that I only recently started doing, is when you're portioning out meat for things like this (like hamburger patties, meatballs and such) divide it up before you begin taking meat out of the bowl. Then you won't have a runt leftover. I know, genius, huh? See the bottom left photo up there in that collage? That's what I'm talking about. (One of the many gems I gleaned from watching Food Network.)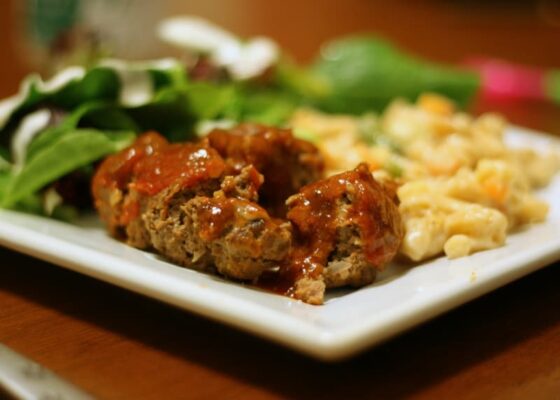 Another great thing about this recipe is the glaze that goes over top. I like ketchup on meatloaf (perhaps the only place I use it), but this is like ketchup taken to a whole new level. I loved it. And despite how it looks above, the meatloaves don't fall apart in the skillet if you portion them tightly. I just broke mine up with a fork so you could see the insides.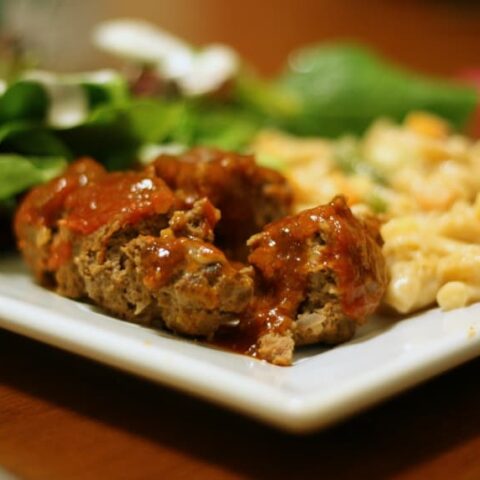 Mini Skillet Meatloaves
Yield: Serves 6
Prep Time: 15 minutes
Cook Time: 20 minutes
Total Time: 35 minutes
These petite little meatloaves are a quick alternative to a long-baking full-sized meatloaf. They're finished in a fraction of the time and are bathed in a tangy BBQ-like pan sauce.
Ingredients
1/3 cup breadcrumbs
1/3 cup milk
1/3 cup chopped fresh parsley
1 large egg
3 tablespoons Worcestershire sauce
1 small onion, finely minced (about 1/2 c)
1 teaspoon chili powder
2 cloves garlic, grated or finely minced
1 1/2 pounds ground meat (ground beef, pork and/or veal)
Kosher salt and freshly ground pepper
1 tablespoon vegetable oil
1/2 cup ketchup
1 to 2 tablespoons packed light brown sugar
1 tablespoon apple cider vinegar
Instructions
Mix the breadcrumbs, milk, parsley, egg, Worcestershire sauce, onion, chili powder and garlic in a large bowl.
Add the meat, season with salt and pepper and mix with your hands until combined. Be sure not to squeeze the meat between your fingers - be gentle or else you'll end up with squishy, mealy meat.
Shape into six 3-to-4-inch oval loaves. Set aside. (Can be done ahead of time.)
Heat the vegetable oil in a large nonstick skillet over medium-high heat. Add the loaves and brown about 3 minutes per side.
In a small bowl, whisk the ketchup, sugar and vinegar and brush a few tablespoonfuls over the meat. Add 1/2 cup water to the skillet, cover and simmer over low heat until cooked through, about 15 minutes.
Transfer the loaves to a plate. Add the remaining ketchup mixture to the skillet and cook over high heat, stirring, until thick, 3 to 5 minutes. Serve meatloaves with the hot glaze.
SaveSave