The Best Sloppy Joe's Recipe. Ever.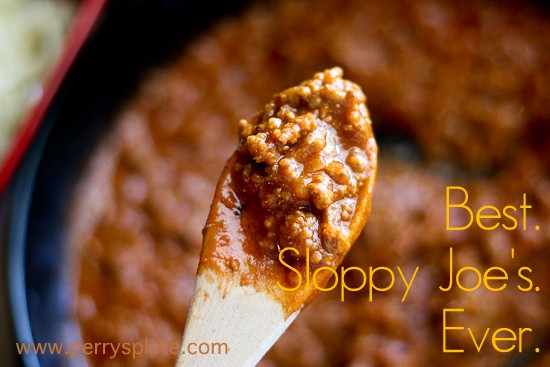 No, really. They are the Best Sloppy Joe's Ever. According to us, anyway.
"Best Ever" can be fightin' words. Especially when talking about chili. Or chocolate chip cookies. Or *gasp* pie crust. That last one can be a direct assault on a grandma if said to the wrong person.
Why are these the best Sloppy Joe's ever?
First, because they're not overly sweet or fussy. You don't even need a knife for this. For reals.
And second, it's my grandma's recipe. No, not Grandma Inez. My Grandma LaRue, who claims she's a "horrible cook." I sense that she doesn't enjoy cooking, but I have to disagree with her. In fact, two of my favorite family recipes come from her, my favorite chocolate cake. And these Sloppy Joe's.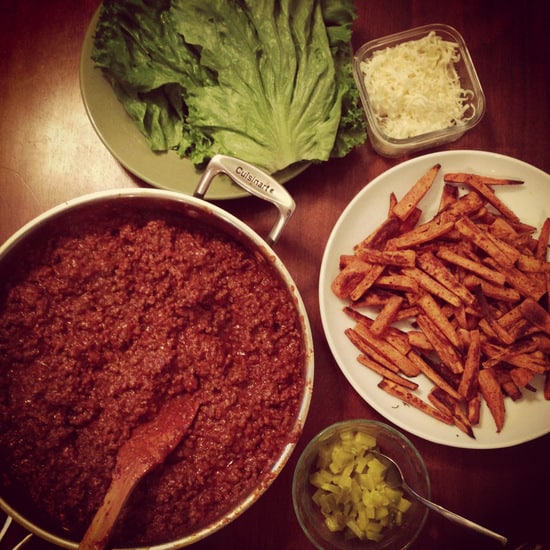 My mom made these for us all the time when I was growing up. When I eat them now I think about a typical night around the table. . . .
Dad watches the news. Mom tries to convince my picky baby sister to eat. And my younger brother and I make faces and stick out our tongues (full of chewed-up dinner) at each other from across the table while my mom's preoccupied. Then we do the "I have a secret" giggle, and my mom wonders what's so funny.
We still do that as adults. We're so mature.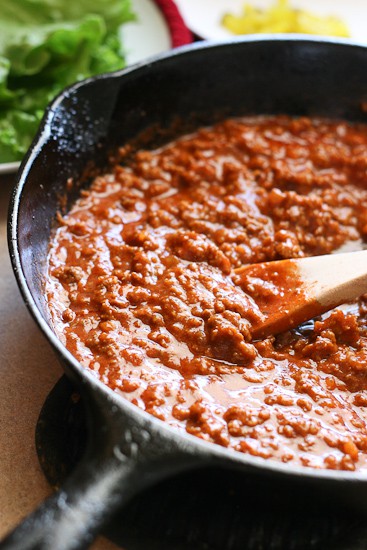 I think there are two types of family recipes. Those that stay exactly the same for decades and those that evolve with each generation. This one has evolved somewhat. My mom didn't like cooking with fresh onion, so she used dried. She also likes hers with pickles, and that's how I like them, too.
I threw my little spin on these as well, using plain tomato sauce in place of condensed tomato soup, using a gluten-free thickener, and using lettuce leaves (on occasion) instead of buns. Grains for greens!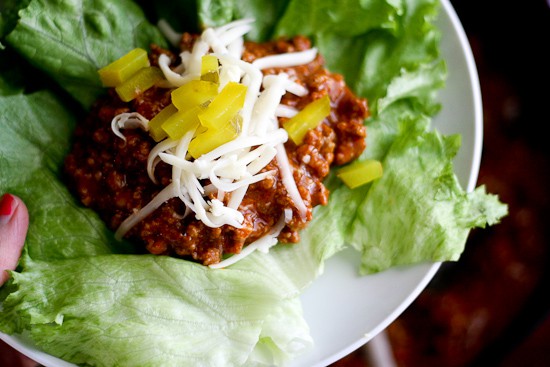 I have to admit — eating these as a lettuce wrap gives a whole new meaning to the word "sloppy."
I actually prefer to eat them over a pile of Sweet Potato Fries. Like chili fries, but better.
If you're looking for a vegan version, try mushroom and cashew-based Vegan Sloppy Joes!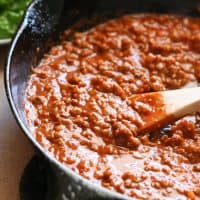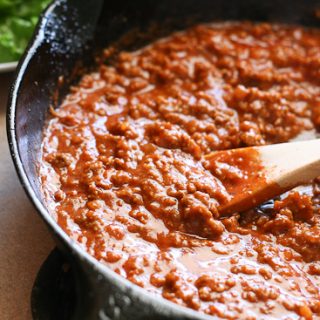 The Best Sloppy Joe's Recipe Ever
Yield: Serves 6

Additional Time: 30 minutes

Total Time: 30 minutes

Why are these the best Sloppy Joe's ever? Well, they're not overly sweet or fussy. You don't even need a knife. (Honest!) And eating it over a pile of sweet potato fries puts chili fries to shame.
Ingredients
1 - 1 1/2 pounds lean ground beef (organic, grass-fed, if possible)
1 15-ounce can tomato sauce (two 8-ounce cans are also fine)
1/2 teaspoon dried, ground sage
2 Tablespoons plain yellow mustard
2 Tablespoons honey
1 1/2 teaspoons dried minced onion
1 teaspoon chili powder
1 teaspoon salt
1 1/2 teaspoons tapioca or arrowroot starch (see note)
Instructions
Brown the beef in a large skillet over medium-high heat. If your beef is extra lean, you may want to add a tablespoon of oil to keep it from sticking to the pan. Drain off any oil, if needed.
Return pan to skillet and add the remaining ingredients plus 1/3 cup of water. Stir well and simmer over medium-low heat for about 10 minutes.
Serve with buns or lettuce leaves, shredded cheese, Sweet Potato Fries, and (our recommendation) pickles.
Notes
Nat's Note:
I used arrowroot powder to make this recipe grain-free. You can also substitute the same amount of cornstarch or double the amount of all-purpose flour.
To make these Whole30 compliant, omit the honey or replace it with 1 Tablespoon of Date Paste.
SaveSave