Buckwheat Pancake Mix
I've been in love with pancakes for a long time, and I've had quite an evolving journey these past few years as we've tried to make healthier food choices. We started at Bisquick and now here were are at buckwheat. That's quite a jump, but it didn't happen overnight. Making drastic jumps like that (when it comes to food) rarely becomes a permanent lifestyle change.
Making small, gradual, easy changes is the key. It was easy to go from Bisquick to a homemade mix using white flour. It was easy to add just a little wheat flour to my mix. And after we discovered we liked buckwheat, I replaced almost all of the flour with buckwheat (which happens to be gluten-free), and used a small amount of whole wheat pastry flour to give them a good, soft texture.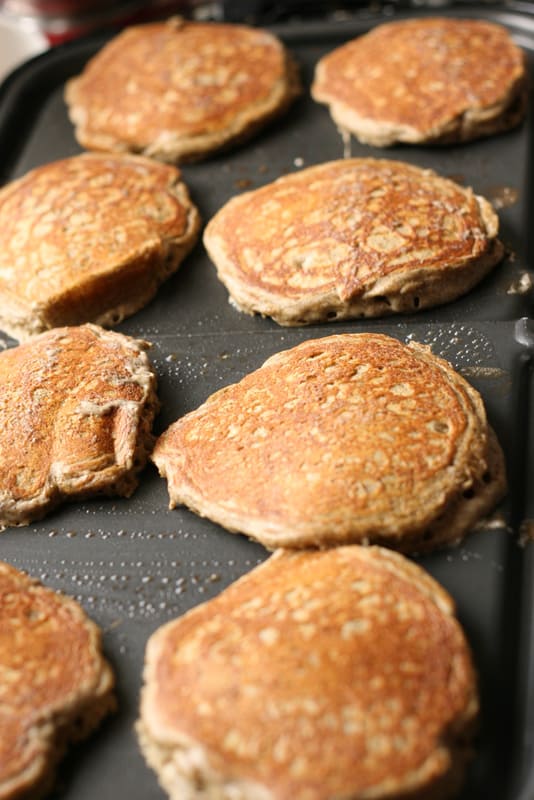 Have you ever seen buckwheat flour before? It looks a lot like sand. And when you mix up the batter it looks like wet cement. And when you make the pancakes they appear to be potentially cardboard-like in taste. Well they aren't. I promise. I'm a pancake snob, and I hate eating pancakes that are overly "health-i-fied" and have a tough texture. These guys may have a strange appearance, but you'll be pleasantly surprised at the taste and texture. (That is, unless you hate the nutty flavor of buckwheat, then you may not like these. But give them a try. You might.)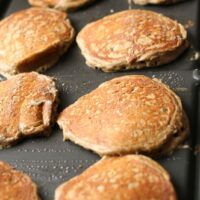 Buckwheat Pancake Mix
Yield: 6 batches
Prep Time: 15 minutes
Total Time: 15 minutes
I love the nutty flavor and tender crumb that buckwheat flour adds to pancakes.
Ingredients
9 cups buckwheat flour
3 cups whole wheat pastry flour (see note)
2 Tablespoons sugar
1 Tablespoon salt
1 Tablespoon baking soda
Instructions
Place all ingredients in an airtight canister and shake well to blend. It's recommended to shake the mixture before you measure out the ingredients to ensure it's well blended. Makes 6 batches of the recipe below.
To Make Buckwheat Pancakes
INGREDIENTS: 2 cups Buckwheat Pancake Mix, 2 1/2 cups buttermilk, 2 eggs, 4 Tablespoons melted butter, Optional add-ins to make them fluffier: 2 tsp baking powder 1 T sugar 2 T lemon juice (does not need to be fresh)
DIRECTIONS:
Place the pancake mix in a large mixing bowl. In a medium bowl whisk together the buttermilk, melted butter, and eggs.
Pour wet ingredients into the dry and combine just until everything is moist. Don't over-mix. If you're doing the optional add-ins, add them right on top of the batter, then FOLD them in. Again, don't over-mix.
Let the batter sit for 5 minutes or so while the griddle heats up, you set the table, take a shower, whatever. You need that time in order for the batter to start to bubble and get a bit foamy. Don't stir the batter ever again from this point.
Carefully scoop out (I use a 1/3 c measuring cup) the batter and pour onto the hot griddle. Cook them for a few minutes on each side, flipping once when bubbles begin to burst on the surface and the edges appear dry, until they're golden brown. Makes 14-16 Nat's Notes: 1.
Notes
Nat's Notes:
Whole wheat pastry flour is my new best friend. It's made from a softer variety of wheat that contains less gluten, making it a great whole-grain flour that won't turn your baked goods into cardboard. Recommended for cookies, quick breads, pancakes, and such. Not good for bread, rolls, or pizza dough which need more gluten for their texture. If you can't find this flour, you can easily substitute white whole wheat or plain all-purpose flour. Using regular whole wheat flour may create a tougher texture.
I've added a teaspoon of cinnamon to these before, which is fantastic.
If you're using regular milk, only use 2 cups or the batter will be too runny. I recommend the buttermilk, though, as it compliments the nutty flavor of the buckwheat and makes the pancakes taste better.
If you don't want to commit to making a canister of this stuff before you try it, here are the measurements for one batch: Buckwheat Pancakes (1 batch from scratch) 1 1/2 cups buckwheat flour 1/2 cup whole wheat pastry flour 1 tsp sugar 1/2 tsp salt 1 tsp baking soda 2 1/2 cups buttermilk 2 eggs 4 T melted butter Whisk together flours, sugar, salt, and baking soda in a large mixing bowl. Proceed with instructions above (including mix-in, if desired)