This creamy coconut chia pudding is a delicious breakfast or snack topped with toasted coconut flakes and sweet mango! Prep a bunch ahead of time so it's always ready when you need a bite.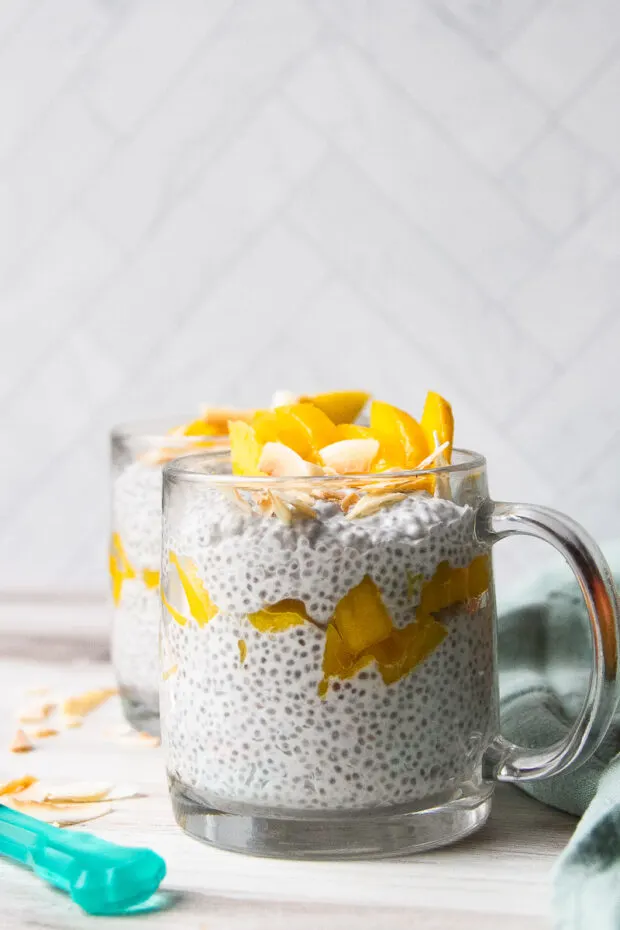 I'm way overdue for a chia pudding recipe around here and I think this Coconut Chia Pudding with Mango is the perfect one.
We've been eating chia pudding for YEARS, guys. I LOVE chia pudding.
It's one of those things I make for a week or two and then forget about it for several months. And when I finally make it again I tell myself that I should make it all the time.
(And then I forget about it again for several months. And repeat…)
About Chia Seeds
Did you know chia seeds can absorb 10x their weight in liquid?! Amazing.
These little seeds are also packed with a lot of nutritional value. They're a good source of quercetin (a natural antioxidant), fiber, and have good amounts of calcium, magnesium, and a bit of protein.
TIP: Use chia seeds as a vegan egg replacement!

1 T chia seeds + 3 T water and let it sit for 15 min. Add to the recipe when it calls for 1 egg.
Making chia pudding is crazy easy, although it does have an interesting texture that not all of my kids enjoy. I've buzzed it up in my blender to smooth it out and that helps them like it more.
It's also easily made dairy free and it's naturally gluten free. Yay!
I buy my chia seeds at Costco, but they're available at just about every grocery store and online.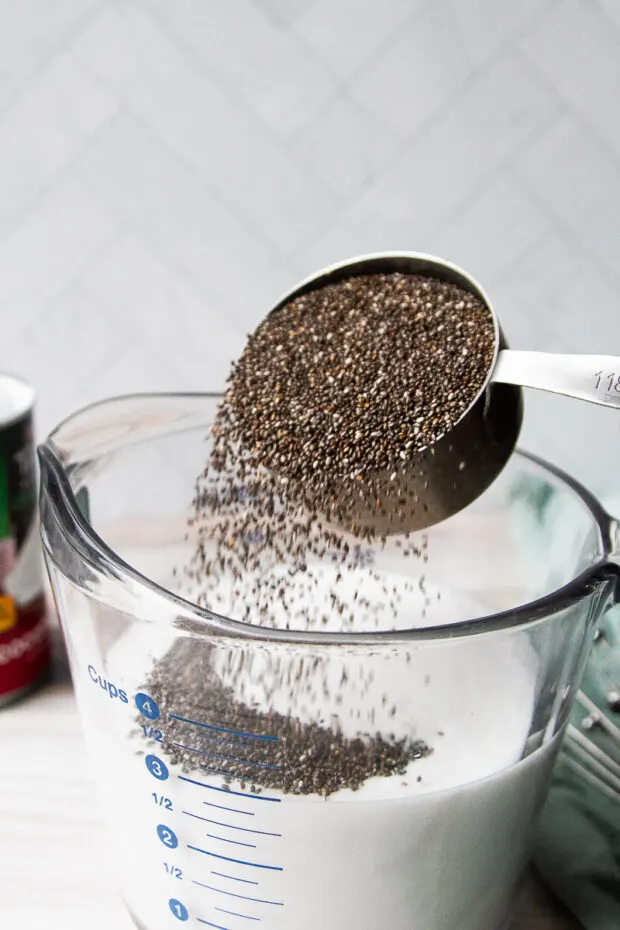 Making coconut chia seed pudding
All you need to do is whisk together the chia seeds, milk of your choice, and sweetener of your choice. (And vanilla extract if you like!) Then you chill it overnight (or a couple of hours if you can't wait that long).
Patience is good here — you'll want those chia seeds to absorb as much of the liquid as they can.
That's it!
Liquid to chia seed ratio
I prefer to use 1/3 or 1/4 cup chia seeds for every cup of liquid. Use more chia seeds for a thicker pudding.
Because I'm using a thicker liquid like creamy coconut milk, the pudding ends up being thicker than it usually would. I like it this way, but if you prefer a looser pudding, use more liquid or reduce the amount of chia seeds by a couple of tablespoons.
What kind of milk to use in chia pudding
You can make chia pudding with any kind of milk — regular dairy milk, or dairy free milks like almond milk, and oat milk work well, but I especially love using canned coconut milk. I love all things coconut and the coconut milk makes it super creamy and delicious. And more dessert-like (which is my goal most of the time. Ha.)
You can use full fat coconut milk or light coconut milk in this, depending on your preference. Obviously, light coconut milk will have less fat if you're tracking macros or concerned about that.
What kind of sweetener is best?
I like to use pure maple syrup when I make chia pudding, but you can use honey, any granulated sweetener (like coconut or maple sugar), or a low-carb sweetener like Stevia or monkfruit.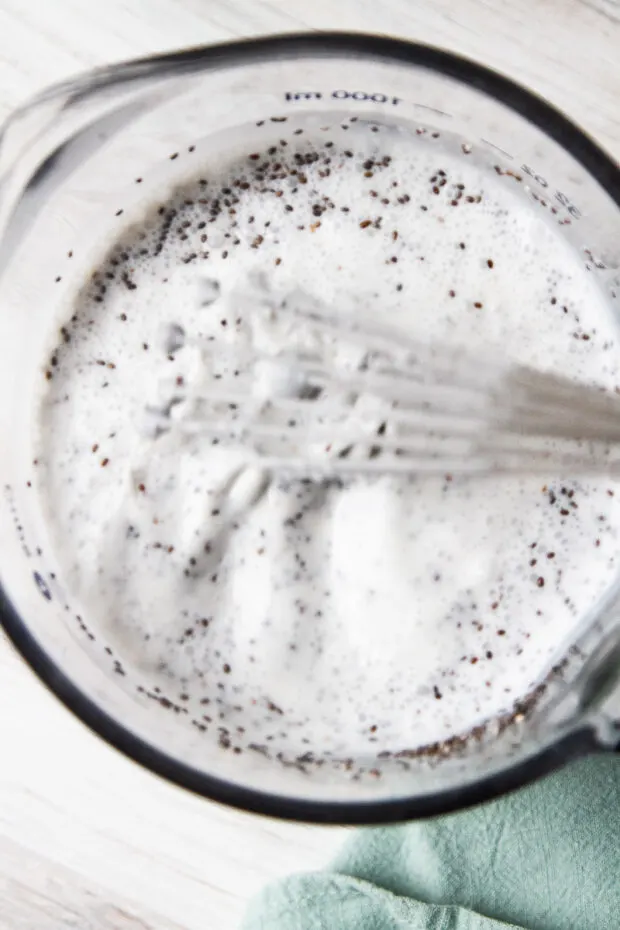 Tips for making chia pudding
Whisk, wait, and then whisk again.
What I mean is… whisk everything together inially, then wait 5-10 minutes. Whisk it one more time and then put it in the fridge for a few hours.
This prevents the chia from initially sinking to the bottom and creating a big, stiff blob on the bottom. You'll thank me later.
You'll have to stir it one more time before serivng to make sure there aren't any clumps, too.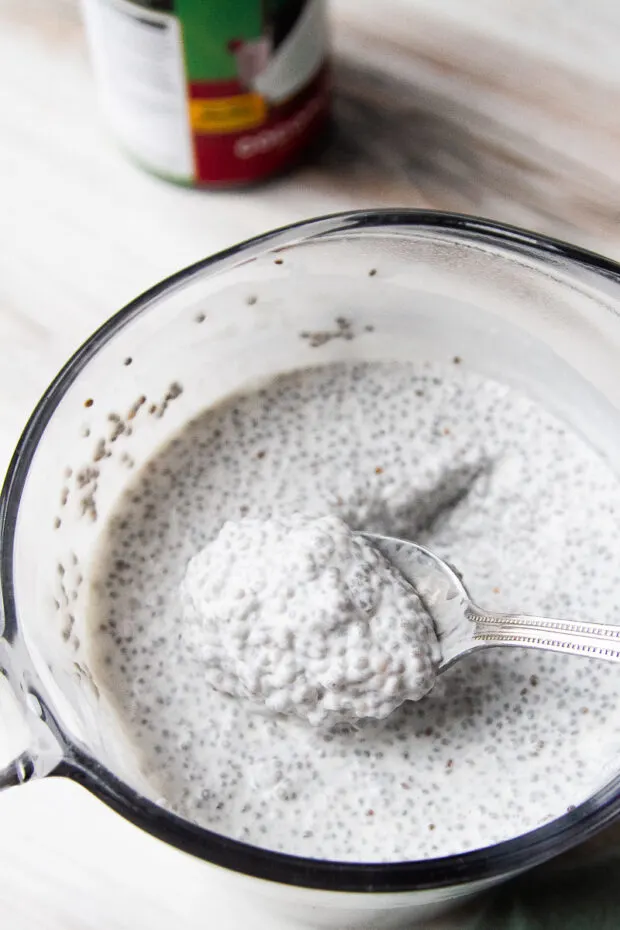 How to serve chia pudding
Chia pudding makes a great snack or breakfast! And can be prepared more decadently for a healthier dessert option.
If you're like me, you'll take a few bites out of the container while standing in front of the open refrigerator.
If you'd like to eat it in a more civilized manner, then add some to a bowl and top with fruit, granola, yogurt, and a sprinkle of hemp seeds, cacao nibs, or other healthy things. Here are a few of my favorite combos:
Mango + toasted coconut flakes (my favorite with this coconut milk chia pudding)
Diced apples + a spoonful of peanut butter + pinch of cinnamon or Chai Spice
1-2 scoops Chocolate collagen powder stirred in + a spoonful of peanut butter (this PB chocolate chia pudding is Steve's favorite)
Berries + yogurt + granola
How to store chia coconut pudding
Chia pudding keeps in the fridge for several days. This recipe actually makes a perfect amount to fit in a quart sized mason jar!
Want more easy, healthy breakfast ideas?
More easy breakfast recipes from Perry's Plate
A Green Smoothie (that actually tastes good)
Best Homemade Granola (with coconut oil & low sugar)
Crispy Oven Sweet Potato Hash Browns
Homemade Chicken Breakfast Sausage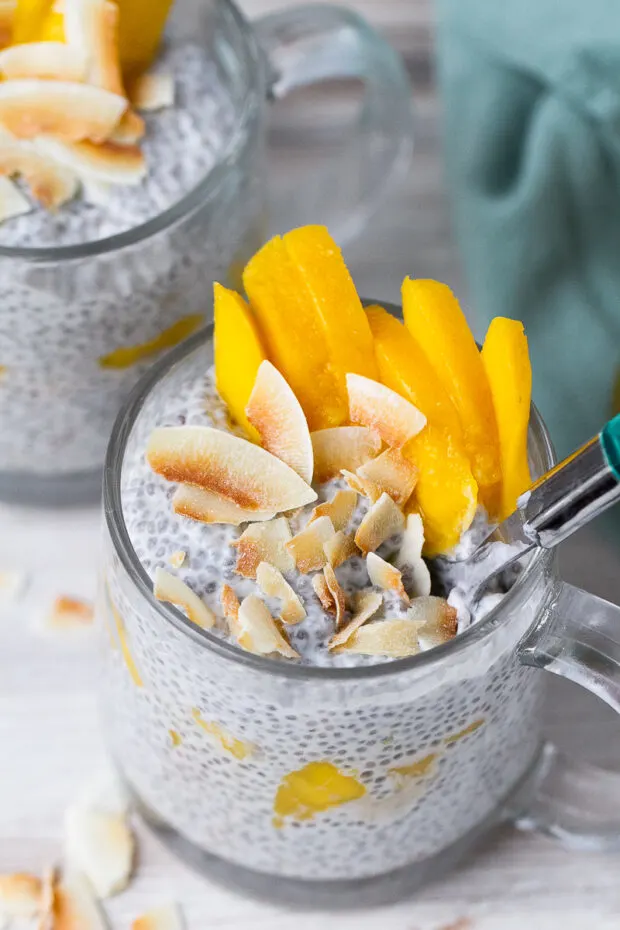 ---
If you make one of my recipes, be sure to post it on social media and tag me at @perrysplate or #perrysplate so I can send you some love!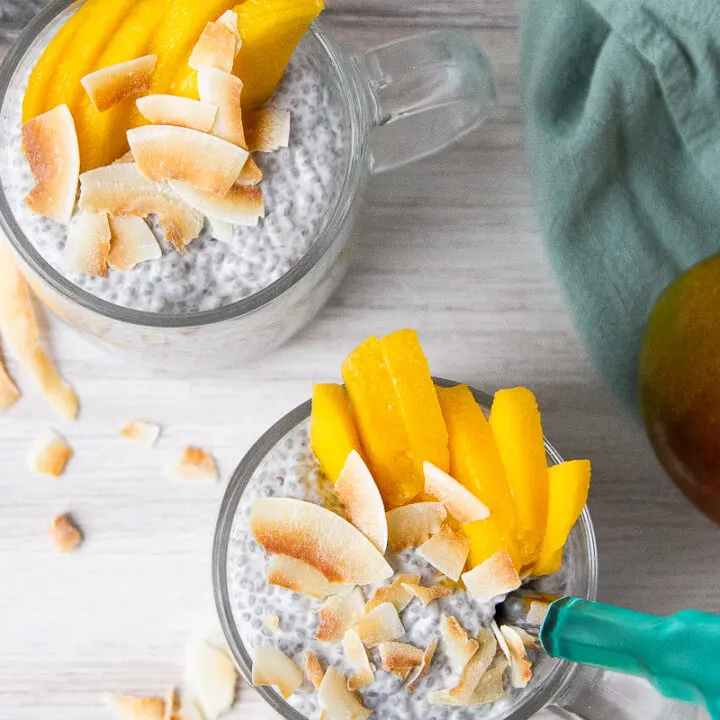 Coconut Chia Pudding with Mango
Total Time:
2 hours
5 minutes
This creamy coconut chia pudding is a delicious breakfast or snack topped with toasted coconut flakes and sweet mango! Prep a bunch ahead of time so it's always ready when you need a bite.
Ingredients
1 14-ounce can coconut milk (light or full-fat)
1 cup water
1/2 cup chia seeds
3-4 Tablespoons maple syrup (see note)
Pinch sea salt
1 teaspoon vanilla extract
2 ripe mangoes, cut into chunks
1/2 cup toasted coconut flakes, for serving
Instructions
In a medium bowl or large glass measuring cup, whisk together the coconut milk, water, chia seeds, sweetener, salt, and vanilla.
Let the mixture sit for 5-10 minutes. Whisk again to remove any clumps, and then cover and chill for at least 2 hours. (Overnight is my favorite!)
Give it one more good stir before serving.
Serve with a few spoonfuls of mango chunks and a sprinkle of toasted coconut flakes.
Notes
1. You can use any kind of sweetener here. Honey and maple work well. Low carb sweeteners and coconut sugar does, too, but coconut sugar turns the pudding a light brown color.
Recommended Products
As an Amazon Associate and member of other affiliate programs, I earn from qualifying purchases.
Nutrition Information
Yield

4
Serving Size

3/4 cup pudding
Amount Per Serving
Calories

515
Total Fat

32g
Saturated Fat

22g
Trans Fat

0g
Unsaturated Fat

8g
Cholesterol

0mg
Sodium

87mg
Carbohydrates

57g
Fiber

12g
Sugar

39g
Protein

8g
The information shown is an estimate provided by an online nutrition calculator. It should not be considered a substitute for a professional nutritionist's advice.
This post may contain affiliate links. Any purchases made by using these links won't cost you any extra and helps keep my content free. These links may be Amazon links as I am part of the Amazon Associate Program.