I'm a sucker for fresh corn in the summer.
My all-time favorite way of making fresh corn is turning it into elote or Mexican corn on the cob — rolled in spiced mayo and cotija cheese.
But when I don't feel like getting my face covered in cheese and sauce, this flavorful, fresh bowl of grilled corn salad happiness hits the spot.
It could stand alone as a salad. (But would also be fantastic over grilled chicken or fish.) I used what I had on hand (one of those clean-out-the-produce-drawer situations), but you could substitute just about anything.
In fact, I almost named this one, "Grilled Corn and Whatever Salad," but that sounded a little apathetic. I really do love this combination.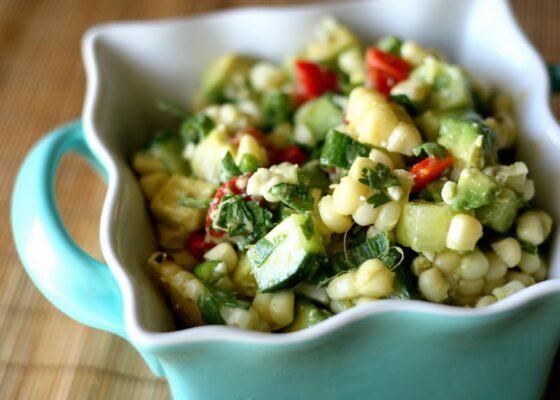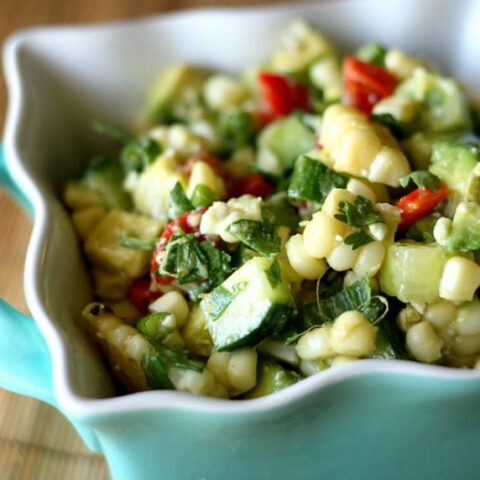 Grilled Corn Salad with Cucumber, Avocado, and Feta
This grilled corn salad is so versatile -- you can add pretty much any summer vegetable. It's fantastic with a side of grilled chicken, too!
Ingredients
4 ears of corn, grilled
1/2 of an English cucumber, diced
1/2 of an avocado, diced
3 jarred roasted red peppers, diced (about 1/3 cup)
1/4 cup chopped cilantro
2 green onions, sliced thinly
1/2 cup feta cheese crumbles
3 Tablespoons extra-virgin olive oil
juice from 1 lime
1 clove garlic, minced
couple pinches of cumin
salt and pepper to taste
Instructions
Remove kernels from corn cobs and place in a medium bowl. Add the rest of the ingredients and mix well. That's it.
Notes
Nat's Note: You can certainly boil the cobs or warm up some frozen corn in a skillet with a bit of oil.
Save
Save
SaveSave