Don't hate me for saying this, but I don't think it's gotten over 70 degrees here for the past two weeks.
While 65 degree weather isn't ideal for playing in the hose outside, it's awfully better (to me) than 95 degrees. Especially since our home isn't air-conditioned. I feel like fall has already arrived. Hello, Fall!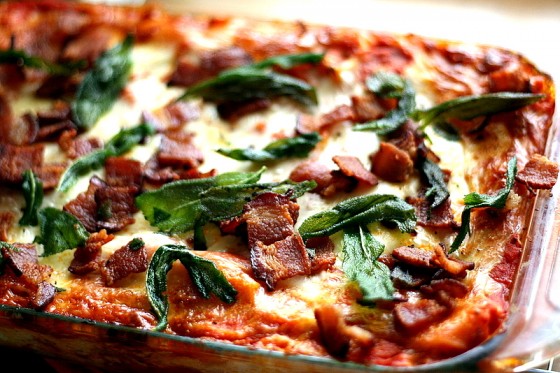 I made this lasagna sometime this spring with some frozen squash I'd saved from last year. I was saving this post for sometime in October. It feels like October right now, so I'm throwing it up early.
(It'll probably get hot next week because I did this . . . )
We loved this lasagna. It's a creamy, slightly-sweet (from the squash) meal that will feed quite a few hungry mouths. Leave off the bacon garnish and fry the sage in oil and it would be a wonderful meatless dish! (But why you would want to leave off the bacon is beyond me.)
If you cook the squash ahead of time and use the no-boil noodles, it comes together fairly quickly.
When I made this I had just discovered how delicious fried sage is. Especially when you fry it in bacon drippings. Bacon seems to have that effect on everything it touches. (I know. I have an illness.)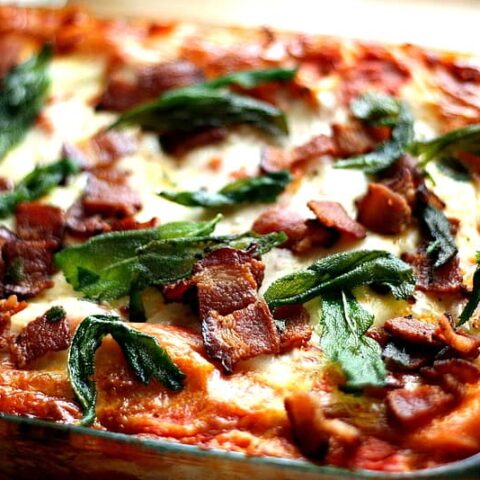 Roasted Butternut Squash Lasagna with Goat Cheese, Bacon, & Fried Sage
Ingredients
6 slices of uncooked bacon
1 1/2 cups smashed roasted butternut squash (see note)
8 ounces goat cheese
1/3 cup ricotta cheese
1 egg
2 T minced fresh sage or 1/2 tsp dried ground sage + 2 sprigs of fresh sage to fry for garnish
1/4 tsp Kosher salt
1/8 tsp coarsely ground black pepper
3 cups marinara sauce (about 25 oz or so)
9 no-boil lasagna noodles
2 cups shredded mozzarella cheese
Instructions
Preheat oven to 375 degrees F. Fry the bacon (sliced or whole, whichever you prefer) in a medium saucepan over medium heat until it crisps up. Remove bacon with a slotted spoon and set aside. Meanwhile, remove leaves from the 2 sprigs of fresh sage and add to the hot bacon drippings after you remove the cooked bacon. Fry for about 45 seconds or so until they, too, crisp up. Remove fried leaves from skillet and set aside with cooked bacon bits. In a small bowl combine the goat cheese, ricotta cheese, egg, 2 T minced fresh sage, salt & pepper. Mix thoroughly. Set aside. Prepare an 11x7 inch casserole dish with nonstick spray and add spread a couple spoonfuls of marinara sauce in the bottom. Put a layer of lasagna noodles over the sauce. I used three, but I had to break one to make it fit. Spread about 1/2 cup smashed squash over noodles, followed by 1/3 of the goat cheese mixture, 1/3 of the marinara sauce and 1/2 cup shredded mozzarella. Repeat layering two more times with remaining ingredients and top with remaining mozzarella cheese. Cover with aluminum foil and bake for 30 minutes. Remove foil and continue to bake, uncovered, for another 15 minutes until everything is bubbly, heated through, and the cheese begins to turn golden brown. Remove from the oven and top with reserved bacon bits and fried sage. Allow to rest for about 10 minutes before slicing. Makes about 6 servings. Nat's Notes: 1. This obviously goes much faster if the squash is roasted ahead of time. It also freezes well. To roast a butternut squash, preheat the oven to 400 degrees F. Slice the squash in half, discarding seeds and gunk from the center. At this point you can either place it face-up on a baking sheet and drizzle with olive oil or face-down in a casserole dish and fill the dish with about 1/2-inch of water. Bake for about 40-70 minutes, depending on the size of your squash. When it's done, it should easily pierce with a fork. Allow it to cool, then scrape the flesh from the skin, discarding the skin. Mash, then proceed with recipe. This method works for just about any type of squash.
Save
Save