I love that in this Butternut Squash Pasta Sauce, the tomato base takes a backseat to the squash and pumpkin flavors in this pasta sauce inspired by a Trader Joe's favorite of mine!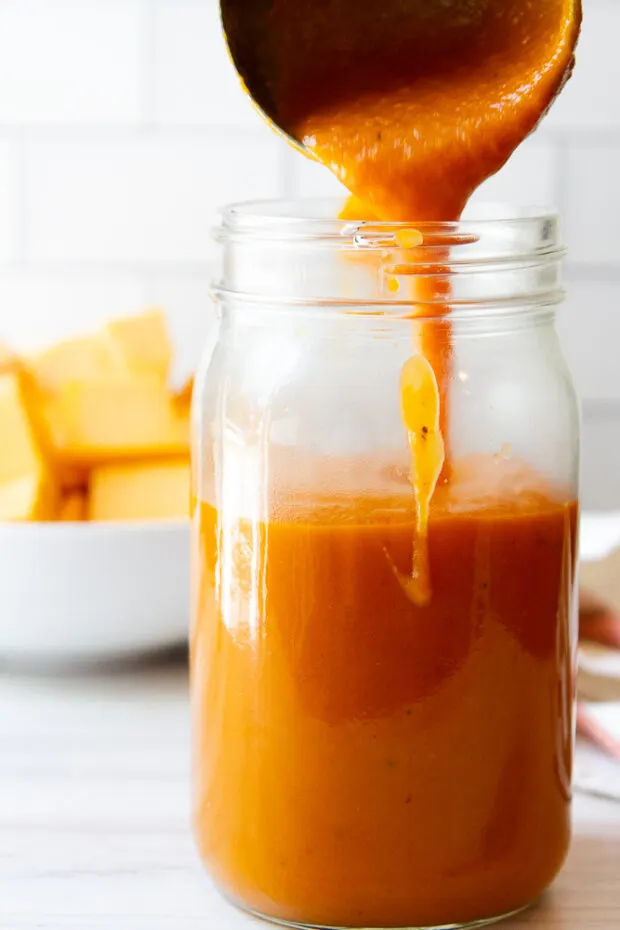 If you've been following me online for more than a day or two you'll know that I'm a big fan of Trader Joe's.
I fell in love with their seasonal Autumnal Harvest Pasta Sauce one year. Since one of my favorite things is making copycat versions of things I find at the store and in restaurants, I made my own version! I put it in my first cookbook, The Big Book of Paleo Slow Cooking.
It's easy to make on the stovetop, too!
I like having more squash recipes and pumpkin recipes that aren't some kind of baked good. This sauce satisfies both of those!
Making Homemade Pasta Sauce
This is a very easy "dump and walk away" kind of situation. And even better if you buy pre-cut butternut squash. I don't want anyone to lose a finger making this.
After the sauce has simmered at medium-low heat for 30 minutes and the vegetables are soft, buzz it all up with an immersion blender.
Don't have an immersion blender? Blend it in your countertop blender, but seriously consider getting an immersion blender because it's one of the most handy gadgets you'll use.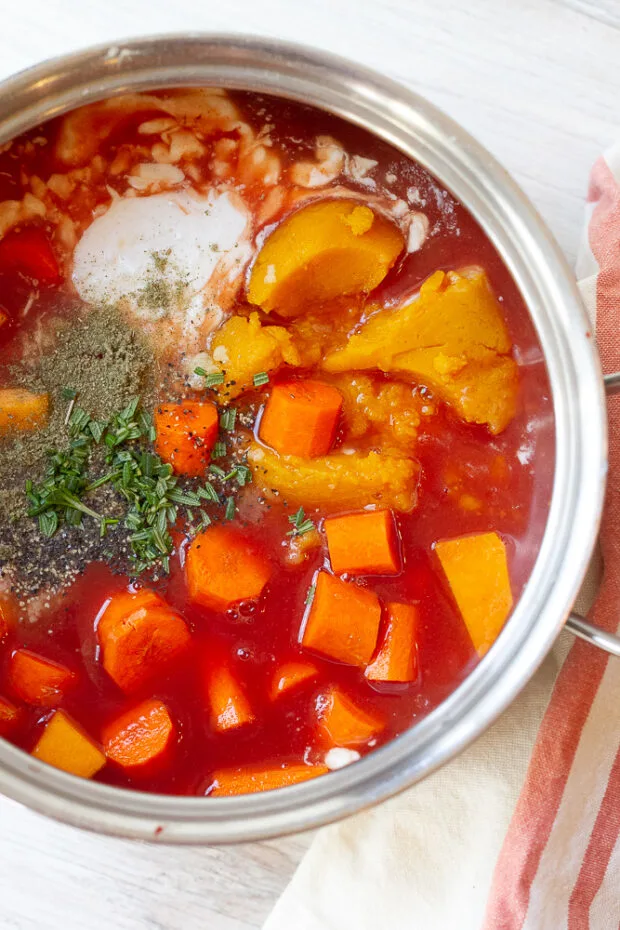 Ingredients for butternut squash pasta sauce:
Everything here is easy to find at the store!
Tomato paste
Butternut squash cubes
Pumpkin puree (not pumpkin pie filling)
Carrots
Applesauce
Maple Syrup
Coconut Milk (or unsweetened almond milk or heavy cream)
Lemon Juice
Garlic
Simple Herbs & Spices
Ghee or butter
(The ghee is optional if you'd rather use that than butter — here's a tutorial if you want one. It's easy to make! How To Make Ghee)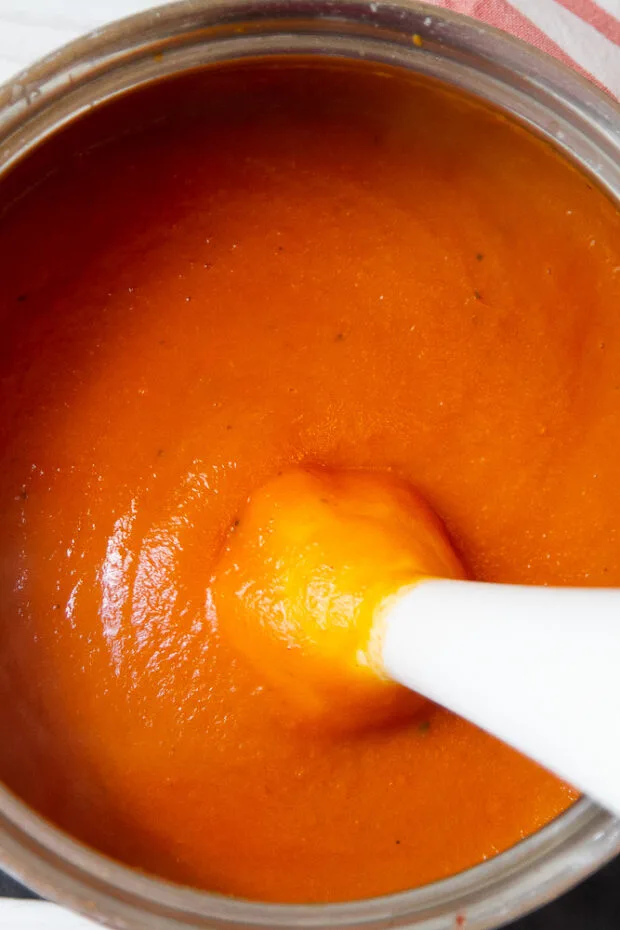 Is this sauce vegan?
It can be. Very easily. I added a little ghee or butter to give the sauce a richer flavor, but you can use a vegan butter, extra-virgin olive oil, or omit it completely.
Do you I have to use coconut milk?
No, you can use heavy cream if you like. I love the combination of butternut squash and coconut and it works beautifully here, in case you're skeptical.
How long does this pasta sauce last?
You can store it in an airtight container in the fridge for up to a week. It also freezes beautifully! I love using these freezer-safe deli containers for freezing sauces, soups, and broth.
Want to make your own homemade pumpkin puree or squash puree? Click on this post: How to cook a squash or a pumpkin in your Instant Pot.
Recipe Variations:
Creamy pumpkin pasta sauce — For an extra creamy texture and a boost of pumpkin flavor, use whole can of pumpkin (You're welcome. No one likes leftover canned pumpkin sitting around. haha) and reduce butternut to 1/2 cup. Replace sage with cinnamon or pumpkin pie spice. Double the amount of coconut milk or heavy cream if you aren't wanting to make a vegan pumpkin pasta sauce.
Roasted Butternut Pasta Sauce — Try roasting the butternut squash cubes and carrots together before simmering them with the other ingredients for a deeper, roasted flavor!
If you like this recipe, try my Balsamic Roasted Tomato Sauce!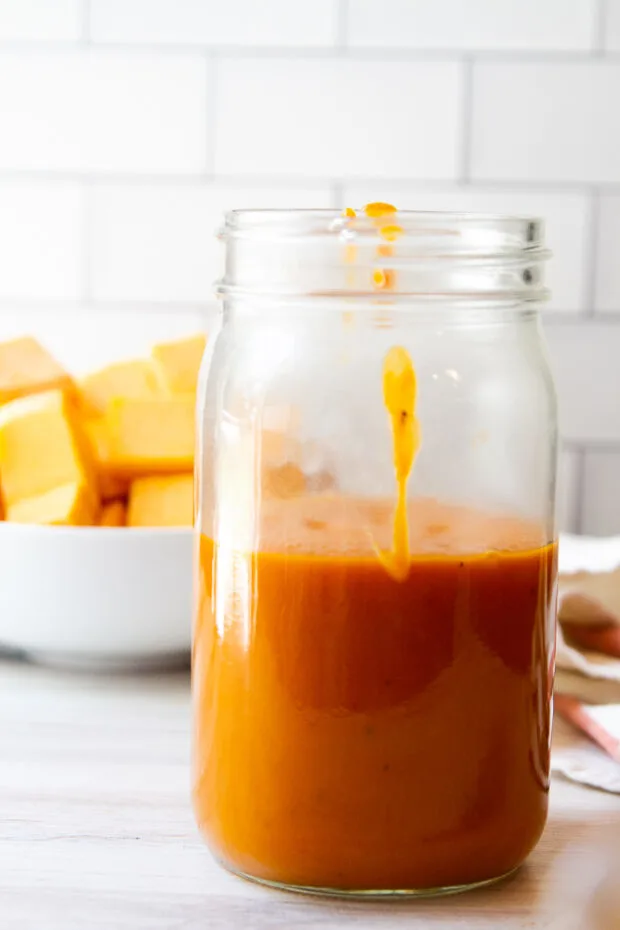 Ways to use Butternut Squash Pasta Sauce
I love that it still tastes enough like marinara sauce that you can use it anywhere you'd normally use marinara. This delicious sauce has a great savory flavor with a hint of sweetness from the squash and maple.
Serve it over any type of pasta, make it into a meat sauce with ground meat, layer it in a lasagna, use in pasta recipes or as pizza sauce (totally trying this ASAP), or as a dipper for…. anything you'd dip into marinara. My first thought is mozzarella sticks. Heh.
Any way you use it, it'll make ordinary weeknight dinner feel a little more special knowing you made that sauce from scratch. Things like that make me feel super cheffy.
NOTE: it's particularly good with parmesan cheese, however you plan to use it. The slightly sweet flavor of the sauce pairs so well with salty parm. Mmm.
More Butternut Squash Recipes
Have extra butternut? Here are a few more recipes on my site!
Spiralized Butternut Squash Breakfast Bake is great for brunch or a breakfast meal prep option for the week! It reheats wonderfully.
Chai Maple Roasted Butternut Squash is a delicious non-traditional Thanksgiving side dish or anytime you need something cozy alongside a pot roast.
Vegetarian Paleo Chili is loaded with butternut and sweet potatoes and its unique spice combination makes this a fun addition to your chili collection.
Kale Salad with Roasted Butternut Squash & Apples is a hearty fall salad that's both light, filling, and seasonal.
Apple-Squash Soup with Bacon, Chipotle Lime Squash Soup, & Paleo Indian Butternut Squash Soup are my favorite pureed squash soups!
---
If you make one of my recipes, be sure to post it on social media and tag me at @perrysplate or #perrysplate so I can send you some love!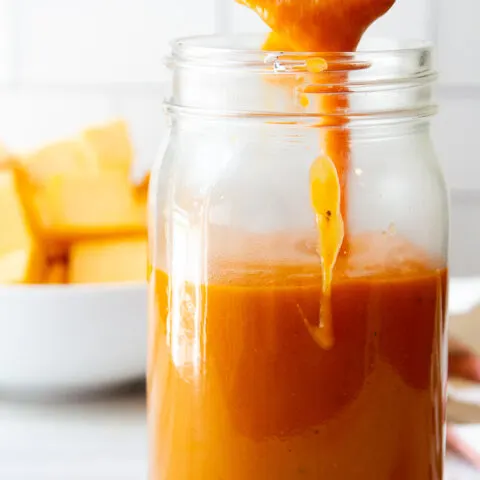 Butternut Squash Pasta Sauce
I loved that in this Butternut Squash Pasta Sauce, the tomato base takes a backseat to the squash and pumpkin flavors in this fall-inspired pasta sauce! It's also a copycat version of the Autumnal Harvest Pasta Sauce at Trader Joe's.
Ingredients
1/3 cup tomato paste
1 cup pumpkin puree
1 1/2 cups cubed butternut squash
1/2 cup coconut milk
2 medium carrots, peeled and cut into 1-inch chunks
1/3 cup unsweetened applesauce
3 Tablespoons pure maple syrup
1 teaspoon sea salt
1/2 teaspoon onion powder
1 small garlic clove, minced or grated
1 Tablespoon lemon juice
1/4 teaspoon black pepper
1/4 teaspoon ground sage
1/8 teaspoon cayenne pepper
1 2-inch sprig of fresh rosemary (or 1/4 teaspoon dried)
2 Tablespoons ghee or butter (optional)
Instructions
In a medium sauce pan whisk together the tomato paste with 2 cups of water. Add the rest of the ingredients (except the ghee/butter). For the rosemary, slide your fingers along the stem in the opposite direction of leaf growth to easily remove the leaves. Give them a mince before putting them in the pot.
Bring to a boil, then reduce the heat to medium low and simmer the mixture for 30 minutes. The carrots and squash should be very soft.
Use an immersion blender to blend it until smooth. (Use a countertop blender in batches if you don't have an immersion blender.)
Add the ghee/butter and stir until completely melted. Taste, and add more salt or lemon juice if you think it needs it.
Use immediately or let it cool to room temperature and store it in an airtight container, chilled, for up to a week.
Notes
The ghee/butter is optional. It gives the sauce a richer flavor, but if you'd like to make this recipe vegan you can use a vegan butter, extra-virgin olive oil, or omit it entirely.
Recommended Products
As an Amazon Associate and member of other affiliate programs, I earn from qualifying purchases.
Nutrition Information
Yield

10
Serving Size

1
Amount Per Serving
Calories

106
Total Fat

6g
Saturated Fat

5g
Trans Fat

0g
Unsaturated Fat

1g
Cholesterol

10mg
Sodium

236mg
Carbohydrates

13g
Fiber

3g
Sugar

7g
Protein

1g
The information shown is an estimate provided by an online nutrition calculator. It should not be considered a substitute for a professional nutritionist's advice.
This post may contain affiliate links. Any purchases made by using these links won't cost you any extra and helps keep my content free. These links may be Amazon links as I am part of the Amazon Associate Program.