This may be my most favorite breakfast ever. Also, you'll never look at Brussels sprout hash the same way after this!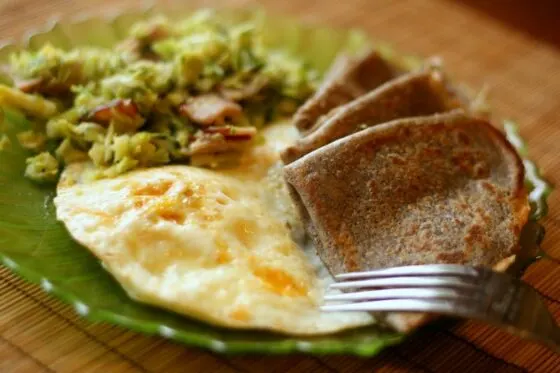 I can't believe how my kids wolfed this Brussels sprout hash. They don't even like Brussels!
This is a great combination of recipes that I whipped up for dinner last month. After we had it again for breakfast a week or two later and decided it's just as good (if not better) than in the morning. Hearty buckwheat crêpes filled with Gruyére alongside a fried egg and a mound of smoky brussels sprouts hash — recipes from two separate sources, but meant to be together. My kids loved it, too — even the brussels sprouts.
Speaking of brussels sprouts. . . I had my very first one about two years ago at a salad bar and I promptly (and discreetly) spit it out. I gave them another chance during a Thanksgiving dinner where my sister-in-law brought a roasted brussels sprouts dish. It was all I could to not to eat the whole pan. (I've decided I'll eat anything roasted!) And lately I've noticed a lot of shredded brussels sprouts recipes popping up and loved those, too! I'm a convert. A recent one, but a solid one.
You can find buckwheat flour (as well as whole wheat pastry flour) in well-stocked grocery stores or those with a bulk section. We love its nutty flavor in pancakes, too. (Plus it's gluten-free!)
SaveSave
SaveSave
---
If you make one of my recipes, be sure to post it on social media and tag me at @perrysplate or #perrysplate so I can send you some love!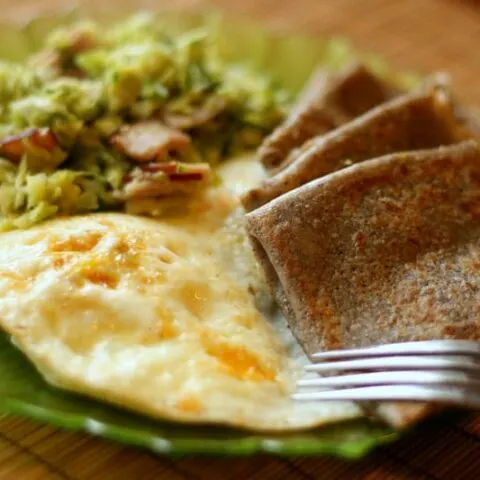 Buckwheat Crêpes with Fried Eggs + Sauteed Brussels Sprouts Hash
This might be my all-time favorite breakfast. I love the nuttiness of the crepes combined with the salty-sweet hash and creamy eggs. It's the ultimate breakfast trifecta.
Ingredients
For the crêpes:
3/4 cup water
3/4 cup milk
3 eggs
1/2 cup buckwheat flour
3/4 cup gluten-free flour blend
3/4 teaspoon salt
3 Tablespoons melted butter, plus extra for the pan
a couple handfuls of grated Gruyére or Swiss cheese
1 or 2 eggs per person
salt and black pepper
For the hash:
1 pound brussels sprouts
1 Tablespoon butter
1 Tablespoon avocado oil
3 ounces chopped smoked ham (I used uncured deli ham) or cooked & crumbled bacon
1 large garlic clove, minced
1/3 cup low-sodium chicken broth
Instructions
For the crêpes: Put the water, milk, eggs, flours, salt, sugar, and 3 T melted butter in a blender and blend until smooth (or whisk together in a bowl until smooth). Scrape down the sides of the jar as necessary. Let it rest for about 15-20 minutes so the bubbles can subside.
Bring an 8-inch nonstick skillet to medium heat and wipe a little butter over the surface. Add about 1/4 cup of batter to the pan and swirl it around until the entire surface of the pan is covered. Cook over medium heat until bubbles begin to break the surface and the edges appear dry, about 2 minutes. You should be able to flip it over really easily. Flip and cook for another 30 seconds.
Slide the crêpe onto a serving plate and continue with the rest of the batter, stacking the crêpes once cooked. (TIP: This can be done a day or two in advance. Cover and chill until ready to proceed.)
Grate a little cheese over each crêpe and fold it loosely into quarters. Melt a bit of butter in a large nonstick skillet and add the cheese-filled crêpes. Cook on both sides, over medium heat, until hot and slightly crisp around the edges. Cover crêpes to keep warm while you prepare the eggs. (Or do them at the same time, if you have the speed and coordination.)
Melt another bit of butter in a nonstick skillet. Break eggs, season with salt and pepper, and cook them as you like.
To prepare the hash: Trim tough root ends from brussels sprouts. You can either shred them up with a sharp knife or quarter them, then throw them in a food processor for a few pulses until shredded. (TIP: This can be done a day ahead. Cover and chill until ready to use.)
Melt butter with oil in a large, deep skillet over medium heat. Add ham (or bacon bits); saute until golden, about 3 minutes. Add garlic; cook and stir another 30 seconds. Add shredded brussels sprouts and broth; saute until crisp-tender, but still bright green, 3-5 minutes. Season to taste with salt and pepper.
Transfer to a serving dish. Arrange three crêpes on each plate and lay the egg and hash alongside.
This post may contain affiliate links. Any purchases made by using these links won't cost you any extra and helps keep my content free. These links may be Amazon links as I am part of the Amazon Associate Program.