I think Mulligatawny is one of the most underrated soups out there. It's smooth, Indian-inspired flavor is so good! And it's a great home for leftover chicken & rice.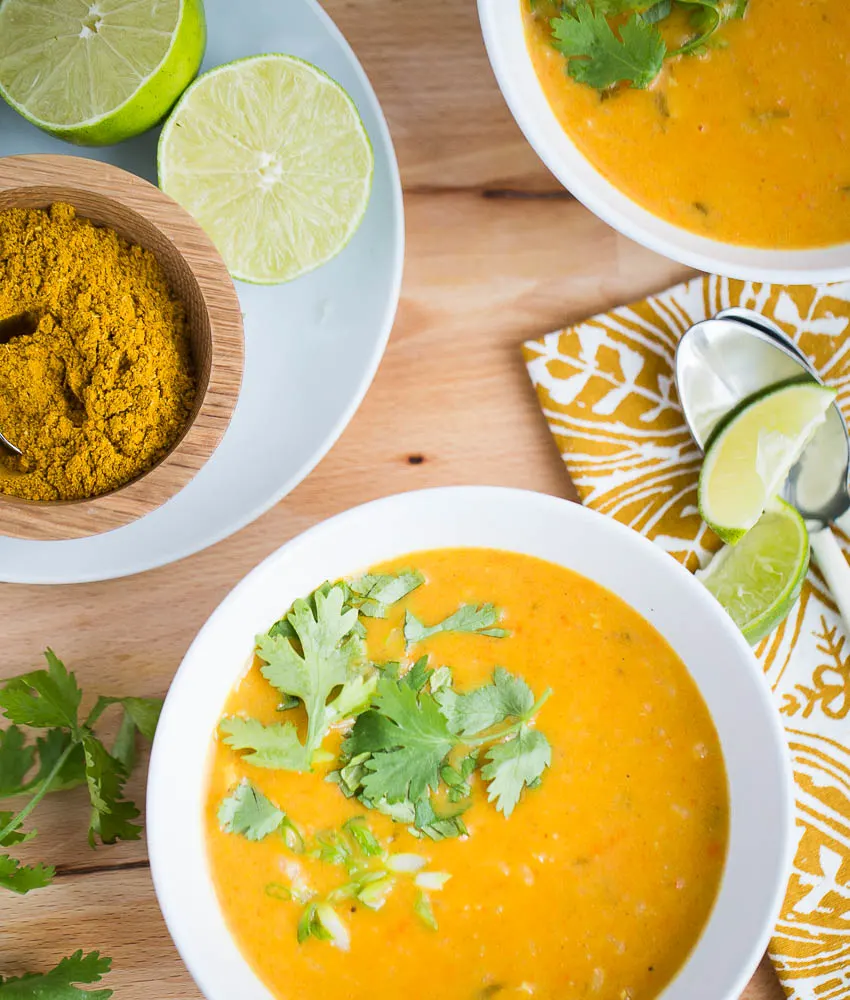 So I really have three Indian-inspired dishes for you this week. Have you ever tried Mulligatawny? Before this week my only knowledge about this curry-flavored soup was that it was Kramer's favorite soup from the Soup Nazi.
Because I had everything to make it, I gave it a go.
I recommend using curry powder that you like. (Use a good quality — or grind some yourself, you'll never look at curry powder the same way again!) This soup freezes well, but we never got the chance to find out.
We ate this for dinner, and I ate it again for lunch for the next two days. My 3-year-old specifically asked for "the orange soup" for lunch. I don't think I could ever tire of it! It's so flavorful and warming.
All of the vegetables are blended together after a good simmering, and then you add some cooked chicken (chickpeas would be good, if you wanted it meatless), cooked rice, and some cream (. . . or half-and-half. I have nothing against cream — I just didn't have any.)
I'm definitely adding this one to my collection!
---
If you make one of my recipes, be sure to post it on social media and tag me at @perrysplate or #perrysplate so I can send you some love!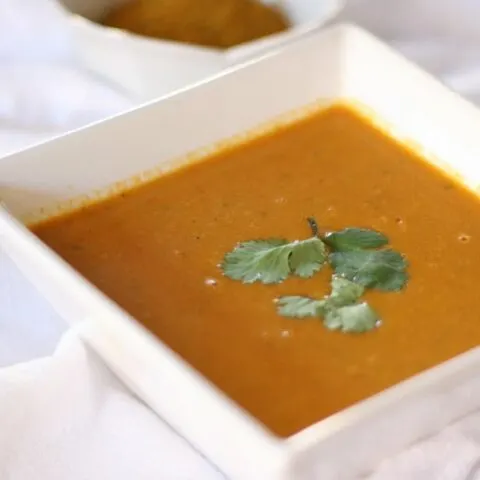 Mulligatawny
This creamy, Indian-spiced soup is so cozy and warm! You can serve it with some cooked chicken and rice stirred in for a complete meal in a bowl.
Ingredients
6 Tablespoons grass-fed butter or ghee
2 small yellow onions, peeled and diced
2 medium carrots, peeled and diced
2 stalks celery, diced
1 green bell pepper, cored, seeded, and diced
1/4 cup tapioca flour
1 Tablespoon good quality curry powder
1/2 teaspoon nutmeg
6 whole cloves (or 1/2 tsp ground)
4 sprigs parsley (or 2 tsp dried)
2 quarts chicken broth
2 teaspoons salt
1/4 teaspoon pepper
2 cups chopped tomatoes (or one can diced/whole tomatoes, undrained)
2 cups cooked chicken, chopped
1 cup heavy cream or coconut milk
2 cups cooked rice
Instructions
Melt the butter in a large, heavy soup pot over medium-high heat (I used my 7 qt, but I had plenty of room).
Add onions, carrots, celery and bell pepper; cook, stirring frequently until onions are soft and clear. Stir in the tapioca flour, curry powder, nutmeg, and cloves and cook for a minute or so.
Add the chicken broth, parsley, salt, pepper, and tomatoes. Bring to a boil, reduce heat to medium-low and simmer, covered, for about an hour.
Blend soup with an immersion or stick blender (or transfer to a blender in batches and puree) until completely smooth. If using whole cloves, remove before blending. (I forgot to remove mine and I didn't notice an overpowering clove flavor. I thought it was great.)
Stir in the chicken, cream (or coconut milk), and rice; heat through before serving.
This post may contain affiliate links. Any purchases made by using these links won't cost you any extra and helps keep my content free. These links may be Amazon links as I am part of the Amazon Associate Program.