May I interrupt a streak of Mexican dishes to bring you something a little more exotic? Like homemade curry powder!
First, I highly recommend you get a coffee grinder. Or a second coffee grinder if you happen to use yours for coffee. If you've never used one, it's like a super-strong mini food processor. A friend of mine told me that cumin is tons better when you buy the whole seeds, toast them in a skillet, and buzz them in a grinder.
That's next on my list. (By the way, if you use a coffee grinder for coffee, don't use it to blend spices. I'm not sure why, because the pieces go in the dishwasher, but that's what they recommend. I'm just sayin'.)
When I saw this curry recipe on 101 Cookbooks and realized I already had most of the ingredients, I knew it would be the one to christen my grinder. Did you know that curry isn't a single spice, but a spice blend?
Easy as pie. No easier than pie. Pie can be tedious sometimes. Just throw the whole spices into a skillet and toast for 3-4 minutes on medium heat. Put them in the grinder . . .
and you get this. I wish I still had some of my store-bought curry powder so I could smell the difference. Curry ground fresh like this is so much more fragrant and flavorful! Probably cheaper, too, I'd imagine. Especially if you buy your whole spices at an Asian market or in bulk in the ethnic aisle of your grocery store. (i.e. not "McCormick")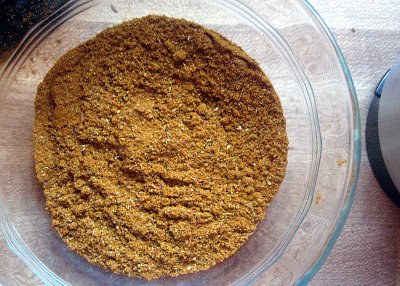 I used this blend in the recipe that accompanied it. Around the same time I tried a different curry dish in my slow cooker, and thought I might combine the two recipes somehow to make them better. I'll get back to you on that.
You can find this Freshly Ground Curry Recipe in the notes section of the Cashew Curry post from 101 Cookbooks.
You can find my custom seasoning blends in the Spice Blends section of my recipes index!
Disclosure: This post contains Amazon affiliate links. Purchases made by using these links doesn't cost you any extra and helps to keep my content free.
SaveSave
SaveSave
SaveSave
SaveSave