If you're looking for the perfect chicken and turkey brine, this is it — filled with lots of whole spices and herbs.
---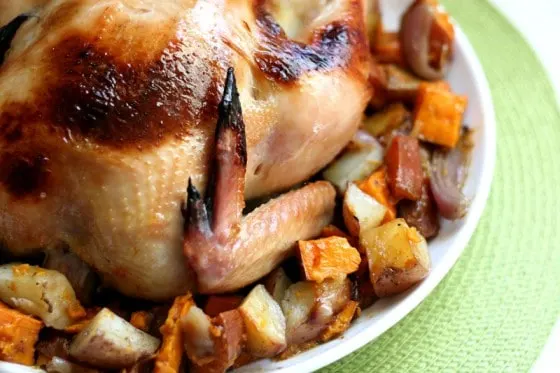 I've heard a lot of things about the magical qualities of chicken brine. I wasn't too keen on the idea of soaking my meat in a salt and sugar solution (which is the base for most, if not all brine recipes), but I figured most of the salt and sugar probably stays in the solution. Right? Anyways, I wanted to see what all of the fuss was about.
A while ago I tried out a chicken brine recipe from America's Test Kitchen (which is usually a reliable source). The brine was a simple one of just sugar and salt and the recommended brining time was only 1-2 hours. I was skeptical and brined it for 5 and it still tasted as if I hadn't brined it. Womp, womp.
Then I saw this recipe on the Baltimore International College culinary school's website with all the additional spices, and thought I'd give brining another shot. I mean, I had just brined a whole chicken for the first time, and overcoming THAT mental gymnastics made it easier to do it again.
In addition to kosher salt, this chicken brine recipe has bay leaves, peppercorns, whole coriander seeds, whole allspice, and whole cloves. It definitely made the brine more interesting. You can totally use this as a turkey brine recipe, too! (Just double it.)
You can totally brine the whole chicken, but if wrangling a whole chicken freaks you out, just use chicken breasts or an assortment of chicken pieces. You also don't necessarily need to roast it in the oven. You can make fried chicken out of it as well.
What is the best way to brine a chicken?
I'm not a brining expert, but brining is very straightforward. There are a few things to keep in mind:
Make sure the brining liquid cools completely before you add the chicken to it. At the very least, it needs to be room temperature.
Brine that bird for at least 12 hours. This brine recipe is particularly strong, so any longer than 18 hours will make the meat too salty. Other brines might not have as much salt content and could go for 24 hours.
After you remove the chicken from the brine, rinse some of the brine off so it doesn't end up too salty.
Dry it with paper towels and let it sit for at least 30 minutes before you put it in the oven. Letting the skin dry out allows it to be more crispy in the oven. If you have time, stick it in the fridge overnight, uncovered, to let that skin dry out.
Use Kosher salt, like it says in the recipe. Table salt is more potent, if the two are measured equally (I mean, if you think about it, Kosher salt is coarser so you'd end up with more table salt if you measured them out the same.
I roasted the chicken on top of a bed of chopped onions, red potatoes, and sweet potatoes.
The result? THE most tender and juicy roasted chicken I've ever had. Hands down. I think the mistake in my first attempt was not brining the chicken long enough. The additional spices in this recipe added a lot of flavor as well.
This was also the first time I've roasted a chicken with two cooking temperatures (high heat at the beginning and moderate heat to finish it off). I'm not sure if the cooking method affected the taste and texture of the meat as well. This might call for a little experiment. :)
This recipe is a wet brine, but have you ever tried a dry brine? It's actually less of a hassle since you don't have to find a big container to immerse the chicken and then have it take up 50% of your fridge. I did a dry brine turkey for Thanksgiving that would be amazing with a chicken as well! And there's an orange-rosemary butter that gets shoved under the skin before roasting. It's pretty fantastic.
---
If you make one of my recipes, be sure to post it on social media and tag me at @perrysplate or #perrysplate so I can send you some love!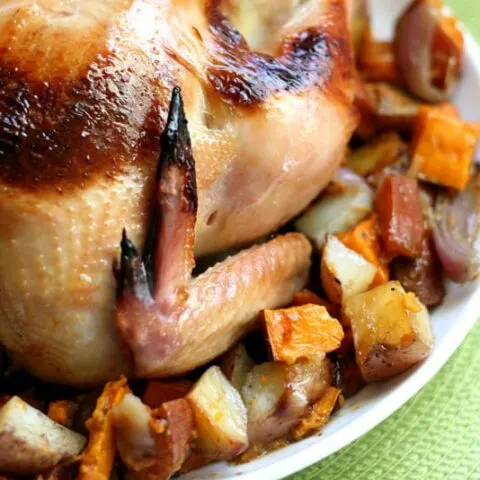 Chicken & Turkey Brine + The Perfect Bird
If you're looking for the perfect chicken and turkey brine, this is it -- filled with lots of whole spices and herbs.
Ingredients
For the brine:
3 quarts water
1 cup sugar
1 cup coarse Kosher salt
1 tablespoon whole black peppercorns
1 tablespoon whole coriander seeds
1 tablespoons whole allspice berries
1⁄2 teaspoon whole cloves
3 bay leaves
1 whole 3-5 lb. chicken, "innerds" removed
Instructions
Bring all of the brine ingredients to a boil. Remove from heat and allow the brine to cool to at least room temperature before brining your meat. Add 1 quart (2 pounds) of ice cubes to speed up the cooling, if you like.
In a container large enough to hold the brine and the meat, submerge meat in the brine and allow it to brine, under refrigeration, for up to 18 hours. (I would recommend at least 8 hours.) If the meat floats, weigh it down with plastic wrapped weights. The meat must be completely surrounded with brine.
Remove the meat from the brine when time is up, ensuring all of the brine has drained from the chicken cavity, and dry with paper towels.. From this point, your meat can be smoked, roasted, cured, grill or broiled and still come out delicious every time.
To roast the chicken, preheat the oven to 450 degrees F.
Place the brined bird on a roasting rack in a roasting pan. Put the bird in the center of the oven and allow it to cook for 30 minutes or half of the cooking time (whichever is shorter).
When the time has elapsed, cover the bird in foil and reduce the oven to 350 degrees F. Roast for the remainder of the time, anywhere from 30-60 more minutes. When a meat thermometer inserted in the middle of the breast reads 165 degrees F, the bird is done. Check other parts of the chicken for doneness as well. Let the bird rest for at least 15 minutes before carving.
Brine yield: 1 gallon (can be diluted to 2 gallons and still be effective)
Notes
Nat's Notes:
1. If you can't find the whole spices, use ground.
2. Don't let it brine for longer than 18 hours or it will be too salty.
3. If you use regular table salt, reduce amount to 3/4 cup.
4. You can also use this brine for pieces of chicken as well as turkeys. Simply adjust the recipe according to the size of your meat and the amount of brine you'll need.
This post may contain affiliate links. Any purchases made by using these links won't cost you any extra and helps keep my content free. These links may be Amazon links as I am part of the Amazon Associate Program.