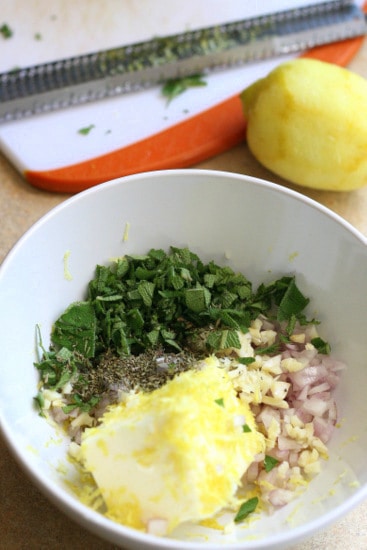 I love the Food Network. Do you? What are your favorite shows?
Right now I'm digging Aarti Parti. She's absolutely adorable, and I love that she gives her meat feminine granny names. Her laugh kind of made me nervous at first, but it's grown on me. I have a feeling she has some inner-hippie, and I want to be her best friend.
I also love Chopped. And Pioneer Woman's show — a favorite of my girls.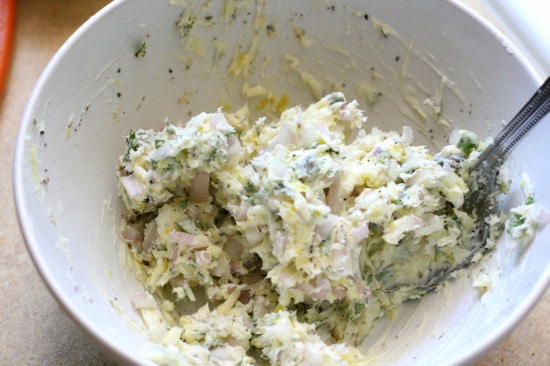 I used to watch Sandra Lee a LONG time ago. Then when I started transitioning to a whole-food kitchen, I realized she's kind of the processed food queen of the Food Network. I think I liked her show in the same way you can't stop looking at an accident on the side of the road. (Did her outfits ALWAYS have to match the drapes in her stage kitchen? And seriously, what normal person is going to make tablescapes like hers? You can't even fit food on the table.)
Ironically, I found her cocktails combinations interesting. And I don't even drink alcohol.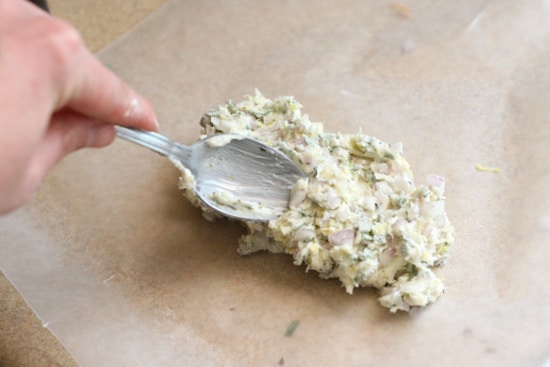 I did learn something brilliant from her, though — one of the smartest and most successful ways to flavor a roast chicken (or turkey). I've used butter rubs in the past, but most of it stayed on my hands instead of on the chicken (much less under the skin).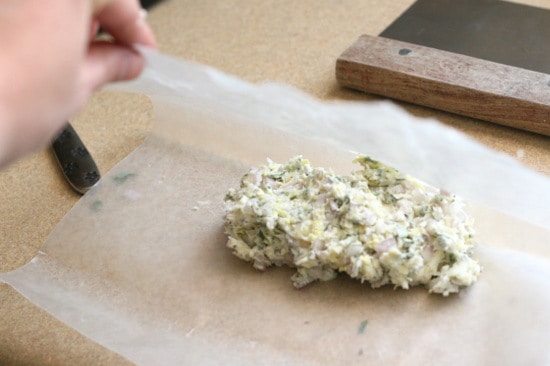 When you make an herb (or compound) butter (you can put whatever you want in it… I included my version at the bottom of the post), dump it onto a piece of wax paper and fold it inside.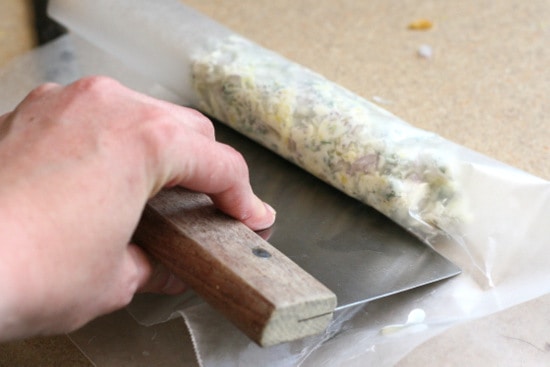 Take a dough scraper or a spatula and tighten it into a roll. (Hard to explain… see up there?)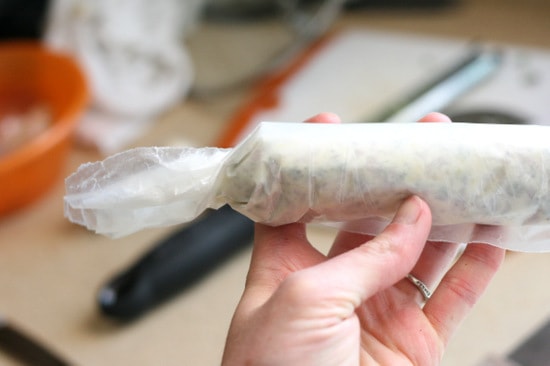 Twist the ends together and pop it in the freezer for a while until it gets hard.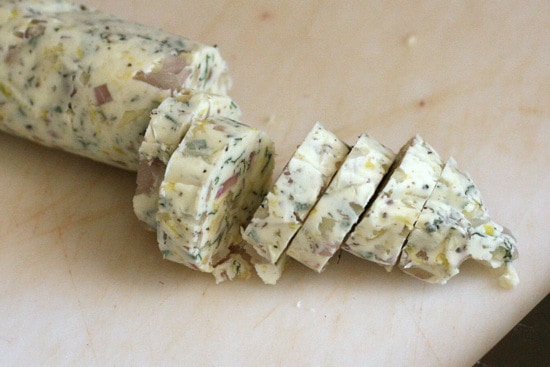 When you're ready to dress your chicken (Amelia Bedelia made little clothes for hers, remember? Hahaha.) Cut it into "coins".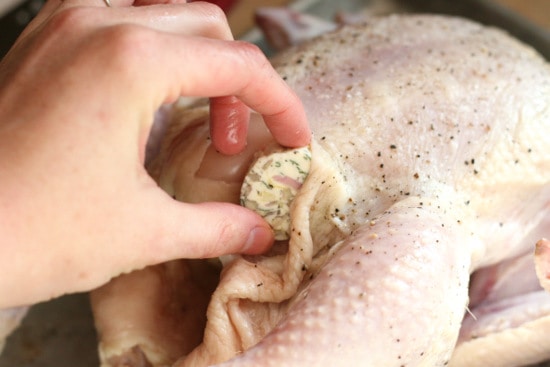 After loosening the skin on the chicken, just slide a few on each side of the breast, one in each leg, and one on each thigh.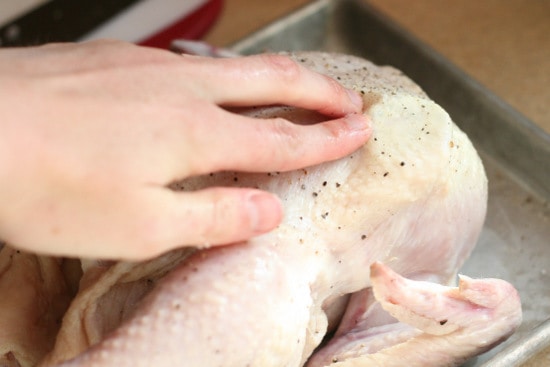 Slide them around (from the outside!) until you have them placed where you want them. If you have leftover coins, just drop them into the roasting pan over the vegetables (if you're roasting vegetables with your chicken). Or put it back in the freezer for later.
The result: moist (if you don't overcook), noticeably seasoned meat. Roasted chicken is always great, but sometimes I feel like the meat doesn't absorb all of the flavors I try to infuse into it… until now.
What I really want to know is…. WHY DID IT TAKE ME 6 YEARS TO TRY THIS OUT?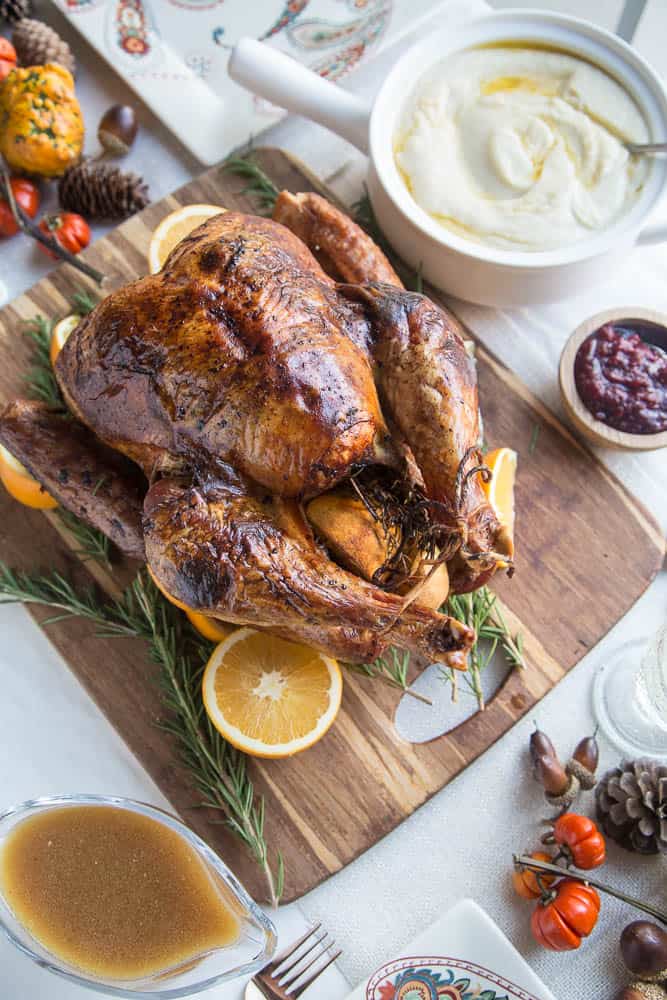 I used an orange-rosemary herb butter for this Dry Brined Turkey recently, and…. wow. Also, when you use herb butters it makes the BEST gravy. THE. BEST.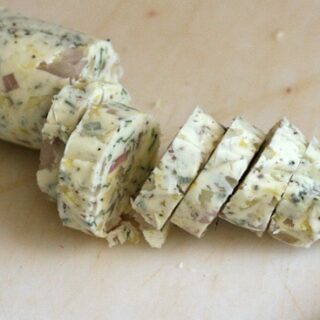 Herb Butter "Coins" for Roasted Chicken
Yield:
Enough "coins" for 1 4-5 lb roaster chicken
This is THE easiest way to get an herbed butter under the skin of a chicken. Just slip a few of these coins into your chicken and you'll have more butter on the chicken than on your hands. And a really, really amazing roast chicken (and gravy!)
Ingredients
6 Tablespoons butter, room temperature
1 shallot, chopped small
3 cloves garlic, minced
zest from 1 lemon (about 2 teaspoons)
4 Tablespoons fresh herbs (I used mostly fresh sage and 1/2 tsp dried thyme)
1/2 teaspoon salt
1/4 teaspoon black pepper
Instructions
Blend all ingredients into a small bowl.
Transfer herb butter to the middle of a large piece of wax paper. Fold the top end of the wax paper over the butter and, using a spatula or dough scraper, press the top layer of wax paper away from you as you pull the bottom layer of wax paper toward you. (If this sounds confusing, see photos in the post.) The butter should form itself into a cylinder.
Twist the ends to close. If you're using it the same day, simply put it in the freezer until firm.
For long term storage, wrap the whole thing in aluminum foil and freeze. Should keep a few months in the freezer.
To use, unwrap butter and slice into 1/2-inch "coins" and place under the skin in the chicken (breast, thigh, and leg areas.)
If you have extra and plan on roasting vegetables, just toss them into the pan with the vegetables. Other ideas to flavor butter: different citrus zest (lime, orange, grapefruit) prepared pesto (basil, sun-dried tomato) spice blends (Mexican, Indian, Middle-Eastern) Asian flavors (soy sauce, ginger, sriracha)