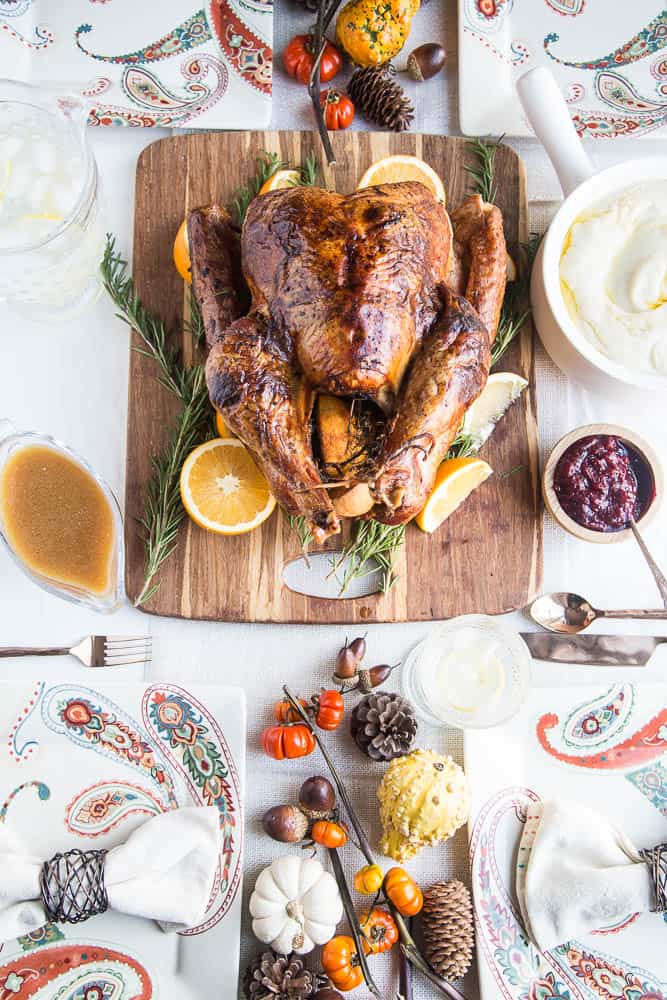 Disclosure: Diestel Family Turkey Ranch provided me with a turkey for the purpose of this post, as well as compensation for my time. As always, all opinions expressed in this post are mine.
---
It's Thanksgiving Week here at Perry's Plate! I've got a new recipe to share with you every day until Saturday — things that are paleo-friendly and so tasty that no one in your non-paleo extended family would know the difference. Honest. First, let's talk about this dry brine turkey. And turkey in general.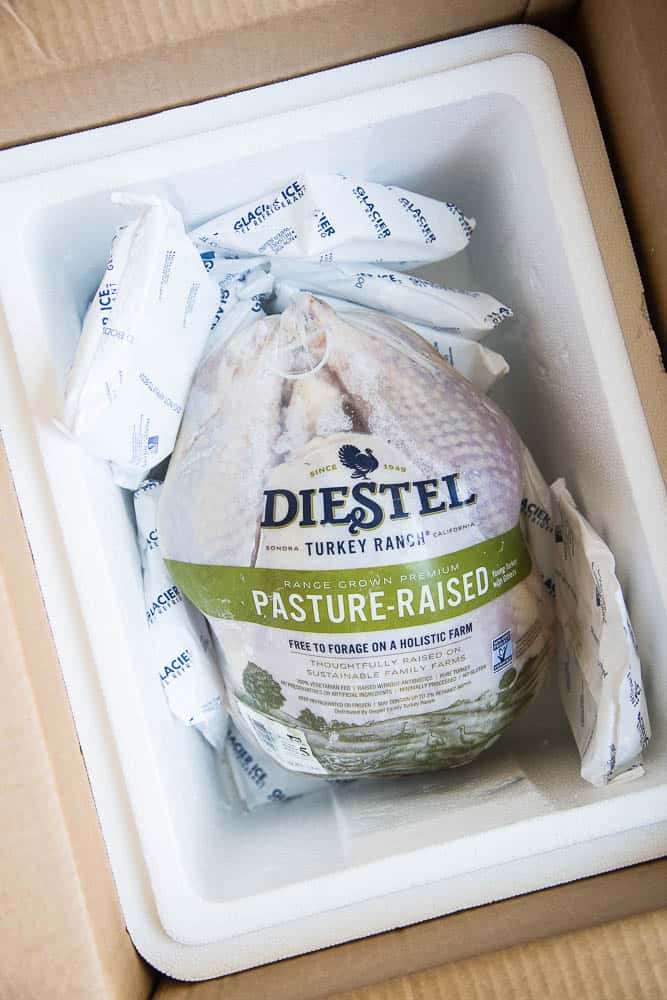 Have you ever heard of Diestel Family Turkey Ranch? It's a fourth-generation, family-owned turkey ranch in California that offers high quality, thoughtfully-raised turkeys. I've been buying Diestel turkeys from Whole Foods for Thanksgiving for the past few years, and I was thrilled at the opportunity to work with them and tell you more about them!
Diestel's holiday turkeys can be purchased through the Diestel Online Store and at select independent, natural, upscale, and conventional food stores across the country. Visit the Diestel Store Locator for more info.
Diestel mills and mixes their own grains on the ranch to feed their birds a 100% vegetarian diet enhanced with vitamins and minerals — which never contains antibiotics, growth enhancers or stimulants, hormones, gluten, animal by-products and DDG's (dried distillers grains). They also let the turkeys slow grow naturally to maturity, and Diestel was the first turkey producer in the USA to receive a GAP rating of 5 for their pasture-raised turkeys. GAP is Global Animal Partnership — a nonprofit with a mission to improve the lives of farm animals and help consumers make thoughtful purchases when choosing animal products.
This particular turkey that I'm using is a 12 pound Diestel Pasture-Raised Turkey. These Non-GMO Project Verified birds are raised entirely on green, irrigated pastures (compliments of Diestel compost and reclaimed water) and are a part of the family's holistic multi-species rotational grazing program. This bird came to my doorstep packed in an insulated box with dry ice, and it was still frozen when it got here!
Let's make a dry brine turkey, guys.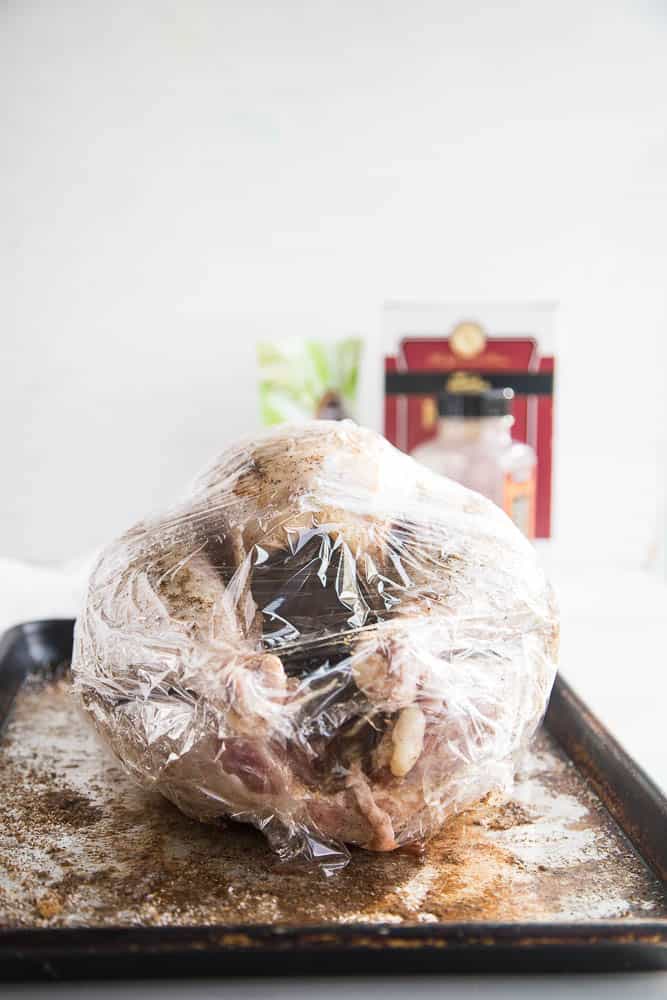 What is Dry Brining?
Dry brining is like wet brining without the water. It's more like a seasoning rub that you leave on the bird for a few days before cooking — at least 3 days and up to 4-5 days.
I used Kosher salt, black pepper, and coconut sugar, keeping it simple since I was planning to use an herb butter under the skin later.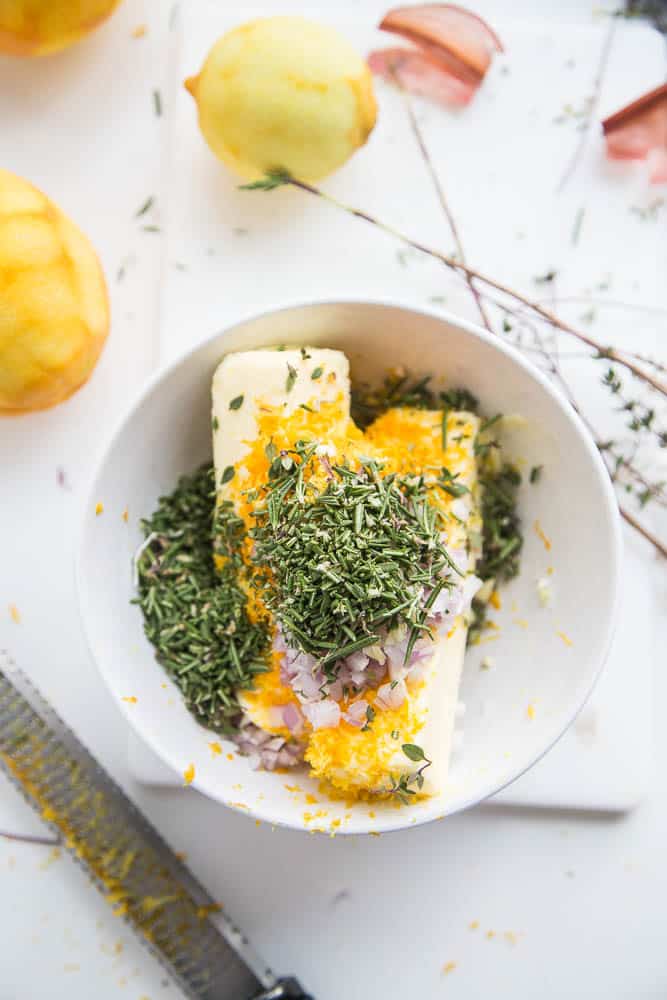 How do you make herb butter?
Speaking of butter, I highly recommend using grass-fed butter for this. It has a richer flavor and is cleaner than traditional butter. You can also use ghee. Ghee is butter with the milk solids removed and it's super easy (and cheaper) to make Homemade Ghee at home!
Did you see that post I did a few years ago about making Herb Butter Coins for roast chickens? It's such a brilliant hack, really. If you've ever tried to rub butter on meat, you know that most of it ends up on your hands. Making coins is so much better and it's also really easy. I'll show you in a sec.
In this particular herb butter I used shallots, garlic, orange & lemon zest, sea salt, and lots of fresh rosemary and thyme.
Side note: Using herb butter makes THE BEST GRAVY EVER.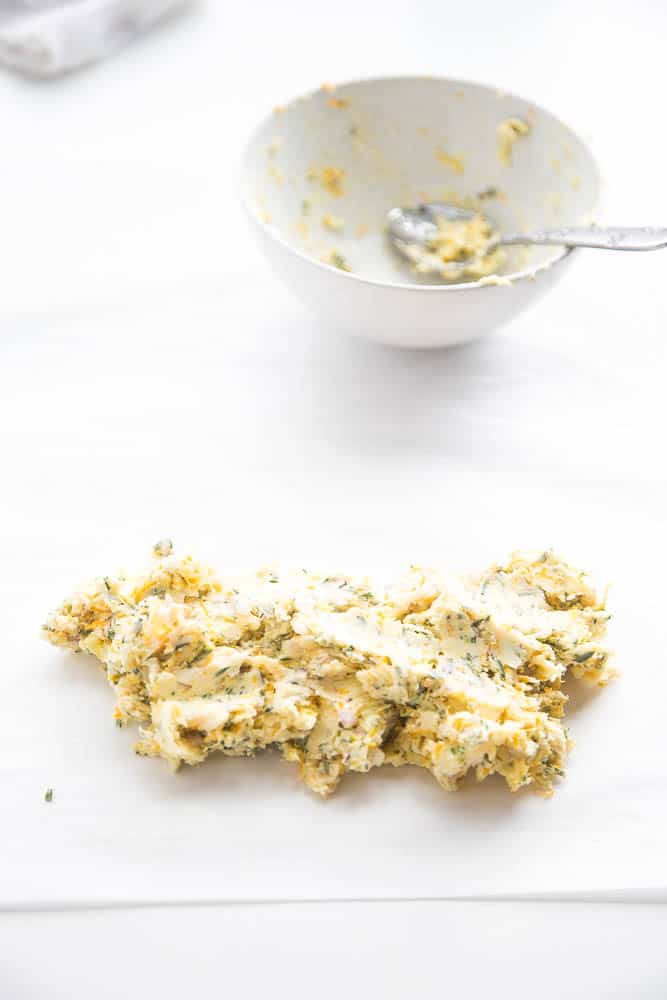 Once you get it all mixed together, dump it out onto a piece of parchment paper.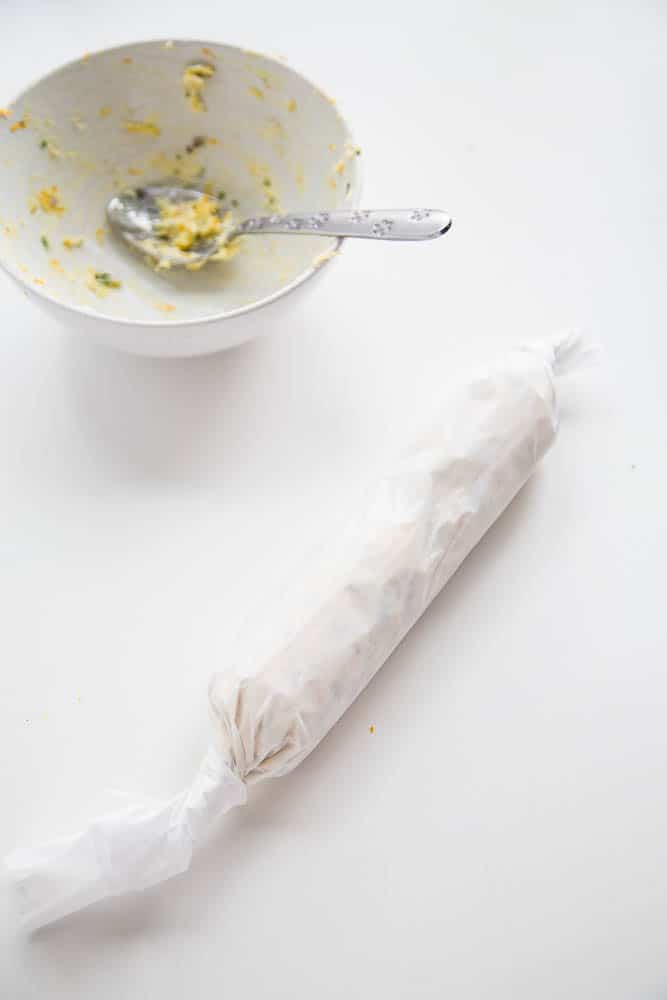 Then roll it up like a giant piece of candy. (That's what my 5-year-old called it.) Put it in the fridge until it hardens. You can do this several days ahead of time if you need to.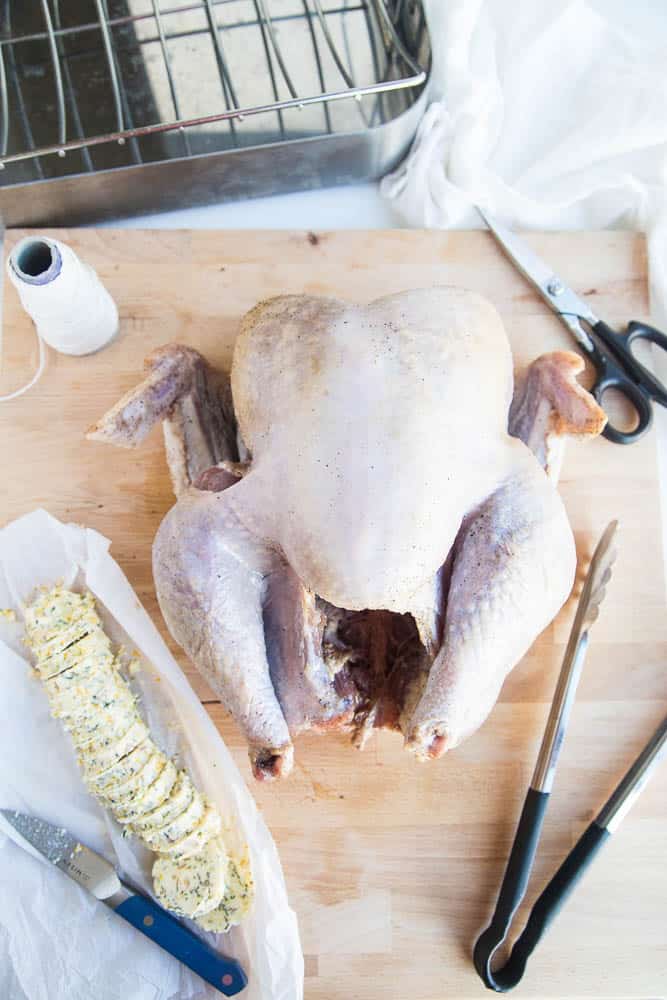 When the turkey is brined and you're ready to prep it from the oven, you'll need to gather a few things — a sharp knife, kitchen twine, scissors, your roasting pan, and a heavy pair of tongs to help move the turkey around. Also, the stuff you plan on putting inside the turkey.
I've learned it's much easier to assemble everything you need ahead of time so you don't end up washing your hands 37426 times because you forgot to grab something out of a cabinet or a drawer.
(You also end up washing your hands that many times when you're trying to photograph turkey prep. There's not really any way around that, unfortunately.)
Prepping a turkey is like prepping a really big chicken. There's not that much difference, really.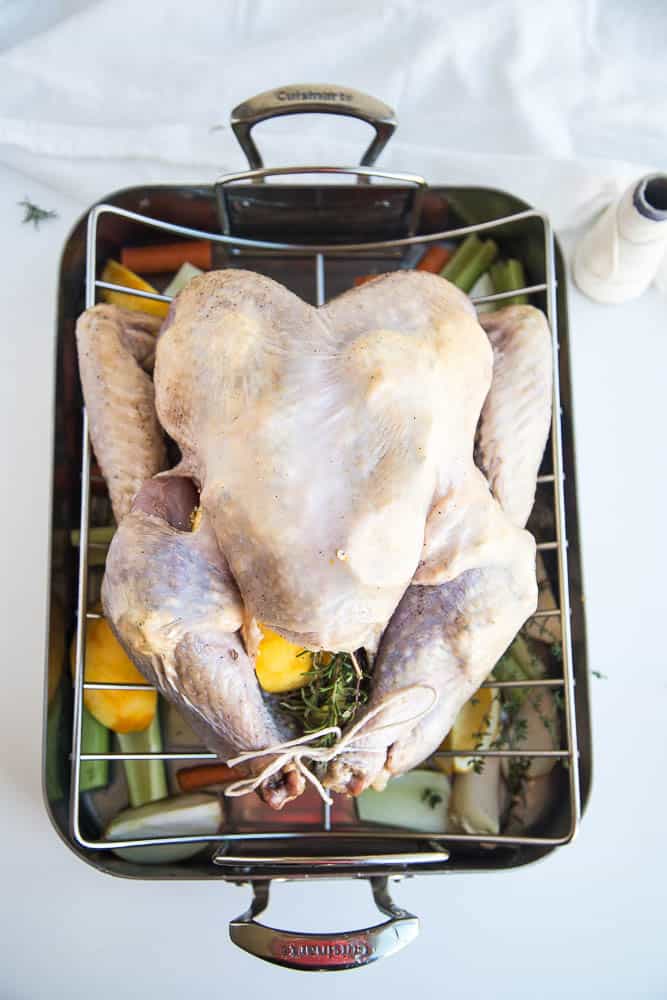 I wiped off the extra brine because I didn't want the skin too peppery. Don't wash it off though, because you'll need that extra flavor.
I also loosened the skin from the flesh using my fingers and the end of a plastic mixing spoon to get into hard-to-reach areas. After I cut the herb butter into coins, I inserted them under the skin. (See how much easier this is!?) I also made small incisions in the skin between the leg and thigh so I could get butter coins in those places, too. Don't worry if the skin rips a little. Try to be careful, but sometime it happens. Like that leg on the left up there. Oops.
Stuff some citrus and herbs into the body cavity, tuck the wings behind the body and tie the legs together. And drizzle the whole thing with avocado oil. I put some celery, carrots, onion, fresh herbs, and orange halves in the bottom of the roasting pan with about 2 cups of water, too.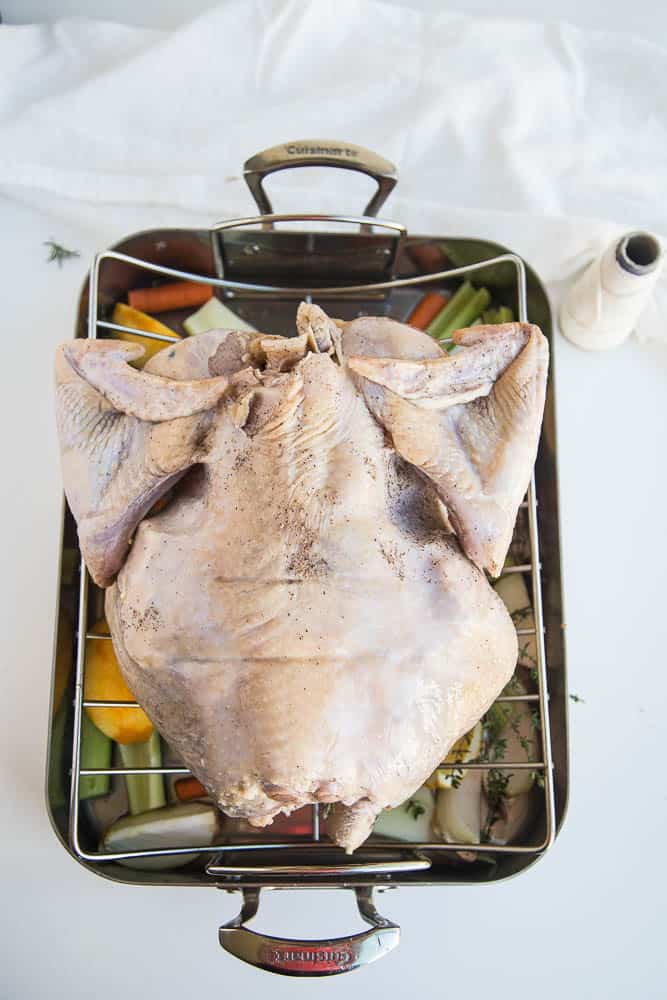 Now…. flip the whole thing over.
WHAT?
Yep. Do it. Starting off the cooking process upside down lets the juices flow to the breast meat, which is where it needs to be. It's the area of the bird that usually dries out the most.
After an hour or so, flip it back over to finish cooking and make sure to baste it occasionally.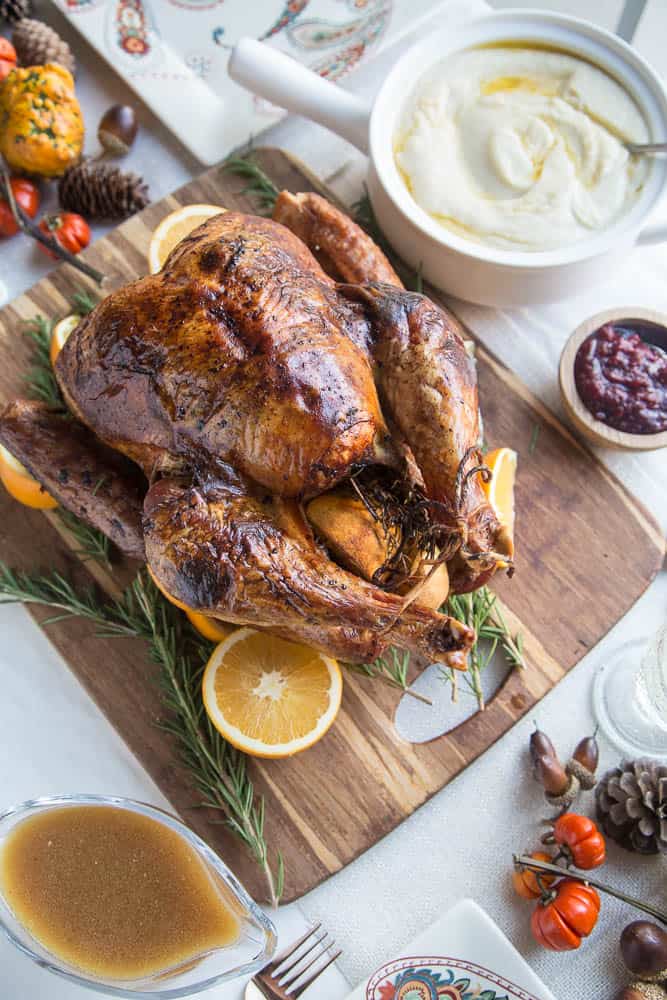 Ta-da! Check out that beautiful bird!
Making a dry brine turkey is so much easier than an immersion brine. The recipe may look long and daunting, but it's really not hard! There's just a lot of explaining.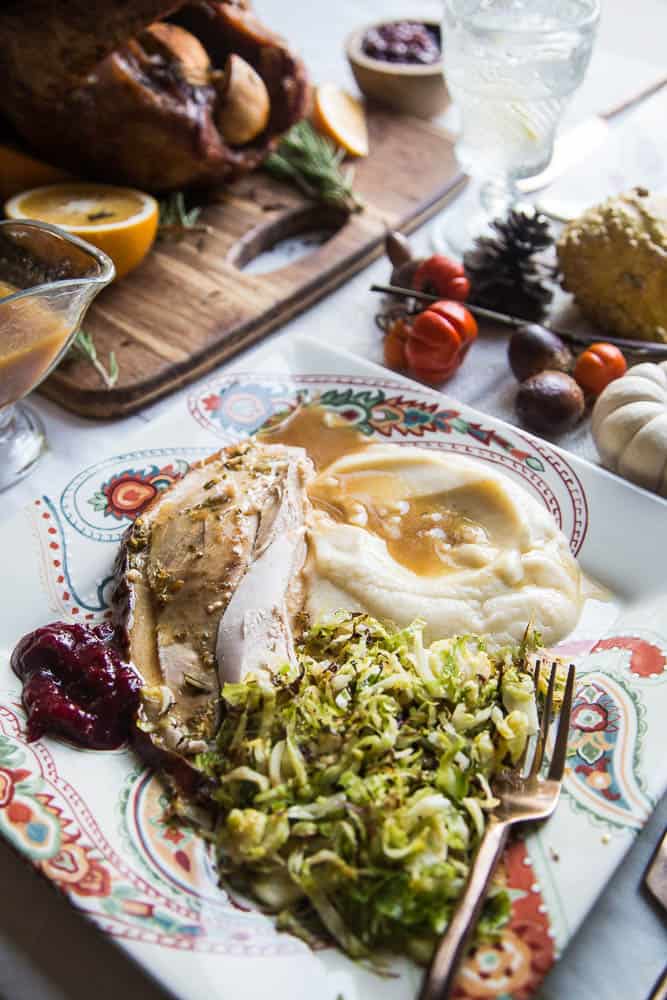 The gravy turned out FANTASTIC. Herb butters make the best gravy, I swear.
We ate our turkey with some Instant Pot Cauliflower Puree with Garlic & Rosemary (But Instant Pot Garlic Mashed Potatoes would be delightful, too!), Roasted Shredded Brussels Sprouts, and Wassailed Cranberry Sauce.
Also, SAVE YOUR BONES!! I got 2 gallons of turkey stock out of this lovely lady. You can use my Instant Pot Chicken Bone Broth recipe and 2 batches of bones in a 6 qt Instant Pot.
I was so happy with this turkey, and I'm such a fan of Diestel's products and mission. They also make year-round turkey products including Non-GMO Project Verified and organic deli slices, chorizo, and turkey sausage. I've tried all of these over the past few years, and they're super tasty.
All right my friends. Go forth and make your dry brine turkey. And be sure to check in often this week because I'm going to have FOUR paleo-friendly side dishes and a dessert recipe for you! (Hint: Apples + Spiralizer = Mind Blown.)
---
More Healthy Thanksgiving Recipes
Did you catch the other recipes posted during Thanksgiving Week?
Paleo Roasted Cauliflower Stuffing with Sausage and Walnuts
Instant Pot Cauliflower Puree with Rosemary & Garlic
Chai Maple Roasted Butternut Squash
Paleo Spiralized Apple Crumble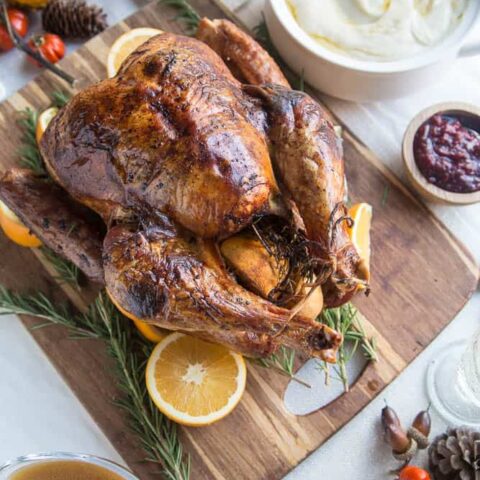 Dry Brine Turkey with Orange-Rosemary Herb Butter
Yield:
1 12-15 pound turkey
Here's how to make a dry brine turkey along with a flavorful orange-rosemary herb butter for good measure! It's so much easier than using an immersion brine -- no need to fill your stock pot and then hunt for a place to put it in your fridge.
Ingredients
For the Turkey & Dry Brine:
1 12-14 pound Diestel Pasture-Raised Turkey
3 Tablespoons Kosher salt
2 Tablespoons coconut sugar (optional)
1 Tablespoon black pepper
For the Herb Butter:
1 cup (2 sticks) of softened salted butter (grass-fed, if possible)
2 medium naval oranges
1 large lemon
1/4 cup chopped fresh rosemary, plus an extra sprig for the turkey cavity
1 Tablespoon chopped fresh thyme, plus an extra sprig for the turkey cavity
1 large shallot, peeled and chopped finely
4 large cloves of garlic, peeled and minced
For the Roasting Pan & Gravy:
1 small onion, quartered
2 stalks of celery, cut into large pieces
4 medium carrots, cut into large pieces
Additional sprigs of fresh rosemary and thyme, plus more for garnish, if desired.
1 quart of chicken or turkey broth
2 Tablespoons tapioca or arrowroot starch
3 Tablespoons of butter or ghee
Sea salt, if needed
Instructions
Remove the neck and giblets from the turkey. Wipe any moisture from the turkey with a paper towel. Place the turkey on a rimmed baking sheet or something for it to sit on while brining in the fridge.
In a small bowl, combine the Kosher salt, coconut sugar, and black pepper. Rub the mixture all over the skin of the bird. Wrap the bird in plastic wrap and chill for at least 3 days. At the beginning of the 3rd day, remove the plastic wrap and let the bird dry, uncovered, in the fridge for the last day of brining. This will make the skin crisp up nicely.
Make the herb butter by placing the soft butter in a bowl. Add the zest from both oranges and the lemon to the butter. Add the rest of the herb butter ingredients. Reserve the zested oranges and lemon for later use in the recipe. (You may want to cover them in plastic wrap, too, if it'll be more than a day before you cook the turkey.)
Mix the herb butter well, then transfer it to one side of a large piece of parchment paper. Fold the edge of the paper over the butter, an using your hands, form it into a log shape, rolling it up in the parchment and twisting the ends to seal. Chill until ready to use.
About an hour before you plan on roasting the turkey, remove it from the fridge. Wipe some of the excess brine from the skin with a paper towel. Do not rinse.
Use your fingers to loosen the skin from the meat around the breast area. You may need to use the end of a mixing spoon to detach the skin around the top of the breast if it's hard to reach with your fingers. Be careful not to pull too hard and tear the skin too badly. Do the same with the leg and thigh areas, making a small incision between the leg and the thigh to access both areas.
Insert the herb butter under the skin in the breast, leg, and thigh areas.
Pull out the reserved oranges and lemon. Slice them in half and put two halves along with two lemon halves and a couple of herb sprigs in the cavity of the chicken. Put one orange half (reserve the last orange half for the gravy) in the bottom of the roasting pan. Add the onion, celery, carrots, herbs, and 2 cups of water. Place the roasting rack on top.
Tuck the wings behind the body and tie the legs together. Place the turkey, BREAST-SIDE DOWN (yes, upside down) on the roasting rack.
Preheat the oven to 425 degrees F and let the turkey sit at room temperature until the oven heats up. Roast on the bottom rack for 1 hour.
Reduce the oven temperature to 325 degrees. Flip the turkey over using heavy tongs and an oven mitt, so it is breast-side up. Baste, and continue to roast, basting every 20-30 minutes, until the internal temperature of the thickest part of the breast is 155-160 degrees. My 12.5 pound turkey was finished in about 2 hours and 15 minutes.
Remove the turkey from the oven and let it sit for at least 30 minutes before slicing so the juices don't run out all over.
To make the gravy, use a slotted spoon to fish out the vegetables and the orange half. Place the roasting pan (if it is stove-top safe) over medium heat. Whisk 2 cups of the broth with the tapioca starch and pour it into the gravy, whisking constantly. Cook until the gravy is bubbly and thickened slightly. Add the butter or ghee and stir until smooth. Taste, and add salt, if needed. Strain and keep warm until ready to serve.
Notes
Nat's Notes:

1. Use Kosher salt instead of fine sea salt or other finely ground salt. Using fine salt may make the turkey overly salty.
2. You can make the herb butter several days in advance.

SaveSave
SaveSave
SaveSave
SaveSave
SaveSave
SaveSave
SaveSave