Meet Karly! + Chocolate & Raspberry Tart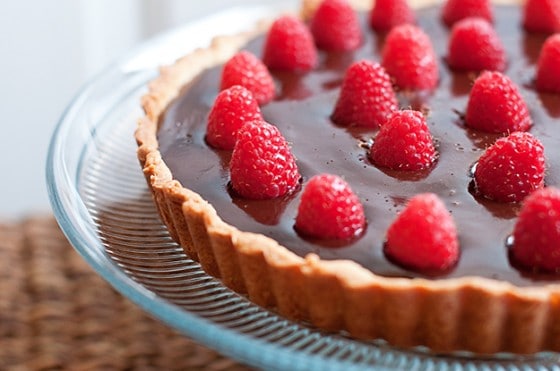 I wonder if anyone will even read my little intro with that gorgeous tart staring at you up there. That's kind of how Karly rolls. The things she posts over at Buns in My Oven either make the world stop around me or knock me out of my chair. And she makes me laugh. I like her a lot, even if she doesn't dig my attempts at stuffing every recipe with as many vegetables as possible. Opposites surely attract. :)
*****
I'm so happy/scared/excited/nervous to be guest posting on Natalie's gorgeous blog today! I've loved Natalie for a long time. I even threatened to kiss her once. True story. Don't tell my husband.
Anyway, Natalie's instructions to me were to share a recipe that was made from scratch to fit with the theme of her blog. She said it didn't have to be super healthy, though.
Well.
Thank goodness for that. You see, Natalie is kind of the yin to my yang. She cooks and eats vegetables. She even manages to make them delicious. I think she's magic. I bake and eat all manner of sweets and treats. I also cook things that are full of heavy cream, butter, and bacon. Oh, and cheese. Don't forget the cheese.
So, homemade I can do. Healthy? I'd rather not. It's just not how I roll.
That's why I whipped up this decadent chocolate tart. Then, because I do actually like fruit, I topped it with raspberries. Strawberries would be great here as well, but I loved the tart bite of the raspberries against the rich chocolate.
I took this tart to my mama's house for Sunday dinner and everyone gushed over how gorgeous it was. I was proud. Seriously, this was so simple to make, but it looks difficult, fancy, and time consuming. I like food that makes me look like a super star.
I honestly am not sure how to even describe the flavor here. It's just out of this world. The tart dough is sweet, almost like a sugar cookie. It was beyond easy to make (even for me, the baker who can't make pie dough to save her life) and the flavor perfectly complimented the semi-sweet chocolate filling.
Now, about that chocolate filling. It's just two ingredients. Chocolate and heavy cream. Pretty sure it doesn't get simpler or tastier than that.
Enjoy! And, thanks Natalie for letting me take over your blog for the day!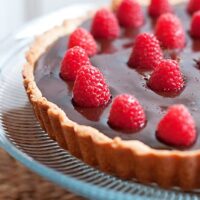 Chocolate & Raspberry Tart
This decadent chocolate tart is easy to make and makes such an impressive dessert topped with berries! The crust can even be made ahead for even quick prep the day you serve it.
Ingredients
For the crust:
1/2 cup unsalted butter, at room temperature
1/4 cup sugar
1/2 teaspoon kosher salt
1 cup all-purpose flour
1 egg yolk
For the filling:
12 ounces semi-sweet chocolate chips
1 1/4 cups heavy whipping cream
1 cup raspberries or strawberries, for topping
Instructions
To make the crust: In the bowl of your stand mixer, cream together the butter, sugar, and salt with the paddle attachment. Scrape the sides and bottom of the bowl when the mixture becomes light and pale. Continue mixing for another 30 seconds.
Add the flour and beat on low speed for 30 seconds. The mixture should look like wet sand. Add the egg yolk and continue to mix on low speed for about 30 seconds or until the dough comes together.
Wrap the dough tightly in plastic wrap and refrigerate for 1 hour. (The dough can also be stored in the fridge for 5 days or in the freezer for 2 weeks.)
Remove the dough from the refrigerator and let soften at room temperature for 30 minutes. Use a rolling pin to bang and flatten the dough into a disk about 1/2 inch thick. Flour the work surface and sprinkle the dough disk with a little flour. Roll the dough into a circle about 10-11 inches in diameter and about 1/4 inch thick. Make sure the work surface is well floured so the dough doesn't stick.
Roll the dough circle around the rolling pin and then uncurl it on top of the 10 inch tart pan. Press the dough into the bottom and sides of the tart pan. Trim the edge of the dough to be even with the tart pan. If the dough tears or has holes, just use your fingers to press it all back together. Use any scraps to patch or fill in the dough as needed.
Refrigerate the pastry shell for at least 30 minutes to allow the gluten to relax so it doesn't shrink in the oven.
Preheat the oven to 350 degrees. Place a sheet of foil or parchment paper on top of the tart shell and fill that with pie weights, beans, or rice to keep the dough from poofing up in the oven.
Bake for 20 minutes and then remove the foil and pie weights. Use a fork to poke holes in the bottom of the dough in a few places. Bake for 10 more minutes or until golden brown. Let cool to room temperature on a wire rack.
To make the filling: Bring the heavy cream to a simmer in a small sauce pan. Place the chocolate chips in a medium bowl and pour the hot cream over them. Whisk to combine.
Pour the chocolate into the tart shell and let cool to room temperature on the counter about 2 hours. Place the berries in a decorative pattern (or just toss them on top) and refrigerate for at least 1 hour before serving.
Notes
Recipe by Karly Campbell from Buns In My Oven

SaveSave