If you are gluten free you probably don't eat pie often. This one is for you, friend. With my perfect gluten free pie crust as a base, this pie is simply a whisk-pour-bake situation. I'll show you what you need and give you tips to make the most delicious gluten free pumpkin pie!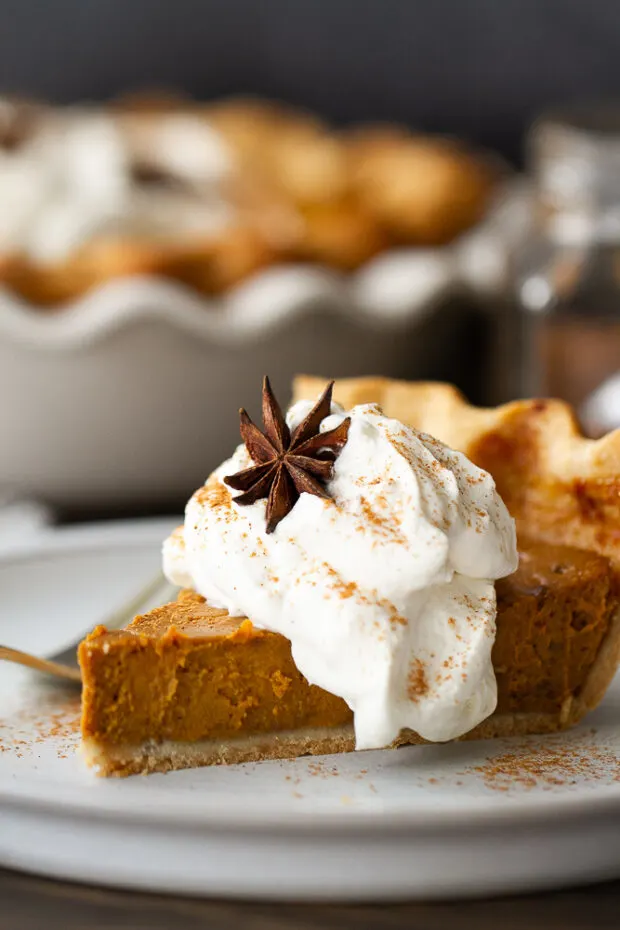 This Maple Chai GF Pumpkin Pie is a delicious twist on a classic
Besides being creamy, perfectly spiced, and super delicious, I made some tweaks to a classic pumpkin pie that I know you're going to love. If you'd like to un-tweak this recipe while still creating a delicious gluten free pumpkin pie, I added some substitutions in the ingredient section below.
Chai Spice. My Homemade Chai Spice gives this pumpkin pie a little more mystery. It's Pumpkin Pie Spice's exotic cousin.
Naturally sweetened with maple. I really wanted the maple flavor to shine so I used a combination of pure maple syrup, maple sugar, and a little maple extract. I buy maple sugar on Amazon.
Coconut milk. I really love coconut milk in this pie. There isn't a pronounced coconut flavor in this pie, but it does give it a little something extra.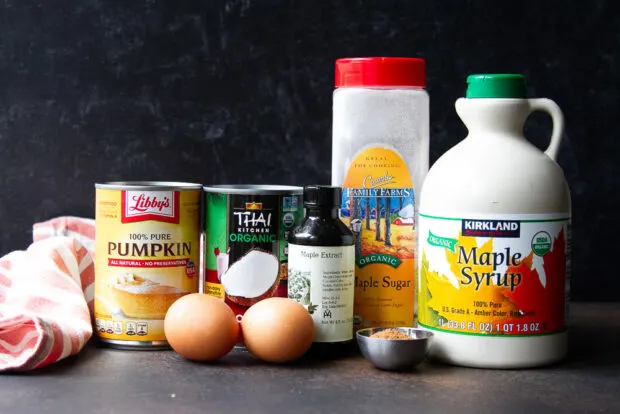 Gluten Free Pumpkin Pie Ingredients
GF Pumpkin Pie Substitutions
Gluten Free Pie Crust – If you have a store-bought one you prefer, use that one! If you need a recipe, here's mine: Gluten Free Pie Crust.
Pumpkin Puree – Not pumpkin pie filling.
Full-Fat Coconut Milk – Avoid using fat-free or the pie's texture and creaminess will be affected. This makes the filling dairy free! If you use a GF/DF pie crust then the whole thing will be gluten and dairy free.
Eggs
Pure Maple Syrup – Don't use pancake syrup.
Maple Sugar – You can use another natural granulated sugar or regular white cane sugar if you're not concerned with it being naturally sweetened.
Homemade Chai Spice – I know, I know. Hear me out. Pumpkin pie spice would be 100% fabulous in this recipe (I know, because I used it once. It's delicious.) Give it a try and let me know what you think.
Salt
Maple Extract – It's actually tricky to find maple extract that isn't artificial. (If that's what you have and all you can find — use it! Some people prefer not to use them.) Here's the Maple Extract on Amazon that I use that isn't artificial.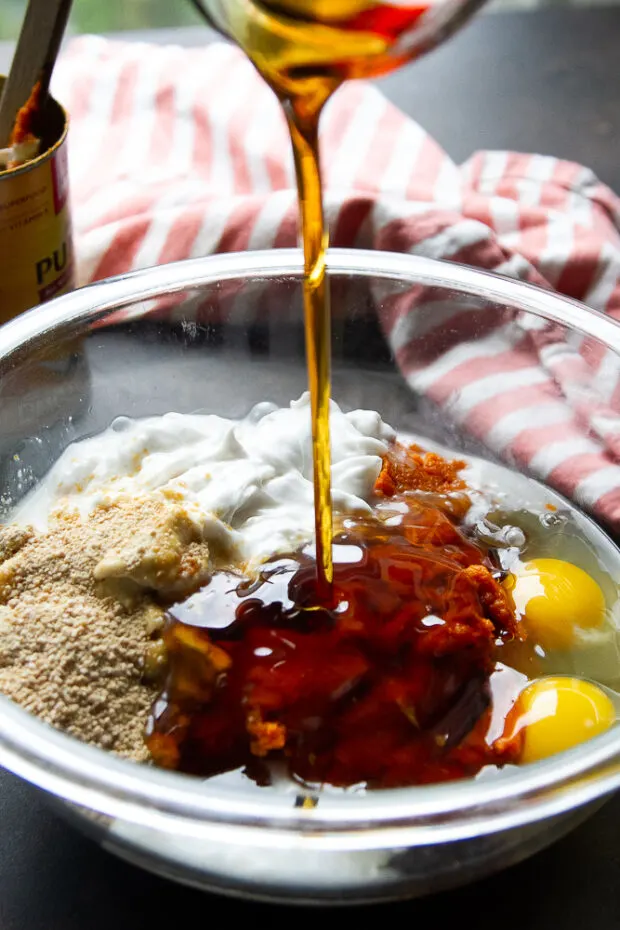 How to make Pumpkin Pie Gluten Free
Place your gluten free pie crust dough in an 8-9 inch pie plate. Flute the edges with your fingers or use a fork to crimp the edges.
Put the rest of the ingredients into a bowl and whisk them up really well.
Pour the filling into the pie plate and smooth out the top if needed.
Bake at 400F degrees for 70-80 minutes.
Let the pie rest for 10-15 minutes before slicing. If you prefer it cold, let it come to room temperature then chill for a couple of hours.
Top with whipped cream (if you want) and serve!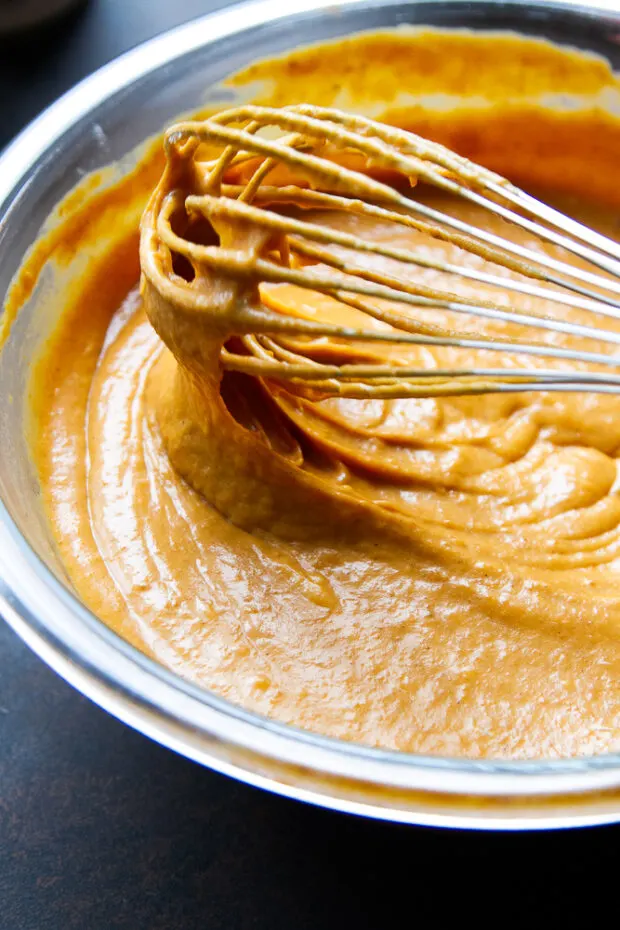 How long to bake Pumpkin Pie
A pumpkin pie baked in an 8-9 inch pie plate will take about 70-80 minutes. It's not a quick baking pie — that custard filling takes time!
How to tell if Pumpkin Pie is done
If you take a hot pad and nudge the pie plate the pie filling should wiggle slightly, but not look like it's still liquid, if that makes sense.
You can also insert a butter knife into the center and it should come out clean.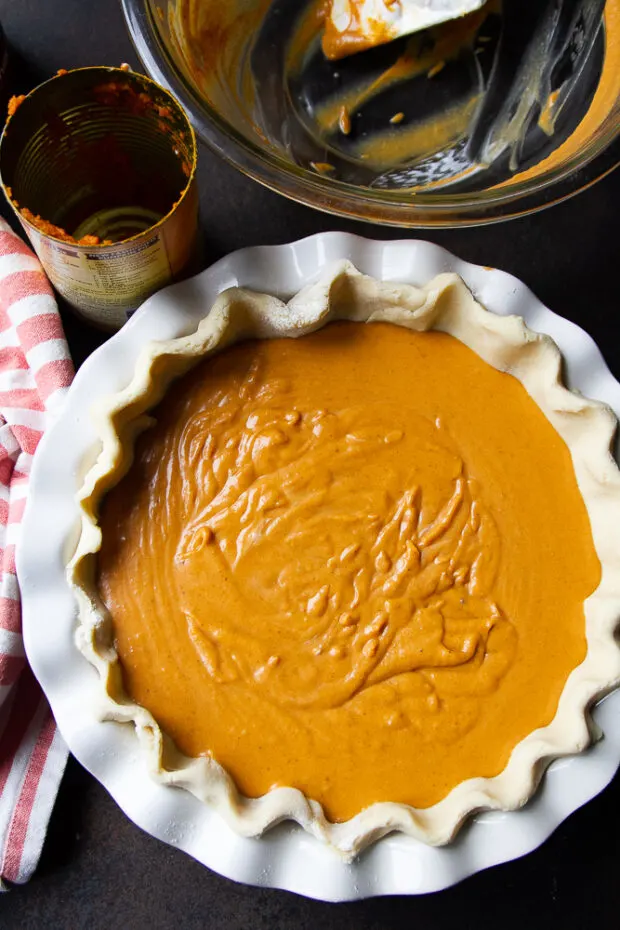 Tips for making the Best Gluten Free Pumpkin Pie
Use the recommended ingredients listed above or the substitutions listed above. If you have a question about an ingredient substitution, leave a comment below or send me an email through my contact form and I can help advise.
Don't prepare this pumpkin pie ahead of time and bake later. You may prep the pie crust in the pie plate, cover with plastic wrap, and refrigerate until ready to fill. The filling comes together really quickly, so you don't need to do this ahead of time.
Make sure your Chai Spice or Pumpkin Pie Spice is fresh! If you are using the same jar of pumpkin pie spice you bought in 2004, it's time to replace it. Ground spices lose their potency after several months.
If you decide to use my Gluten Free Pie Crust, please please use the recommended flour blend. I can't guarantee other gluten free flour blends will work with that recipe. The ingredients for that blend are easy to find and if you do a lot of gluten free baking you probably already have them.
What to do with leftover Pumpkin Pie Filling
I don't anticipate you having leftover pumpkin pie filling unless your pie plate on the small or shallow side.
IF you do, however, just grease a few muffin tin molds and pour the filling into those. Bake at 400F degrees for about 15-20 minutes or until the filling is no longer liquid and a knife inserted into the center comes out clean. You'll have some tasty Crustless Pumpkin Pie Cups! Similar to these Instant Pot Crustless Pumpkin Pie Cups.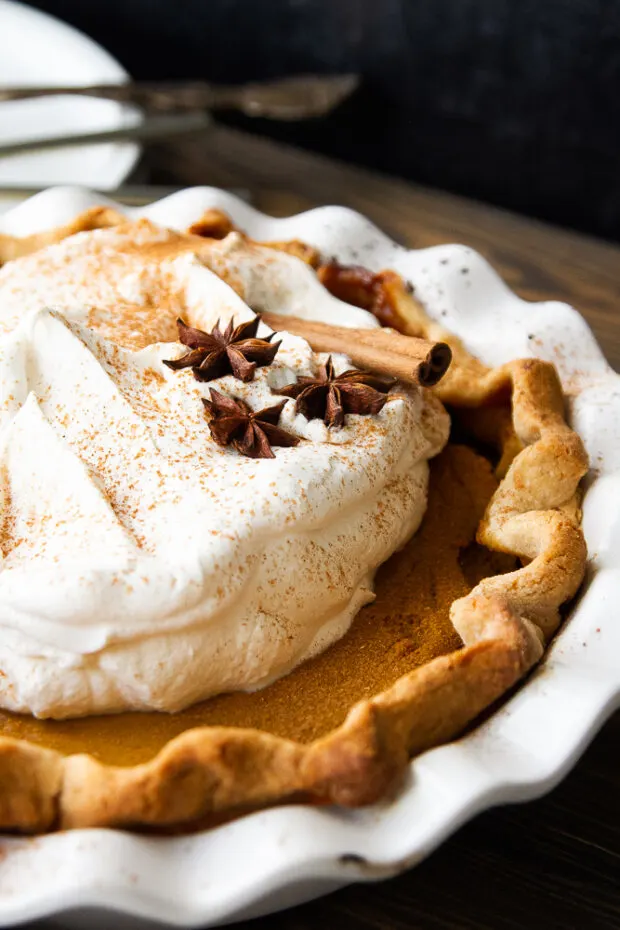 Storing leftover GF Pumpkin Pie
Chill, covered with plastic wrap or a lidded container.
How long does Pumpkin Pie last unrefrigerated?
You can leave a baked pumpkin pie out at room temperature for a couple of hours. After that it's probably a good idea to put it in the fridge.
How long does Pumpkin Pie last in the fridge?
Store your pumpkin pie, covered, in the fridge for up to 5 days for best results.
How to freeze Pumpkin Pie
Freeze, wrapping the pie plate well with plastic wrap and a layer of aluminum foil, for up to 4 months.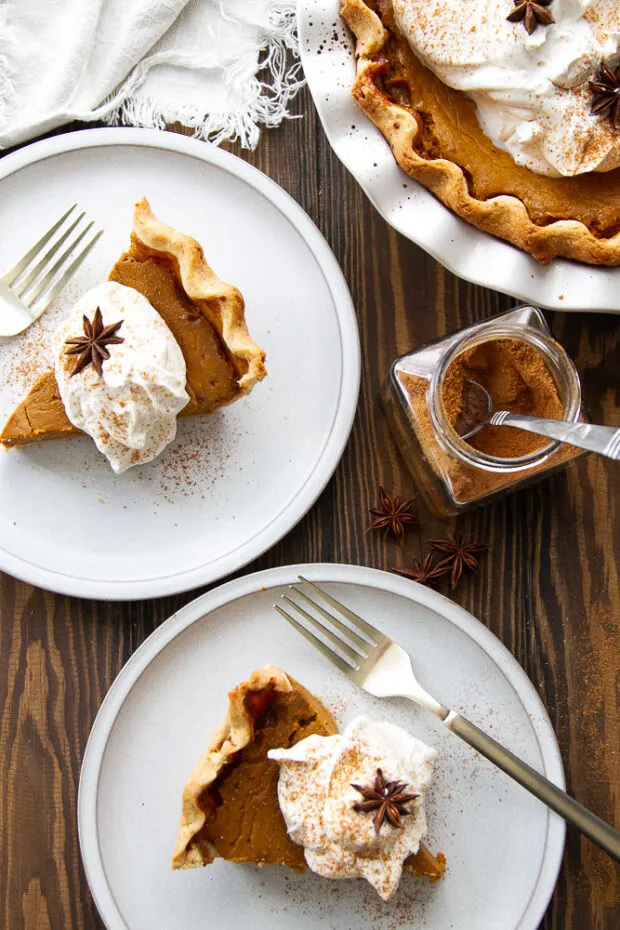 More Pumpkin Recipes on Perry's Plate
If you like this recipe, try one of my other pumpkin recipes!
Gluten Free Pumpkin Chocolate Chip Cookies
Crustless Pumpkin Pie Cups for Instant Pot
Pumpkin Cheesecake Swirl Brownies
Cooking Pumpkin or Squash in an Instant Pot
---
If you make one of my recipes, be sure to post it on social media and tag me at @perrysplate or #perrysplate so I can send you some love!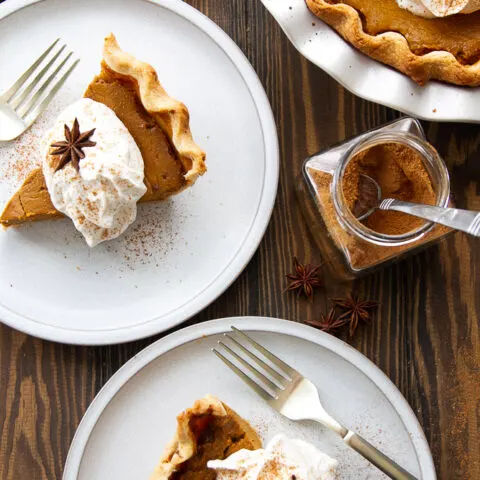 Maple Chai Pumpkin Pie (Gluten Free)
Cook Time:
1 hour
15 minutes
Total Time:
1 hour
30 minutes
Ingredients
1 15-oz can pumpkin puree
1 13-oz can full fat coconut milk
2 eggs
1/2 cup pure maple syrup
1/4 cup maple sugar (see note)
1 teaspoon maple extract
1/2 teaspoon sea salt
Sweetened Whipped Cream (for serving)
Instructions
Preheat oven to 400F. Make sure your pie crust dough has been placed in an 8-9 inch pie plate with the edges fluted using your fingers or crimped using a fork.
In a medium bowl whisk together these recipe ingredients: pumpkin puree, coconut milk, eggs, maple syrup, maple sugar, chai spice, maple extract, and salt. Whisk well to ensure there are no lumps, especially if your coconut milk has firmed up from being cool.
Pour the pumpkin mixture into the prepared pie plate.
Place the pie plate on a sheet pan (sometimes pumpkin pie can splatter a bit and it will keep your oven a little cleaner) and place it in the oven on a middle rack.
Cook for about 70-80 minutes, until a knife inserted into the center comes out clean. If you push the plate a little with a hot pad it should wiggle slightly in the middle and not as if its still liquid.
Allow the pie to cool. For best flavor, cut when the pie has reached room temperature or has been chilled for a few hours. (My kids like it better cold.)
Serve with sweetened whipped cream.
Notes
If you have a gluten free pie crust recipe or brand that you like, feel free to use it here! Just make sure it's uncooked when you put the filling in it. Here's my recipe if you need it: Gluten Free Pie Crust.
I love Homemade Chai Spice in this recipe (it's not hard to make!) since it gives the pie a slightly different flavor, but if you'd rather use pumpkin pie spice, that's fine too. I have a recipe for it and the ingredients in pumpkin pie spice are simple.
I used maple sugar in this recipe to boost the maple flavor. It works really well here, but you can use coconut sugar or a low-carb granulated sweetener if you'd rather not use white sugar. (Regular granulated white sugar also works, too!)
Sweetened whipped cream is easy to make -- just put 2 cups of chilled heavy cream in a bowl with 2-3 Tablespoons maple syrup and whip until thick and creamy.
Recommended Products
As an Amazon Associate and member of other affiliate programs, I earn from qualifying purchases.
Nutrition Information
Yield

6
Serving Size

1 slice
Amount Per Serving
Calories

393
Total Fat

22g
Saturated Fat

15g
Trans Fat

0g
Unsaturated Fat

6g
Cholesterol

63mg
Sodium

335mg
Carbohydrates

46g
Fiber

3g
Sugar

25g
Protein

6g
The information shown is an estimate provided by an online nutrition calculator. It should not be considered a substitute for a professional nutritionist's advice.
This post may contain affiliate links. Any purchases made by using these links won't cost you any extra and helps keep my content free. These links may be Amazon links as I am part of the Amazon Associate Program.