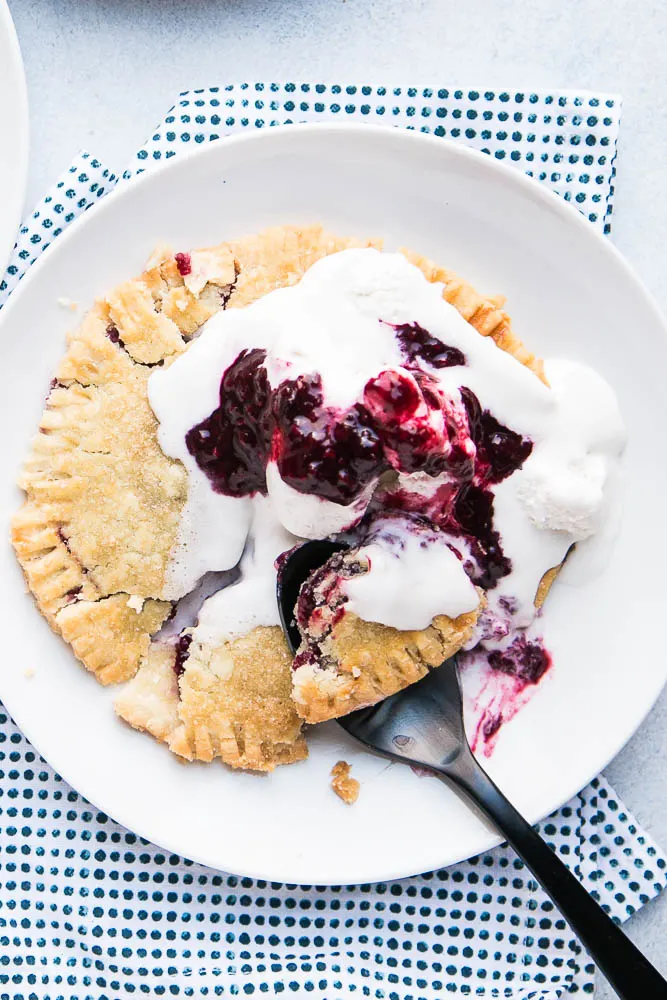 [90s flashback] Have any of you eaten Marie Callender's Razzleberry pie?
It reminds me of my childhood and mixed berry pies happen to be my 2nd favorite kind of pie. These gluten-free berry hand pies are like a miniature, portable version of those. AND they're made with my Perfect Gluten-Free Pie Crust.
(In case you're wondering what my favorite pie is, it's my grandma's Pineapple Pie. It sounds weird, but think lemon meringue with pineapple instead of lemon. And try it because it's completely fabulous.)
Part of the reason I created my Easy Berry Sauce was to hack a homemade razzleberry pie filling. (And it works!) I've always been a huge fan of berries (over most other kinds of fruit) and have found a lot of uses for that sauce.
Tips for working with gluten-free pie crust dough
Let's chat about this pie crust dough for a second.
It's a little tricky to work with, being gluten-free and all, but you'll be in good shape if you do these two things:
Use the recommended flour blend. In my Perfect Gluten-Free Pie Crust dough recipe, I included a recipe for a homemade gluten-free flour blend. Use that. I can't guarantee good results with any other type of blend, so you're on your own if you decide to experiment.
Keep it chilled, but not firm. The dough should feel cool to the touch, but not be hard. Otherwise it'll crack all over the place when you try to roll it out. If it gets too soft and room temperature, it'll be way too sticky to handle.
Flour, flour, flour. Flour the surface, flour the top of the dough, flour the rolling pin. Not a lot of flour, but a sprinkle over everything will help a lot. And if the dough starts to stick to the rolling pin in clumps, immediately wipe it off and flour both the dough and the rolling pin again. If you keep rolling your dough will eventually look like swiss cheese.
Roll it out slowly and gradually. Don't roll it out too quickly or press too hard. If it starts to crack, pinch the dough back together. If it's cracking a lot it probably means your dough is too cold, so let it sit for a few minutes to get some of the chill off. But not too long because — see #1.
It's OK to roll it out twice. This dough is very forgiving that way. If the first roll out is a disaster, gather the dough back up in a ball and try again. If the dough has gotten too soft, cover it back up with plastic wrap and pop it in the fridge for a few minutes to cool it down.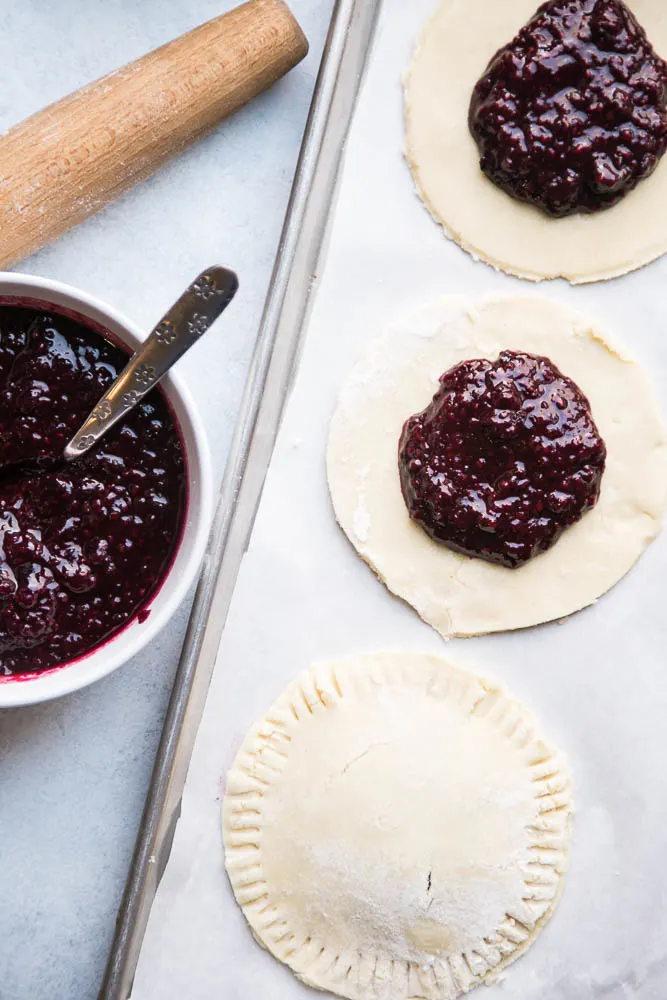 Assembling the hand pies
For these berry hand pies, cut them into 4-5 inch rounds and put about 2-3 tablespoons of berry filling in each one.
Based on my (very scientific lol) research:
If you make them smaller than 4 inches wide, your crust:filling ratio will be way too high. You want to get more filling in there.
If you make them bigger and fold them in half to make half moon pies, the crust will most likely break on the bent edge and the filling will spill out during baking.
Rounds that are at least 4-5 inches wide work best. You could make them even bigger, but don't try to fold them in half.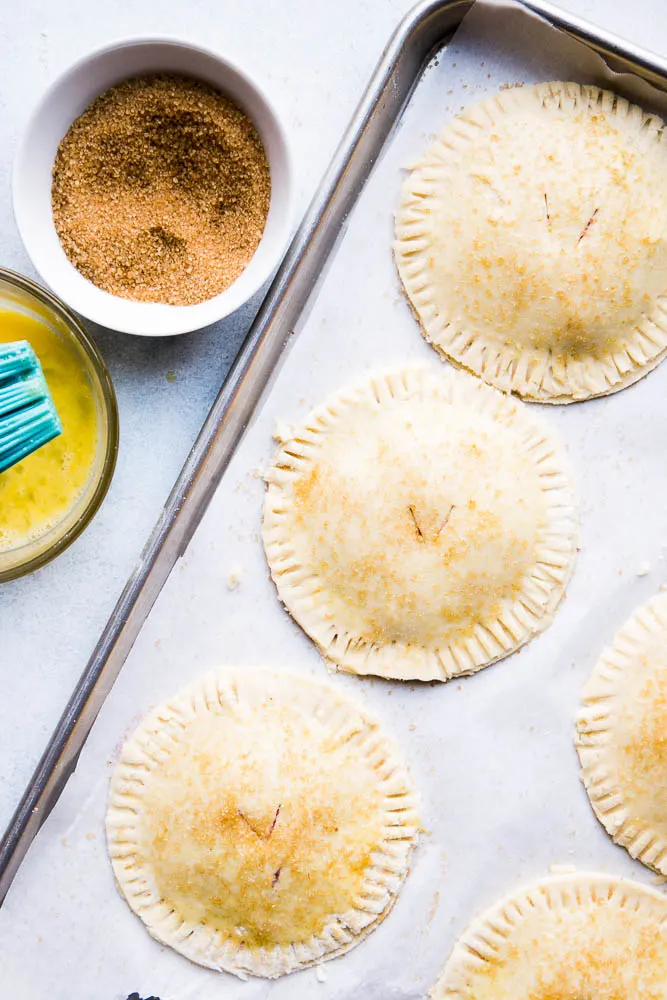 Finish them up with light egg wash and a sprinkle of coarse sugar (if you want — the sugar is optional, but it makes the crust prettier and a little sparkly.)
Also, cut a couple of slits in the top for the steam to escape.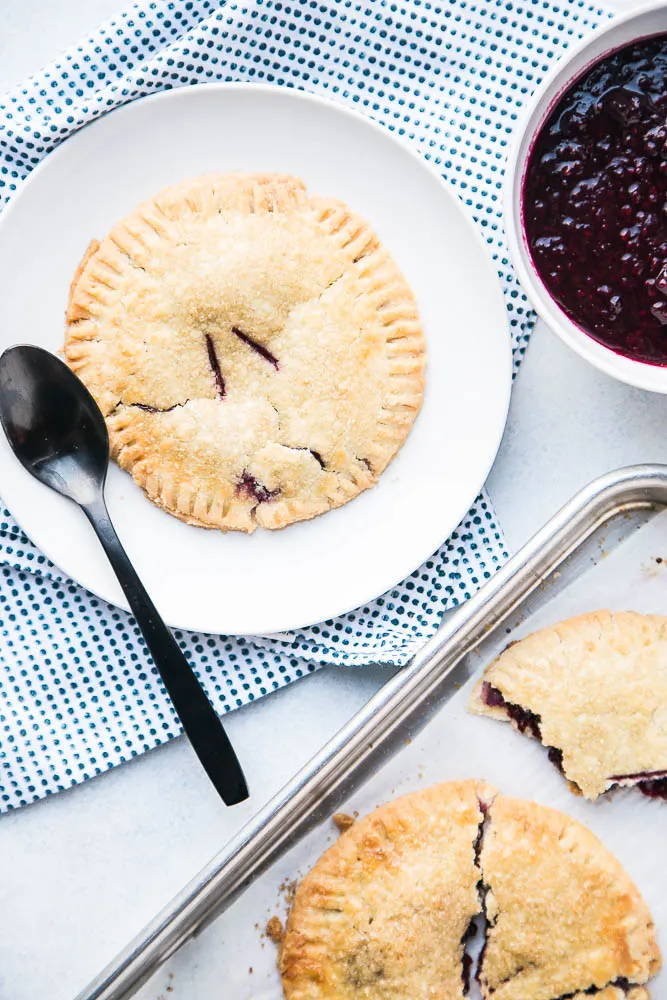 And, done! One recipe of my gluten-free pie crust make 2 rounds of dough which will give you six finished 4″ hand pies. (Six rounds per sheet of pie crust.)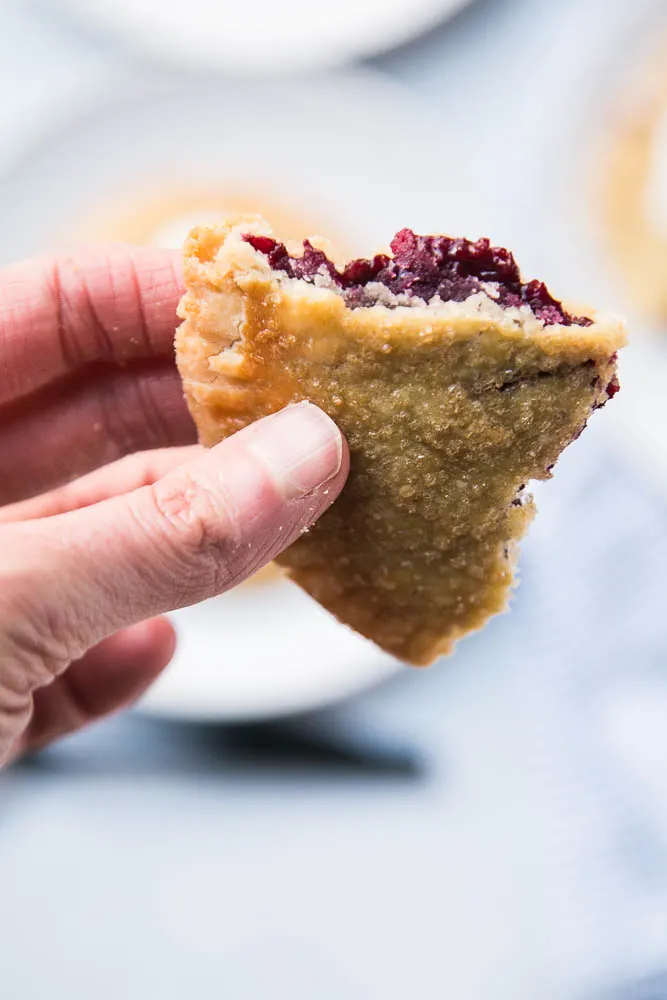 These hand pies are so fun to eat — much more portable than regular pie. And if you're a fan of pie crust, you'll be happy about the pie crust to filling ratio.
They almost remind me of fancy, homemade pop tarts. But that's a rather blasphemous assessment. They're eons better than pop tarts.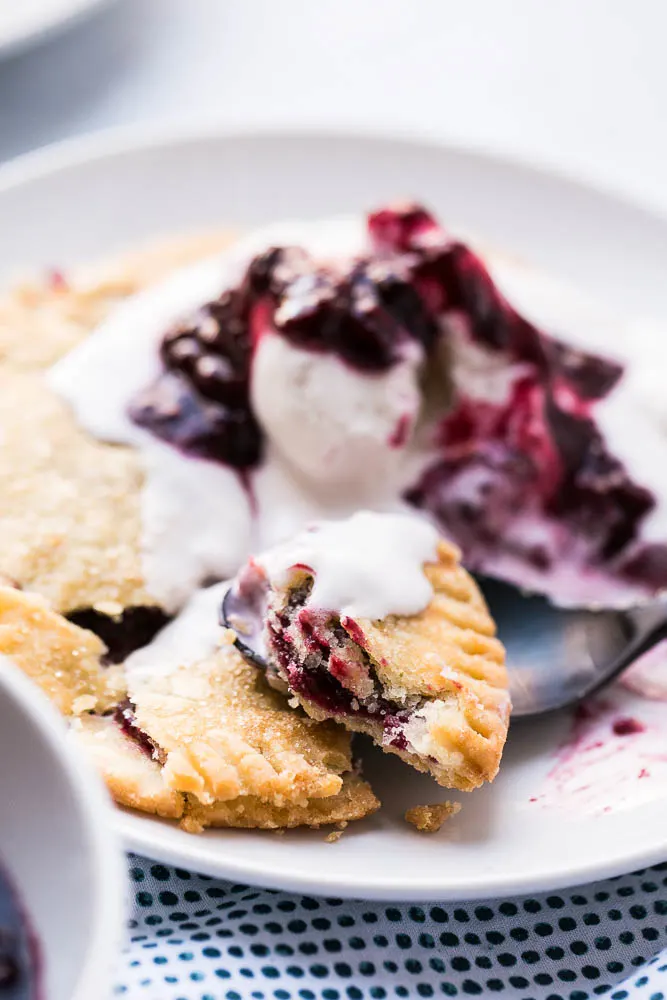 My FAVORITE way to eat them is with a scoop of ice cream and extra berry sauce drizzled on top.
Look at those pie crust layers, too! It's seriously the best gluten-free pie crust recipe and most like regular pie crust than other recipes I've tried!
Grab my Perfect Gluten-Free Pie Crust recipe and my Easy Berry Sauce recipe and get going! BONUS: You can make both of these a day or two ahead of time. Just let the pie crust soften before rolling it out (remember — chilled but soft).
More Recipes Using Frozen Mixed Berries
Gluten-Free Berry Cobbler with Snickerdoodle Topping is an easy recipe to make any time of the year. The topping has a sprinkle of cinnamon & cloves to mimic snickerdoodle cookies and pairs so well with the berries!
Dairy-Free Custard Cups with Berry Sauce is another use for that delicious berry sauce! It's amazing spooned over dairy-free vanilla custard.
---
If you make one of my recipes, be sure to post it on social media and tag me at @perrysplate or #perrysplate so I can send you some love!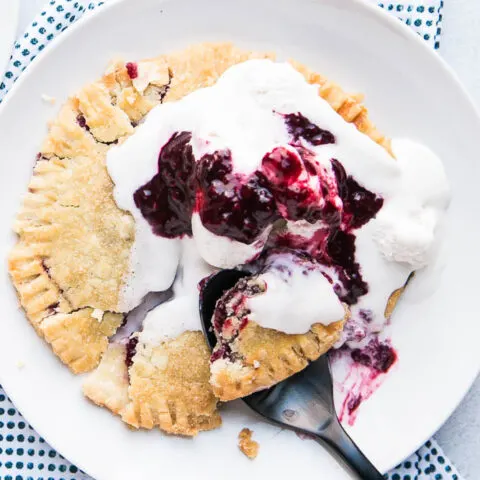 Gluten-Free Berry Hand Pies
These sweet little gluten-free hand pies are filled with my easy 3-ingredient berry sauce and fun to eat! Make extra berry sauce to drizzle on top. And ice cream is a MUST.
Ingredients
Gluten-free flour, for dusting
1 egg
1 tablespoon coarse sugar
Instructions
Line a baking sheet with parchment paper. Preheat the oven to 425 degrees F.
Make sure the pie crust dough is chilled but not hard. Sprinkle a work surface generously with flour and a little on top of the dough. Roll it out until it's about 1/4" thick.
Working quickly (so the pie crust doesn't get too warm and soft), use a 4-5" wide bowl to cut 6 circles out of each round. You should be able to get 4 rounds the first time and then roll out the scraps to get a couple more out of each round.
Lay 6 dough circles out on the parchment-lined pan. Put 2-3 tablespoons of berry filling in the center of each circle, leaving at least a 1/2 inch of space between the filling and the edges of the dough so they seal well.
Place another round of dough on each one and press the edges closed, using the tines of a fork to gently seal them.
Beat the egg well wtih a fork and brush a thin layer over each hand pie. Spirnkle them with a 1/2 teaspoon or so of coarse sugar.
Bake them for 20-25 minutes until the crust is light golden brown.
Serve with ice cream and extra berry sauce.