How often do you see carrots with the greens still attached? They're so pretty. I wonder if cutting their greens makes them feel like their "hair" is getting chopped off?
If carrots had feelings, that is.
Speaking of feelings… I have mixed feelings toward beets. They're probably the most gorgeous color found in nature, but I think they taste like dirt.
Sometimes they surprise you, though. Have you ever seen candy-striped (chioggia) beets? Pretty cool, right? One perk to these babies is they don't turn your hands (or whatever else they touch) purple for the next two days, and taste less like dirt then the other ones.
Carrots will surprise you, too. Like the purple ones we get sometimes in our CSA box. Tricky, tricky vegetables.
Because I have issues with beets, I tried roasting them, which usually works with vegetables I don't like (except for radishes). No luck. I don't mind them in borscht, though. Or hummus. Otherwise, I cook them down, mash them, freeze some in ice cube trays and turn things pink. Like waffles. My girls really like it, and a couple of tablespoons changes the color drastically, but doesn't affect the flavor or texture.
Ah, but this slaw. Look how gorgeous those beets and carrots are. I didn't adjust the saturation for those photos above — they really are that bright!
Sometimes bright, colorful food is just the thing to get your kids to at least take a bite. My girls nibbled at this slaw at first, but then ate a good amount of it. I did, too. The dressing is really citrusy and tart — almost too tart — but the sweetness from the beets and carrots toned it down.
I was surprised how much I liked this! It's the first time I've ever been happy eating raw beets.
SaveSave
---
If you make one of my recipes, be sure to post it on social media and tag me at @perrysplate or #perrysplate so I can send you some love!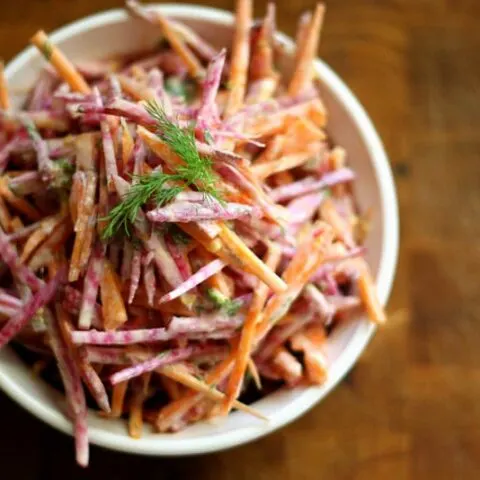 Candy-Striped Beet and Carrot Slaw
Additional Time:
30 minutes
Candy-striped beets can be tricky to find (but worth the hunt!). If you have a hard time tracking them down, you can substitute golden beets or regular beets. If you use regular purple beets, your slaw will end up a brilliant shade of fuchsia -- which isn't necessarily a bad thing.
Ingredients
1/4 cup coconut cream or plain Greek yogurt
1 tsp finely grated orange zest + 3 T fresh orange juice
1 T fresh lemon juice
1 T finely chopped fresh dill
5 2"-diameter candy-strip (Chioggia) beets, scrubbed, julienned
1 large carrot (or 2 medium), julienned
salt and pepper, to taste
Instructions
Whisk coconut cream, orange zest and juice, lemon juice, and dill in a medium bowl.
Add beets and carrots and toss to combine. Season with salt and pepper.
Notes
Nat's Note: I used a mandoline slicer to slice the beets and carrots. I forgot to peel them, and I don't think it made a big difference.
This post may contain affiliate links. Any purchases made by using these links won't cost you any extra and helps keep my content free. These links may be Amazon links as I am part of the Amazon Associate Program.