Pesto Eggplant Roll-Ups are a great way to use leftover pesto. And it might even convert an eggplant hater or two!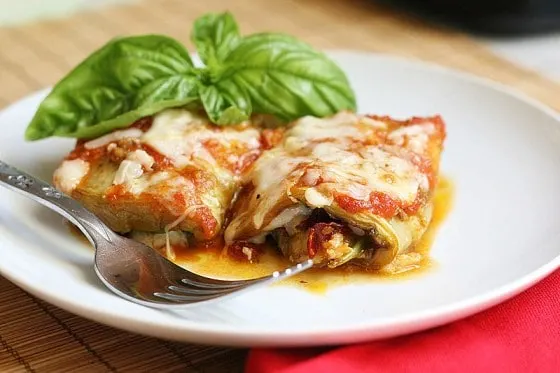 My husband used to hate eggplant. Used to. Until I made some eggplant roll-ups.
When we were married and I began to find out his dislikes (Very few, actually. I'm a lucky woman.) did I avoid making those types of foods like a respectful wife would?
Um, no.
I made them more often, trying to find a way to prepare them so he would like them. (Aren't I sweet?) Or at the very least, tolerate it. So far it's worked with eggplant, balsamic vinegar, and breaded chicken.
I know, right? Who doesn't like breaded chicken? I think it was an issue of texture. Maybe eggplant was, too.
I can't say I blame him. Most of my dislikes stem from a food's texture. Eggplant, in my opinion, is by far the strangest vegetable out there. I remember the first time I peeled an eggplant, feeling its styrofoam-y texture, desperately hoping it wouldn't taste like a Nerf football. I had faith, though, having eaten Eggplant Parmesan several times. The texture made me really nervous. As well as the way it looks after it's been cooked. (Perhaps one of those "sweet spirits" of its veggie brothers and sisters.)
If you can get past all of the weirdness, I think you'll like these eggplant roll-ups. Even if you don't like eggplant. Slices of eggplant are brushed with garlic oil, roasted, then filled with a concoction of cheese, sun-dried tomatoes, pesto, and spinach. Like a little Italian explosion in your mouth.
I do believe that all plates were clean that night. Even the so-called eggplant hater's.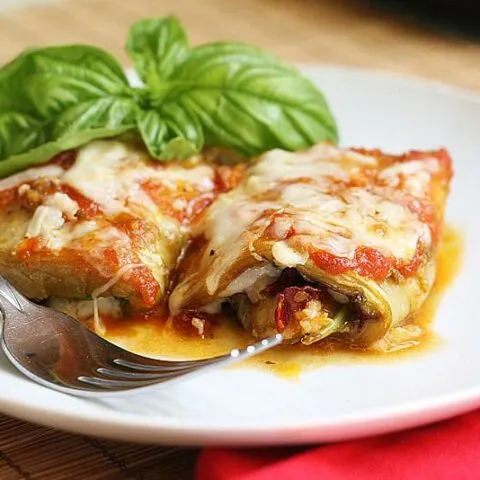 Pesto Eggplant Rollatine
Pesto Eggplant Roll-Ups are a great way to use leftover pesto. And it might even convert an eggplant hater or two!
Ingredients
3 T olive oil
2 garlic cloves, minced
2 medium-sized eggplants (about 3 pounds), peeled, and sliced lengthwise into 3/8-inch thick strips
salt and black pepper
2 cups marinara sauce
2/3 cup prepared basil pesto
4 ounces mozzarella cheese, grated (about 1 cup)
1 cup freshly grated Parmesan cheese
2 handfuls of fresh baby spinach
2/3 cup oil-packed sun-dried tomatoes (optional)
Instructions
Preheat oven to 400 degrees F. Grease two rimmed baking sheets.
Combine the oil and garlic in a small bowl. Brush the oil on both sides of the eggplant slices and arrange them in a single layer on the baking sheets. Season with a pinch or two of salt and pepper.
Place the baking sheets side by side in the oven (if possible). Roast for 20-25 minutes, until well browned and very tender, turning once halfway through cooking.
Remove from the oven and reduce temperature to 350 degrees F. (If your baking sheets don't fit side by side, place one on the middle rack and one on the bottom rack and rotate them a couple of times during roasting.)
Spread about 1 cup of the marinara sauce in the bottom of a 9x13-inch baking dish. Spread each eggplant slice with a spoonful of pesto and top with a pinch of each kind of cheese, a few spinach leaves and a couple of sun-dried tomatoes. Roll up and place seam side down in the baking dish. Spoon remaining sauce over the rolls and sprinkle with remaining cheese.
Bake for 15-20 minutes until cheese is melted and the rolls are heated through. Serve hot.
Notes
Nat's Note: My eggplants were on the small side, so I got all my rolls into a 2 quart (7x11) baking dish.
SaveSave