Rolling enchiladas is for suckers. Stacking is the way to go! These chicken and zucchini enchiladas are beyond delicious with the creamy green chile sauce!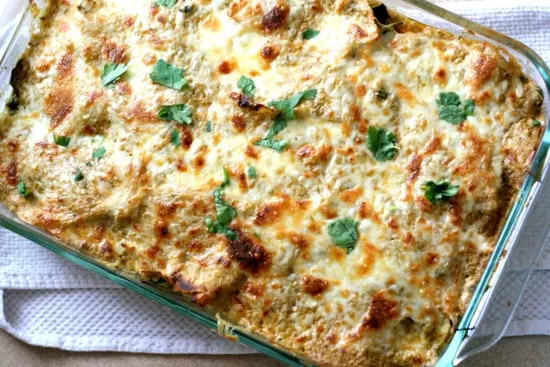 I've had a hankering for enchiladas lately (among other carby, cheesy things). We love the Stacked Roasted Vegetable Enchiladas, and apparently you do, too! I've loved reading your improvisations on this recipe (Both on the post and on Facebook… one of you even made the leftovers into soup! Brilliant!)
So, to celebrate its one-year anniversary on Perry's Plate, I did another spin on them! You'll LOVE these Stacked Chicken & Green Chili Enchiladas.
By the way, do you spell it "chili" or "chile"? My can of diced green chiles says "chile". But I suppose either one flies. I'll just use both for kicks.
I saw this enchilada recipe over at Taste and Tell. (Or was it Pinterest? My memory is shot to pieces.) I wanted them. Bad. When I realized that it was a variation of a recipe from In the Small Kitchen (which I own!) I jumped back to the original and worked from there.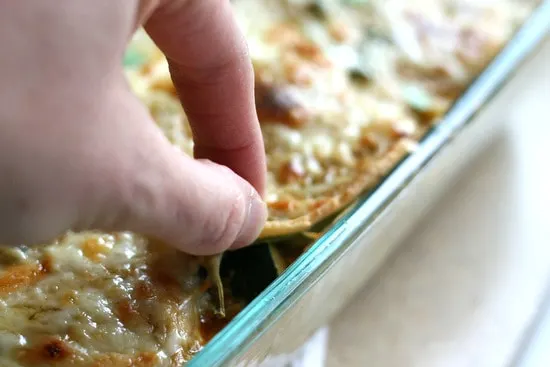 I'm kind of lazy. So I stacked them instead of rolling the individual enchiladas. I also replaced the beans with more zucchini and added some extra vitamins with a bunch of fresh spinach and some yogurt (instead of sour cream) in the sauce.
If I'm not feeling lazy, I'd make some corn tortillas from scratch.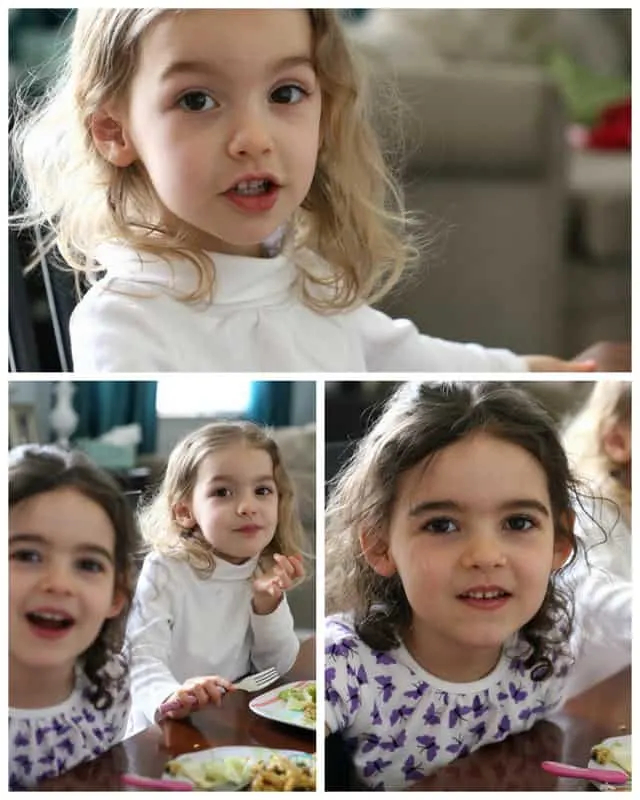 This was supposed to be our after-church lunch on Sunday, but it ended up being a girls-only lunch. Steve recently got some assignments at church which will keep him away for a few extra hours each Sunday. And we I was too starving to wait for him.
(In my defense, he came home only a half hour after we ate. They were still warm.)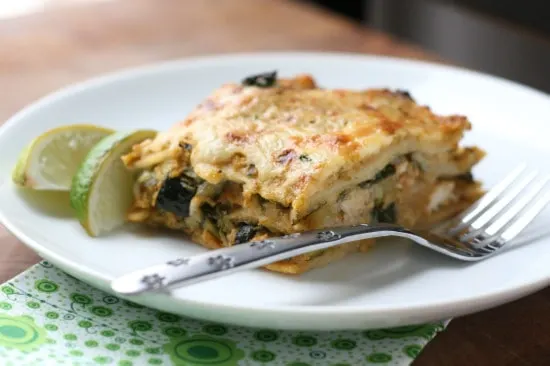 These were FAAAAAABULOUS. SUCH A GREAT RECIPE. The kids loved them, too. (Score.)
Not as colorful as the others, but dare I say I liked these even more? They reminded me a little of the green chile chicken enchiladas my mom made when we were growing up (with the green chiles and cream of chicken soup) only without the soup and a lot more veg. She'd poach chicken in batches and stick it in the freezer. And then use the shredded chicken breasts when she made this. My mom was meal prepping before it was cool, guys.
Honestly, to make this even quicker you could use shredded rotisserie chicken and skip the whole chicken prep section in the recipe. The chicken mixture will still taste super good because of that creamy green chile sauce and monterey jack cheese. Mmm.
Like the roasted vegetable version, you could customize these to fit your tastes. Replace the chicken with beans to make them vegetarian or use another vegetable in place of the zucchini if that's not your thing. (I quite liked the toothy bites of zucchini.) They're easily made gluten-free by using cornstarch or arrowroot powder to thicken the sauce instead of flour.
And I could drink the sauce straight out of the bowl.
If you make one of my recipes, be sure to post it on social media and tag me at @perrysplate or #perrysplate so I can send you some love!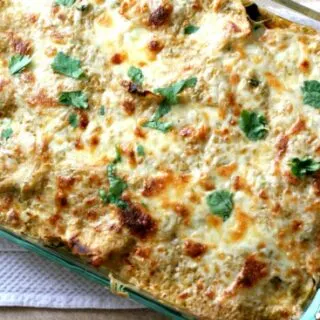 Stacked Chicken & Zucchini Enchiladas with Creamy Green Chile Sauce
Rolling enchiladas is for suckers. Stacking is the way to go! These chicken and zucchini enchiladas are beyond delicious with the creamy green chile sauce!
Ingredients
For the chicken:
2 T Dijon mustard
1 T heat-safe oil (like avocado or coconut oil)
1 1/2 tsp chili powder
1 tsp salt
1 1/2 - 2 pounds boneless, skinless chicken breasts
For the filling:
Heat-safe oil
1 medium onion, diced
3 medium zucchini, diced
2 cloves garlic, minced
1 tsp chili powder
1 tsp cumin
1 tsp salt
For the sauce:
2 T butter
2 cloves garlic, minced
2 jalapenos, minced (seeded if you don't want the extra heat)
2 T all-purpose flour (or 1 T cornstarch or arrowroot powder)
1 15-ounce can of chicken or vegetable broth
1 1/2 cups Greek yogurt
1 8-ounce (or 2 4-ounce) can of fire-roasted diced green chiles
1 tsp chili powder
1 tsp cumin
1 tsp salt
Cayenne pepper (optional, to taste)
For the enchiladas:
12-16 corn tortillas, halved
12 ounces Monterey Jack cheese, shredded
2 very large handfuls of fresh baby spinach
1/2 cup chopped fresh cilantro
Limes, guacamole, and more fresh cilantro for garnish
Instructions
Preheat the oven to 350 degrees F and line a baking dish with aluminum foil.
To prepare the chicken, combine the mustard, oil, chili powder and salt in a bowl. Add the chicken breasts and toss to coat. (I butterflied my chicken so they would cook faster and be more flavorful.)
Place them in the prepared baking dish and bake for 30 minutes, or until cooked through. Allow the chicken to rest for 10 minutes then shred with two forks. Set the meat and the juices from the baking dish aside.
To make the rest of the filling, coat a large skillet with the oil and bring to medium heat. Saute the onion for 5-8 minutes or until soft. Add the zucchini and cook for another 6-8 minutes or until zucchini is soft and slightly browned. Add the garlic, chili powder, cumin, and salt, and cook until garlic is fragrant, about 5 minutes. Add the reserved chicken and juices to the skillet, stir well, and remove mixture from heat. Set aside.
To make the sauce, wipe out the skillet you just used (or grab another one). Melt the butter over medium heat and add garlic and jalapenos. Cook until they're soft, but don't let the garlic brown, about 4 minutes. Add the flour and cook for another minute, until incorporated.
Add the stock and raise the heat to high, bringing the mixture to a boil. Reduce the heat and simmer until the liquids have reduced and the sauce has thickened a bit and become opaque, about 5-8 minutes. Transfer the sauce mixture to a blender or a food processor, add the yogurt, chiles, cumin, chili powder, salt, and cayenne. Puree until smooth. (You could try an immersion blender, but the mixture may be too shallow in the pan. You could also mince the chiles and simply whisk the mixture together by hand.)
To assemble the enchiladas, coat the bottom of a 9x13 baking dish with about 2/3 cup of sauce. Layer tortillas to cover the bottom, then add 1/2 of the chicken-zucchini filling, 1/2 of the spinach, 1/3 of the cheese, and a sprinkle of fresh cilantro.
Repeat layering with tortillas, 1/2 of the remaining sauce, the rest of the chicken-zucchini filling and spinach, 1/3 of the cheese, and a sprinkle of cilantro.
Finish off the layers with tortillas, the remaining sauce, and the remaining cheese.
Cover with foil and bake for 30 minutes. Remove foil and bake an additional 15 minutes to brown the top. (I broiled it for a few minutes at the end to really crisp things up.)
Garnish with fresh cilantro and serve with guacamole and lime wedges.
Notes
Nat's Note: You can make the filling and the sauce up to two days ahead of time.
This post may contain affiliate links. Any purchases made by using these links won't cost you any extra and helps keep my content free. These links may be Amazon links as I am part of the Amazon Associate Program.
SaveSave
SaveSave
SaveSave
SaveSave