Stacked Roasted Vegetable Enchiladas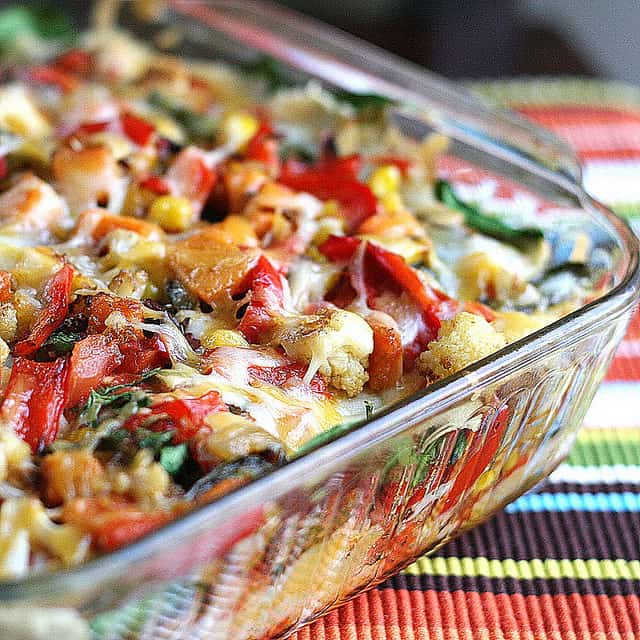 I know what you're thinking — veggie enchiladas can't be that good. And why is everything just thrown into a pan like that?! It's an enchilada abomination!
Well.
They are pretty delicious. If they look like this. And are full of roasted vegetables. (I love roasted vegetables more than a lot of things. More than some people, actually.)
Why Would You Stack Enchiladas?
You may also be wondering why they don't look like authentic enchiladas.
These vegetarian "enchiladas" are stacked. Stacked enchiladas have all the components of enchiladas except the tortillas and filling are stacked — casserole style.
Stacking them make it WAY easier to assemble.
Since I started making rolled ones, I haven't looked back! No more cracked tortillas trying to get them seam-side down in a pan. No more trying to arrange JUST ONE MORE ENCHILADA in the pan. Stacking enchiladas is the bomb.
And if I can get all of the enchilada flavor that I love finished more quickly, then that's always a good thing, right?
This version doesn't actually have any enchilada sauce, either. Maybe it should be called "Mexican Layered Casserole" except I'm pretty sure it's not really Mexican either.
Naming recipes is hard, guys. But I promise you'll love this one!
This enchilada recipe is also customizable. And fairly healthy. (Hello, check out all of the veg!) And it's pretty. I love pretty food.
Any meal that starts out with a giant pan of roasted vegetables is a winner to me.
The first time I made this, I thought it was a tad tortilla-heavy. So, I boosted the amount of roasted vegetables, added some fresh spinach and made some thinner homemade corn tortillas.
Ways to Customize Stacked Roasted Vegetable Enchiladas
Speaking of vegetables, I used sweet potatoes, bell peppers, cauliflower, onions, and corn. You can throw in whatever vegetables you like!
Adding some black beans would also be good if you wanted to keep it vegetarian, but wanted to boost the protein.
Feel free to switch out the vegetables or cheese for those you like, add shredded chicken of your family is particularly carnivorous, or even use flour tortillas if you don't have (or like) corn tortillas. A sprinkling of fresh green onions and a dollop of sour cream on top finished it off nicely!
Like I said up there, I didn't use enchilada sauce. (By the way, have you ever had homemade enchilada sauce? It's pretty fabulous. And easy. And I'm sure you have all of the ingredients — it's chili powder based.
The recipe I linked to up there is my favorite enchilada sauce and is also Whole30 friendly! You could omit the cheese and use thinly sliced roasted zucchini in place of the tortillas to make it Whole30 compliant!
Instead of enchilada sauce it uses salsa mixed with fresh cilantro. I love the flavor and freshness it adds to this recipe.
I love ooey-gooey, cheesy enchiladas, but I thought this fresher, lighter version was great as well. I avoided having to roll individual enchiladas, and it didn't put me into an enchilada coma for the rest of the evening. Wins all over the place.
How to Stack Enchiladas
After your filling is finished roasting, grease a baking dish with cooking spray. I used an 8×8 glass dish, but I've gotten some comments that you're ingredients aren't fitting well in there. Use a 9×13 if you're worried about fitting everything!
Put some salsa in the bottom of the dish (about 1/4 cup) along with a layer of tortillas. Add some of the roasted vegetable filling, some baby spinach (I put baby spinach in a lot of things. Mostly because my kids don't mind it's there.), and some grated cheese.
Repeat the layers — salsa (or remaining sauce), tortillas, filling, spinach, and cheese. I put three layers, ending with cheese on top. If you have remaining tortilla pieces, just use them for something else or bake them and make some homemade tortilla chips!
I baked mine for 20 minutes covered and then 10 minutes uncovered to get the cheese nice and melty.
Do you make side dishes for your enchiladas? I don't, just because I feel like enchiladas are a one-pan meal type of situation.
If you prefer to have something light and fresher to go along with it, my Southwest Cabbage Slaw would be perfect. It's not a heavy, mayo-based slaw. It's simply a mixture of shredded cabbage, green onions, and cilantro tossed in a light lime juice vinaigrette.
Have you seen the other stacked enchilada recipes I have on my site?
If you happen to have any shredded beef leftover from taco night (or from a pot roast even), these
Leftover Shredded Beef & Kale Enchiladas
. Also stacked. And also filled with nice, green veg, but also SUPER delicious.
Do you like your enchiladas stacked or rolled?
Leave a comment below and let me know if you're team rolling or team stacking! And what you're favorite fillings are! You can't have too many enchilada variations in your recipe arsenal.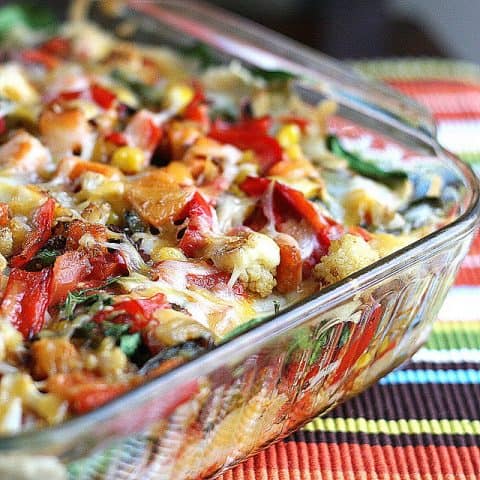 Stacked Roasted Vegetable Enchiladas
This roasted vegetable enchilada bake is one of the oldest and most popular recipes on my site. So many of you have been making it for years, and I love hearing how this recipe has made it into your regular rotations!
Ingredients
1 poblano chile, cut into matchsticks
2 red bell peppers, cut into matchsticks
1/2 head of cauliflower, cut into 1/2-inch chunks
1 small sweet potato, peeled and cut into 1/2-inch cubes (about 1 1/2 cups)
1 medium onion, halved and slivered
1 cup corn kernels, fresh or frozen
3 Tablespoons heat-safe oil like avocado or coconut
1 1/2 teaspoons ground cumin
2 garlic cloves, minced
salt and black pepper
1/2 cup chopped fresh cilantro
2 cups homemade or store bought salsa/pico de gallo
2 ounces baby spinach leaves (about 2 big handfuls)
9-10 corn tortillas, halved (try making homemade tortillas!)
2 cups shredded cheese (I used a cheddar-Monterey Jack blend)
sour cream and thinly sliced scallions (green onions) for garnish, if desired
Instructions
Preheat the oven to 425 degrees F.
Lightly oil a large shallow roasting pan or rimmed cookie sheet. Place poblanos, red bell peppers, cauliflower, sweet potato, onion, and corn kernels onto cookie sheet. Drizzle oil and sprinkle the cumin and minced garlic over top. Add a generous pinch or two of salt and black pepper, then use your hands to mix everything together. After everything is coated well, spread the vegetables evenly in the pan.
Roast for 30-40 minutes until vegetables are tender and begin to brown in spots. Stir or shake the pan every 10 minutes for even roasting. Remove pan from oven and reduce oven temperature to 350 degrees F.
Prepare an 9x13" baking pan with nonstick spray.
In a small bowl, stir the cilantro into the salsa. Spread 1/4 cup of salsa into the bottom of the baking pan. Add a layer of tortilla pieces, to completely cover the salsa. Top with 1/3 of the vegetables, a handful of spinach, and 1/3 of the cheese. Make a second layer of tortilla, salsa, vegetables, spinach, and cheese. Top with with a layer of tortillas, salsa, vegetables, and cheese.
Cover with aluminum foil. Bake for 20 minutes. Remove the foil and bake another 10 minutes, until cheese is melted and everything is heated through.
Let it sit for 5 minutes and cut into squares. Serve with sour cream and a sprinkle of sliced scallions. Serves 4-5
Notes
Note: The original recipe was made in a 9x9" square pan, but we found it actually fits better in a 9x13" pan.
Recipe Adapted from The Roasted Vegetable by Andrea Chessman

Disclosure: This post may contain Amazon affiliate links. Purchases made by using these links don't cost you any extra and helps to keep my content free.