Have you ever tried a Veggie Enchilada Casserole? Packed with roasted vegetables, sweet salsa and gooey cheese, it's a wholesome and delicious twist on a classic Mexican favorite.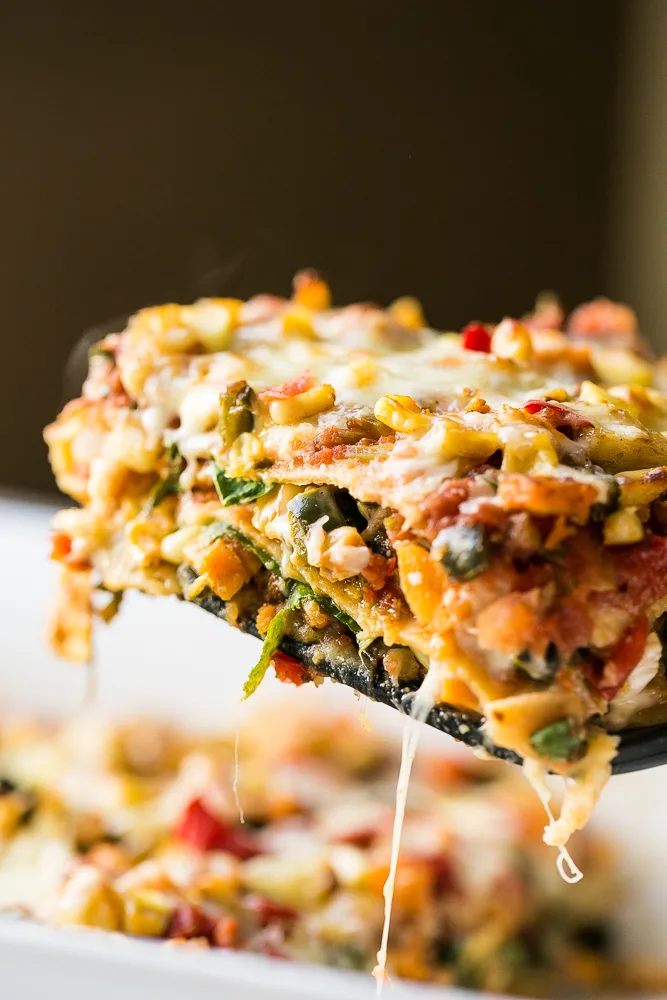 Obviously, these aren't traditional enchiladas. This easy-grilled vegetarian casserole, however, is super delicious. And full of roasted vegetables. (I love roasted vegetables more than a lot of things. More than some people, actually.)
It's a great recipe to take to someone who is sick or just had a baby. It freezes and reheats beautifully. Our whole family loves these, too!
This has been the most popular recipe on my site for YEARS, so I hope you give it a try.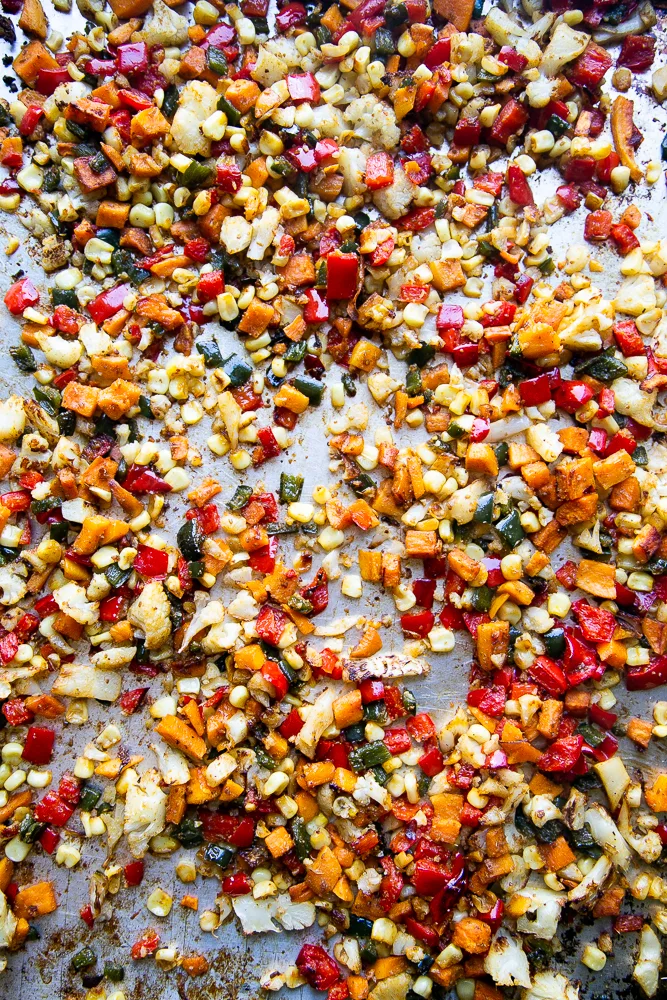 What vegetables can I use in a Veggie Casserole?
Theoretically, you could use any roast-able vegetable you like, but I like this combination because it doesn't taste too "green" like broccoli and Brussels sprouts would taste. You want the flavors to blend in, not overpower the casserole. But I like this particular combination:
Cauliflower
Sweet potatoes
Bell peppers
Poblano pepper
Frozen corn
Spinach
Onion
I like the poblano peppers and red pepper because I love how they taste, but you can use a jalapeno for heat or any other bell pepper.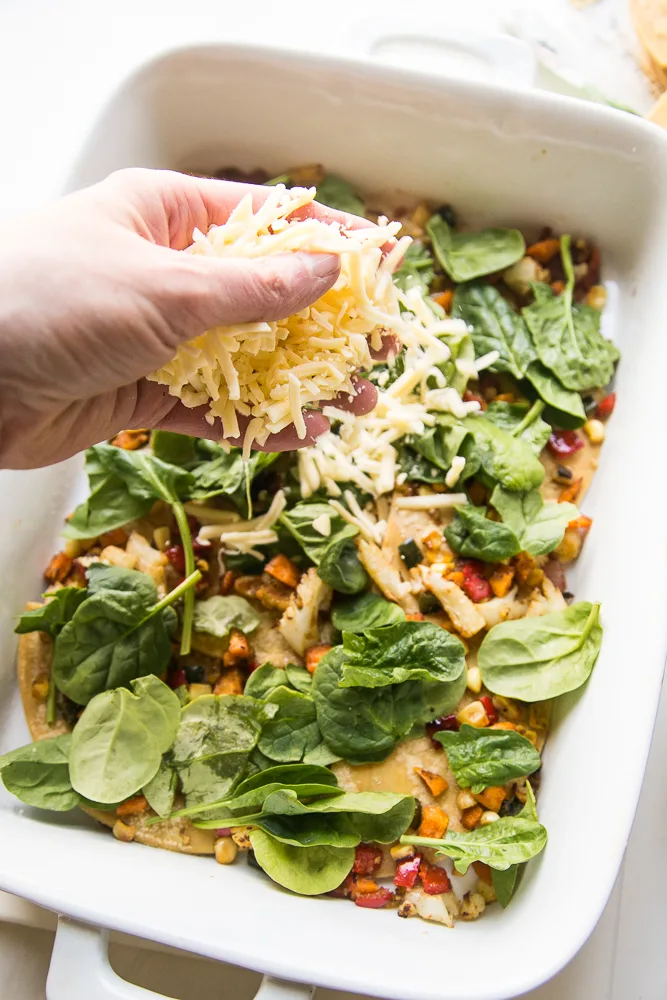 Why Would You Stack Enchiladas Casserole style?
You may also be wondering why they don't look like authentic enchiladas.
These vegetarian "enchiladas" are stacked. Stacked enchiladas have all the components of enchiladas except the tortillas and filling are stacked – casserole style.
Stacking them make it WAY easier to assemble.
And if I can get all of the enchilada flavor that I love finished more quickly, then that's always a good thing, right?
This version doesn't actually have any enchilada sauce, either. Maybe it should be called "Vegetarian Mexican Lasagna" except I'm pretty sure it's not authentic Mexican either.
Naming recipes is hard, guys. But I promise you'll love this one!
This enchilada recipe is also customizable. And fairly healthy. (Hello, check out all of the veg!) And it's pretty. I love pretty food.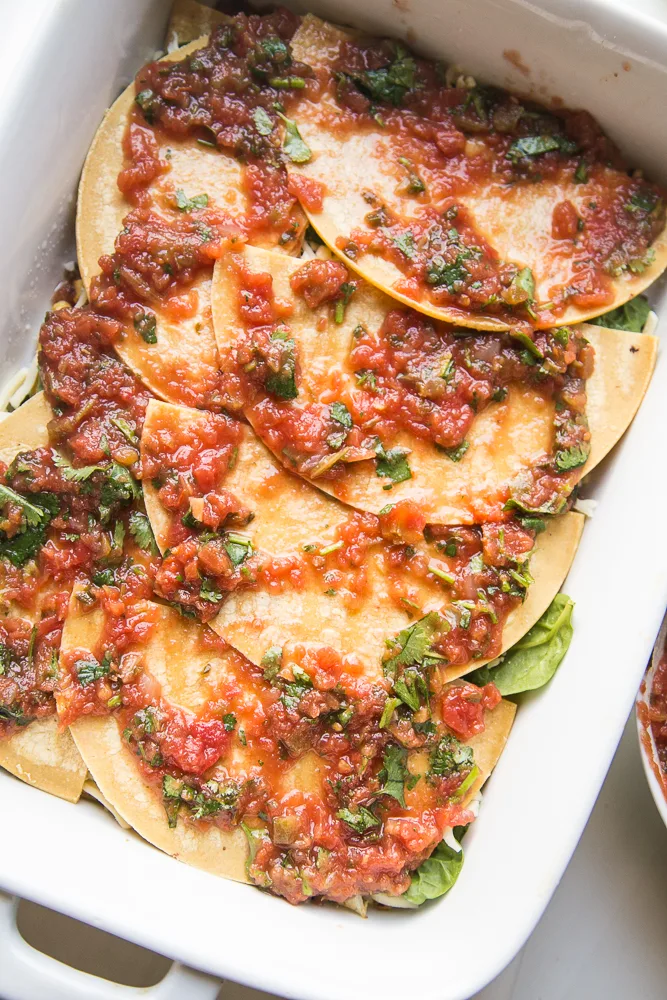 How to assemble a Veggie Enchilada Casserole
After roasting your filling, grease a 9×13 baking dish with cooking spray. You could also use a large skillet that is oven-safe.
Put some salsa in the bottom of the dish (about 1/2 cup) along with a single layer of tortillas. You may need to cut some to create straight edges, but it doesn't have to be perfect. Don't overthink it. You could also use flour tortillas if you like them better and aren't concerned with keeping this gluten-free.
Add some of the roasted vegetables, some baby spinach, and some grated cheese in an even layer on top of the tortillas.
Repeat the layers – salsa (or remaining sauce), tortillas, filling, spinach, and cheese. I put three layers, ending with cheese on top. If you have remaining tortilla pieces, just use them for something else or bake them and make some homemade tortilla chips!
I baked mine for 20 minutes covered and then 10 minutes uncovered to get the cheese nice and melty. I like to toss on some sliced green onions or red onion and fresh cilantro right before serving for a little freshness.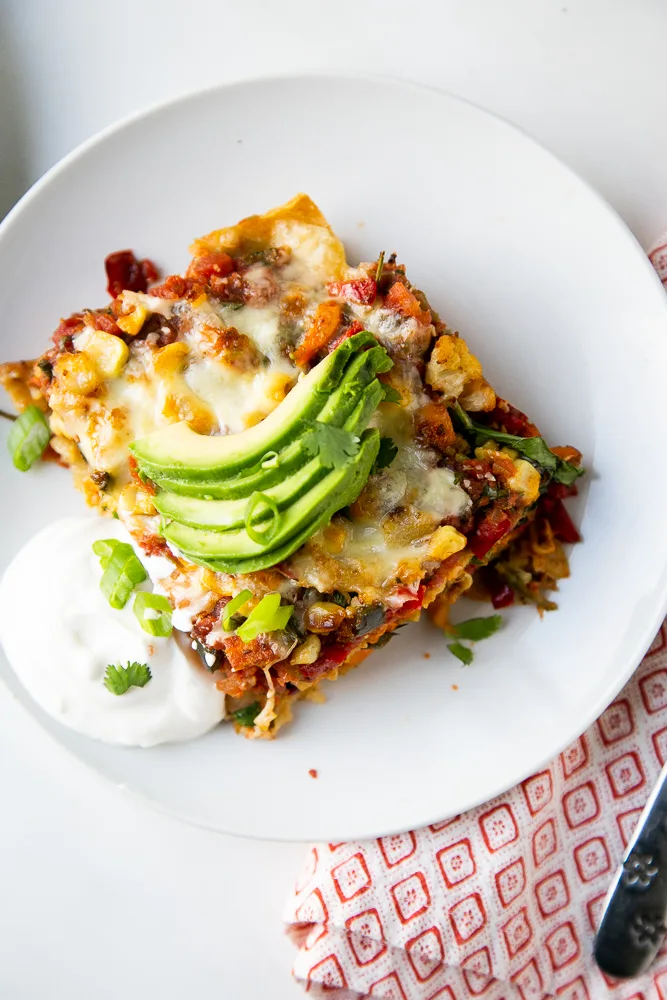 Ways to Customize this Roasted Vegetable Enchilada Casserole
Add Protein
If you're wanting to keep this vegetarian, sprinkle in some black beans as you're layering the casserole.
If you're a meat eater, add some leftover shredded taco meat or ground beef. Or chopped grilled chicken.
Make it spicy!
Add a can of green chiles or jalapenos to the vegetable mixture, use a few shakes of hot sauce in your salsa mixture or just use some hotter salsa. Extra hot pepper jack cheese is also delicious and adds some heat.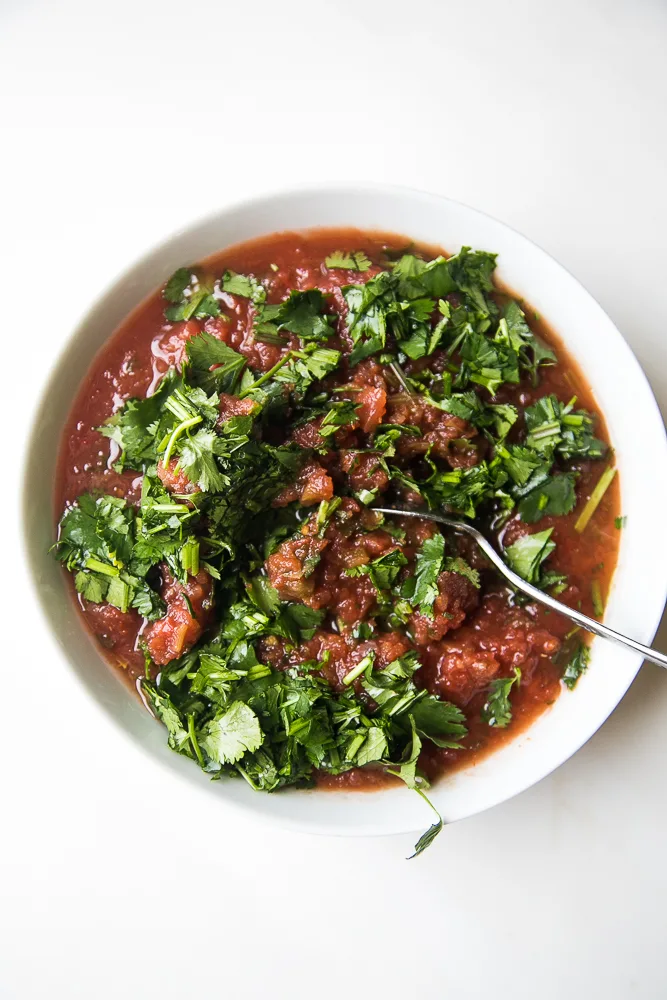 Change up your sauce!
You may have noticed that these "enchiladas" don't have enchilada sauce. (The Mexican food blasphemy continues…)
Instead, some fresh salsa is mixed with chopped cilantro for a lighter feel. Try using salsa verde or another kind of salsa you like.
You could also use actual enchilada sauce. I have a great Homemade Enchilada Sauce recipe if you need it. It's chilli powder based and super easy to make into a spicy sauce or something more medium heat.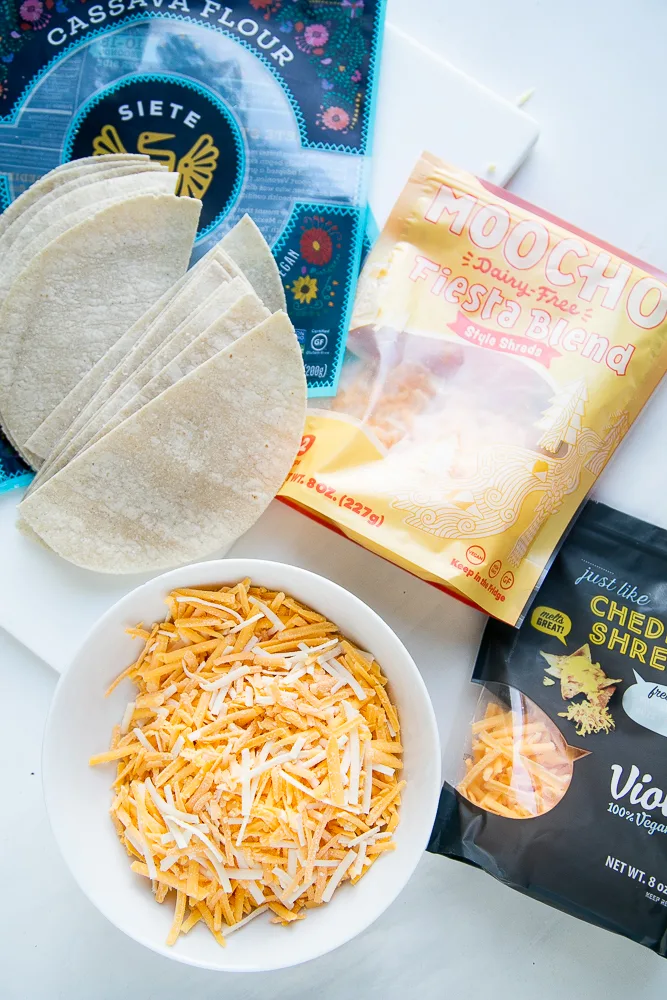 Make it Grain-Free & Dairy-Free
Luckily it's easy to find grain-free and dairy-free replacements for things like cheese and tortillas to use in vegan enchiladas.
I made a version of this omitting the corn and using Siete cassava tortillas and some soy-free vegan cheese from Moocho & Violife.
I've always been suspicious of dairy-free cheese, but these two brands pleasantly surprised me.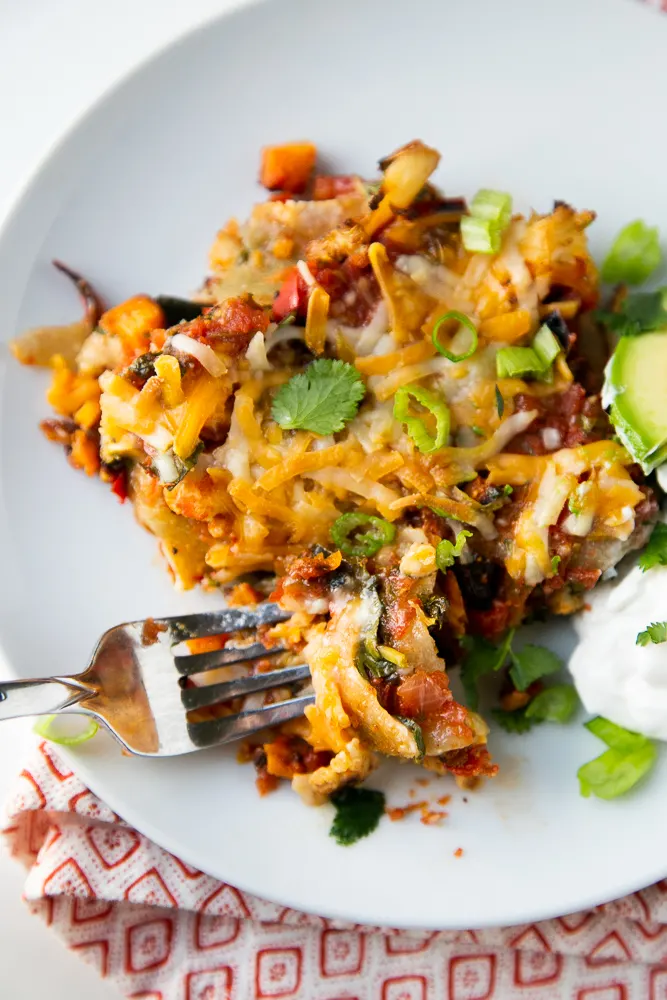 This is the grain & dairy-free version — look how good it looks! It tastes almost just like the original, too.
Dairy free cheese doesn't melt quite like the real thing, but this was pretty tasty. I even topped it with some Kite Hill dairy-free sour cream.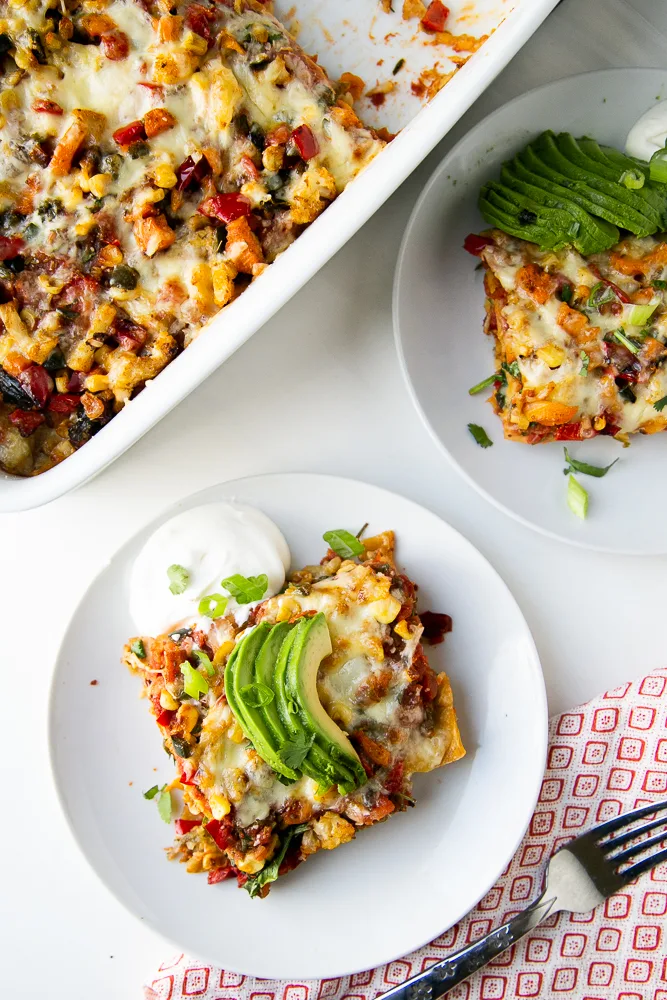 How to Freeze this Enchilada Casserole
Like lasagna, it's not that much extra work to make a second pan of vegetarian enchiladas while you're assembling the first one. Your future self will thank you for prepping some weeknight dinners.
You can do this in a couple of ways:
Assemble the casserole without baking it, then cover it with aluminum foil and freeze it. Make sure you don't use a glass dish if you plan on freezing it. A frozen glass dish placed into a hot oven will explode. (I know this from experience. Ha.) Use a metal pan or one of those disposable aluminum pans. It'll take 90-120 minutes to bake from frozen. Start if off covered with foil, then remove the foil for the last 20 minutes or so.
Bake the casserole. Let it cool to room temperature. Cover with foil and freeze. Again, don't use a glass baking dish. It will take around the same time to warm up – at least 90 minutes.
Don't need to freeze it? Assemble the casserole and cover/chill it the day before you plan to cook it. I wouldn't prep it too far in advance or the layer of corn tortillas might get a little mushy.
Frequently Asked Questions
How do I keep my enchiladas from getting soggy when they cook?
Simple! Don't put too much salsa in between the layers to avoid your enchiladas getting soggy.
Can I prepare my enchilada casserole in advance?
Yes, I love making two meals in one go! You can either freeze your prepared casserole or keep it in the fridge for up to 1 day.
Love Mexican-inspired meals? Try my other recipes!
---
I'd love to hear what you think about this recipe! If you make it, be sure to tag me on social media so I can send you some love — @perrysplate or #perrysplate.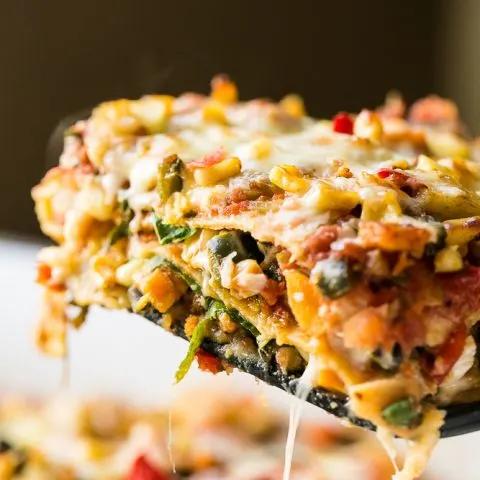 Roasted Vegetable Enchilada Casserole
Total Time:
1 hour
30 minutes
This roasted vegetable enchilada casserole is one of the oldest and most popular recipes on my site. So many of you have been making it for years, and I love hearing how this recipe has made it into your regular rotations!
Ingredients
1 poblano chile, seeded and diced
2 red bell peppers, seeded and diced
1/2 head of cauliflower, cut into 1/2-inch chunks
1 small sweet potato, peeled and cut into 1/2-inch cubes (about 1 1/2 cups)
1 medium onion, peeled and diced
1 cup corn kernels, fresh or frozen
3 Tablespoons heat-safe oil like avocado or coconut
1 1/2 teaspoons ground cumin
1/2 teaspoon granulated garlic
salt and black pepper
1/2 cup chopped fresh cilantro
2 cups homemade or store bought salsa/pico de gallo
2 ounces baby spinach leaves (about 2 big handfuls)
9-10 small tortillas, halved (corn or grain-free)
2 cups shredded cheese (I used a cheddar-Monterey Jack blend)
sour cream and thinly sliced green onions for garnish, if desired
Instructions
Preheat the oven to 425 degrees F.
Place poblanos, red bell peppers, cauliflower, sweet potato, onion, and corn kernels onto a large, rimmed baking sheet. Drizzle oil and sprinkle the cumin and granulated garlic over top. Add a generous pinch or two of salt and black pepper, then use your hands to mix everything together. After everything is coated well, spread the vegetables evenly in the pan.
Roast for 30-40 minutes on a lower oven rack until vegetables are tender and begin to brown in spots. Stir or shake the pan every 10 minutes for even roasting. Remove pan from oven and reduce oven temperature to 350 degrees F.
Prepare an 9x13" baking pan with nonstick spray.
In a small bowl, stir the cilantro into the salsa. Spread 1/2 cup of salsa into the bottom of the baking pan. Add a layer of tortilla pieces, to completely cover the salsa. Top with 1/3 of the vegetables, a handful of spinach, and 1/3 of the cheese. Make a second layer of tortilla, 1/2 of the remaining salsa, vegetables, spinach, and cheese. Top with with a layer of tortillas, salsa, vegetables, and cheese.
Cover with aluminum foil. Bake for 20 minutes. Remove the foil and bake another 10 minutes, until cheese is melted and everything is heated through.
Let it sit for 5 minutes and cut into squares. Serve with sour cream and a sprinkle of sliced scallions.
This post may contain affiliate links. Any purchases made by using these links won't cost you any extra and helps keep my content free. These links may be Amazon links as I am part of the Amazon Associate Program.