Creamy Spinach Pasta with Avocado (Green Noodles)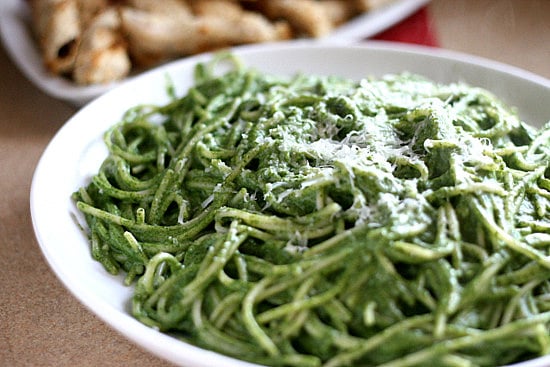 Sometimes red sauce gets old. Even the crazy-good Roasted Balsamic Tomato Sauce I made and froze last summer just doesn't sound so great to me. Unless it's on pizza. Pretty much anything on a pizza is on my nice list these days.
Clearly I'm still having carb cravings.
After my kids inhaled this brightly colored pasta (which was odd because they don't usually like pasta that much), I started thinking of other colors and vegetable combinations I could try.
Butternut squash & carrots would make a gorgeous orange. Summer squash & yellow bell peppers would work for yellow. I'd considered doing a purple pasta sauce with a beet base, but Bev beat me to it. (aka… did the work for me. Thanks, hon!)
I'll give those a whirl, and get back to you.
Speaking of vegetables, this is a great one if you have gobs of spinach you need to use up. The sauce gets a lot of its flavor from the garlic, a big dollop of Greek yogurt, and some fresh Romano cheese, but I threw an avocado in the sauce just for kicks. And because it was also green. Smart move — it gave it an extra dose of creaminess without having to add a lot of cheese. Fresh basil would have been a great addition, too!
This is also reason #92574 why you should have an immersion blender in your kitchen.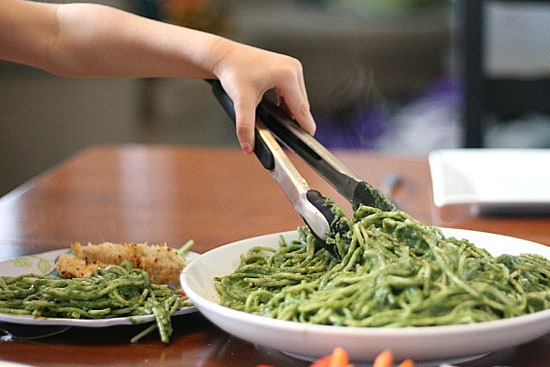 I think this was my 4-year-old's second pile. You go, girl.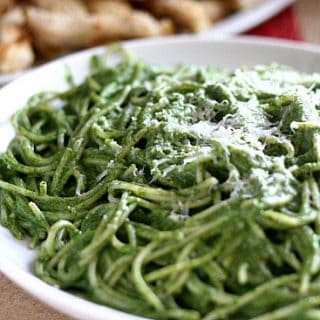 Creamy Spinach & Avocado Pasta
Sometimes red sauce gets old. Go green with some Creamy Spinach Pasta with avocado to make it EXTRA creamy.
Ingredients
6-8 ounces of pasta (I used brown rice spaghetti)
2 Tablespoons butter
1 clove garlic, peeled and minced
pinch of salt, more to taste
3-4 big handfuls of spinach (about a 10-12 ounce bag)
1/4 cup Greek yogurt
1 avocado, peeled, pitted, and cut into large chunks
1/2 cup grated fresh Pecorino-Romano or Parmesan cheese, plus more for garnish
Instructions
Get the pasta cooking in a very large pot of salted boiling water. When it's finished, drain pasta from the pot, setting aside about 1/2 cup of pasta water.
Return pasta to large pot and set aside. In a medium saucepan, melt the butter over medium heat. Add garlic and cook for about 1-2 minutes. Add a pinch of salt and the spinach to the saucepan (Yes, the pan will be full. Just stuff it all in.)
Cover pot and reduce heat to medium-low. Let the mixture cook for about 4-5 minutes or until the spinach is completely wilted. Add the yogurt, avocado, and 2-3 Tablespoons of reserved pasta water to the spinach mixture.
Stir it a bit, then buzz it up with an immersion blender. (If you don't have one, transfer to a food processor or a blender. Blend well, and return sauce to the pot.)
Stir in the cheese, and add more pasta water if it seems too thick. If your pasta is still hot, simply toss the pasta and sauce together in a large serving bowl. If it's not, then combine the past and sauce in one of the pots (preferably the larger one) and cook over medium low until everything is hot. Add salt and pepper, to taste and serve with a sprinkle of grated cheese.
Save
Save