Sometimes red sauce gets old. Go green with some Creamy Spinach Pasta with avocado to make it EXTRA creamy.
If you have kids you might be thinking, "My kids would never eat that. It's too green."
A spinach avocado pasta (we call them "green noodles!" might be a hard sell on paper, but I promise this greens-packed sauce is surprisingly tasty with a few tricks!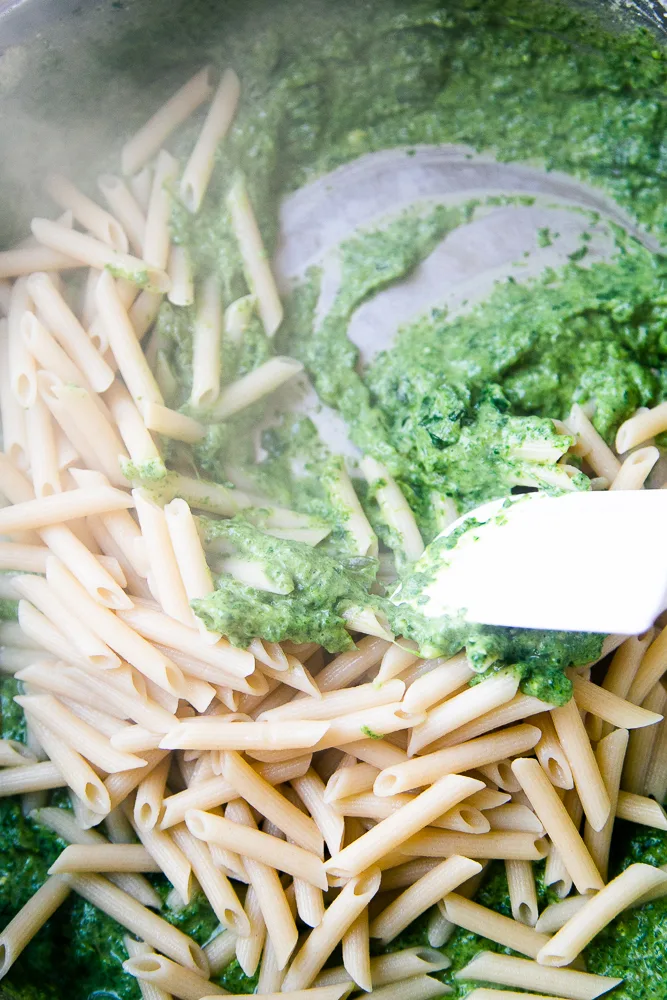 This spinach avocado pasta is a great recipe if you have gobs of spinach you need to use up. (Like, most of a 10-ounce bag.)
You could also use frozen spinach in this, too! I added notes about that in the recipe.
The sauce gets a lot of its flavor from the garlic, a big dollop of Greek yogurt, and some fresh Romano cheese, but I threw an avocado in the sauce just for kicks.
And because it was also green.
Smart move because it gave it an extra dose of creaminess without having to add a lot of cheese. Fresh basil would have been a great addition, too!
This is also reason #92574 why you should have an immersion blender in your kitchen.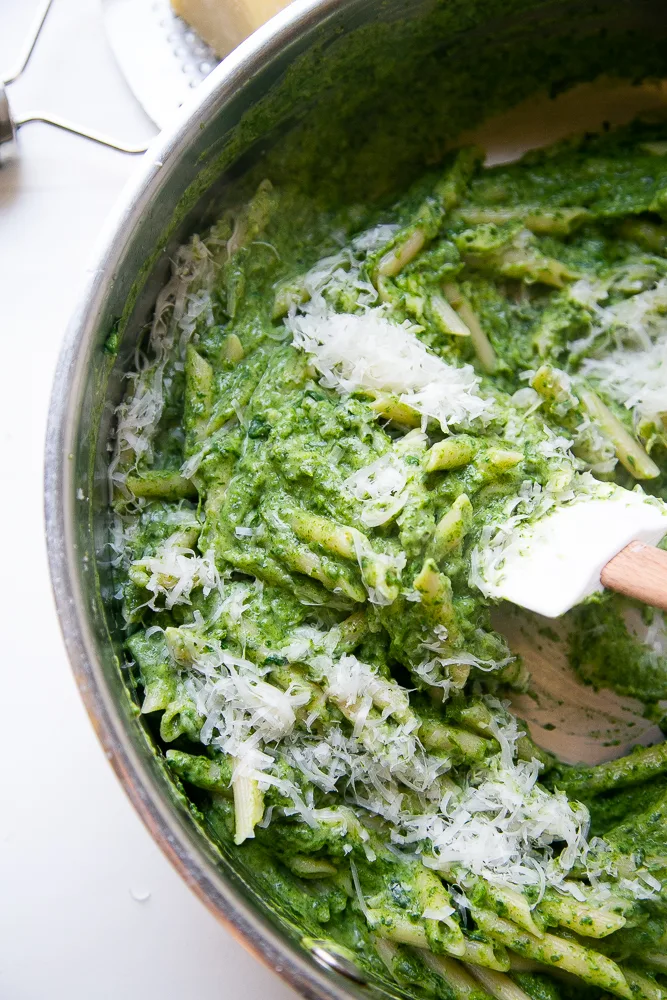 My 4-year-old had two big piles of this pasta. I call that a win.
SaveSave
---
If you make one of my recipes, be sure to post it on social media and tag me at @perrysplate or #perrysplate so I can send you some love!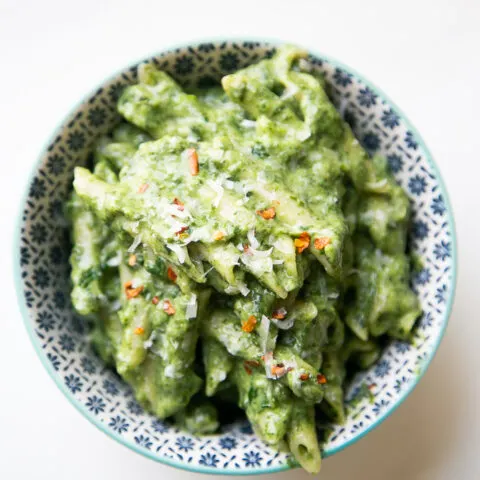 Creamy Spinach & Avocado Pasta
Sometimes red sauce gets old. Go green!
Ingredients
8 ounces of gluten-free pasta, any shape
2 Tablespoons butter
2 cloves garlic, peeled and minced or Microplaned
pinch of salt, more to taste
3-4 big handfuls of spinach (about 8 ounces)
1/4 cup full-fat Greek yogurt
1 avocado, peeled, pitted, and cut into large chunks
1/2 cup grated fresh Pecorino-Romano or Parmesan cheese, plus more for garnish
Instructions
Get the pasta cooking in a very large pot of salted boiling water. Cook according to the package directions for "al dente" doneness. Drain pasta from the pot, setting aside about 1 cup of pasta water.
Return pasta to the pot and set aside. In a medium saucepan, melt the butter over medium heat. Add garlic and cook for about 1-2 minutes. Add a pinch of salt and the spinach to the saucepan (Yes, the pan will be full. Just stuff it all in.)
Cover pot and reduce heat to medium-low. Let the mixture cook for about 4-5 minutes or until the spinach is completely wilted. Add the yogurt, avocado, and half of the of reserved pasta water to the spinach mixture.
Stir it a bit, then buzz it up with an immersion blender. (If you don't have one, transfer to a food processor or a blender. Blend well, and transfer the blended sauce to the pot with the pasta.)
Stir in the cheese, and add more pasta water if it seems too thick. Add salt and pepper, to taste and serve with a sprinkle of grated cheese.
Notes
Nat's Notes:
You can use any sturdy green in this recipe: kale & Swiss chard would work really well. Or a combination of all three greens!
You may also use frozen chopped spinach or kale. Just toss it into the skillet frozen. You may need less pasta water because of the water that will come off of the frozen greens.
To make this a little more "grown up", add a pinch of pepper flakes when you add the garlic and finish it with a drizzle of extra-virgin olive oil.
To make this low-carb, use zoodles instead of gluten-free pasta! Add the raw zoodles to the sauce and cook, stirring for about 4-5 minutes until the zoodles have softened, but aren't mushy. Serve immediately.
Recommended Products
As an Amazon Associate and member of other affiliate programs, I earn from qualifying purchases.
This post may contain affiliate links. Any purchases made by using these links won't cost you any extra and helps keep my content free. These links may be Amazon links as I am part of the Amazon Associate Program.