Hey there! You may be wondering what this raspberry ice cream recipe is doing on a paleo-ish food blog. Well…. it dates back to when I wasn't a paleo-ish blogger, and it's one of our favorites.
Eventually I'd like to clean it up and make it refined sugar and maybe dairy-free, but in the meantime it'll stay and have a home here on my blog as totally-worth-it recipe we'd indulge in.
---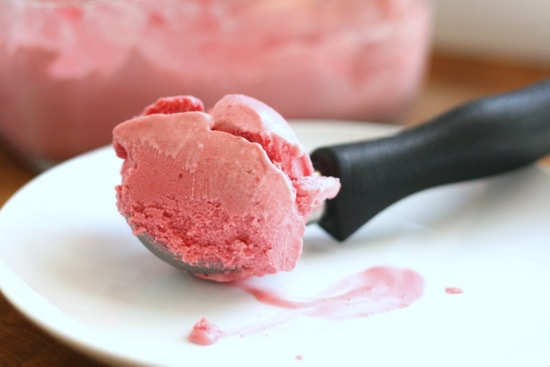 I have a serious weakness for homemade ice cream. I love playing around with flavor combinations and ingredients, but who am I kidding? I love licking the paddle from the ice cream maker when it gets pulled out of a fresh batch.
I usually have about thirty fingers and a few tongues to compete with for that paddle.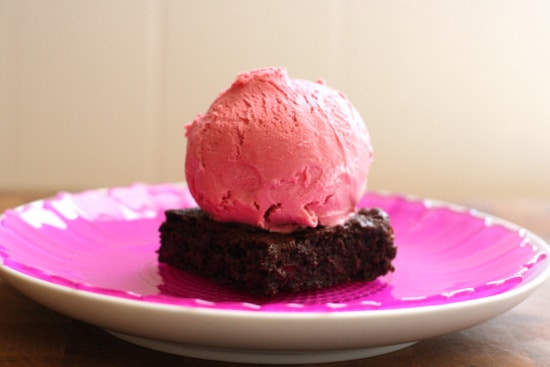 One of my dear friends shared her family's raspberry ice cream recipe with me a couple of years ago — a fantastic mixture with chunks of raspberry throughout. This time I decided to puree the raspberries, strain out the seeds, and add it to my go-to vanilla (Philly-style) recipe from The Perfect Scoop.
I also had a hankering for brownies around the same time. Can you say chocolate-covered raspberry?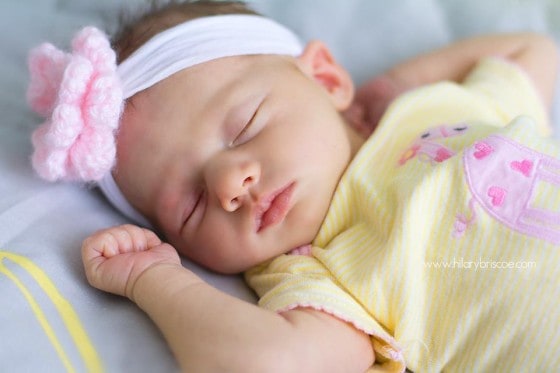 Speaking of delicious things. . .
This one is a hot item as well. I'd put her on a brownie and gobble her up ANY. DAY.
(Thanks to my sister for taking some gorgeous photos of little Mimi this weekend!)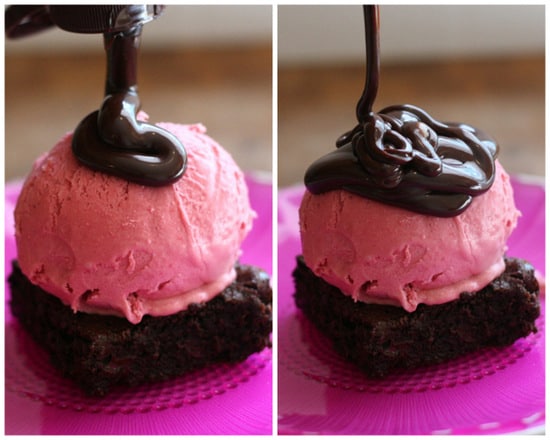 Oh ya. Where was I?
Getting crazy with the chocolate sauce, apparently.
This was one of my most favorite dessert combinations ever.
EVER.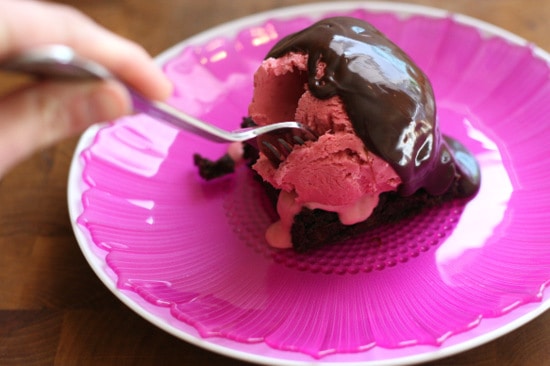 Still having a hankering for raspberries (I was very obedient to my pregnancy cravings), I tried this a few weeks later with Greek yogurt. It didn't freeze quite as creamy, but it was incredibly delicious.
I love it when frozen yogurt actually tastes like yogurt.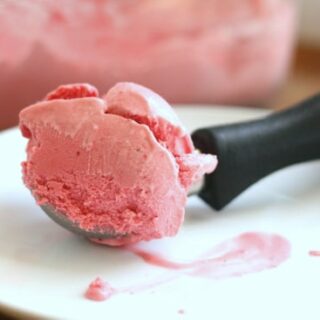 Raspberry Ice Cream (or Frozen Yogurt)
Yield:
About 1 1/2 quarts
This tart, yet perfectly sweet, ice cream is DIVINE in a hot fudge brownie sundae.
Ingredients
24 ounces fresh or frozen (thawed) raspberries
3 cups heavy cream
3/4 cup sugar (more if needed)
3 Tablespoons freshly squeezed lemon juice
Instructions
Puree berries in a food processor until smooth. Strain out the seeds using a fine mesh sieve. (It helps to scrape and stir with a rubber spatula as it strains.) Set aside.
Place 2 cups of cream and the sugar in a medium saucepan. Warm over medium heat and stir until sugar is dissolved. Do not allow mixture to boil.
Remove from heat and add remaining 1 cup of cream, raspberry puree, and lemon juice. Taste and add more sugar if mixture is too tart.
Place mixture in the refrigerator and chill thoroughly. Freeze the mixture in your ice cream maker according to the manufacturer's directions.
Frozen yogurt variation: Replace heavy cream with 3 cups of plain, whole-milk Greek yogurt. Do not heat mixture -- simply whisk it all together. You may even be able to skip the chilling step as the mixture will still be cold.