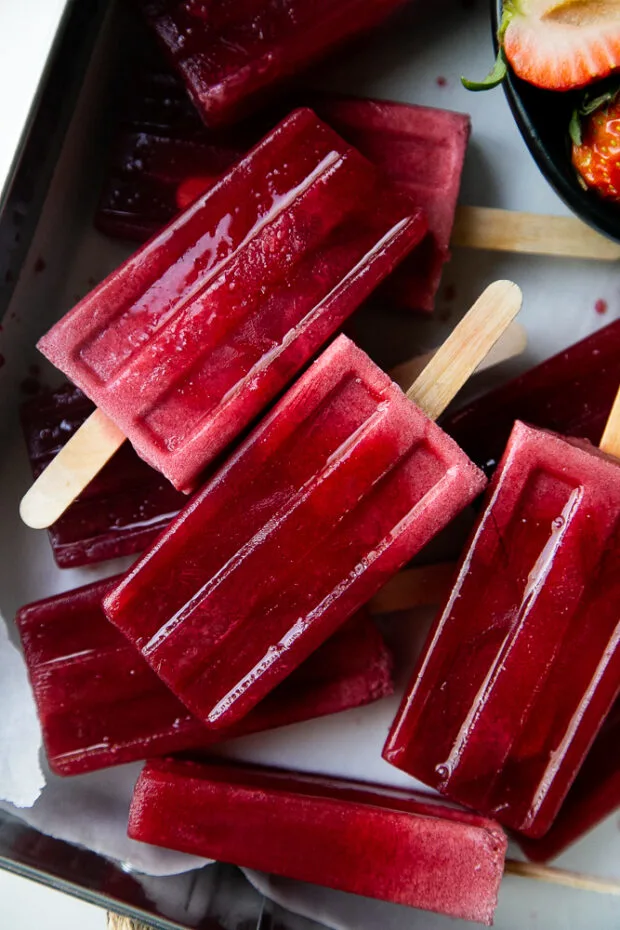 If you're a Starbucks goer, you'll know what I mean by "Pink Drink" — the famous drink made with Tazo brand passion tea and a hint of strawberry and cream.
It's a delightful combination.
Turns out a Pink Drink makes amazing popsicles, too!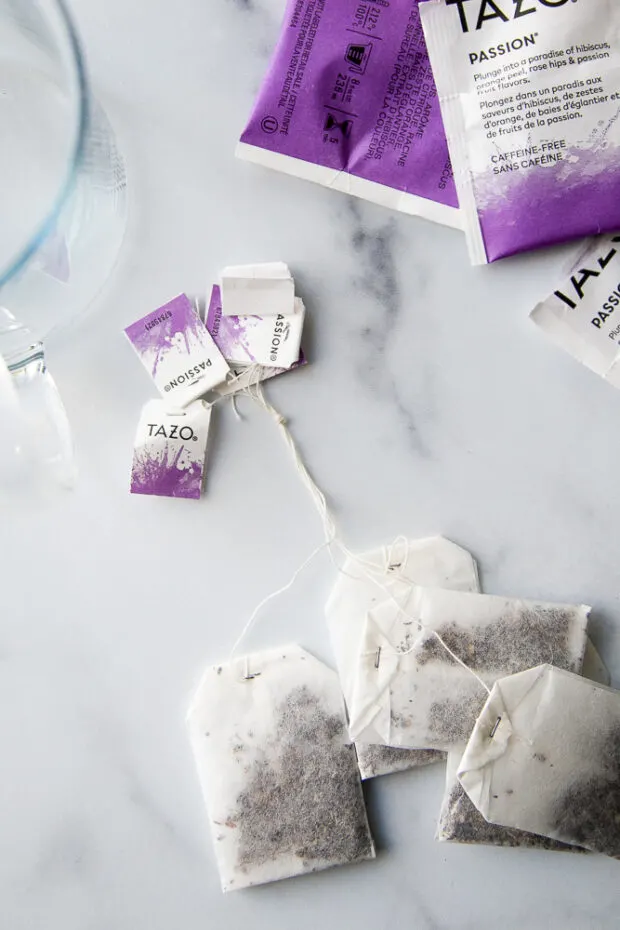 This might look like a lot of tea bags for a few popsicles, but trust me. You'll want it to be strong.
It seems like when you freeze things, the flavors of that thing are dulled. Make the flavors pop a little extra to compensate.
By the way, if you haven't had Passion tea before, it has a hibiscus base with some rosehip, passion fruit, and orange flavors. It has really tart, florally taste.
But not florally in the sense that you're drinking potpourri. More like a tropical floral taste — like you're in Hawaii or something.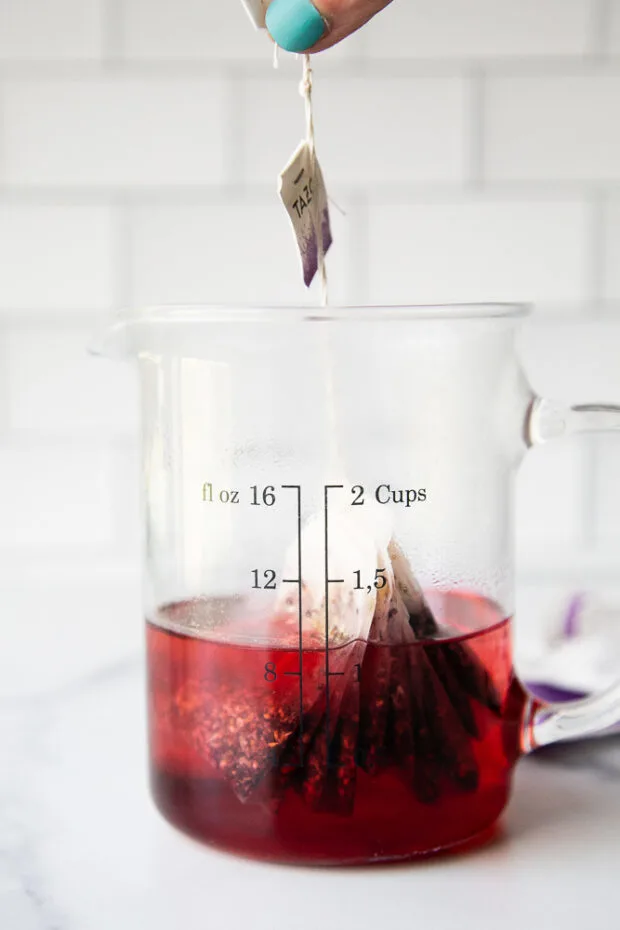 Yes. 5 bags of tea in 1 cup of water.
I told you we're flavor popping over here.
It'll be blended with some other stuff so don't worry about it being too strong.
There are only a few ingredients in these popsicles:
Tazo Passion Tea
Frozen strawberries
Honey
Creamer
Easy, right? Tazo Passion tea can be found in most grocery stores or online.
Adapting Pink Drink Popsicles
Need it Paleo? Use honey as a sweetener and a dairy-free creamer.
Need it low-carb/keto? Use a low-carb sweetener!
Use frozen blackberries or raspberries instead of strawberries.
I loved how the creamer added an ombre effect! I used NutPods dairy-free creamer in French Vanilla (yum). Trader Joe's has a similar one. Or you can use regular almond or coconut milk.
(PSST. You can get 15% off of NutPods using the code PERRYSPLATE.)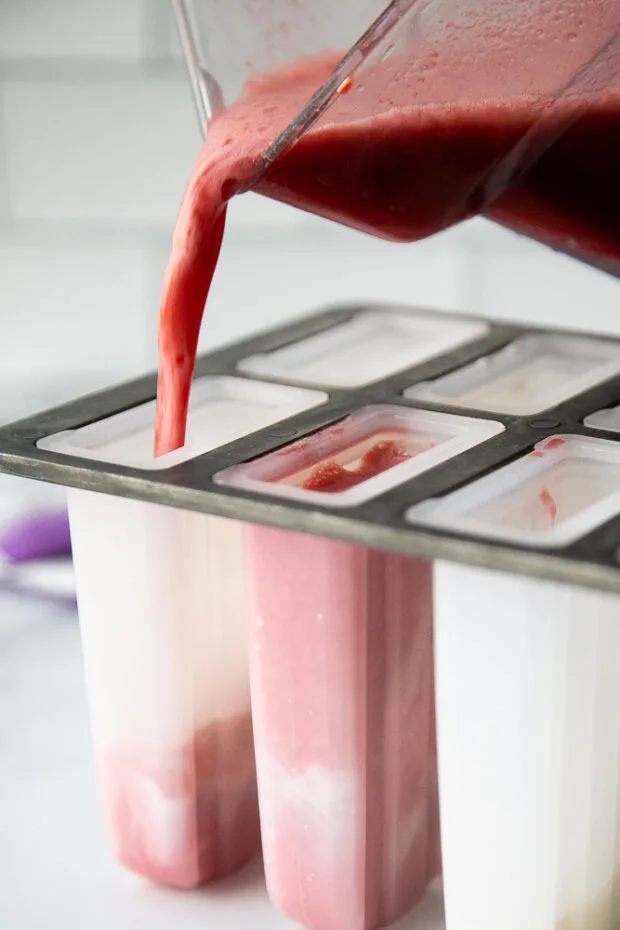 Let's talk about popsicle molds for a second.
You'll want to determine the capacity of your popsicle mold before you start. Fill all of the cavities with water and then empty the whole thing into a large measuring cup.
Mine has 10 cavities for a total of (roughly) 3 cups.
What if my popsicle mold isn't the right size?
If yours isn't roughly a 3 cup capacity like mine, you can adapt these so you don't have a bunch of liquid popsicle leftover.
Just follow this ratio: 1 part concentrated tea, 1 part cool water, 1 part frozen strawberries. Then tweak the sweetener and tea to your liking.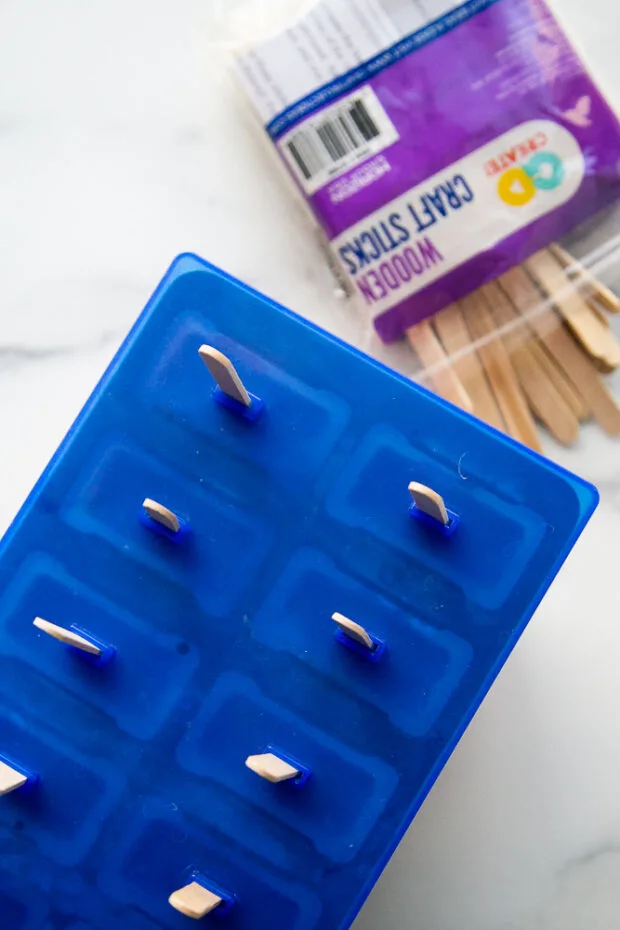 Need some popsicle molds? I linked to mine below as well as some others good-looking ones I found on Amazon:
Need a Popsicle Mold?
Here's mine — a NorPro 10-pop mold made from hard plastic & metal with a plastic lid that holds popsicle sticks in place. It's worked pretty well and we like it. Sometimes pops are hard to remove, but I just run the mold under warm water and it loosens them pretty well. It's also easy to clean and dishwasher safe.
This Ozera Popsicle Mold is similar to mine in capacity and style, but it's made entirely of silicone which I imagine would make it easier to remove the pops once they're frozen. It also comes with a bunch of sticks.
Don't want to use sticks at all? This Helistar Popsicle Mold has reusable sticks! It's also a 10-pop and looks to be a similar size as ours.
These Silicone Ice Pop Tubes are like reusable otter pop tubes. We used to have some like this, but THESE have attached lids. That would be a game changer.
Just out of curiosity, does anyone have an aversion to the texture of wood utensils and popsicle sticks?
I didn't realize that was a thing until fairly recently.
You may want to go for the reusable plastic sticks if that's the case.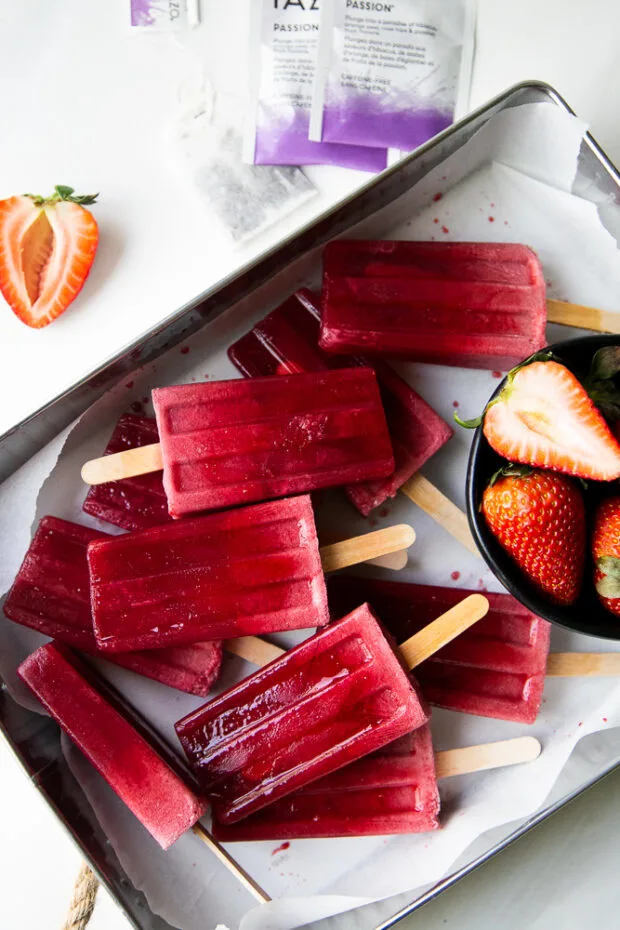 When I had the idea for these Pink Drink popsicles percolating in my head, I figured the kids would be lukewarm about them.
Steve and I would have our own pops that wouldn't get devoured in 2 days.
Wrong. They TOTALLY loved them. All of the kids did.
Even if you don't care for tea, I think you'd love these.
And if you're hooked on the actual Starbucks Pink Drink, this is perfect for summer and will probably save you a lot of money!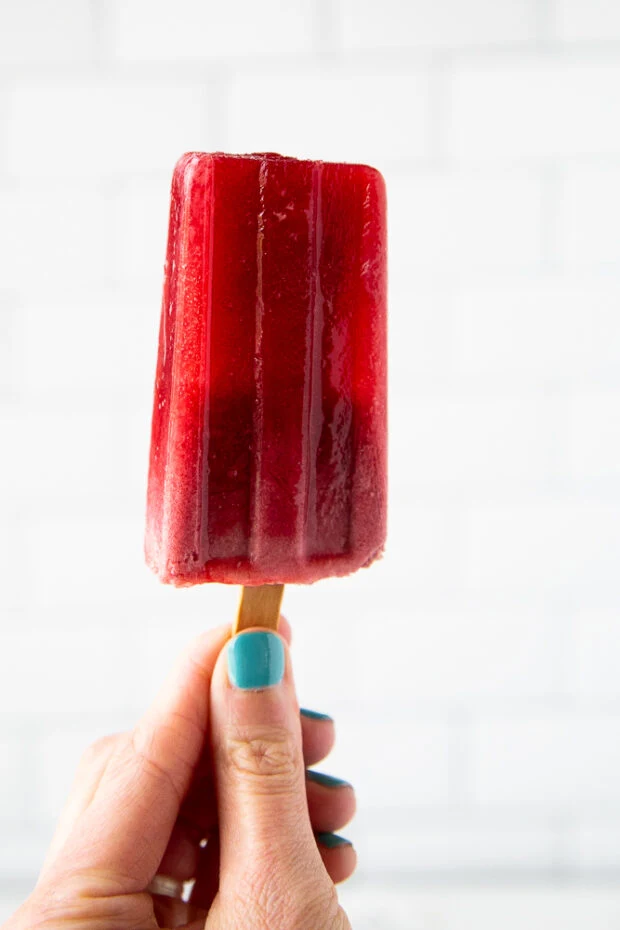 If you like these, try my Pineapple Ginger Popsicles, too!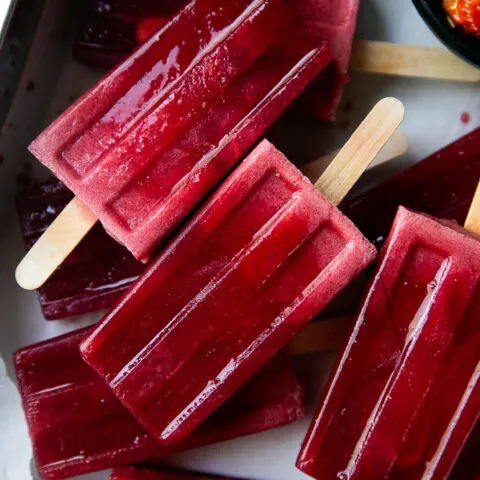 Pink Drink Popsicles
Total Time:
8 hours
15 minutes
These fruity summer popsicles made with hibiscus tea & strawberries are inspired by the famous Starbucks Pink Drink!
Ingredients
1 cup boiling water
5 Tazo Passion tea bags
1 cup cool, filtered water
1 cup frozen strawberries (cut in half if they're extra big)
1/4 cup raw honey
4-6 Tablespoons dairy-free creamer or thick coconut milk
Special Equipment
Popsicle mold (about 3 cup capacity)
wooden popsicle sticks
Instructions
Pour 1 cup of boiling water into a heat-safe liquid measuring cup. Submerge the tea bags into the water. Set aside for about 15 minutes.
Meanwhile, put 1 cup of cool, filtered water into a blender pitcher with the frozen strawberries and honey. Blend until smooth.
When the tea has cooled to the point where there is no steam rising from it, pour it into the pitcher with the strawberry mixture. Give it a stir.
Prepare your popsicle mold by adding 1-2 teaspoons of the creamer to each cavity. Then, divide the popsicle mixture among the cavities.
Add the popsicle sticks and freeze for 6-8 hours or until the popsicles are frozen solid.
Notes
Nat's Notes:
If you're unsure about the capaticy of your popsicle mold, fill the cavities with water, then pour it into a large measuring cup. If it's not the same as mine (about 3 cups), you can adapt it to the capacity you have. You're looking for equal amounts of concentrated tea, cool water, and frozen strawberries.
I love Tazo brand Passion tea, but you can use any hibiscus-based tea for similar results. The Republic of Tea's Hibiscus tea and Trader Joe's Red Refresh are also good options.
You can use whatever sweetener you like. Some granulated sweeteners might not dissolve all the way, so I'd suggest adding them to the hot tea to dissolve more easily.
Recommended Products
As an Amazon Associate and member of other affiliate programs, I earn from qualifying purchases.