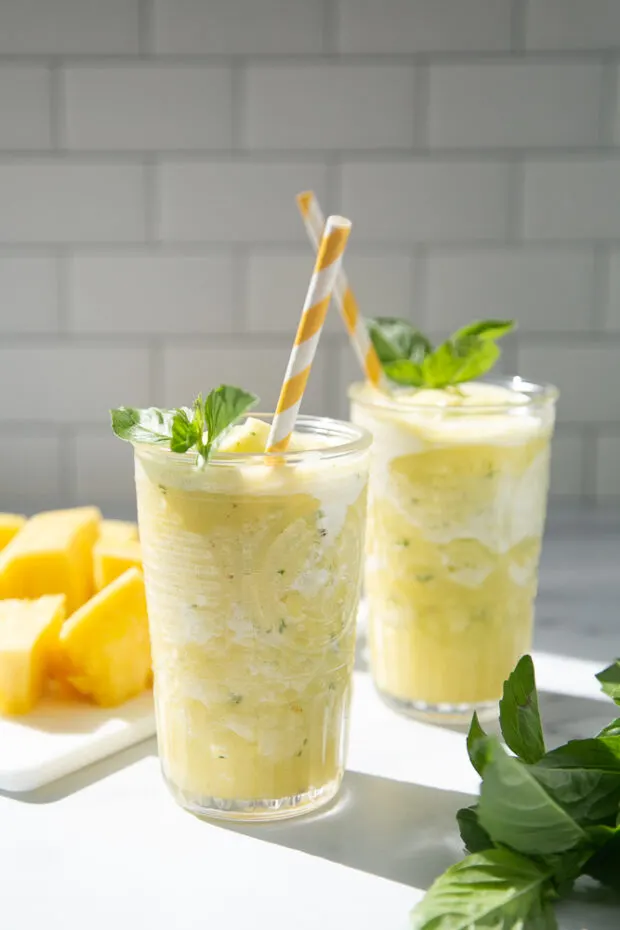 Pineapple smoothie + basil? What?
Hear me out.
Occasionally people ask me where I come up with ideas for recipes. Lots of places! But, my favorite source of inspiration is travel. Hands down.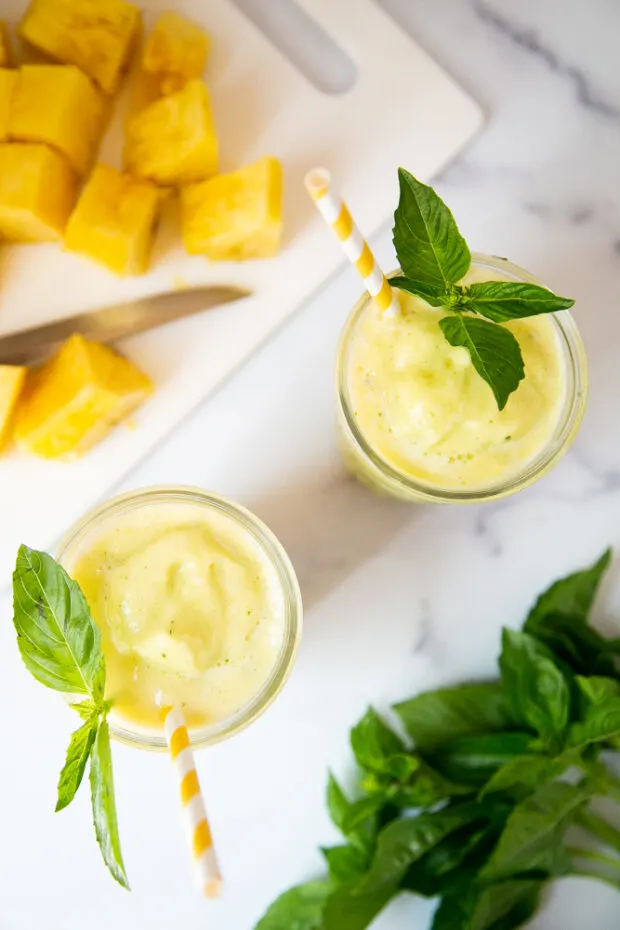 Steve and I took a couples trip to Mexico and the food was SO good. And inexpensive — I mean $6 for 3 taco and some rice and beans? Not bad for a resort.
One of my favorite things I tried was some pineapple basil gelato. It was more like a sorbet than ice cream, but I LOVED that flavor combination!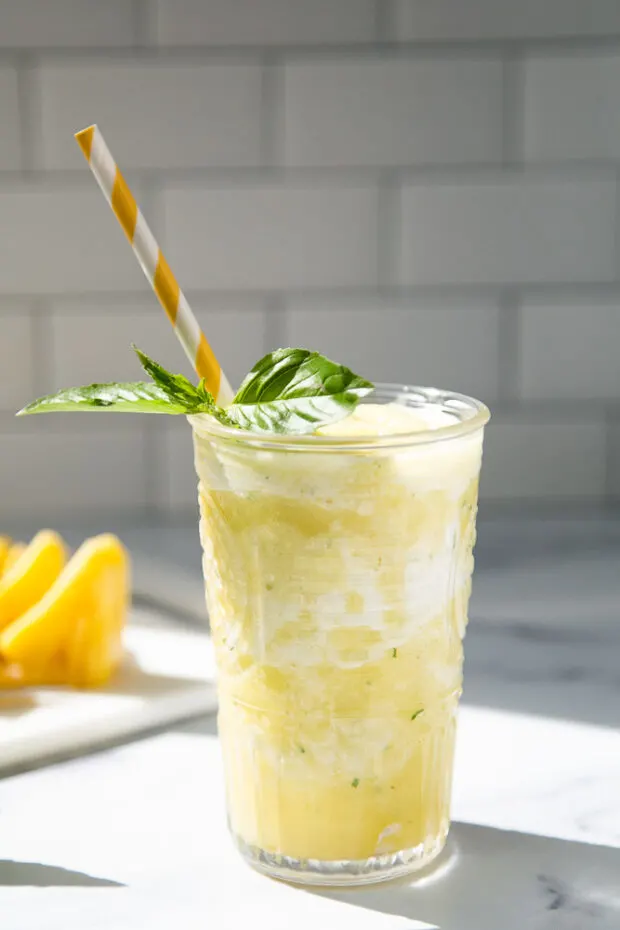 I whipped up a few smoothies to see if I could capture that sorbet flavor and scored big time.
This pineapple smoothie is SUPER easy to make — just a few ingredients. And you don't need much basil — just 6-7 leaves will do.
To be honest, most of my kids didn't dig this flavor combination, but Steve and I adore it. More for us, yo.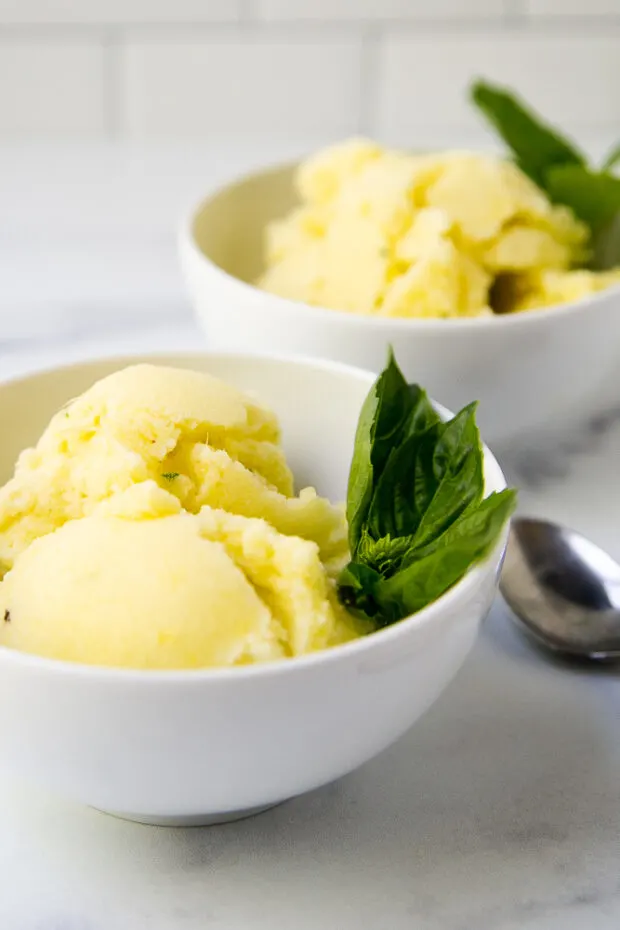 How to make sorbet out of a smoothie
Are you ready?
Just pour the smoothie into an ice cream machine. That's it.
You'll want the smoothie to be extra flavorful because sometimes flavors will dull when they've been in a deep freeze. So boost that sweetener and lime to make sure your pineapple basil sorbet has lots of flavor.
More Summer Smoothies!
Here are a few more of our favorite smoothie recipes with bright, summer flavors!
Strawberry Watermelon Smoothie with Ginger is probably my favorite summer smoothie. We've been making this one for years and it never gets old!
5-Minute Watermelon Lemonade isn't technically a "smoothie", but it's a fun way to make lemonade out of watermelon using your blender!
Try making A Green Smoothie (that actually tastes good) if you're looking for a veggie packed smoothie that doesn't taste like compost.
---
If you make one of my recipes, be sure to post it on social media and tag me at @perrysplate or #perrysplate so I can send you some love!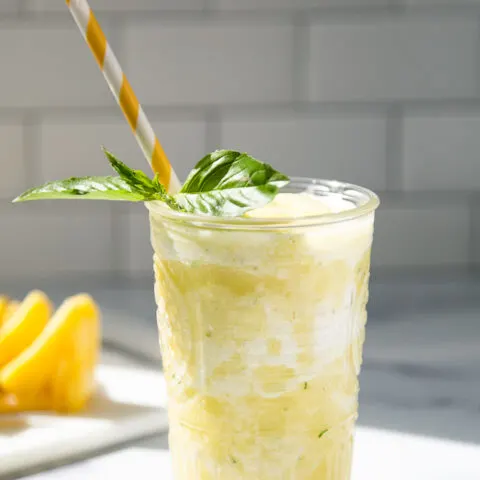 Pineapple Smoothie with Basil (or Sorbet!)
Yield:
Makes about 4 cups
This Pineapple Smoothie with Basil might seem like an unusual combination, but we fell in love with it in a sorbet we had in Mexico. It's bright and sweet with a subtle herbal taste. You can use this smoothie recipe as a sorbet as well.
Ingredients
5 cups of pineapple chunks (about 1/2 of a pineapple)
1/2 cup milk (coconut drinking milk or almond milk)
2 cups of ice
Sweetener, to taste (see note)
7-8 fresh basil leaves
1/2 of a lime
Instructions
Put the pineapple, milk, ice, and sweetener in the blender and process until smooth.
Add the basil leaves and pulse until the leaves are finely chopped.
Taste the smoothie, and add a squeeze of lime or additional sweetener if you think it needs it.
Pour into cups and serve.
TO MAKE SORBET:
Follow the directions above to make the smoothie and then pour the mixture into the frozen insert of your ice cream maker. Freeze according to the manufacturer's directions. While the sorbet is freezing, place the container you plan on storing the sorbet into the freezer. (I use a metal bread pan.) Transfer the sorbet to the chilled container and immediately cover the sorbet and put it in the freezer. Freezer for a few hours until firm before serving. (You can also eat it right out of the ice cream maker if you prefer a looser, soft-serve consistency.
Notes
Nat's Notes:
You can use frozen pineapple chunks, but you may need to add a little more milk or reduce the amount of ice if the smoothie has trouble blending.
I like to use liquid stevia to sweeten this -- about a dropper full and a half (about 1/8 tsp). You can use any sweetener you like. Just continue adding it a little at a time to get the sweetness you like. If you're making sorbet, I recommend making the base sweeter than you think you need -- once it freezes it, the flavor dulls some.
Recommended Products
As an Amazon Associate and member of other affiliate programs, I earn from qualifying purchases.