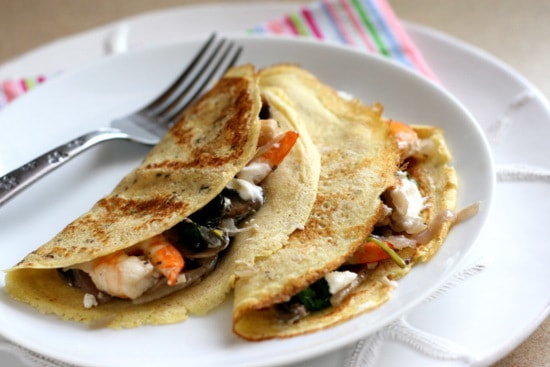 I love crepes. Like looove crepes. When we switched to Gluten-Free Crepes, it wasn't even a big deal. (Best recipe ever, btw.) Cinnamon apples or strawberries & Nutella are my favorite sweet fillings (with plenty of freshly whipped cream, of course), but sometimes I like to make savory crepes for dinner. Even better if its gluten-free crepes with shrimp. And mushrooms. And goat cheese. *drool*
I was inspired by a recipe I saw in Food Network Magazine forever ago. Savory buckwheat crepes were paired with several types of fillings. Instead of cooking all of the fillings separately, I cooked them together to speed things up. (Who has 2 hours to make dinner?)
I also tweaked my go-to crepe recipe and added some lemon zest and thyme. Buckwheat crepes would have been delicious, too, but I was out of buckwheat flour. (Here's a recipe for buckwheat crepes if you're interested!)
Also, the goat cheese really made these crepes amazing and added some creaminess. If you don't like goat cheese, try some feta, Parmesan, shredded Swiss, or havarti. You could even replace the vegetables and protein for those you like better.
If you'll excuse me, I have some sweet, squishy cheeks to kiss. :)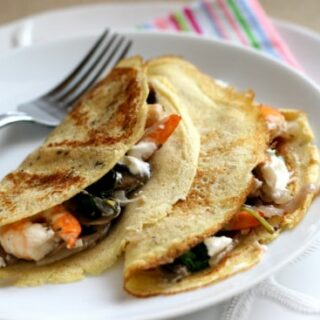 Savory Crepes with Shrimp, Mushrooms & Goat Cheese
Savory crepes are one of our favorite brunches! (Or even dinners!) The garlicky shrimp and mushroom mixture with creamy goat cheese is absolutely delicious.
Ingredients
For the crepes:
3/4 cup gluten-free flour blend
1/2 teaspoon salt
3 eggs
1 1/4 cup almond or coconut milk
1 teaspoon lemon zest
1/2 teaspoon dried thyme
1 Tablespoon milled flax (optional)
butter or coconut oil, for cooking
For the filling:
2 medium red onions, peeled, halved, and sliced thinly
4 Tablespoons butter, divided
1/2 pound sliced mushrooms
1/2 teaspoon dried thyme
4 cloves garlic
24 medium shrimp
juice from 1 lemon (3-4 Tablespoons)
8 ounces fresh baby spinach
1 cup goat cheese crumbles (3-4 ounces)
Instructions
Combine all crepe ingredients (except butter) in a blender and process until smooth. You could also whisk them together in a medium mixing bowl or use an immersion blender. Let the mixture sit for 15-20 minutes so the bubbles can subside in the batter.
In a large skillet, melt 2 Tablespoons of the butter over medium-high heat.
Add onions and cook, stirring frequently, until onions soften. Reduce heat to medium-low, cover, and cook onions, stirring occasionally, for 15-20 minutes until they are light golden brown.
Meanwhile, begin cooking the crepes. Heat a small nonstick pan over medium-high heat. Smear a small amount of butter in the pan and add about 1/4 cup of crepe batter. Tilt and rotate the pan around until the batter covers the bottom evenly. Cook for about a minute, flip, and then for another minute until both sides have golden spots.
Repeat with remaining batter. Keep crepes warm until you're ready to serve them. When the onions are light golden brown, add the remaining 2 Tablespoons of butter, mushrooms, thyme, and garlic to the skillet.
Cook for 8-10 minutes until mushrooms are cooked through. Add shrimp, lemon juice, and spinach to the skillet. Season with a generous pinch of salt, and cook until the shrimp is pink and spinach is wilted, 3-4 minutes.
Fill each crepe with a few spoonfuls of filling and some goat cheese crumbles.
Notes
Nat's Notes: The crepe batter can be made a day or two ahead of time and makes about 16 crepes.
Save
Save
SaveSave
SaveSave