Learn all the tips and tricks for making paper-thin, delicious gluten-free crepes! They're easily made dairy-free as well and can be filled with your favorite sweet or savory things.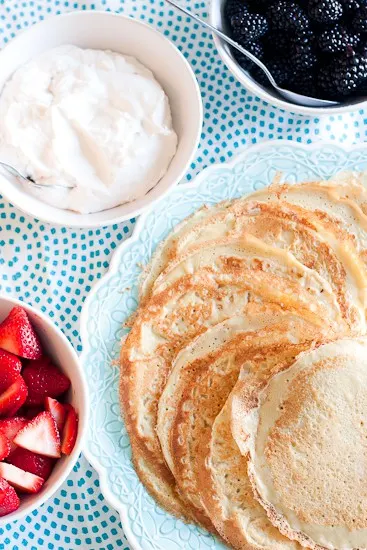 I LOVE crepes. Like, big, puffy heart LOVE them.
This is my go-to crepe recipe. I got it from a lady named Gulya I met in Russia while I was teaching English for a semester in Moscow. (There's more to that story, including how I met Steve over on this post, if you're interested.) They weren't originally gluten-free, but I've since adapted it because I need gluten-free crepes in my life.
She called them "Norskie" and also taught our little group how to make pierogi and palmenyi, too.
And I forgot how. It's been um… eight years, can you blame me? Thanks to Google I can probably figure it out again.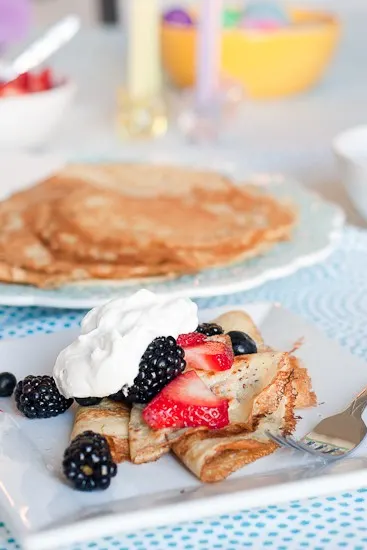 I've made hundreds of these crepes. Maybe even over a thousand.
(That might not be an exaggeration. I wish I had a crepe-o-meter.) Want some tips?
Tips for Making Gluten Free Crepes
You do NOT, in fact, need a crepe pan. I REALLY try to avoid gadgets and appliances that have one specific use. Crepe pans aren't necessary. I use a small 8-inch non-stick skillet. 10-inch skillets are OK, too, but if you're just beginning to make crepes and they make you nervous, use a 8-inch. The smaller the pan, the easier they'll be.
Let the batter rest before you use it. I don't always do this, but I always regret cooking them immediately after I blend the batter. There are a lot of bubbles at the top which don't make for very good crepes. Let it rest at least 30 minutes to let those bubbles subside. You can even make crepe batter far ahead of time — up to 24 hours!
Not all gluten-free flour blends are created equal. The King Arthur blend I linked to in the recipe has worked the best for me. (And I just make the blend from their recipe. I don't buy it from their website. I like that it doesn't have xanthan gum.)
Make sure your skillet is hot enough and buttered before you add the batter. And try to get it evenly swirled around in the pan (this is why having a smaller pan is useful). I start my skillet on medium high heat and reduce it to medium heat once I get going.
Don't add too much batter or you'll end up with a pancake. You should have just enough batter to coat the bottom of the skillet. For a small skillet, add 2-3 Tablespoons. A larger skillet would have about 1/4 cup.
Don't try to flip the crepes too early. If you have trouble with crepes falling apart when you flip them, you're probably flipping them too early. Or too slowly. It's similar to flipping pancakes — just do it quickly and don't overthink it. I will say that gluten-free crepes are a little more fragile than regular crepes.
To keep them warm, stack them on a plate and cover them with a tea towel while you're cooking the remaining batter.
If you get comfortable with one pan, try doing two pans at once! You can cook the crepes so much faster when you use more than one pan.
Crepes are very versatile. And delicious. There isn't a list of approved crepe fillings — you can basically put anything you want in them — both sweet or savory!
Ideas for Crepe Filling
My favorite savory crepe filling is toasted shredded Brussels sprouts and ham. Like in this Buckwheat Crepes with Brussels Sprouts recipe. Or Savory Crepes with Shrimp, Mushrooms, and Goat Cheese.
Berries, Nutella, and real whipped cream is our favorite, though. Obviously.
A close second is a cooked apple cinnamon filling. I simply chop some apples and cook them in a large skillet with melted butter and cinnamon.
Sometimes I add a little honey or maple syrup. I do this before I start cooking the crepes and by the time the crepes are finished, the apple cinnamon filling is done!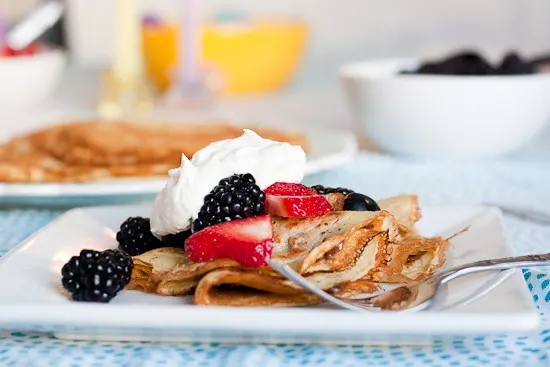 Can you make crepes dairy-free?
These are easy to make dairy free, too! I typically use either almond milk or coconut milk and they both work well.
What's the best gluten-free flour to use for crepes?
I always use the King Arthur Flour Gluten-Free flour blend recipe. I don't buy the pre-packaged one. The recipe used to be on their website, but was recently removed. Luckily I added it to the notes of this recipe so you can use it, too.
What do you like to put in your crepes? Leave me a comment and let me know your favorite fillings! We're always looking for more ideas.
---
If you make this recipe, be sure to post it to social media and tag me at @perrysplate or #perrysplate so I can send you some love!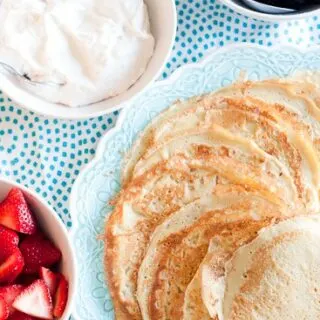 Gluten-Free Crepes
This versatile gluten-free crepes work well with lots of flours and types of milk! Make them sweet or savory for any meal of the day.
Ingredients
3/4 cup gluten-free flour blend (see note)
1 Tablespoon honey or coconut sugar
1/2 teaspoon salt
3 eggs
1 1/4 cup almond or coconut milk
Butter or coconut oil, for frying
Instructions
Whisk together all ingredients (or use a blender to get all of the lumps out quickly).
Butter a 6 or 8-inch nonstick skillet heated over medium-high heat and add about 1/4 cup of batter. Tilt and swirl the batter to cover the bottom of the skillet.
Cook until bubbles form and the edges of the crepe loosen from the pan. Flip and cook for another 45 seconds on the other side.
Remove and cover with a towel to keep warm while you cook up the remaining batter.
Notes
Nat's Notes:

I like to use King Arthur Flour's Gluten-Free Flour Recipe for my GF flour blend. (Recipe: 3 cups brown rice flour, 1 cup potato starch, 1/2 cup tapioca flour/starch.)

I've used both coconut milk and almond milk in this and it always turns out well.

The sugar isn't vital to the recipe. You can use any sweetener you like or omit it completely.

When you get good at these, try using two pans at a time -- it goes much more quickly!
Recommended Products
As an Amazon Associate and member of other affiliate programs, I earn from qualifying purchases.
Nutrition Information
Yield

4
Serving Size

3 crepes
Amount Per Serving
Calories

584
Total Fat

45g
Saturated Fat

18g
Trans Fat

0g
Unsaturated Fat

24g
Cholesterol

147mg
Sodium

563mg
Carbohydrates

34g
Fiber

5g
Sugar

8g
Protein

17g
The information shown is an estimate provided by an online nutrition calculator. It should not be considered a substitute for a professional nutritionist's advice.
This post may contain affiliate links. Any purchases made by using these links won't cost you any extra and helps keep my content free. These links may be Amazon links as I am part of the Amazon Associate Program.