Gluten-Free Crepes
(This post was updated on 5/19/2014 with photos and some recipe modifications.)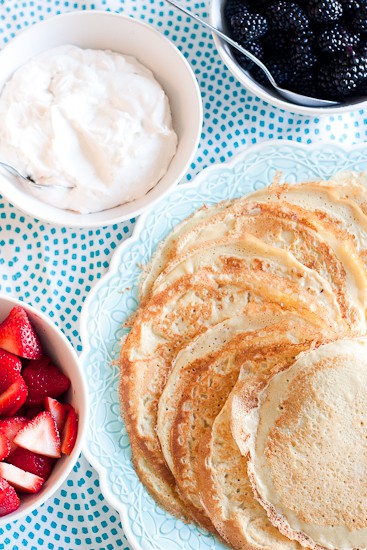 This is my go-to crepe recipe. I got it from a lady named Gulya I met in Russia while I was teaching English for a semester in Moscow. (There's more to that story, including how I met Steve over on this post, if you're interested.) They weren't originally gluten-free, but I've since adapted it because I need gluten-free crepes in my life.
She called them "Norskie" and also taught our little group how to make pierogi and palmenyi, too.
And I forgot how. It's been um… eight years, can you blame me? Thanks to Google I can probably figure it out again.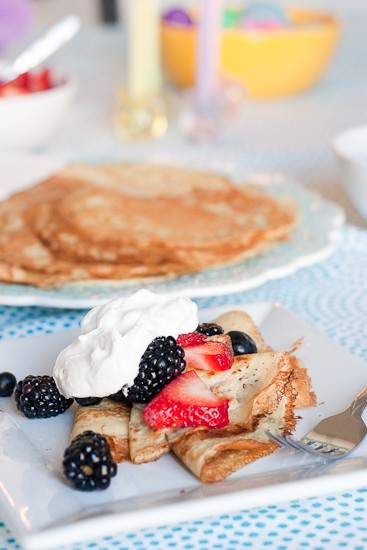 I've made hundreds of these crepes. Maybe even over a thousand. (That might not be an exaggeration. I wish I had a crepe-o-meter .)
More recently I've been making gluten-free crepes and haven't found a paleo crepe recipe I'm happy with.
Crepes are very versatile. And delicious. Especially when you eat them with Brussels sprouts and ham. Like in this Buckwheat Crepes with Brussels Sprouts recipe. Or Savory Crepes with Shrimp, Mushrooms, and Goat Cheese.
Berries, Nutella, and real whipped cream is our favorite, though. Obviously.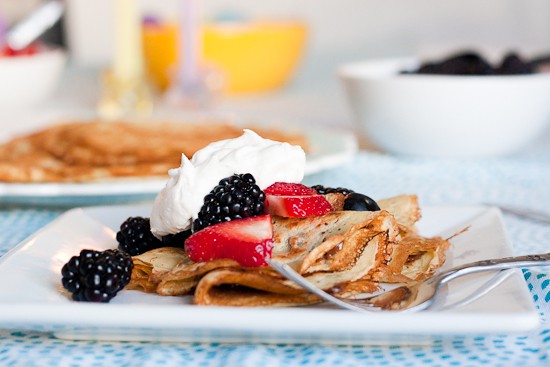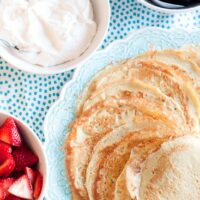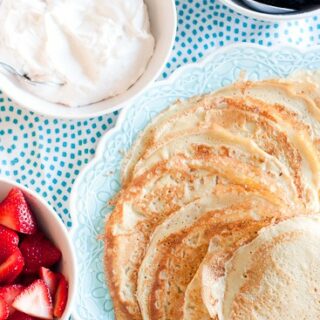 Gluten-Free Crepes (Norskie -- Russian Crepes)
Yield: Serves 3-4
Prep Time: 15 minutes
Cook Time: 30 minutes
Total Time: 45 minutes
This versatile gluten-free crepes work well with lots of flours and types of milk! Make them sweet or savory for any meal of the day.
Ingredients
3/4 cup gluten-free flour blend (see note)
1 Tablespoon honey or coconut sugar
1/2 teaspoon salt
3 eggs
1 1/4 cup almond or coconut milk
Butter or coconut oil, for frying
Instructions
Whisk together all ingredients (or use a blender to get all of the lumps out quickly).
Butter a 6 or 8-inch nonstick skillet heated over medium-high heat and add about 1/4 cup of batter. Tilt and swirl the batter to cover the bottom of the skillet. Cook until bubbles form and the edges of the crepe loosen from the pan. Flip and cook for another 45 seconds on the other side.
Remove and cover with a towel to keep warm while you cook up the remaining batter.