My grandma's Pineapple Pie is my favorite pie in the whole world! It's even fantastic on my gluten-free pie crust — I think my grandma would approve.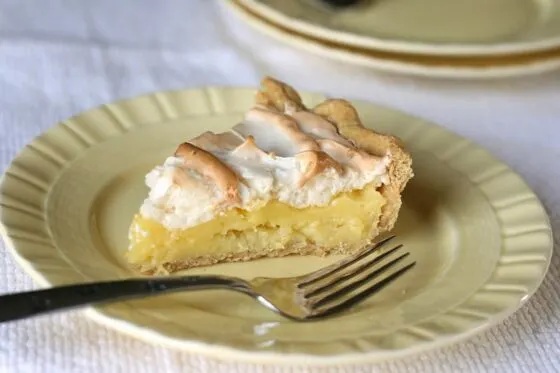 Pineapple Pie is another one of my grandma's famous desserts. Whenever I mention it to someone who hasn't had it, I always wonder what kind of mental pictures they get. A pie crust full of steaming pineapple rings? Ugh. No wonder they make faces at me.
This is what goes through my head . . .
thick, creamy, pineapple-y filling topped with a toasted meringue. Good hot or cold, for dessert or for breakfast, or the middle of the night. I would definitely eat this in a box. Or with a fox. (As long as he didn't sneak into my half.)
My grandma quit asking me what dessert I want her to make when we visit. She just makes one of these. Sometimes two. One for me and my grandpa and the other one for everyone else. :)
Lately I've been making this with my Perfect Gluten-Free Pie Crust and it's just as good. Honest.
SaveSave
---
If you make one of my recipes, be sure to post it on social media and tag me at @perrysplate or #perrysplate so I can send you some love!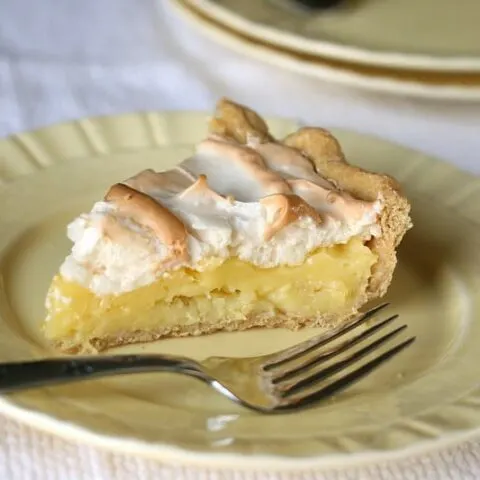 Pineapple Pie with Meringue (from Grandma Inez)
My favorite pie in all of the universe. Think lemon meringue, but with pineapple instead!
Ingredients
For the pie:
3/4 cup sugar
¼ cup butter (4 T.)
2 egg yolks (save whites for meringue)
1/3 cup cornstarch or potato starch
½ teaspoon vanilla
1 8-ounce can of crushed pineapple
1/2 cup + 2 Tablespoons water
1 recipe pre-baked Perfect Gluten-Free Pie Crust
For the meringue:
2 egg whites
1/8 teaspoon salt
¼ teaspoon cream of tartar
1/4 cup sugar
1 teaspoon vanilla
Instructions
To prepare the pie: Cream sugar, butter, and egg yolks in a medium saucepan with a hand-held electric mixer.
Blend in cornstarch and vanilla. Add water and crushed pineapple with its juice; blend once more.
Transfer saucepan to the stove and cook over med heat, stirring constantly until thick. Pour into 9' baked pie crust.
To prepare the meringue: Whip egg whites until they begin to get foamy.
Add remaining ingredients and continue to whip until the meringue has reached soft peak stage and is smooth and glossy.
Place meringue over cooled pie. Brown in the oven at 400 degrees F for just a few min. Store in the fridge.
This post may contain affiliate links. Any purchases made by using these links won't cost you any extra and helps keep my content free. These links may be Amazon links as I am part of the Amazon Associate Program.