This simple seasoning for sweet potato fries can be used as a dry rub for grilled meat, too!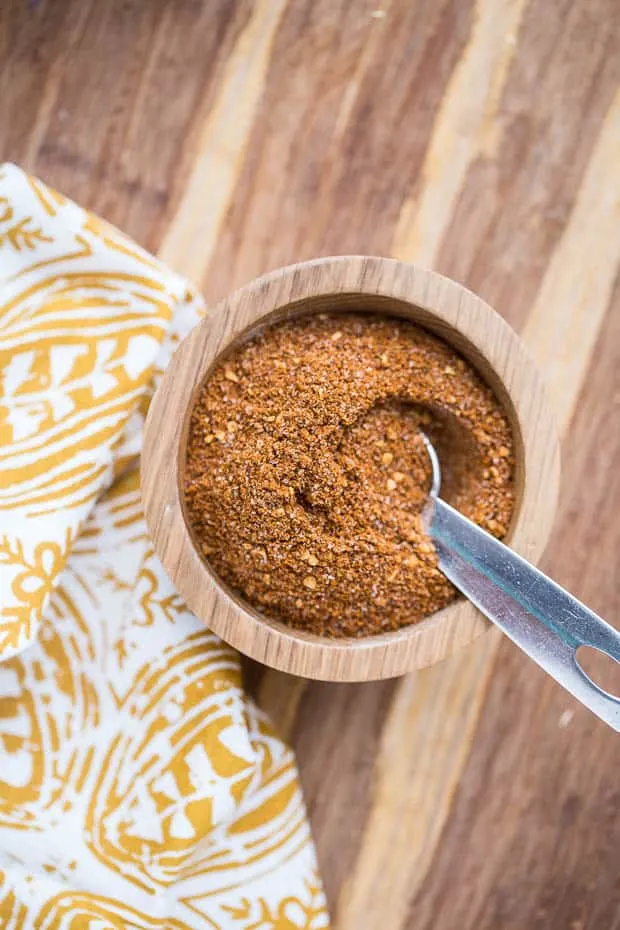 I have a handful of simple recipes that I use ALL the time, but don't bother posting. I'm not sure why.
Sometimes I feel like I have to have an elaborate meal or something super-creative to post, but I get the feeling that most of you just want fast, easy, and tasty.
Am I right?
Sweet potato fries may be at the very top of that list.
We make sweet potato fries about once a week.
I used to use a sweet potato fries seasoning that has "fancy" things like whole fennel and coriander which I ground in big batches and kept in a mason jar. (The recipe is over at Simply Recipes, in case you're wondering.)
One time I ran out of that special blend. It's a super great recipe, but not super convenient when I run out during the of dinner prep.
After I ran out the last time, I never got around to filling my jar of fancy seasoning. The next several batches of sweet potato fries were sprinkled with common, already-ground spices in my cupboard because I didn't feel like grinding another batch of the other stuff.
I realized after grabbing the same handful of spices every time that it would be much more efficient if I combined them into a jar.
But THIS blend didn't require grinding anything.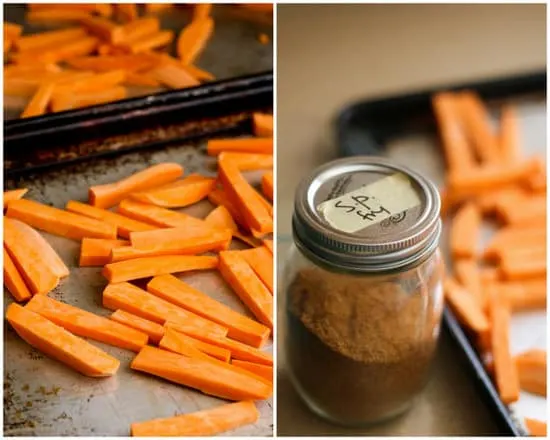 My husband decided he really liked my haphazard sprinkling, so I figured out the proportions and filled a mason jar with my new seasoning blend. We've used this ever since.
And because equal amounts of all of the spices are added, it was super easy to throw together if I happened to run out.
What's in Sweet Potato Fry Seasoning?
Are you ready for this? I'm 99% certain you have all of these spices in your cupboard already — garlic powder, chili powder, ground cumin, and sea salt. That's it. Basic grocery store spices.
I think this is one of those "whole is greater than the sum of the parts" situations. It's such a simple blend, but it's pretty magical combined with a sweet potato.
You may have to start buying them in bulk because you'll love this sweet potato fries seasoning so much you'll want to put it on a lot of other things. Like regular roasted sweet potatoes. Or sprinkled on a baked sweet potato.
I think this should be the official sweet potato seasoning. Should we start a petition? Even my mom keeps this blend in her cupboard (and the kitchen cupboard of the condo they own in a different state). And she's not into making her own seasoning blends.
Note: Some people add brown sugar to their sweet potato fries. You could add a little to this. I'd rather have my sweet potato seasoning more savory because the sweet potatoes are already sweet.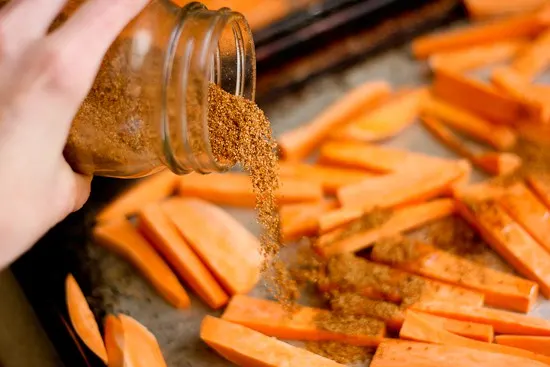 How to Make Sweet Potato Fries
You could call this a sweet potato fries recipe, but I don't really measure anything. Here are a few tips, though.
Cut up three large sweet potatoes into thin fries. I'll leave it up to you to leave the skins or not. I peel mine. Don't cut them too thick or they won't get crispy edges. And when I say "crispy", just know that they won't be like the fries at a fast food place. They'll have crispy or chewy tips, but they'll generally be softer than crispy, deep-fried french fries.
Put them on TWO baking sheets, drizzle with oil (I use avocado oil or melted coconut oil), and a tablespoon or two of seasoning. If you put them all on the same baking sheet they'll steam instead of getting those roasty caramelized edges. Rotate the pans halfway through cooking.
Heat the oven to 425 degrees F. Roast . . . Until they have brown spots and the edges get a little crispy. Maybe that's why I don't bother posting a full recipe — I always forget to get an accurate cooking time! I'll give you a window of 20-30 minutes. Just keep an eye on them and flip them once in a while.
So, basically the goal is to get them as crispy as you can.
The majority of them should have crispy tips, and you'll have some slivers that really get brown and truly crispy, but again, they won't be like regular French fries. They're fantastic, though.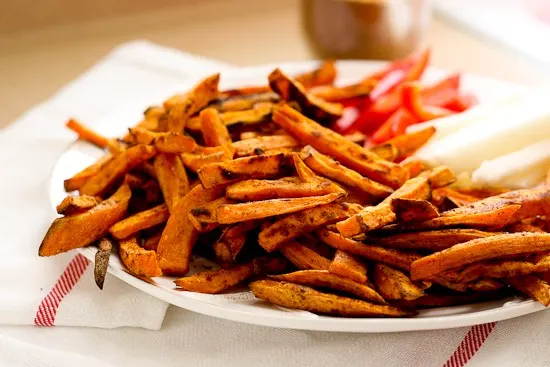 I like to use sweet potato fry blend as a dry rub for grilled chicken or steak, too.
(A friend of mine says it's delicious on salmon, too!)
It has a tex-mex flavor, but it's different from taco seasoning. (Speaking of… I have a bomb homemade taco seasoning recipe.)
Our Favorite Dips for Sweet Potato Fries
As far as dipping sauce?
Most of the time our kids dip theirs in ketchup. (Underwhelming, right?)
If we're having salad, I like dipping them in paleo ranch.
Or a mixture of paleo ranch and BBQ sauce. OR you could add some of this seasoning to your paleo ranch. It makes pretty fabulous tex-mex ranch without needing to blend up herbs or avocado or anything.
My FAVORITE? Serving sweet potato fries with Sloppy Joe's. Seriously. Try it. We don't even use buns. We make these weird salads with a bed of Romaine lettuce, Sloppy Joe meat, sweet potato fries, paleo ranch, and diced pickles.
Am I losing some credibility with you with this concoction?
It's one of those times where you just need to TRUST. Everyone who has ever tried that combination loves it and makes a comment about how it's better than they thought it would be. Promise.
And may I present the shortest recipe in Perry's Plate history…
---
If you make one of my recipes, be sure to post it on social media and tag me at @perrysplate or #perrysplate so I can send you some love!
More Recipes on Perry's Plate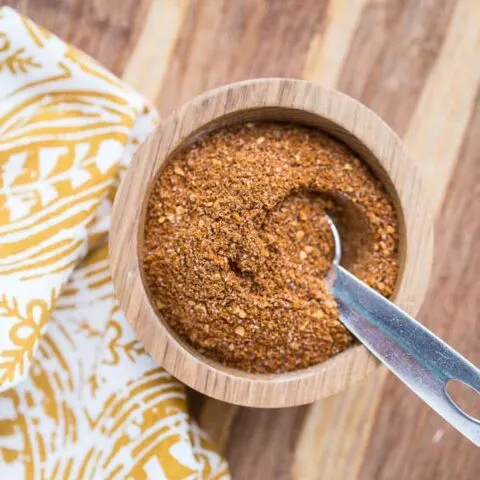 Sweet Potato Fry Seasoning
Just four simple ingredients (that you probably already have!) create an amazing seasoning for sweet potato fries or any other roasted vegetable or grilled meat rub/marinade that you wand to give a southwest kick.
Ingredients
2 Tablespoons chili powder
2 Tablespoons garlic powder (or granulated garlic)
2 Tablespoons ground cumin
2 Tablespoons sea salt
Instructions
Combine in an airtight container. Shake well. Keeps for several months. (until the spices start to lose their flavor) You can also add black pepper or cayenne if you'd like a little kick.
This post may contain affiliate links. Any purchases made by using these links won't cost you any extra and helps keep my content free. These links may be Amazon links as I am part of the Amazon Associate Program.