Sweet Potato Fry Seasoning + Tips for Making Sweet Potato Fries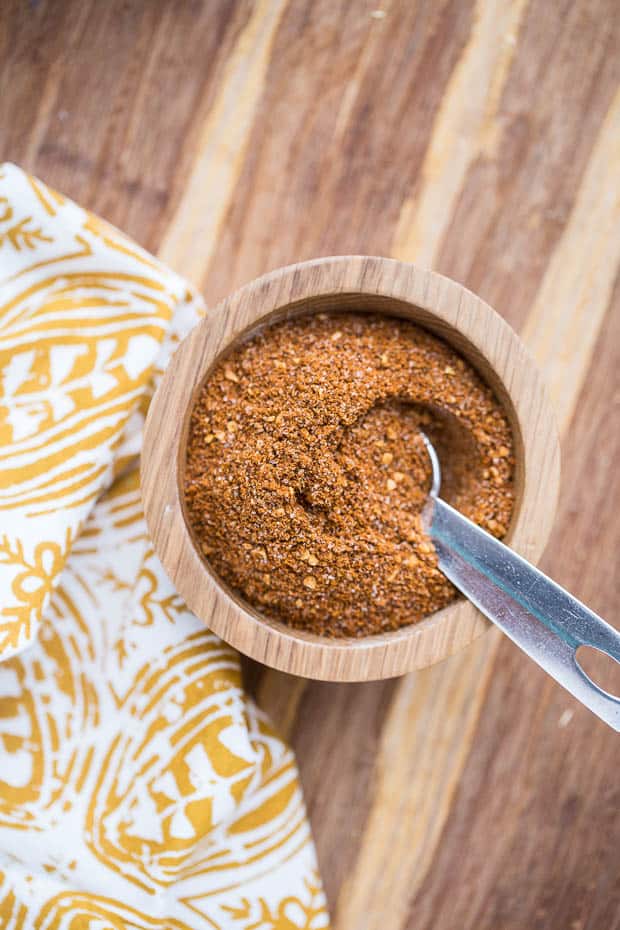 I have a handful of simple recipes that I use ALL the time, but don't bother posting. I'm not sure why. Sometimes I feel like I have to have an elaborate meal or something super-creative to post, but I get the feeling that most of you just want fast, easy, and tasty.
Am I right?
We make sweet potato fries about once a week. I used to use a blend that has "fancy" things like whole fennel and coriander which I ground in big batches and kept in a mason jar. One time I ran out of my special blend, and the next several batches of sweet potato fries were sprinkled with common, already-ground spices in my cupboard because I didn't feel like grinding another batch.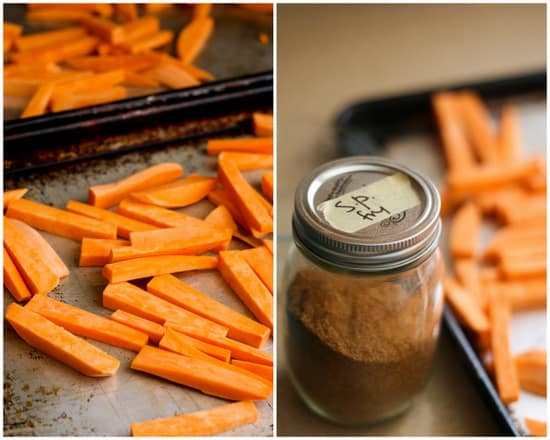 My husband decided he really liked my haphazard sprinkling, so I figured out some measurements and filled a mason jar with my new seasoning blend. We've used this ever since.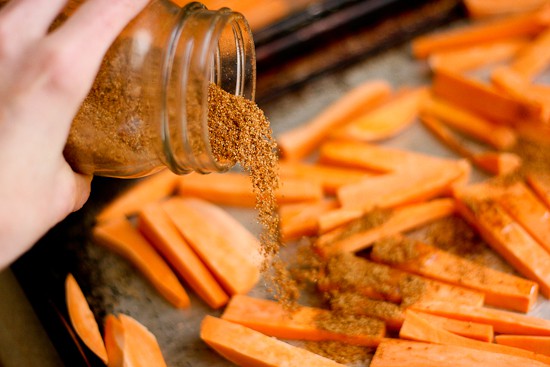 Sweet potato fries are the easiest thing to make.
Just cut up three large sweet potatoes, put them on a baking sheet, drizzle with oil (I use avocado oil or melted coconut oil), and a tablespoon or two of seasoning. I roast mine for 425 degrees F for…. um…. a while. Until they have brown spots and the edges get a little crispy. Maybe that's why I don't bother posting it — I always forget to get an accurate time! I'll give you a window of 20-30 minutes. Just keep an eye on them and flip them once in a while. I use two pans and rotate them halfway through roasting. Some other tips:
1. Don't cut them too thick — they won't be crispy.
2. Don't crowd the pan — they won't be crispy.
So, basically the goal is to get them crispy. The majority of them should have crispy tips, and you'll have some slivers that really get brown and truly crispy, but they won't be like regular French fries. They're fantastic, though.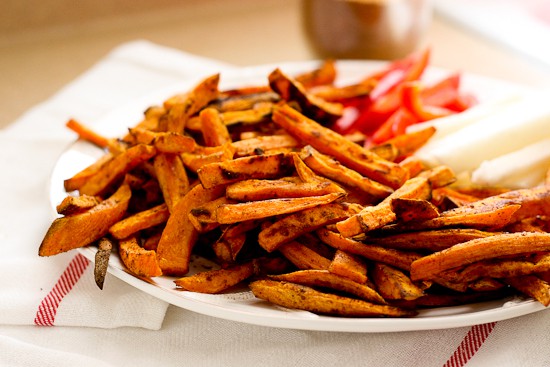 I like to use this blend as a dry rub for grilled chicken or steak, too. It has a tex-mex flavor, but it's different from taco seasoning. (Speaking of… I have a bomb homemade taco seasoning recipe.)
And may I present the shortest recipe in Perry's Plate history…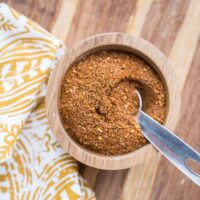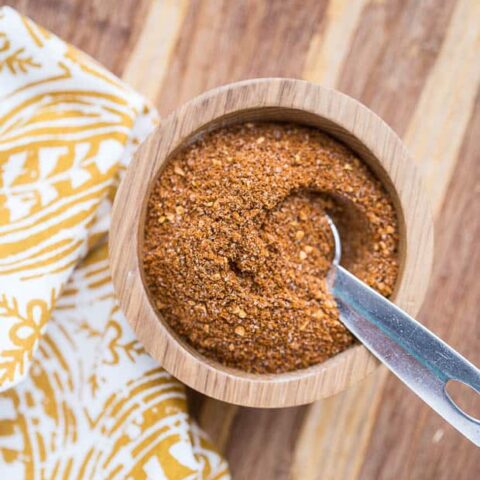 Sweet Potato Fry Seasoning
Yield: About 1/2 cup
Prep Time: 5 minutes
Total Time: 5 minutes
Just four simple ingredients (that you probably already have!) create an amazing seasoning for sweet potato fries or any other roasted vegetable or grilled meat rub/marinade that you wand to give a southwest kick.
Ingredients
2 Tablespoons chili powder
2 Tablespoons garlic powder (or granulated garlic)
2 Tablespoons ground cumin
2 Tablespoons sea salt
Instructions
Combine in an airtight container. Shake well. Keeps for several months. (until the spices start to lose their flavor) You can also add black pepper or cayenne if you'd like a little kick.