Make (and heat up!) this homemade hot chocolate in your high-powered blender! It's creamy, cozy, and a healthier alternative to store-bought hot chocolate mix on a cold winter day. I included adaptations to make this dairy free, vegan, and keto/low-carb friendly hot chocolate.
My favorite part about this hot drink is that you can actually heat it up if you have a high-powered blender like a Blendtec or a Vita-Mix. It's true! The blades create enough friction to heat up a cup of hot chocolate to the perfect medium heat temperature for a 4-year-old to drink.
It's also a healthier way to satisfy a chocolate craving (especially at night!).
No worries, if you don't have a monster blender I included stovetop instructions, too.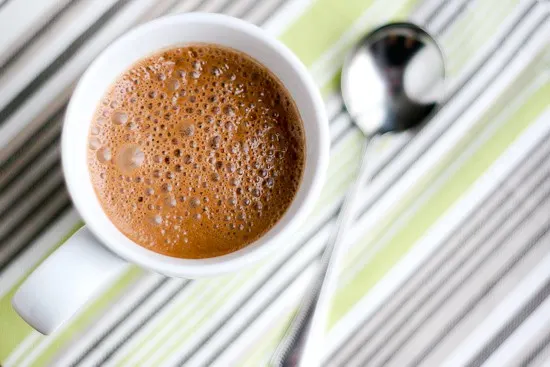 The basic recipe for this hot chocolate consists of just a few simple ingredients:
Ingredients for homemade hot chocolate:
Milk or Heavy Whipping Cream or Full-Fat Coconut Milk + Hot Water
Unsweetened Cocoa Powder
Sweetener
Vanilla extract
You can decide what type of each of these to put in your hot chocolate to follow whatever personal dietary guidelines you follow. For example:
To make dairy free hot chocolate:
Use full-fat coconut milk or a combination of full-fat coconut milk and some other non-dairy milk.
To make vegan hot chocolate:
Use full fat coconut milk or a combo of that and another non-dairy milk.
Use a sweetener other than honey.
How to make keto hot chocolate:
Use a combo of full-fat coconut milk or heavy cream and water/milk. If you're on a keto diet, using more of the richer, fattier milk/cream would be best.
Use a keto-friendly sweetener like stevia or monk fruit.
I usually make this with full-fat coconut milk or unsweetened almond milk, maple syrup, and a little stevia for our family.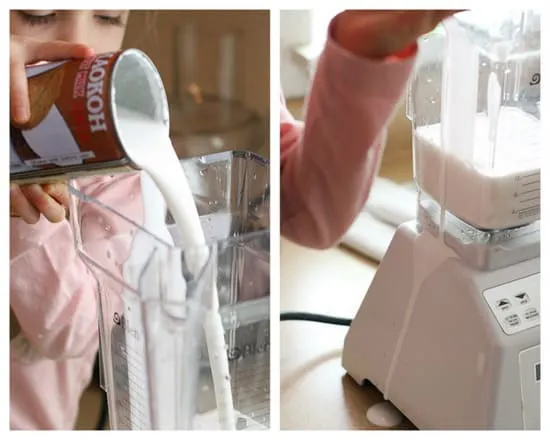 How to Make Hot Chocolate on the Stovetop:
Whisk everything together in a medium or small saucepan until it's bubbly. Then serve. That's it!
Ways to Customize Homemade Hot Chocolate:
Add some chocolate chips (or sugar-free chocolate chips if you're doing hot chocolate keto style) for extra richness and chocolate flavor. To get them completely melted you might want to use the stovetop method for an extra hot beverage and add the chocolate chips to your individual mugs.
Use raw cacao powder instead of regular cocoa powder for a richer flavor with an antioxidant and iron boost! If you like dark chocolate, this is a good option for you.
Add some peppermint, orange, or cinnamon extract or essential oil for a fun flavor twist!
Add some whipped cream on top. Use whipped coconut cream if you need a dairy-free option and add whatever sweetener you like.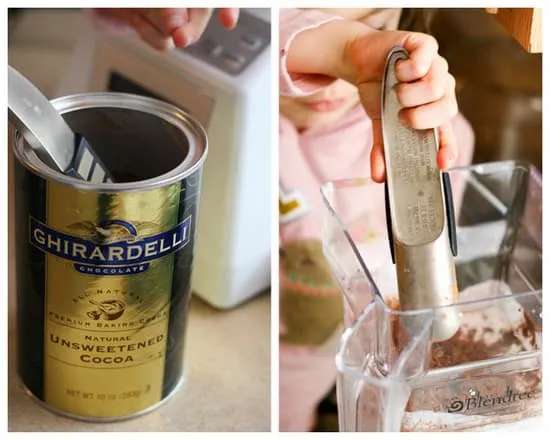 If you're following a low carb diet, add some keto marshmallows! Some grocery stores carry these, but you can find them online here: Low carb marshmallows.
TIP: I don't recommend adding regular marshmallows to this hot chocolate — even if you're using natural sweeteners. The extra-sweet little corn syrup bombs will make your naturally sweetened hot chocolate taste odd. Like…. trying to enjoy a bowl of fresh strawberries with a sucker in your mouth. Like that.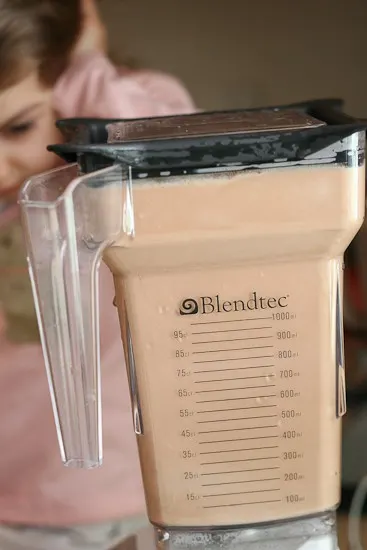 What is the carb count for the keto hot chocolate?
I depends on the ingredients you use. If you use full-fat coconut milk, 1/4 cup unsweetened cocoa powder listed in the recipe, and Lakanto Monkfruit sweetener, it would be roughly 5.5 g net carbs per 8 ounce cup.
If you're interested in more keto recipes, check out the ones I have on my site! More Keto and Low-Carb Recipes on Perry's Plate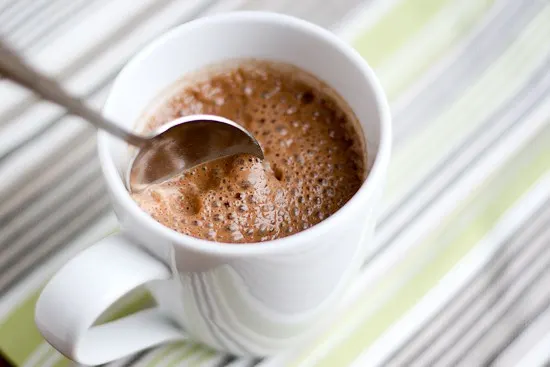 ---
If you make one of my recipes, be sure to post it on social media and tag me at @perrysplate or #perrysplate so I can send you some love!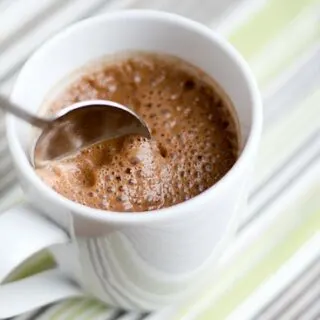 Blender Hot Chocolate (Vegan & Keto options)
Yield:
About 1 quart or 4 generous servings
If you have a high-speed, powerful blender like a Blendtec or a Vitamix, you can make AND heat your hot chocolate right in the blender pitcher! I love how versatile this recipe is, too. Feel free to use whatever sweetener you like (making it keto, even!) or add some flavorings like a pinch of cinnamon or a drop of peppermint oil for a fun change.
Ingredients
1 can of full-fat coconut milk or heavy cream
about 1 1/2 cups of warm water (use the empty coconut milk can)
1/2 cup pure maple syrup or a smaller amount of honey
1/4 cup unsweetened cocoa powder
1 teaspoon vanilla extract
Instructions
Combine all into a blender and run the blender for a minute or so until everything is combined.
If using a high-speed blender, process until the chocolate is hot. (For Blendtec, run the "Soup" setting twice.)
If using a regular blender, transfer to a saucepan and bring to the desired temperature over medium heat.
Notes
To make this on the stovetop: Whisk all ingredients in a small saucepan and heat until it's bubbly. Serve immediately.l
To make this recipe keto-friendly: Use a keto-friendly sweetener like monkfruit sweetener or stevia.
To make this recipe vegan: Use full-fat coconut milk and avoid using honey.
Recommended Products
As an Amazon Associate and member of other affiliate programs, I earn from qualifying purchases.
Nutrition Information
Yield

4
Serving Size

1
Amount Per Serving
Calories

365
Total Fat

24g
Saturated Fat

20g
Trans Fat

0g
Unsaturated Fat

2g
Cholesterol

8mg
Sodium

24mg
Carbohydrates

38g
Fiber

1g
Sugar

29g
Protein

3g
The information shown is an estimate provided by an online nutrition calculator. It should not be considered a substitute for a professional nutritionist's advice.
This post may contain affiliate links. Any purchases made by using these links won't cost you any extra and helps keep my content free. These links may be Amazon links as I am part of the Amazon Associate Program.